Daggers
Players 2021: Justin Thomas couldn't resist taking a playful jab at Tiger Woods after winning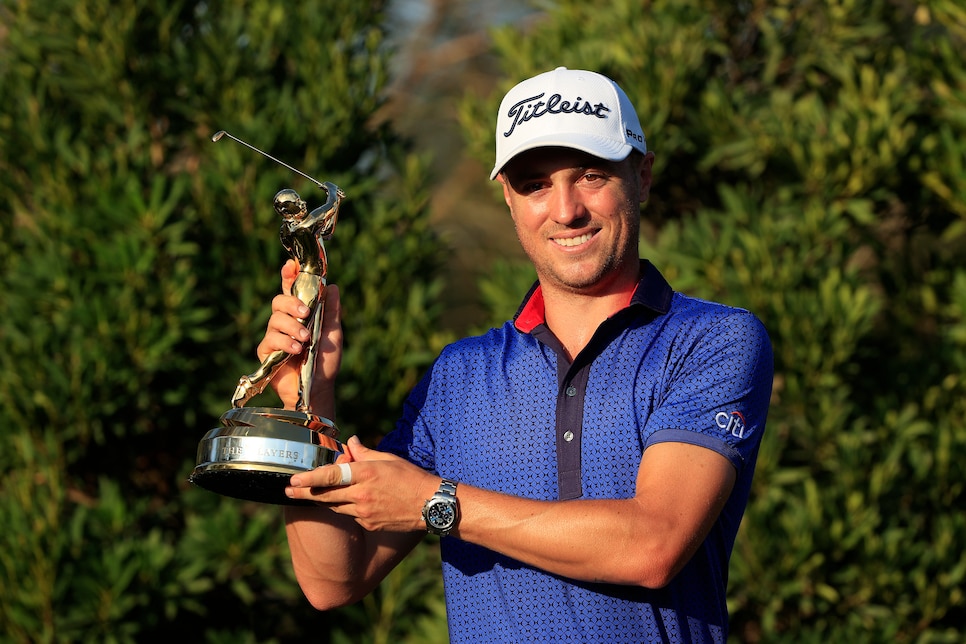 The best golfers in the world rarely take a day off, but you can also say the same about the game's best trash-talkers. And Justin Thomas is a rare combination of the two.
So it should come as no surprise that Thomas, just moments after winning the 2021 Players Championship, couldn't resist the opportunity to needle his good friend and mentor, Tiger Woods.
"Part of me wishes he was here so I could rub it in his face a little bit more," a grinning Thomas told Golf Channel's Steve Sands when asked about Woods.
OK, so you have to be pretty good friends with a guy who recently got into a serious car accident to pull that line off, but that's exactly what JT and Tiger are. We saw how upset Thomas was at his press conference the day news broke of Woods' crash, and in happier times, Thomas has talked about playing home run derby in Tiger's living room.
Also, to be fair, there was more to the quote. A lot more. Here's Thomas' full response:
"I was replaying what he told me a lot in my head. He likes to give me a lot of grief, especially when he's not here, and I think like calling him, like Bryson said, we're all pulling for him, and I'm so glad to hear everything has been going well with him," Thomas said. "But yeah, part of me wishes he was here so I could rub it in his face a little bit more. But no, I'm happy and I hope he's happy, and I always appreciate his help."
And here's what Thomas said when pressed a little more about what Tiger has been telling him:
"I mean, just to stay patient. I mean, it's been a lot of stuff, but it's between us, and it's great," Thomas said. "He's so nice to myself and Bryson and so many guys out here that if you would have told us when we were 15, 20 years old that Tiger Woods was texting us the night before we have a chance to win the tournament trying to inspire us, that's pretty cool."
Pretty cool, indeed. And knowing how much Tiger loves to "give the needle" as he so often says, he probably got a huge kick out of JT's jab. Of course, also knowing how competitive Tiger is, he won't forget it anytime soon, either.