News
Justin Thomas uses homophobic slur after missed putt and apologizes after round: 'I screwed up'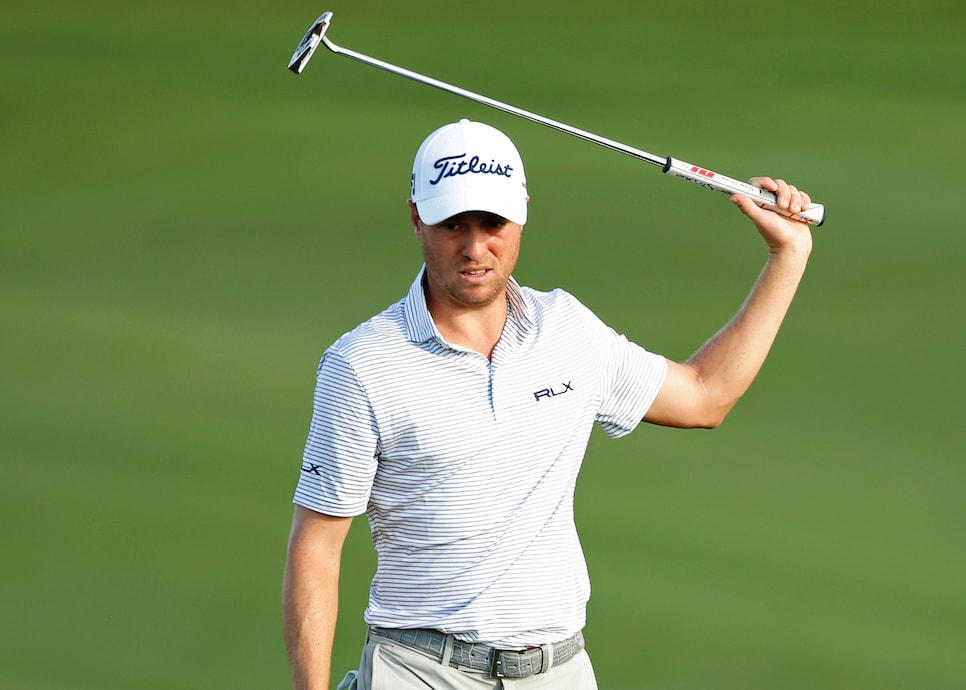 Justin Thomas reacts on the 18th green during the third round of the Sentry Tournament of Champions.
Cliff Hawkins
KAPALUA, Hawaii — Justin Thomas used a homophobic slur during the third round of the Sentry Tournament of Champions on Saturday, and he apologized afterward.
"I screwed up," Thomas told Golf Digest. "I have to be better. I will be better. I deeply apologize to everybody and anybody who was offended."
The incident occurred after Thomas missed a six-foot par putt on the fourth hole at Kapalua's Plantation Course. After his ball slid by the cup, a greenside microphone picked up Thomas uttering the slur to himself. It could be heard on Golf Channel's telecast.
Thomas then tapped in for bogey.
In the aftermath of the Tournament of Champions, Thomas' longtime apparel sponsor Ralph Lauren discontinued its relationship with the player, saying "his actions conflict with the inclusive culture that we strive to uphold."
After his round at Kapalua, Thomas said he was unaware that he'd said it, given the heat of the moment, but added that was not an excuse.
"It's embarrassing. That's not me and it's inexcusable," he said. "There's no excuse. I'm an adult and there's no place for that. It doesn't matter who you are, no one's above that. I have no excuse."
The PGA Tour issued the following statement to Golf Digest: "As he expressed after his round, we agree that Justin's comment was unacceptable."
Allowing viewers to hear what players say during telecasts—specifically by having players wear microphones—has long been a topic of conversation between the tour and the networks that carry its events. Some players have been open to the idea and worn them during select tournaments. Thomas made it clear in 2020, however, that he would be opposed to the idea.
"I would not wear a mic, no. That's not me," Thomas said. "What I talk about with [caddie] Jimmy [Johnson] and what I talk about with the guys in my group is none of anybody else's business, no offense."
Though many players have cursed after a poor shot or missed putt, Thomas' word choice was different. He is also the latest golfer to find himself under scrutiny after using a homophobic slur.
Last March, Scott Piercy used an anti-gay slur in an Instagram post directed at former South Bend mayor and 2020 Democratic presidential contender Pete Buttigieg that also included a reference to a right-wing conspiracy theory. He apologized, but all five of his sponsors, including Titleist, FootJoy and J. Lindeberg, dropped him. And in 2014, Patrick Reed used a slur after a three-putt during the WGC-HSBC Champions in China.
What, if any, discipline awaits Thomas is unknown, though it's likely he would face at least a fine. The PGA Tour does not comment on disciplinary action.
Thomas finished the Tournament of Champions in third place, a stroke out of a playoff.