PONTE VEDRA BEACH — There are bombers and bunters, superstars and no-names, Americans and Euros, righties and a lefty. And there's Bryson, casting his rather wide shadow over this Players Championship. He's making that a bit of a habit.
But for the second-straight week, a man who turned pro 27 years ago holds the 54-hole lead over a field featuring virtually all the game's stars.
Lee Westwood played a remarkably stress-free round on Saturday to shoot a four-under 68, and he'll take a two-shot lead over DeChambeau into Sunday at TPC Sawgrass. There's a bit of déjà vu going on here—last week, at Bay Hill, Westwood and DeChambeau played in Sunday's final pairing. They'll run it back at the Stadium Course, with Westwood hoping for a different result this go 'round. Bryson leapfrogged the 47-year-old Englishman six days ago at Bay Hill, holing a five-footer on the 72nd hole to re-announce himself as a—the?—dominant force in the game.
It's the first time two pros have played together in the final group in consecutive stroke-play events since Adam Scott and Vijay Singh did it at the 2006 Tour Championship and the 2007 Sentry Tournament of Champions.
And yet, it's the furthest thing from a two-horse race. There are six players within four of Westwood's lead, and few venues deliver final-round fireworks as consistently as TPC Sawgrass. Here's what a win would mean—beyond, of course, the $2.7 million payday—for each of the guys in with a chance.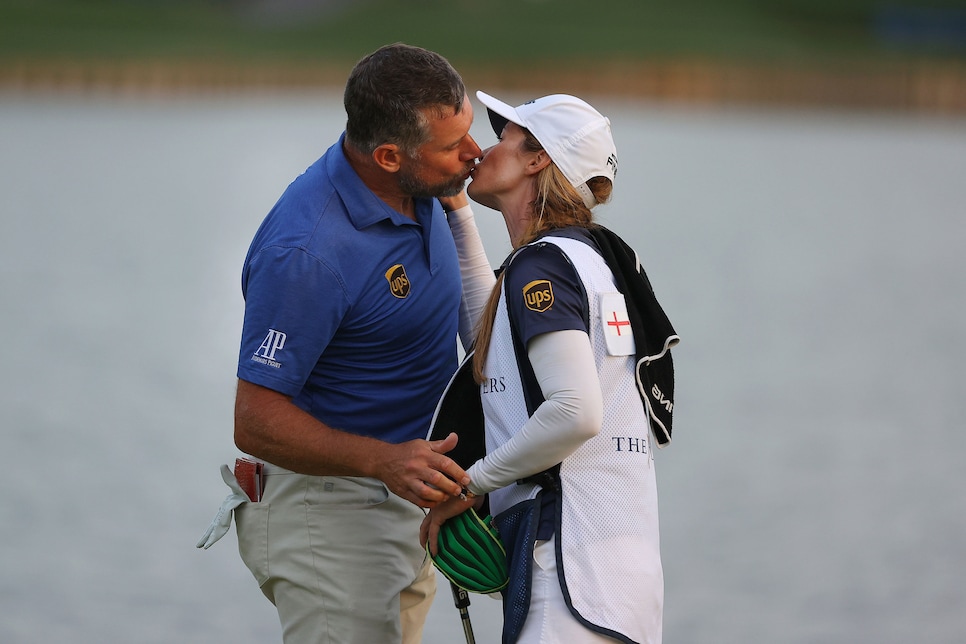 LEE WESTWOOD
13 under, two shots in the lead
Simply put: This would be the biggest win of an already spectacular career for the European Tour's four-time player of the year. Don't take our word for it; Westwood said so himself after his third-round 68 Saturday at Sawgrass.
Stop me if you've heard this before, but Westwood has not won a major championship. He's won two PGA Tour events (the last in 2010) and 42 others around the world, but no majors. He's been close as hell—in fact, there might not be a person who's been as close as he has without actually winning one. He has nine top-three finishes in the Big Four, and when he dipped as low as No. 125 in the World Ranking in 2018, it seemed a virtual certainty that he'd end his career without one.
But he's turned a corner mentally since then, and his play has followed suit. Westwood has been working with a psychologist to develop a process-focused outlook. He worries about the process because he can control the process; the outcome will be what it will be. He has his girlfriend, Helen Storey, on the bag (above). He smiles more. This game is supposed to be fun, after all.
Here's what he said last week at Bay Hill: "I don't treat [golf] as seriously," he said. "I probably have the attitude of 20-year-old Lee Westwood. Through the 30s, I started to treat it a bit too seriously and worry about what people thought or look at trouble on the golf course. Now I just sort of stand up and hit it, and if it goes well, it goes well. And it generally does."
This is not a major. (It's just not, but that's a conversation for another time.) But this would be a remarkable triumph for the older guys and a testament to just how far a care-free attitude goes in this game.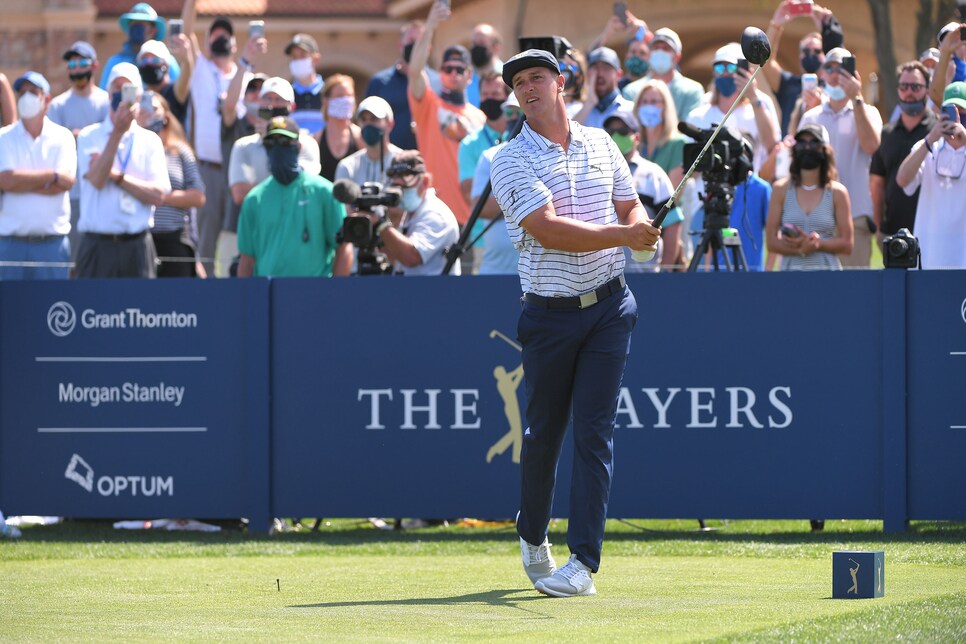 BRYSON DECHAMBEAU
11 under, two shots back
A second straight PGA Tour victory, and his third (remember his U.S. Open win!) in six months, would only further cement his status as the biggest star in a Tiger-less reality. Dustin Johnson is the World No. 1, but he simply doesn't have the cross-over appeal that DeChambeau does. For whatever reason, the beefcake who grunts after hitting it 350 tends to resonate more than a laconic Southern boy who plots his way around a course. Rory McIlroy's swing is out of sorts. Phil Mickelson's is fading. Xander Schauffele and Collin Morikawa let their games do the talking. Justin Thomas is trying to recover from a PR nightmare.
What's more, a Players win would send a foreboding warning to his opponents: Bryson can win anywhere. If you could tailor-make a course to throttle him, it'd look a lot like TPC Sawgrass. Angly. Water everywhere. Have to play for spots. And there he is, within whispering distance of the lead yet again. He's eighth in strokes gained/approach this week and 10th in strokes gained/putting, and it's getting increasingly difficult to find people clinging to the he's-ruining-the-game belief. We're running out of reasons to doubt him.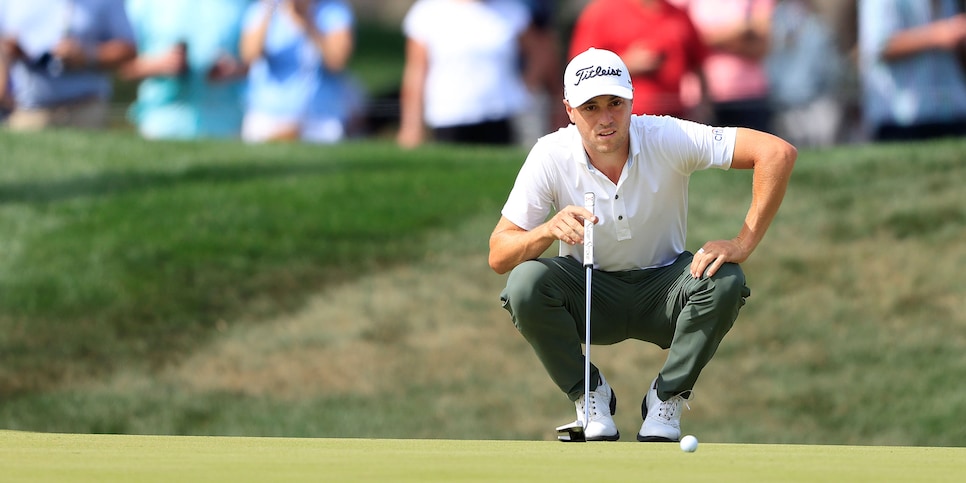 JUSTIN THOMAS
10 under, three shots back
The 27-year-old 13-time tour winner has been in a rut. It's partially a self-made rut, of course—he said a terrible word and paid the consequences. But he's also still mourning the death of his grandfather, who he spoke to every day, and it's bled into his play.
"I'm doing OK," Thomas said Tuesday. "I have definitely been better. But at the same time it's a good opportunity for me to try to grow and learn and get stronger because of it. Yeah, I think it's kind of put a lot of things into perspective, and unfortunately for my golf, it's taken a toll on that a little bit. I haven't been and I'm not playing as well as I'd like."
Thomas was referring to a missed cut in Abu Dhabi, a clunker when in contention in Phoenix, and a near-last-place showing at Riviera just three weeks ago. But he's clearly in a better space mentally, and he was able to reach his electric top-gear on Saturday in making seven birdies and an eagle for a 64, low round of the week. No one makes birdies in bunches quite like Thomas—he leads the tour in them—and should he catch fire again on Sunday, you can't help but fancy his chances to post a number for Westwood and DeChambeau to chase.
As far as turning the page from a brutal beginning to 2021 goes—for better or for worse, the infamous Tiger Woods Nike ad from 2013 comes to mind: "Winning takes care of everything."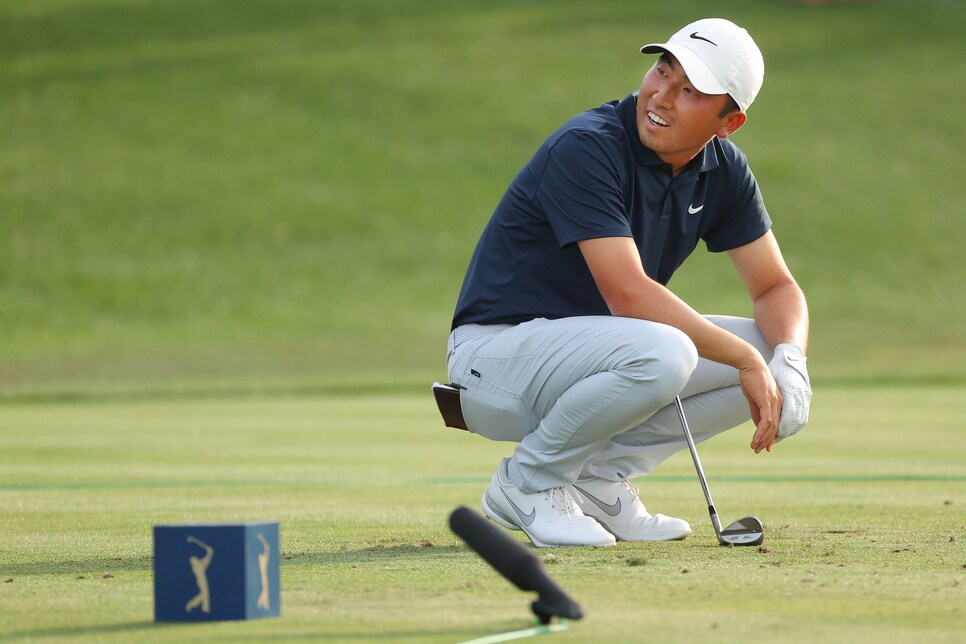 DOUG GHIM
10 under, three off the lead
It'd be one of the wilder upsets in golf history. Forty-eight of the top 50 players teed it up on Thursday, and this guy is ranked No. 257. We ranked the top 100 players in the field at the start of the week, and Ghim wasn't among them. He has one top-10 since June 2019, and the one in June 2019 was a Korn Ferry event. In a normal year, he wouldn't even be playing the PGA Tour. The 24-year-old made $187,442 in 16 starts during the 2019-20 season and finished 184th in the FedEx Cup standings, only to be bailed out by the one-time COVID rules that meant no player would lose their card for the 2020-21 season. Ghim only got into the Players field because Zac Blair, Bud Cauley, Brooks Koepka, Matt Wolff and Tiger Woods couldn't play.
How's that for taking advantage of an opportunity? The former Texas All-American is not short on belief, for what it's worth.
"I mean, I have the same amount of chance as everybody else," he said after his third-round 68. "Everyone gets to tee off—I'm sure there's odds that say that other players have a better chance, but at the end of the day there's no defense being played on my ball more than anybody else's, so I if I go and play the way that I know how to play and if I play the way that I did today, I don't see why I couldn't win."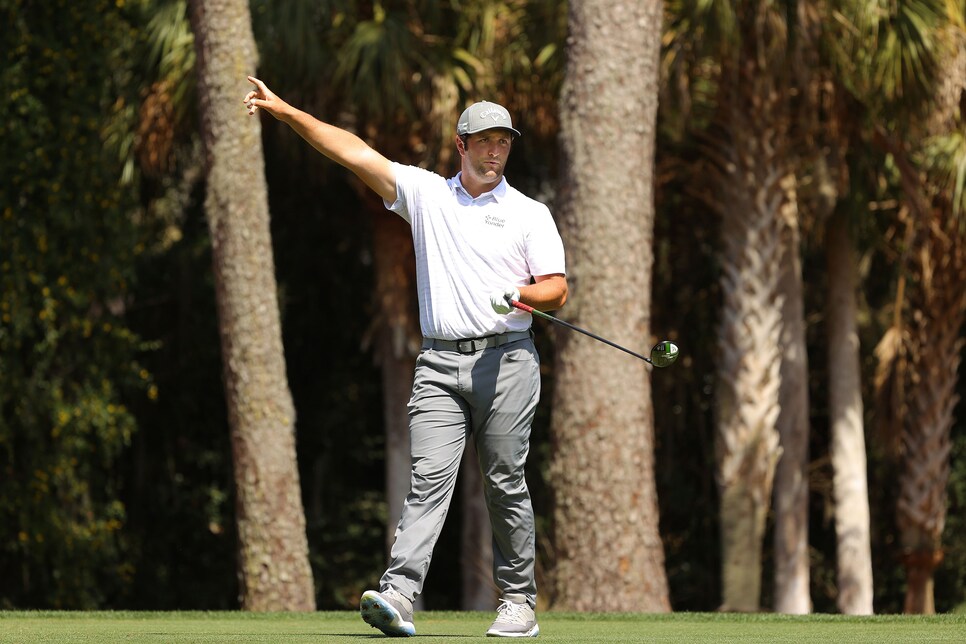 JON RAHM
Nine under, four off the lead
It'd be the next step in a seemingly inexorable rise to the top of the sport. Rahm, 26, briefly held the No. 1 spot in the world last summer and came into this week ranked No. 2, but he sometimes gets left out of the best-in-the-world conversation. That'd no longer be the case. It would also be his first win since he switched from TaylorMade to Callaway at the beginning of 2021, all but putting to bed any concerns that he'd fall victim to the equipment-change dip that's claimed so many.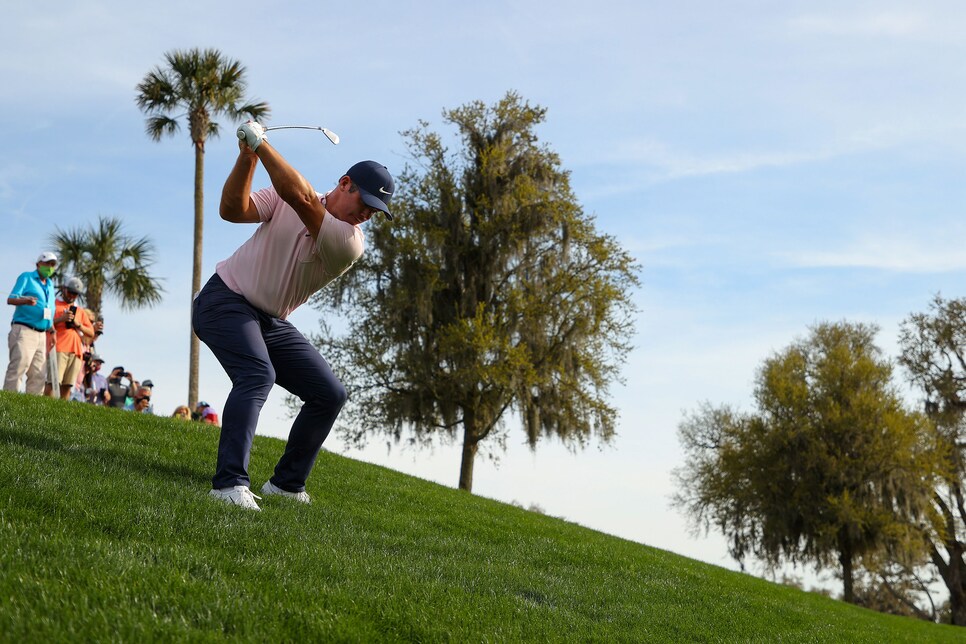 PAUL CASEY
Nine under, four off the lead
Casey is in a similar situation to Westwood, although he isn't quite as accomplished as his fellow Englishman. That's nothing against the 43-year-old, who's won 21 times around the world and three times on the PGA Tour. But up until now, the biggest win of his career has been the 2009 BMW Championship, the European Tour's equivalent of the Players Championship. We won't go full Paul Azinger, but the two tournaments are not even in the same caliber of quality.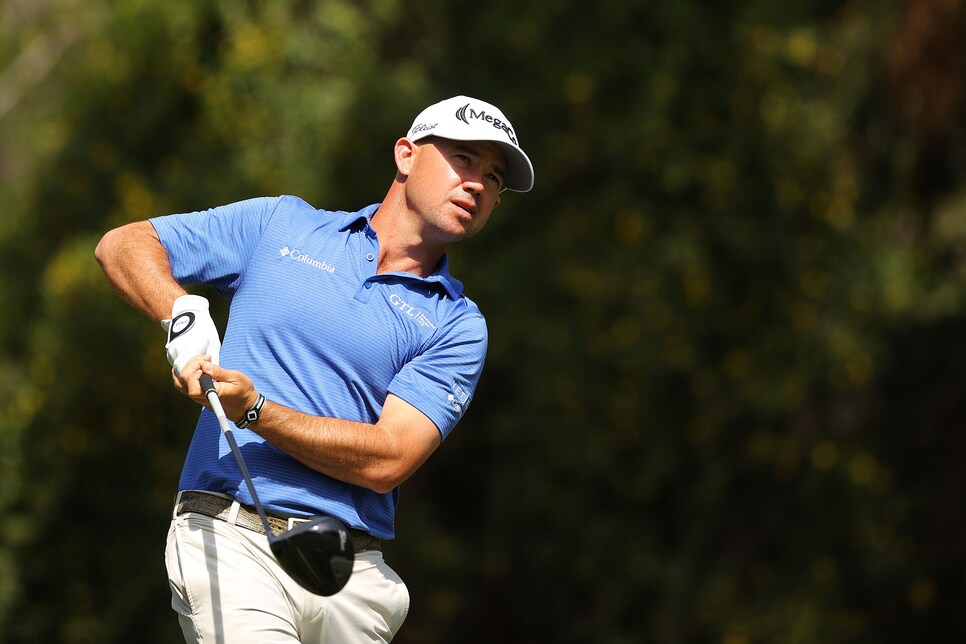 BRIAN HARMAN
Nine under, four off the lead
A Harman win would continue a curious trend of seemingly random winners at the Players. Remember Craig Perks? Tim Clark? Si-Woo Kim? Stephen Ames?
The 34-year-old lefty came into this week ranked No. 95, but he's been as high as World No. 20 in 2018. So he's not a total longshot like Ghim, but there have been few signs recently that he's capable of winning this. His five starts this year: T-58/T-8/T-36/T-39/T-43. But TPC Sawgrass seems to take pleasure in a little bit of chaos. Strap in.