Players Championship
Players 2021: Rory McIlroy admits he got 'sucked in' to speed training, partly because of Bryson's U.S. Open win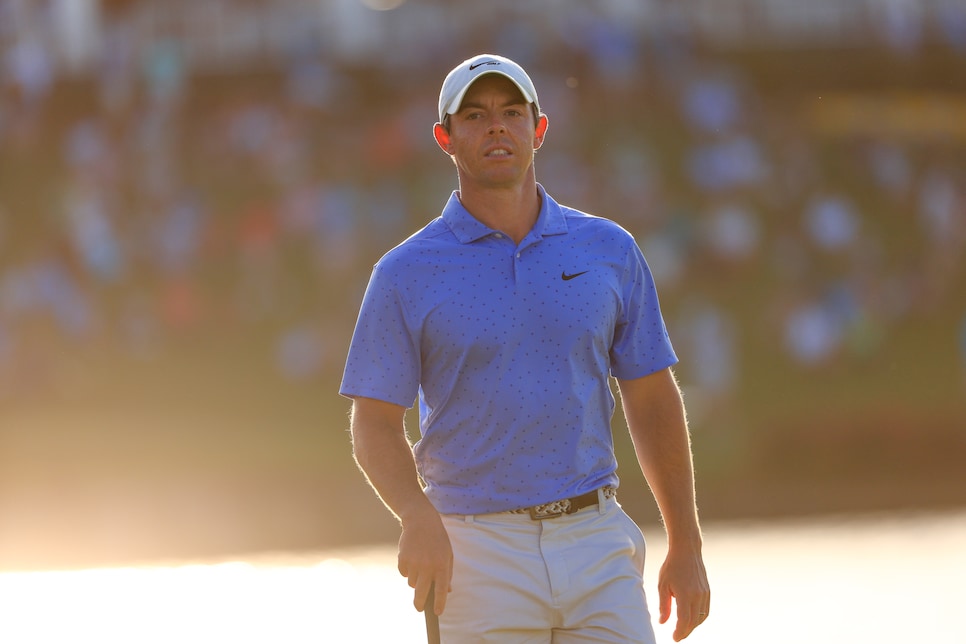 PONTE VEDRA BEACH — Since the PGA Tour's restart last June, Bryson DeChambeau and Rory McIlroy have gone in completely opposite directions. It's been DeChambeau to the moon, while McIlroy can't seem to get the rocket ship off the ground.
On Friday, fresh off a brutal missed cut at the Players Championship (the Northern Irishman shot 79-75), McIlroy admitted that part of the reason the gap between he and Bryson has grown so big is because, well, he's been trying to close it.
"The swing issues and where it all stems from, probably like October last year, doing a little bit of speed training, started getting sucked into that stuff," said McIlroy, who was seen working with renowned swing coach Pete Cowen on the TPC Sawgrass range on Friday. "Swing got flat, long, and too rotational. Obviously I added some speed and am hitting the ball longer, but what that did to my swing as a whole probably wasn't a good thing, so I'm sort of fighting to get back out of that. That's what I'm frustrated with."
McIlroy, who is often honest to a fault, was asked why a player of his caliber—one who hits it as long as anybody on the PGA Tour—would need to go down that path. His short answer? The Bryson Effect.
"I think a lot of people did," McIlroy said. "I'd be lying if I said it wasn't anything to do with what Bryson did at the U.S. Open. I think a lot of people saw that and were like, whoa, if this is the way they're going to set golf courses up in the future, it helps. It really helps."
DeChambeau won that U.S. Open by six shots, closing the deal with a Sunday 67. He was the only player to break 70 in the final round, doing so at a course that was supposed to eat up anyone who dared to miss the fairway. Turns out, DeChambeau's wail-away tactics proved to be the prudent strategy, as it left him with shorter shots into the green that he could wedge out of the thick stuff.
"The one thing that people don't appreciate is how good Bryson is out of the rough," McIlroy added. "Not only because of how upright he is but because his short irons are longer than standard, so he can get a little more speed through the rough than us, than other guys. And I thought being able to get some more speed is a good thing, and I maybe just—to the detriment a little bit of my swing, I got there, but I just need to maybe rein it back in a little bit."
Despite this, McIlroy has still had some solid showings of late. He finished solo third in the European Tour's Abu Dhabi Championship and has finished T-16 or better in four of his five starts on the PGA Tour.
But this week was anything but a strong showing, with McIlroy finishing 10 shots outside the potential cut line, which is not yet official after second-round play was suspended due to darkness. The four-time major champion ranks 141st in the field in strokes gained/off-the-tee, 111th in tee-to-green, and he's near the bottom of the pack in both putting and approach. He is, however, ranked first in the field in driving distance.
"I sort of look back at Winged Foot and I look at my swing there, and I would be pretty happy with that again," said McIlroy, who tied for eighth in the U.S. Open. "And then after Winged Foot I had a few weeks before we went to the West Coast and I started to try to hit the ball a bit harder, hit a lot of drivers, get a bit more speed, and I felt like that was sort of the infancy of where these swing problems have come from. So it's just a matter of trying to get back out of it."
Fortunately, for McIlroy's legion of fans, all does not sound lost.
"I want to get on the range right away and try to get through this," he said. "I'm pretty determined to get back to where I know I can be."