Players Championship
Players 2021: Lee Westwood is very honest about the secret to his late-career resurgence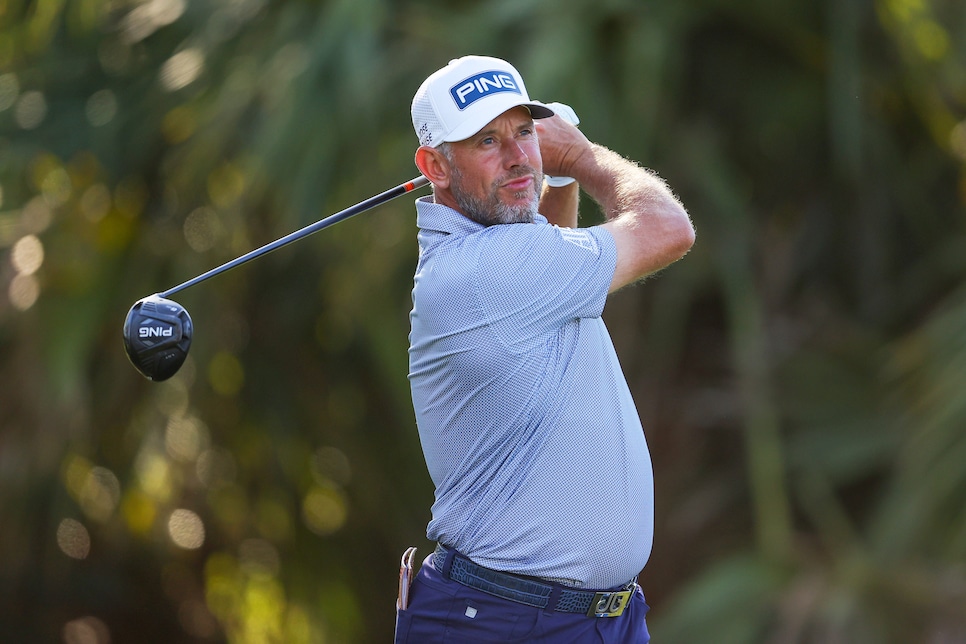 After an opening round 69, Westwood posted a bogey-free 66 on Friday to grab a two-stroke lead through 36 holes at TPC Sawgrass.
Kevin C. Cox
PONTE VEDRA BEACH — You could hardly blame Lee Westwood for feeling a bit of fatigue. The man turns 48 next month, he rode the being-in-contention roller coaster for five grueling hours just five days ago, and TPC Sawgrass demands every bit of your attention.
And yet, the Englishman can't stop smiling. A bogey-free 66 will do that for you, as will a 36-hole lead at the Players Championship.
"Very good," Westwood said of his sixth bogey-free round at TPC Sawgrass, the most of anyone since 2005. "Hit it well off the tee. Hit quite a lot of fairways. My iron shots were good. I played away from flags when I needed to. Got suckered into a couple of pins, but short game bailed me out on those.
Most tellingly: "I had fun out there. Felt calm and in control."
That's Westwood's vibe these days. Simply put: He does not waste time worrying about the things he cannot control. Not anymore. On Sunday of last week's Arnold Palmer Invitational, where he stuck with Bryson DeChambeau all day long only to finish one shot behind, he elaborated on just how much his attitude has changed as he's aged.
"I don't treat [golf] as seriously," he said. "I probably have the attitude of 20-year-old Lee Westwood. Through the 30s, I started to treat it a bit too seriously and worry about what people thought or look at trouble on the golf course. Now I just sort of stand up and hit it, and if it goes well, it goes well. And it generally does."
That accepting outlook—developed through years of work with a psychologist—allowed him to move past the near-miss at Bay Hill. On a day where the scoring average soared past 75, Westwood hung rock-solid all day in posting 73. He left Orlando at peace with his play, with his effort, and not even a little bit upset. In fact, he celebrated the runner-up by sharing some bubbly with fellow Englishman Danny Willett.
"[I was] not disappointed at all," Westwood said about missing out on grabbing his first PGA Tour win since 2010. "I really enjoyed the final day … sometimes you can't control whether you win tournaments or not.
"The nice thing for me about this week is not letting last week affect me in a negative way. I've regrouped. I've still got the memories of last week, of playing well and hitting good shots when I needed to, but there's no hangover. It's a feel-good experience for me this week, and I've carried that into the first round."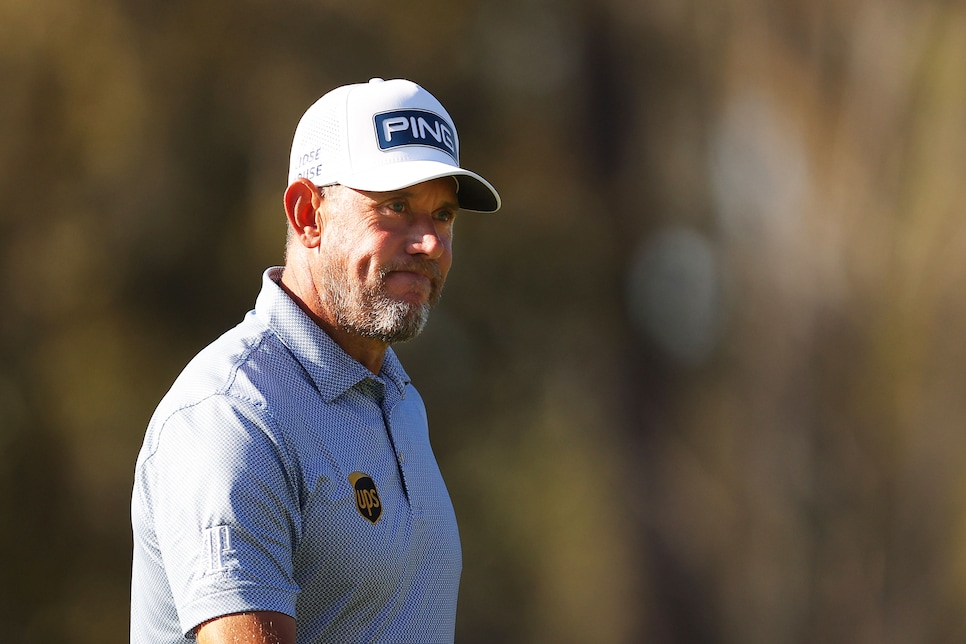 Westwood has a solid record at TPC Sawgrass, with five top-eight finishes in 14 career starts.
Kevin C. Cox
That, and a dialed-in putting stroke. Westwood reached World No. 1 with his ball-striking; the greens have always been a more vexing proposition. But his stroke held up under the gun last week—he holed a delicate seven-footer for par to force DeChambeau to hole a five-footer for the win—and he led the field in strokes gained/putting on Friday, holing more than 122 feet of putts to gain more than four shots on his competitors.
Westwood has earned yet another late tee time in Florida, in a tournament in which he's had five top-eight finishes in 14 career starts and two previous times held the 36-hole lead (2005 and 2010). He's also guaranteed himself another mentally draining weekend. In a good way, of course.
"There's not a shot out there I'll walk up to and think, I haven't got this one. I feel like my technique is good on everything. I can hit a low-drive stinger out there when I need to, I can hit a long iron into a green when I need to and flight it high. If I get out of position I can nip one off the turf and put some spin on it like I did on 9 to finish up there and spin it by that hole. I'm rolling the ball well on the greens. I'm comfortable out there with everything."
Perhaps that fearlessness will carry him to victory this week. Or maybe it won't. That's OK, too.