Players Championship
Players 2021: Bryson DeChambeau is contending despite driving it awfully, which is tough news for his competition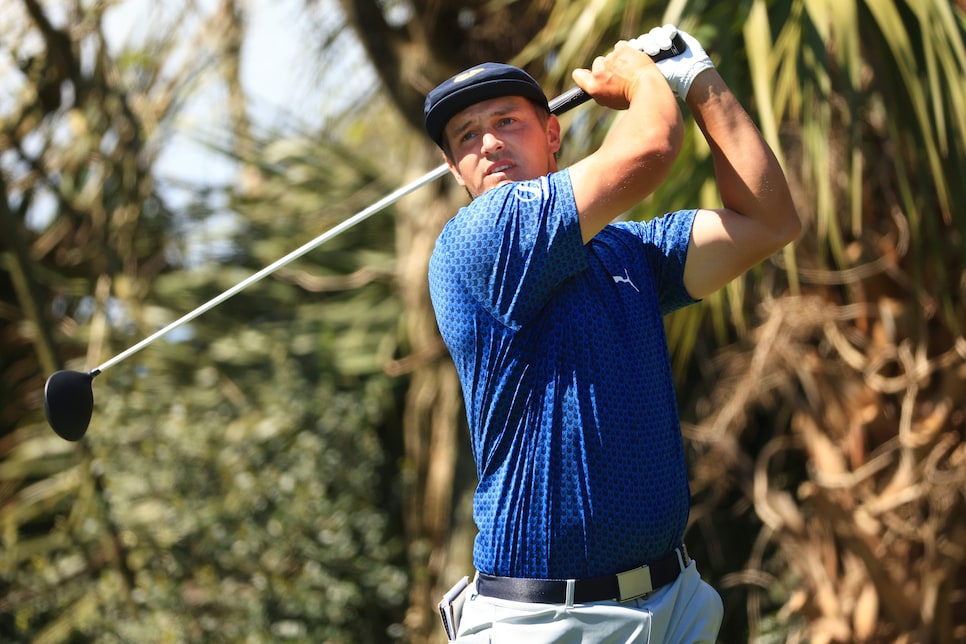 Bryson DeChambeau hits his drive from the fifth tee during the second round of the Players Championship.
Mike Ehrmann
PONTE VEDRA BEACH — The strokes gained statistic, the brainchild of stats guru Mark Broadie, shall henceforth be known as the Slayer of Narratives.
Allow us to explain. Bryson DeChambeau sits at six under par through 36 holes at the Players Championship, firmly in contention to back up his Arnold Palmer Invitational victory last week with another trophy. The natural narrative is that he's overpowering the place, bringing it to its knees with his 190-mph ball speed and 350-yard moonshots.
The problem with that: it's simply not true. DeChambeau, who ranks No. 1 in strokes gained/off-the-tee for the season (duh), actually lost ground to the field with his tee shots after a second straight day of missing all over the place. He ranked 77th in SG/off-the-tee through two rounds—and yet there is, within whispering distance of the leader at the halfway point.
"I'm happy with the fact that I've still been able to keep myself in it and score well," DeChambeau said after a three-under 69 on Friday that included five birdies and a lone double bogey, which came on his first hole of the day.
"I've been pretty lucky for the most part. I don't think that'll happen this weekend. I've got to make sure that my game is good off the tee, so I don't have those issues occurring and I don't have to rely on luck … I was in places where I could get it up and down, rely on my short game around the greens. I don't want to continue to do so."
DeChambeau's driver has been the most talked-about club in golf over the past 12 months, with the mania reaching a crescendo last week at Bay Hill—that's where he took a preposterously aggressive line on the sixth hole both days on the weekend and raised both his arms in triumph after impact both days, and made birdie both days, and won the tournament.
This week, it's been a completely different story. He's been able to compensate for the relatively bad driving—he's still gaining shots on the field over the two rounds, although just barely—with terrific iron play. He ranks fourth in strokes gained/approach on the week, and all five of his birdie putts on Friday came from within six feet.
The lone blemish was a big one, the product of a foul ball right on his very first swing of the day, which drew a one-handed finish and sent him scrambling. From the right trees, he played well left of the green into pine straw, then failed to get his chip on the green and needed three more from there.
"Frustration, definitely—you don't expect to do that the first hole out," DeChambeau said. "Especially [because]I was hitting it pretty good this morning, and then you go out there, you hit one and you squeeze one right and it goes pretty far right.
"You've just got to fight for every shot ... it's about focusing on the shot at hand and making sure you put it in a place where you can make par or make birdie from."
After the round, DeChambeau headed to his happy place: the driving range, where he hopes to iron out the swing issues. He was asked if he ever opts to not hit balls after a round.
"Never. Because I'm a perfectionist, and I'll continue to be until the day I day and until the day I stop playing this game," he said. "That's just the way I am. I love it about me—that's what makes me work hard and fight for every shot out there. But at the same time, it makes me worry about stuff a lot."