PGA Tour
Players 2021: Justin Thomas torches TPC Sawgrass with a 64, says he's having fun again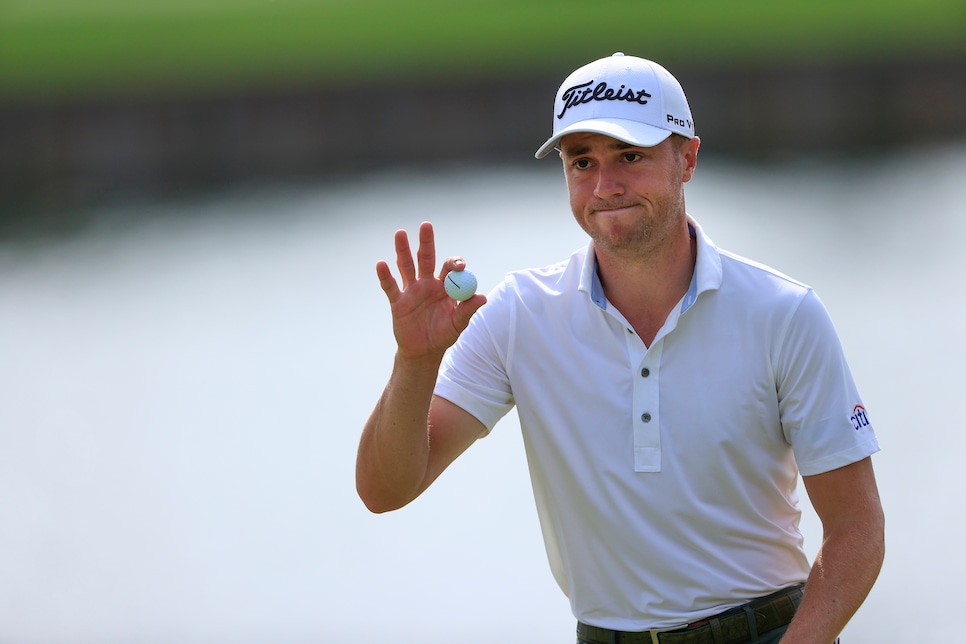 PONTE VEDRA BEACH — When Justin Thomas gets locked in, he gets locked in.
Sure, you could say that about a number of top players in the world, and you may even be right. That doesn't change the fact that he has a knack for going crazy low. For, to steal a basketball term, giving himself a "heat check."
He did it in the third round of the 2017 U.S. Open at Erin Hills, going scorched earth on the first-time major host venue with a scintillating Saturday 63. He did it earlier that same year in Hawaii, posting an opening-round 59 in the Sony Open, which he went on to win. He did it in the third round of the 2019 BMW Championship, a FedEx Cup Playoff event he also won, firing a 61 in the third round. Most famously, he did it in the final round of his 2017 PGA Championship win, collecting three clutch birdies on Quail Hollow's back nine to win by two.
He did it again on Saturday at the Players Championship, bullying Pete Dye's Stadium Course into submission with an eight-under 64, one shot short of tying the course record. He was as locked in as he's ever looked, staring directly at the ground and never looking up as he walked from shot to shot. Nothing could shake his focus, not even a vocal fan who continually attempted to update Thomas on the score of the Alabama-Tennesse SEC Tournament semifinal game (the Tide rolled to a 73-68 victory).
Not even a full bladder could bring his momentum to a halt. At the par-5 16th, Thomas hit a 5-iron from 204 yards out on his approach shot, and he knew shortly after impact just how good it was. The twirl. The pimp step. He was right, his ball coming to rest an inch from the cup. After kicking in the eagle putt, he made a B-line through the crowd to the nearest bathroom. Can you imagine pulling that off while having to "go" at the same time? Yeah, that's locked in.
How is it that Thomas can produce these rounds so often, and so often when he needs them most? The answer is very simple: When you're seven back to start the day, you have no other option.
"I would say that the U.S. Open [at Erin Hills] and here were similar because I wasn't out of the tournament here," Thomas said. "But, I mean I was, I don't know what did Lee [Westwood] start the day at, nine [under] or something? So I was seven back. I was pretty far back at the U.S. Open too.
"It's not like a Saturday when you're one or two back and you're kind of looking at the leaderboard like all right, where am I at now? it's just kind of like, dude, I'm seven back, I need to make a lot of birdies these next 36 holes. Maybe there's something there that I need to learn from."
The 64 matched Thomas' low round of 2021, a year that has not been kind, so far, to the 27-year-old. In the third round of the Sentry Tournament of Champions in January, Thomas was caught using a homophobic slur on a hot mic. Despite a number of genuine apologies, one of Thomas' biggest sponsors, Ralph Lauren, discontinued its sponsorship with him.
The following month, just before the final round of the Waste Management Phoenix Open, where Thomas was in contention, he found out he lost his grandfather, Paul Thomas, with whom Justin was very close.
"I've had definitely my fair share of lows this season and just a lot of stuff going on mentally that I felt like I've never had to deal with," Thomas said. "And maybe taking things for granted or just not enjoying the game. Being irritable, being frustrated, emotional on the golf course is not good for me. It's definitely not good for Jimmy [Johnson, Thomas' caddie]. I'm sure he likes it when I play better a little more, too. But it's just when you're able to get in those zones and hit those shots exactly how you see it, it's fun. It really is."
It's hard not to have fun when you're shooting 64, when you're channeling your inner Tiger Woods as a pured 5-iron heads directly at the pin. Thomas knows this.
"Good golf and fun, unfortunately and fortunately, works together for the most part," he said. "I wish my mood and emotions weren't so dependent on my golf, but golf is my life and it is my job, and I care a lot about it and I care a lot about how I play. So it unfortunately does depend or make and break my mood. But I'm trying to get better. I mean, I'm growing up a little bit, but at the same time it means a lot to me and playing well and winning tournaments means a lot as well."
Having the fans back helps, too. Thomas enjoys putting on a show, and he did just that on Saturday. Despite his recent controversy, he said he's been received well, and that their energy played a huge part in his latest heat-check round.
"Being in contention of a big tournament or any tournament is not remotely close to the same without fans," Thomas said. "You just don't feel it. You do, but it's just so different. Hitting a sand wedge on 17 when it's blowing five, seven miles an hour that flies 135 yards, like that doesn't happen with no fans. That adrenaline and being able to dial that in and having the experience and also being able to control your emotions, it's a lot, and it's what makes it, again, so hard to win out here."
Thomas has made it look easy for much of his career, winning 13 times on tour. The last few months, however, have been anything but easy for JT. But on Saturday, he finally had some fun again.