Live Blog
Players 2022 live updates: Anirban Lahiri—ranked No. 322 in the world—takes solo lead into grueling final day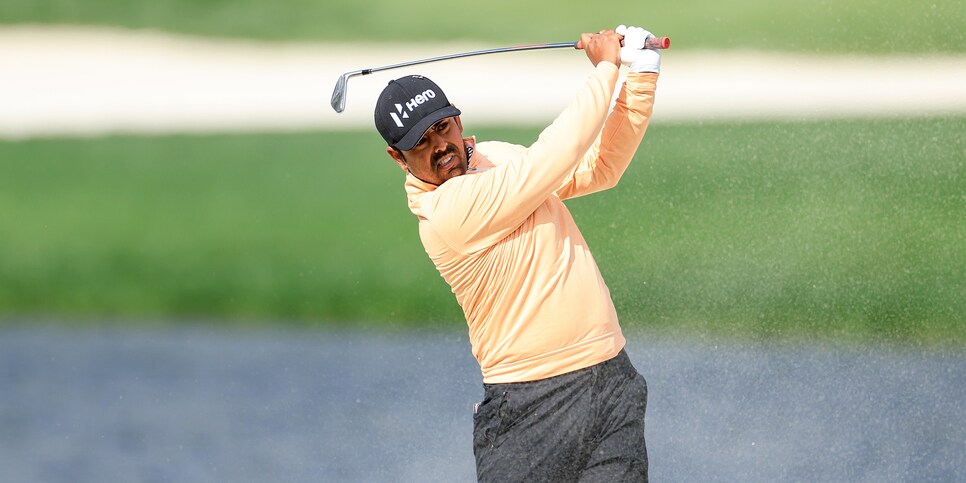 Anybody ready for a playoff in the Players Championship? If it comes to pass, would you laugh or cry? Look, after some of the craziest weather and staggered play we've seen in any PGA Tour event, it would be perfectly fitting for this thing to go to the three extra holes designated by the tour for its marquee event. We now move on to Monday, when some of the leaders will face playing 27 holes just to get to the end of regulation.
(Scroll down for the latest updates)
Nobody has been able to run away in these trying conditions, and there are 17 players four strokes or closer to the lead of Anirban Lahiri, the 322ndranked player in the world who shot 31 on the front nine of the third round and birdied the 11th hole to get to nine under in the minutes after the horn blew to stop play. The 29-year-old from India is seeking his first PGA Tour win and his first victory of any kind since he won twice on the European Tour in 2015.
He's got a long way to go, though, considering the Players is not likely to end until the light is fading over TPC Sawgrass on Monday evening. Five players are either one or two strokes back of Lahiri, with Tom Hoge and Harold Varner III—both winners this year—at eight under. Sebastian Munoz, Paul Casey and Sam Burns are at seven under.
The third round is set to resume at 8 a.m. ET on Monday. The forecast is the best it's been for the tournament, with the temperatures warming up to the mid-60s, the wind likely peaking at 15 mph and—most importantly—little chance of rain.
Players 2022 live updates:
7:25 p.m.: After making five birdies to shoot 31 on the front nine and take a two-shot lead, Anirban Lahari hit a horrible hook (ShotLink had it traveling 202 yards) from the 10th tee that disappeared into the Palmetto trees. It was so bad that Lahri hit a provisional. But he somehow found the ball—to the incredulity of NBC on-course commentator John Wood—punched into the fairway and mangaged to save a bogey to still hold the lead by one.
6:56 p.m.: We've seen quite a few hole-outs from the fairway this week, but rare is the "nothing but cup" shot, a la Steph Curry shooting baskets. Joaquin Niemann pulled it off for an eagle on the par-5 ninth and it was a thing of beauty. From 68 yards, the young Chilean hit a wedge that flew straight into the hole. Niemann laughed and motioned like he was shooting a 3-pointer.
6:12 p.m.: We posted a fun story by Dan Rapaport this week that had Brendon Todd graciously reliving his all-world shank at 17 in last year's Players. He's got company. Poor Patton Kizzire hit it just as bad, and the groans were nearly as loud as the cheers for Shane Lowry's ace. Bummer for Kizzire. He made a 5 after notching birdies on three of his previous four holes.
5:51 p.m,: There it is! The first ace of the week at 17!. By Irishman Shane Lowry, who celebrated lilke he'd just made the winning putt on the 72nd hole. Showed a pretty great arm, too, by hurling his ball into the crowd. David Feherty had the great line: "Look at that face, any excuse for a pint." How cool for Lowry to also have fellow Ryder Cupper Ian Poulter in the group. Better yet, it moved Lowry up the board and into T-19. And he's still got 10 holes to play.
5:45 p.m.: Erik van Rooyen—he of the Kurt Russell 'stache in "Tombstone"—birdies the second and he's tied at the top at seven under with Tom Hoge and Sam Burns.
5:30 p.m..: The talk as the week went on was the divergent fortunes of the draw. The numbers bear that out. According to the tour, of the 71 players who made the 36-hole cut, 44 were from the early/late wave, compared to 27 in the late/early wave. Doug Ghim (T11/four under) was the only player at four under or better who played in the late/early wave.
5:20 p.m .: Huge test for Harold Varner III today and Monday. He just teed off for his third round, only one stroke back, and this is the second-best he's played through two rounds in the Players (he was six under thorugh 36 holes in 2018. This week, he shot 69-69 to record consecutive rounds in the 60s in his 20 career trips at TPC Sawgrass.
5:05 p.m.: Justin Thomas lips out on No. 3 for what would have been a third straight birdie to start his round. He remains at five under, but wow, does he look locked in. On the flip side, it's been a rocky start for Jon Rahm, who has bogeys on 1 and 4 to fall back to two under.
4:52 p.m.: Justin Thomas is a problem. Not that that's a surprise considering he's the defending champ at TPC Sawgrass. After opening with birdie, Thomas nearly eagles the second hole. With a tap-in birdie, he's now five under, just two off the lead. Pretty amazing considering the conditions he played in on Saturday.
4:42 p.m.: Russell Henley becomes the first player on the course to crack the first page of the leader board. The three-time PGA Tour winner opens his third round with three consecutive birdies to move to five under. It's a fantastic—and unusual—start for Henley, who has more career missed than made cuts at the Players and whose best finish in eight previous starts here was a T-17.
4:35 p.m.: Tha All-Star Toptracer group of Justin Thomas and Bubba Watson (and Doc Redman) is off and JT didn't waste any time continuing his fine play from yesterday. Thomas found the fairway with his opening tee shot then stuck his approach to eight feet and converted the birdie putt to move to four under. Watson found a fairway bunker off the tee, but made par to remain at three under.
4:25 p.m.: The winds are down, but the greens are getting quick and crusty at TPC Sawgrass. Jon Rahm misses a 15-footer for birdie on No. 1 then bricks the comebacker from inside of three feet. The World No. 1 falls back to two under. And he certainly won't be the last to struggle with the putter as these greens continue to firm up.
4:21 p.m.: Dustin Johnson is one of the guys you'd figure could make a charge early in this third round, but he begins with two pars, including a disappointing one on the par-5 second. Unfortunately for the two-time major champ, that's what's held him back so far this week. He remains even par on TPC Sawgrass' collection of par 5s and two under overall for the tournament.
4:10 p.m.: No one on the course has quite cracked the top 10 yet, but Kramer Hickok is close after birdieing his first two holes. The University of Texas product will have a decent look at a third straight birdie after a solid tee shot on the par-3 third. Meanwhile on the back nine, Francesco Molinari has birdied two of his first three holes to move to three under.
3:55 p.m.: Death, taxes, and Sergio Garcia contending at the Players. The 2008 champ is one of the rare guys who always seems to play well at TPC Sawgrass and he's doing it again this year. Garcia's eagle on No. 2 vaults him to four under and just outside the top 10 currently. Incredibly, Sergio has made 18 consecutive cuts in this event.
3:20 p.m.: Gold Boy is BACK and "better than most." He's made his way from the tee to the green and, get this, making putts. NBC showed it to Tiger Woods himself, who seemed amused, so there's that.
3:05 p.m.: Oh, the humanity! Scott Piercy plays the final two holes in 5-over to miss the cut. With a par at the last, Nick Watney is the final man into the weekend—err, Sunday evening and Monday. Doesn't have the same ring to it.
And that's it for two rounds. Some 80 hours and 15 minutes later, we're "halfway" through the Players. The other half is scheduled to be played in roughly 27 hours. Buckle up, friends.
2:50 p.m.: Alright, folks. A little reset as we near the halfway point. Anirban Lahiri and Taylor Pendrith are the last players on the course on the first page of the leader board, both at 5-under.
There's a bit of cutline drama. Peter Malnati, when he started his 36th hole of the tournament, controlled the cutline; a par or better would make it 1-over, while bogey or worse would bring the 2-overs (including Rory McIlroy, Scottie Scheffler) back for more golf. He sh*nked his approach shot into the knobs right of the 18th green, but got down in two from there.
It should have been that simple.
Scott Piercy, who started the 17th at 2-under, put two in the drink and sunk a clutch 8-footer for quad. All the 2-overs who would have been eliminated with Malnati's par had life once again. Now he and playing partner Nick Watney, also at 2-over, control the cutline. A birdie or better from either of them and it moves back to 1-over. On the other hand, a bogey or worse from either of them on the daunting 18th and they miss the cut.
THIS is the Sunday drama we signed up for at TPC Sawgrass.
2:00 p.m.: The World No. 1 is down, but not out. Birdies on 16 and 18 bring Jon Rahm to 3-under for the tournament, four strokes back of the lead. He'll grab some lunch and recharge before going back out to start his third round this evening.
Meanwhile, a hole behind, Paul Casey is having a bit of fun on the island green. The Brit holes a 53-footer from the front of the green to get to 5-under, within two of Sam Burns and Tom Hoge.
1:40 p.m.: Sam Burns is heating up. He reached the par-5 16th in two and dropped the 76-foot putt for eagle. It puts him at five under in his last six holes, and tied for the lead at 7-under.
1:25 p.m.: A bogey at the 6th hole brings Mitchell back into a tie with Tom Hoge for the lead at 7-under. Both players have three holes left in their second rounds, with eight players lurking within two shots of the lead.
1:19 p.m.: Erik Van Rooyen finished his second round in the best way possible. The par-5 9th hole was his last. He hit a nice little half wedge that landed past the cup and spun back into the hole. The eagle puts him at 6-under, T-3 and two back of the lead. Once the second round is complete, the third round will being. So Van Rooyen gets to ride that momentum right into his next round.
12:51 p.m.: We have a new leader: Keith Mitchell followed up his birdie on the 3rd hole with another on the 4th. Mitchell is now alone at the top of the leader board at 8-under. The 30-year-old's lone PGA Tour win was at the 2019 Honda Classic.
12:36 p.m.: Keith Mitchell has tied Tom Hoge for the lead. Mitchell made birdie at the par 3 3rd hole to get to 7-under and tie Hoge. It looked like the tie would only last for a minute because Hoge went ahead and threw a dart on the par 3 13th hole. It's a 204 yard hole and he put it to three feet. But he missed the short birdie putt and settled for par. The two are tied at 7-under.
12:29 p.m.: Joaquin Niemann burned the lip of the cup with his birdie attempt at 14. If he had made it, he'd be tied for the lead at 7-under with Tom Hoge. While Niemann was missing his birdie putt, Hoge was saving par at 12. Hoge remains in the lead by one, but three guys are just one shot back: Harold Varner III (who has completed his second round), Niemann and Keith Mitchell.
12:03 p.m.: Cam Smith is an absolute assassin with his flat stick ... he just holed one from off the green for his second straight birdie to get to 4-under. And he damn near made a hole-in-one at the 13th hole. The Aussie lives in Jacksonville, so it probably shouldn't be a surprise he's around the lead ... and he's been playing some great golf, evidenced by his Sentry TOC victory to start the year. He'll be two back of the lead shortly.
11:29 a.m.: There are a number of players at 3-under this morning for their second rounds, and Harold Varner III is one of them. He's one back of Tom Hoge after his latest birdie, a two-footer at the fifth hole after sticking his approach from 178 yards out.
Those other 3-under rounds belong to Corey Conners (who is 5-under overall and just two back); Viktor Hovland (now at 4-under and three back); Hank Lebioda (3-under total and four back) and Patrick Reed, (-2).
11:25 a.m.: Well, Jhonny Vegas did enjoy a brief stint near the top of the lead. Then the 18th hole happened...

When you rinse two in the water on 17, your shot trail looks something like this:
11:16 a.m.: It's a major-like tournament being played in difficult conditions, so should we be shocked Will Zalatoris is jumping up the leader board? No, we shouldn't. But the 25-year-old golden boy (no, not this golden boy) just recorded his third straight birdie (holes 3 through 5) to move back to 3-under. Of course, that's where he started his day and made two bogeys and a double ... but he's right back in the mix. Like he does.
11:01 a.m.: Dear LORD, Tom Hoge keeps peppering flagsticks. The winner at Pebble Beach earlier this year just stuck his tee shot at the par-3 eighth to within three feet, which he taps in for his birdie to get him to 7-under, now the solo leader again.
Hoge is gaining over four strokes on approach thus far through two rounds, which is good for seventh in the field. When you match that with gaining over three strokes off the tee (fourth in the field), it's no wonder he's in the lead by himself.
10:54 a.m.: Tommy Fleetwood is back to holding a share of the lead with back-to-back birdies on 11 and 12 to move back to 6-under, even par on his day.
10:35 a.m.: Erik Van Rooyen is FLYING up the leader board this morning. He's 4-under through his first eight holes. That included a chip-in birdie at the 12th hole—which he deserved because his approach hit the flagstick and repelled off the green. And he's followed that by three other birdies to get to 5-under.
Harold Varner III is also to 5-under after a birdie at the par-5 second hole (his 11th of the second round) to get to T-2. It looks like HV3 might not have been prepared for the cold weather this morning when packing his apparel and had to make a pit stop in the pro shop. Either that, or his agent did some impressive work in securing a Players Championship sponsorship for the week.
Tom Hoge still leads by himself after the missed bunny by Pendrith.
10:25 a.m.: Oh boy ... Taylor Pendrith just missed a reallllly short putt at the par-3 13th hole for par. Shotlink says it was a 3-footer ... we're going to disagree. That looks closer to one foot than three feet...
The Canadian just kind of stepped up there after missing his birdie try and nonchalantly tapped the putt. Now he's paying the price for it ... dropping out of the lead and back to 5-under.
10:17 a.m.: Tom Hoge is back to holding a share of the lead with a birdie at the par-4 sixth hole, making up for his opening bogey.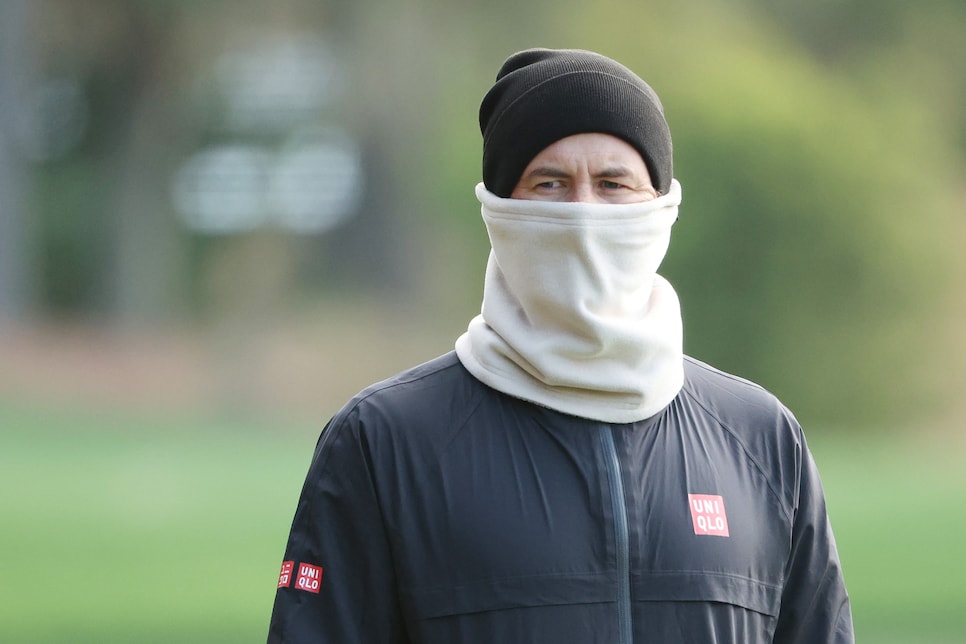 There are a handful of decent rounds on the course right now ... Jonny Vegas is 2-under on his first four holes and is one back at 5-under. Sam Burns is 1-under and also -5. Keith Mitchell and Joaquin Niemann are also one back at 5-under.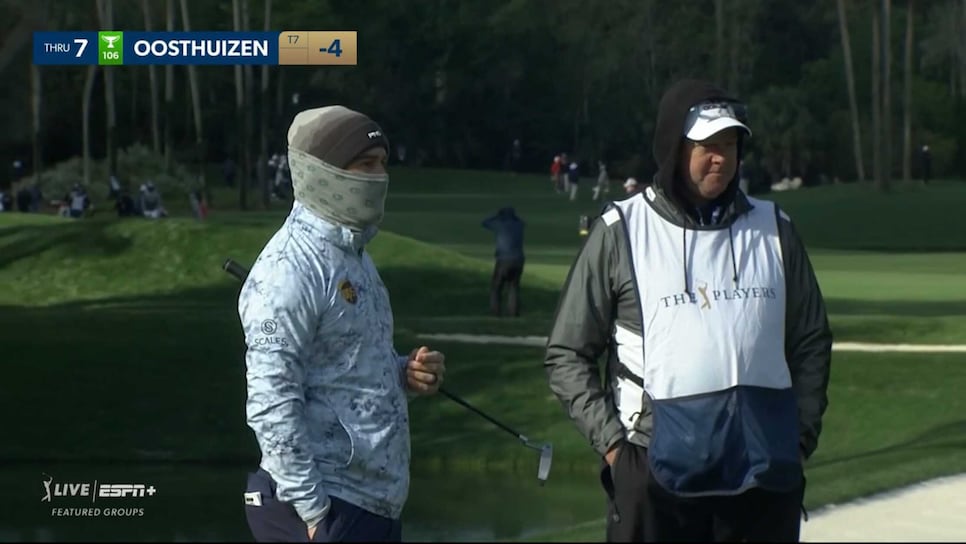 World No. 1 Jon Rahm nearly joined the group at 5-under—his birdie putt at the seventh hole just lips out. He's a name everybody close to the lead will be keeping their eyes on, to see how close he gets to the lead by day's end.
10:05 a.m.: We can't get enough of these cold-weather pictures. Look at Adam Scott ... he looks like he was forced to walk through 25 degree weather to go study at the library on a Sunday morning.
And Louie is making the Bank Robbery Chic look become cool.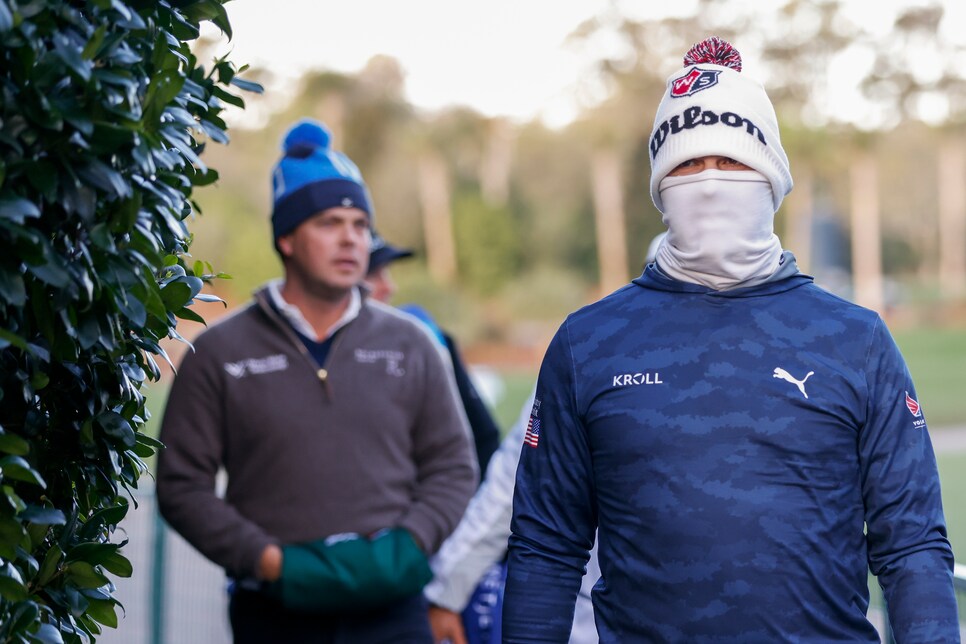 9:54 a.m.: Leave it to a Canadian to be thriving in these conditions. Taylor Pendrith adds another birdie to claim the solo lead at 6-under. Pendrith, a 30-year-old who's in his first full season on the PGA Tour, two-putted at 11 for this birdie. He has one top-10 on the season—a top-five in Bermuda after he held a three-shot lead entering the final round before a Sunday 76.
9:25 a.m.: Taylor Pendrith joins the lead with a birdie at the 10th hole to open his second round, which moves him to 5-under, which is currently tied with Sam Burns, Tom Hoge and Anirban Lahiri for the lead. You'll notice Tommy Fleetwood wasn't in that list of names ... he just made his third bogey in his opening seven holes with a 5 at the par-4 seventh hole. You'd think Tommy Lad would do better in these cooler temperatures having grown up in England...
9:15 a.m.: We are really enjoying all the players' cold-weather gear this morning. One of the best images we've seen is Gary Woodland and Keith Mitchell bundled up. Or at least we're pretty sure that's Gary Woodland under there...
9:02 a.m.: Tom Hoge has started his opening round with a bogey, meaning the lead is back to 5-under. Doug Ghim, the talented former Texas Longhorn who played alongside Justin Thomas last year in the final round at TPC Sawgrass, is having another great tournament here. Of course, as we were typing that, he hit a very poor birdie putt, resulting in a three-putt bogey at the last hole. But it's still a two-under 70, which puts him one back of the lead.
Viktor Hovland rolled in a 12-footer for birdie at the par-3 second hole to get to 2-under, which is now three back of the lead.
8:43 a.m.: Sam Burns hit a great chip on the par-5 second hole to within 3 feet, which he converts for the birdie that gets him to 5-under. Burns—who was so hot in the fall—very quietly is lurking in this tournament.
8:28 a.m.: Tommy Fleetwood had it to 7-under for a brief time on Saturday as he got his second round going, but he has now dropped two straight shots (at 3 and 4) to fall out of the lead.
Fleetwood hit an iron off the tee at 4 into the left rough last night as play was concluding, and he gave himself a look from about 5 feet for par on Sunday ... but he fails to convert.
8:27 a.m.: A bit of a missed opportunity for Louis Oosthuizen at the second hole, facing a 7-footer for eagle that would have got him to 5-under. He even saw Sergio Garcia hole a putt on a similar line right before him ... but Oostie's putt misses and he'll settle for a birdie that gets him to 4-under.
There's a growing group at 4-under par, currently nine players on that mark, including some big names.
8:20 a.m.: We have another ball in the water on the 17th hole to start the day. Taylor Moore becomes the first victim of the island green this morning. The conditions aren't quite as brutal with 30 mph, unpredictable gusting winds like players such as Scottie Scheffler, Xander Schauffele and Brooks Koepka saw on Saturday. But would you want to hit that shot when it feels like 30 degrees?
Jon Rahm, Viktor Hovland and Patrick Cantlay all card pars to start their opening rounds ... impressive considering none of them found the fairway with their tee shots Saturday night.
It's officially bitterly cold at TPC Sawgrass. The real feel is around 30 degrees (yes, Fahrenheit) as the players are about to resume (and start) their second rounds.
One of our writers on-site at TPC Sawgrass is getting very creative in his wintergear this morning. If you find him on-site, please heckle him.
Here's the full weather report from the PGA Tour: