Players
Players 2022: Winds on Saturday deliver brutal (but fair) butt-kicking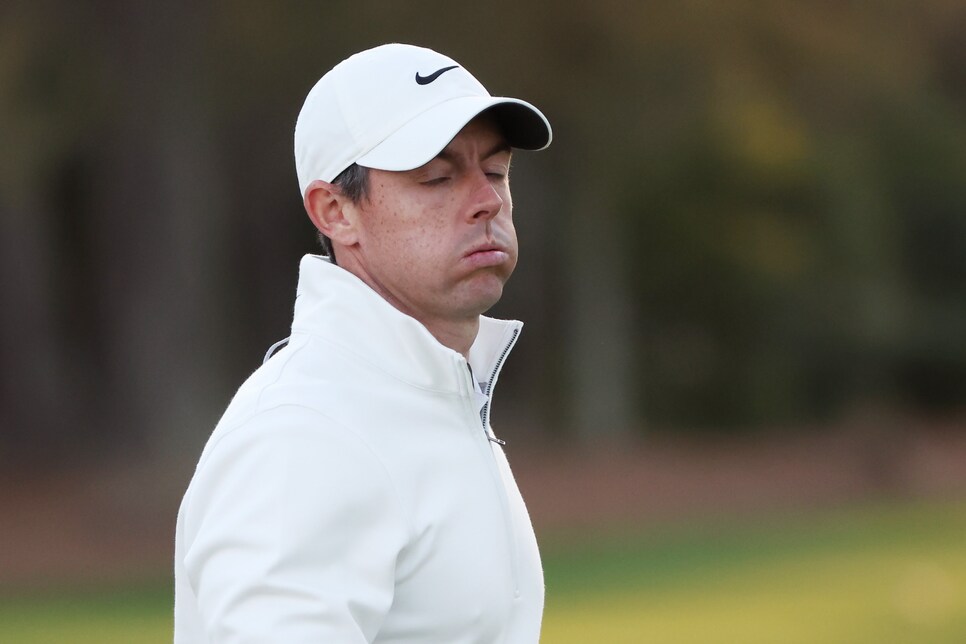 Rory McIlroy has scored two 73s in the tough conditions of the Players Championship.


Sam Greenwood
PONTE VEDRA BEACH — The old man tried to mask his smirk but couldn't, so he turned his back to the driving range out of respect. The practice area had been open for 10 minutes but that was all the time needed to sense what lay on the horizon. "I'm not trying to be mean," the still-grinning man said next to a fleet of vehicles ready to take the field out to the proverbial lions. "You just don't see pros uncomfortable very much." He briefly pivoted to Dustin Johnson, saw Johnson's short-iron shot smothered by Mother Nature, then recoiled in laughter. "They don't look too comfortable now!"
It was a funny observation, funny because it was true. There was a palpable sense of resignation Saturday morning at TPC Sawgrass. Like a No. 16 seed gazing over at the reigning champ's layup line, recognizing they were severely overmatched and about to get run out of the gym and knowing there was nothing they could do about it. Day 3 saw the completion of Round 1 (after 54 hours) and start of Round 2 of this weather-wrecked Players Championship, and while the rain has made the early part of this tournament disjointed, Saturday brought a cohesiveness to the proceedings. And that cohesiveness was a collective butt-kicking.
Halfway through Round 2, which was halted by darkness, the scoring average is 75.37. If that sounds high you're correct; during the infamous 2016 Saturday that sired the legend of Ken Duke, the field average was 75.59. Only two players, Justin Thomas (69) and Bubba Watson (68), have broken 70, although there are unconfirmed reports that they may have been playing a different course. Through 57 players, the 18th boasts a 5.04 scoring average, which if it holds would be the hardest it's played in tournament history. The 17th was similarly brutish, allowing just two birdies in Round 2 and playing to a 3.70 average … which was easier than it played at the end of Round 1. To boot: 21 individuals played the 17th as part of their Round 1 on Saturday. Ten found the water.
"Just a tough day," Brooks Koepka mustered after a second-round 81. "I think today everybody knew today was going to be extremely tough. You catch some gusts, and you play, I guess, the wrong shot, the wrong gust, and you make some numbers."
But today was not a day painted by numbers. It is a day best told by anecdotes that border on the apocryphal.
Xander Schauffele came to the 17th tee at the end of Round 1 in a tie for ninth. He walked off the 18th green in a tie for 90th and in need of a hug.
Keegan Bradley hit a 9-iron from 95 yards out at the 12th. At the 16th he pulled the same club from 208. He shot a one-under 71. He called it "one of the best rounds of my life." Bradley, you may recall, won a PGA Championship.
Koepka, after watching his ball find water for the second time on 17, released the type of laugh that wasn't so much a laugh as it was a wave of a white flag. Or, as one fan attested, a laugh that usually leads to a straightjacket.
Matt Kuchar sailed his ball so far left off the island green it touched down on the mainland. Scottie Scheffler entered with wins in two of his last three events and hit a shot on 17 that, judging by its trajectory, was hit with a wiffle bat. Zach Johnson accidentally stubbed his tee ball on the 18th tee. On second thought that brought a rare sense of normalcy.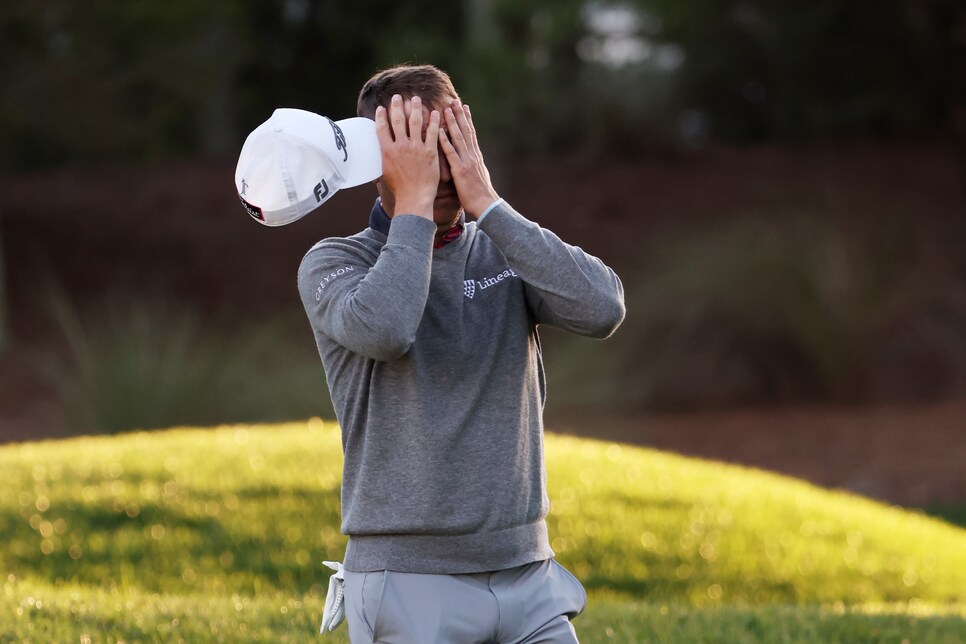 Justin Thomas reacts on the eighth green during the second round of the Players Championship.
Sam Greenwood
Give tour officials credit: They did everything in their power to defang the beast. They moved a number of tees up, the pins were in relatively accessible spots and lift, clean and place was allowed. Unfortunately, the tour could not find the switch to the fan that spanned the property. Winds were constantly in the 15 mph range with gusts reaching the 40s. You can battle gales on a proper links course and keep sanity intact but that fight requires a ground game and Sawgrass is impervious to such an attack. Sawgrass can only be danced with in the air, and when that air is putting flags in yoga positions the only strategy is to survive.
Frankly, it was such an ugly game that it was beautiful to see. The 17th got the attention, as it usually does and rightfully deserves. But the chaos was not confined to the signature hole; only the second, 11th and 16th (all par 5s) played under par on the day. Fans have seemingly got their fill of 20-under affairs, and as the U.S. Open annually shows, there's a contingent of sadists—excuse us, traditionalists—that want par preserved at all costs. While there is no ill will attached, there's also a bit of schadenfreude (as our driving range fan can attest) in watching those who make this endlessly difficult game look so easy look, if only for a day, like us.
However, as we saw last week, tour players don't take too kindly to high scores. Coupled with the fatigue inherent to these type of conditions the atmosphere was ripe for a rip or five. Instead, almost to a man, the field asserted what they faced was tough yet fair.
"No, it's not," Rory McIlroy said when asked if it was over-the-top after shooting 73-73. "No, because it was so soft, it's not as if—it was fine. The ball was staying. Very tough conditions, but it was fair." Added Sam Ryder, who sits at one under after a 69-74 start: "I think the course setup and everything is plenty fair, it's just hard, and with all the delays, it's a little frustrating at those times because it's not easy in those conditions."
The only player who took a small jab was Kevin Kisner, who at one point was tied for the lead at six under but finished at minus two. "It's pure luck and somewhat loss of integrity of the tournament in my opinion, but it is what it is," Kisner said. Yet even Kisner acknowledged there wasn't much the tour could do, especially with things already needing to go right to finish on Monday. "Gusts over 40 miles per hour is not made for golf on these conditions," Kisner added.
He said it with a shrug. What else could he do? Sometimes you win, sometimes you lose, sometimes you come out so hard on the business end that the only refuge is found at the clubhouse bar. On this Saturday at TPC Sawgrass, we hope the tap lines are clear and the tumblers are stocked.