PGA Tour
Players 2022: We eavesdropped on the player-caddie chatter at the 17th, and it was A+ listening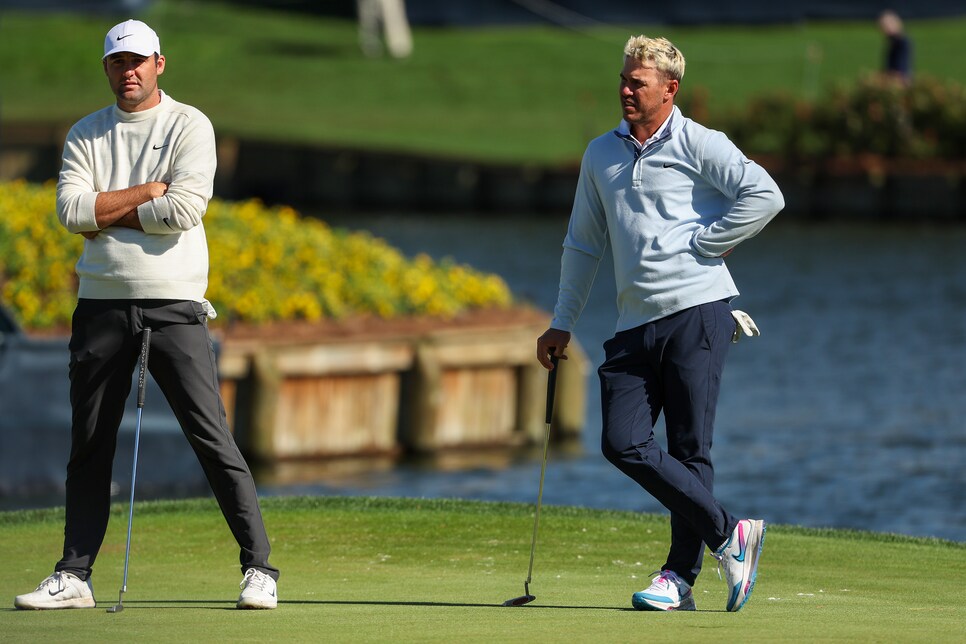 Scottie Scheffler and Brooks Koepka stand on the 17th green during the second round of the Players Championship.


Patrick Smith
PONTE VEDRA BEACH, Fla. — The 17th hole at TPC Sawgrass is among the most wind-dependent holes in professional golf. When it's calm, it's a stock pitching wedge at the fat part of the green. When it's pumping 30-plus miles per hour in and off the left, well, where to begin?
Jacksonville metro-area meteorologists deserve some credit. If we're going to hammer them when they're wrong, it's only fair to acknowledge when they're spot on. They've been on the money this week at the Players Championship, correctly predicting when it will rain, how hard and what the wind will be like. They forecasted a borderline gale-force out of the northwest on Saturday afternoon. It arrived right on schedule. On the north-facing 17 that's the worst possible wind for the 140 righties in the field. Anything high in the air's gonna miss short and right. Try and cover it a bit too much and it's a pull, which is tough, because there's water there, too. If there's a gust mid-backswing, it's not getting there. If the wind dies down mid-backswing, airmail.
Scottie Scheffler has the unfortunate honor of hitting his first shot of the day on the 17th tee at high noon. He is five under for the tournament and coming off two wins in his last three starts, so he must be feeling pretty, pretty good. He pulls 7-iron, his 185 club, from 146 yards. Takes a half swing. Flushes it.
It one-hops off the back of the green and skips into the water. He turns to his caddie Ted Scott, a veteran looper but a relative newcomer to Scottie's bag, with a dumbfounded look.

"That was a good shot, man," Scheffler says.
Xander Schauffele, clearly spooked by Scheffler's 7-iron, pulls an 8 and fans it out right. Not even close. Brooks Koepka figures Xander mishit his, so he feels good about his 8-iron. It balloons. It splashes. Only two of the first 123 tee shots hit at 17 failed to find land. The first three on Saturday, all from top-20 players in the world, all go swimming.
Nine minutes later, after Koepka taps in for double bogey, Collin Morikawa enters the ring. He is the greatest iron player on the planet. Arguably the best since Tiger Woods. He pulls 7-iron but isn't married to it. His caddie senses it.
"I love what we're doing," J.J. Jakovac says to his boss. "Commit to it."
It looks great on the rack, but it's the wrong size. His ball runs headfirst into a brick wall of wind, banks off the wooden foundation holding the island green in place, and splashes. Four players, four in the water. One threesome later, Joe Greiner gives Max Homa a version of the same advice: "Don't hit it until you're committed, Max. Take your time." He hits quickly, pouncing on a lull in the wind. Safely aboard.
Longtime Golf Channel spotter Jeff Young can't believe how many 7-irons he's seeing. "I've been working this hole for 20 years, and I've never seen more than two 7-irons in one day. And those were from guys like, you know, Fred Funk."
May I interest you in a 6-iron? Matt Kuchar, fully aware of his physical limitations, grabs his confidently and begins rehearsing a cute little cut move. When it's go time, his lower body stops turning but his arms do not. Left of left. It somehow manages to carry the water and land on a narrow slip of turf just in front of those two big grandstands. He makes bogey. Not bad, all things considered.
Club selection becomes quantum physics. Billy Horschel wants to hit 8, but his caddie Mark Fulcher doesn't think it's enough. No one trusts or asks more of their bagman than Horschel. He goes with 7. As the ball begins to fall over the putting surface, Horschel begins to panic.
"That's over the green, Fooch."
"I knew it! I told you I flight it better than anyone else! I said it. I said it before I hit. I knew it!" And that was the PG version.
Horschel three-jacks for triple. He wouldn't be the only one. You could've sold a 25-foot birdie look for $20,000. Marc Leishman isn't asking for much—he just wants to see his ball land. It does, barely, and he unleashes a Tiger-esque uppercut.
Not everyone finds it so amusing. Players want good shots to be rewarded and bad ones punished. Collin's was a good shot; Denny McCarthy's is bad. Really bad. Like, borderline-hozzle bad. But those kind of mishits don't spin, so it cuts through the wind and plops down on the very right corner of the green.
The crowd steadily builds as the afternoon wears on, which only amplifies the anxiety. Those on the hillside left of the hole have a better vantage point for depth perception. They can see if a ball's destined for a bath. If they begin to groan, no matter how perfect you think your shot is, it's not going to end well. Granted, sometimes it's not a mystery. Michael Thompson comes out of one and starts walking to the drop zone in one continuous motion. He doesn't care to see, but it kerplunks halfway between the famous island and that other one back toward 16 green. There is no grass there, unfortunately. Double.
Henrik Stenson leans forward immediately after impact. He's not sure if he gave it enough. Neither is his caddie, Gareth Lord. It does indeed get there. As the rest of the group trudges toward the green, Lord stays behind to light a cigarette.
"Mate—we're on the green," he says. "I'm looking forward to this one." You wonder how he'll keep it lit in the breeze, but that's his problem.
Scheffler, Schauffele and Koepka are most certainly not looking forward to playing this damned hole for the second time in four hours. But that's how the day shaped up. Players who finished off their first rounds on the back nine in the early afternoon were whisked back out to start Round 2, on the back nine. The strongest gust of the day knocks Brooks' hat off. Xander's stays on, but he decides to take it off in an abundance of caution. The tees have been moved up 10 yards but Schauffele goes up a club from the morning … and it just barely clears the water. His caddie, Austin Kaiser, grabs a water and shakes his head: "This is stupid, man." Scheffler probably agrees. He goes with 7 again. He switches to 8. He switches back to 7. He hits an absolutely horrific shot, a genuine slice that finds the water again.
At four over par Brooks' tournament is slipping away quickly; he needs a par in the worst way. This hole is his nemesis. Saturday's first water ball was his ninth on 17 since 2015. He still gets the warmest welcome in the group. Fans love hatless Koepka; it gives them an unobstructed view of the slim-shady 'do. (His natural hair is creeping up his head and the blonde part is dangerously close to frosted-tips territory). He's got 8-iron again, but this one has absolutely zero chance. It might actually be moving backwards as it expires a good 30 yards short of the green. He turns around, drops his club and laughs hysterically. The only other option is to cry.