Mixed Reality
Players 2022: The PGA Tour and NBC debut 'mixed reality' for the first time on a golf broadcast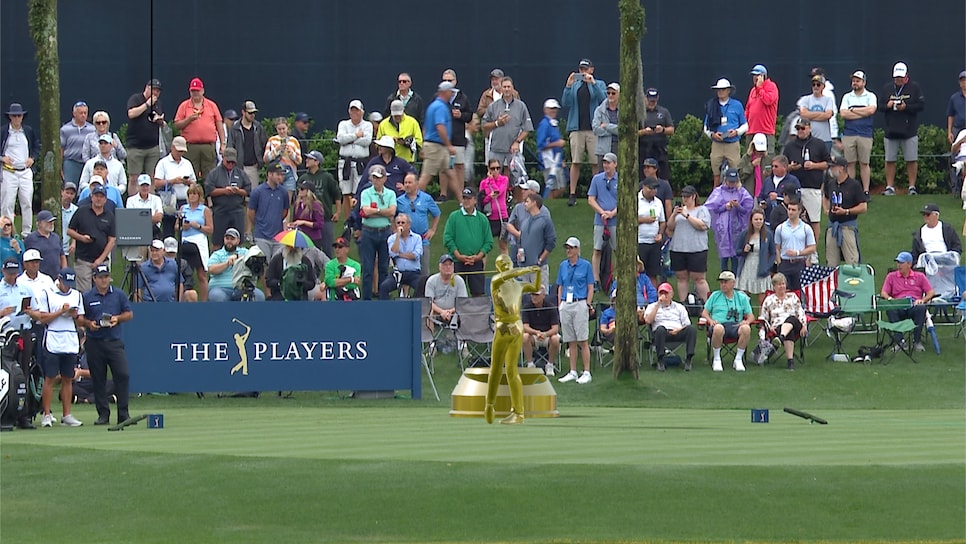 As the PGA Tour's flagship event, the Players Championship is often the place for the introduction of new technology. This year, the PGA Tour and NBC will introduce a mixed-reality segment for the first time to a golf broadcast.
The tour and NBC, partnering with The Famous Group, will bring the golden golfer atop the Players Championship trophy to life, using characteristics of six past champions' swings to recreate defining moments in tournament history. Throughout the week, the golfer will dismount the Tiffany & Co. trophy and play iconic shots on TPC Sawgrass' 17th hole.
You might catch the animated golden golfer walk to the tee and make a swing on the coverage on Thursday and Friday, segueing into a highlight package. Afterward, it will walk back to the trophy stand and take a swing, posing into the shape of the real-life trophy as the segment ends.
We're anxious to see the broadcast bringing it to life on Saturday, where the golfer will appear on the back of the island green as the network rolls Tiger's "Better than most" putt from his 2001 victory. On Sunday, the trophy man will dismount again. This time, it will "own the island green," in the image of Rickie Fowler during his 2015 sudden-death triumph.
Using "an advanced real-time 3-D tool" by Epic Games, the animation will appear to happen in real time, as the technical team can mimic the actual weather conditions at TPC Sawgrass, which hasn't been so great so far. What's more, the trophy's version of Tiger's putt will appear to go into the actual hole on Saturday, which will be in the same location it was 21 years ago.
"As that putt is going into the hole … there will be no doubt in your mind that that trophy has become Tiger Woods," said Andrew Isaacson, executive producer at The Famous Group.
Two cameras have been loaded with the technology to pull this off, helping to add an extra feeling of reality to the animation.
In the NFL, the Carolina Panthers made use of this technology last season as a mixed-reality Panther lept around their stadium.
Though this is only the first time the tour has made use of mixed reality, it's unlikely to be the last. Look out for similar moments at other flagship events like the FedEx Cup Playoffs and the Presidents Cup, the tour said.