Bundled Up
Players 2022: Electronic back heaters and NFL QB pouches—How players stayed warmed on a frigid Florida morning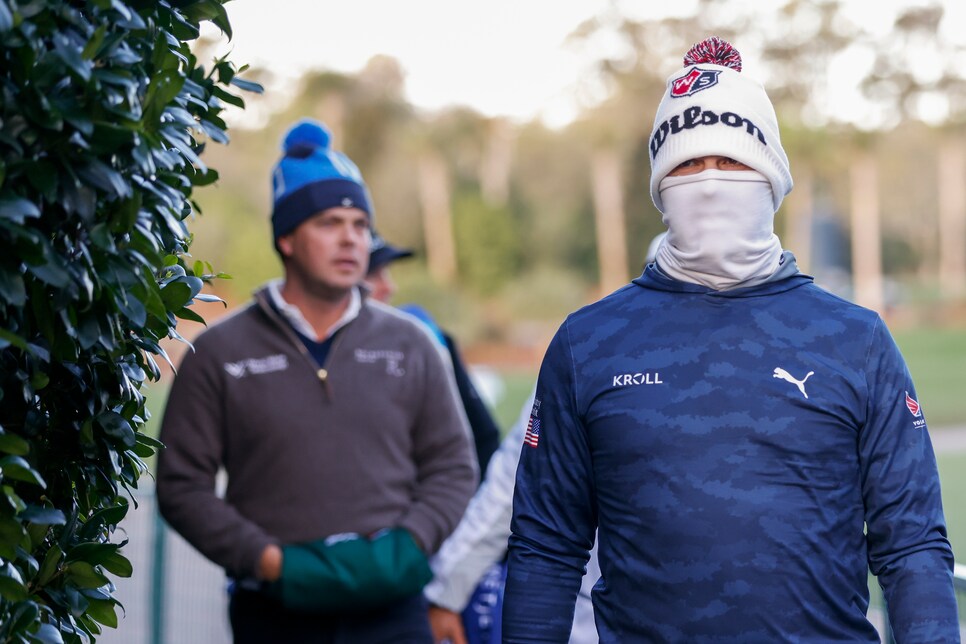 PONTE VEDRA BEACH — Sunday was an unseasonably cold morning in Northern Florida, one this New Jerseyean should have been much better prepared for. We're talking Vermont numbers. Low 30s. See-your-breath-type stuff.
Unfortunately, I packed for Florida, normally an escape-the-winter location for those of us from the Northeast. Yes, I did bring pants and a hooded sweatshirt just in case, but Sunday morning at TPC Sawgrass required layering up for a day on the slopes rather than the golf course.
Players in the field at this week's Players Championship clearly got the memo, though. These guys monitor the weather more diligently than Al Roker, so they came well-equipped. The first player I see is Sam Burns, who is wearing a hood over his winter beanie with his hands firmly in his pockets as he makes his way to the first tee, where he, Paul Casey and Abraham Ancer are beginning their second round at 8:20 a.m. It's 35 degrees at this point, and the sun isn't exactly doing the sun's thing if you catch my drift.
Casey strolls over to the big box that has the pin sheets for the day, plus tees, ball markers and just about anything else you could possibly need. He has a handwarmer in each hand, shaking them incessantly in the hopes of getting them to heat up (those things never truly heat up. Total scam). He informs his playing partners he really needs to go to the bathroom. "Why is it always cold when you have to go?" Casey theorizes.
When he sees Ancer without rain pants, like he and Burns have on, the Englishman worries Ancer is going to be cold. Ancer, who is dressed like a character straight out of a Tom Clancy video game, lifts one pant leg to reveal he's wearing long johns underneath. Chess, not checkers, Paul.
Over at the second green, Louis Oosthuizen, doubling as Han Solo on a quest to find a lost Luke Skywalker on Hoth, just misses a six-foot eagle putt, his first shot of the restarted second round. After making birdie, his hands make a beeline his NFL quarterback hand pouch, a popular accessory for a number of players on this frosty morning. At the third tee, Oosty, Adam Scott and Sergio Garcia do almost zero talking. It's far too chilly for chit chat.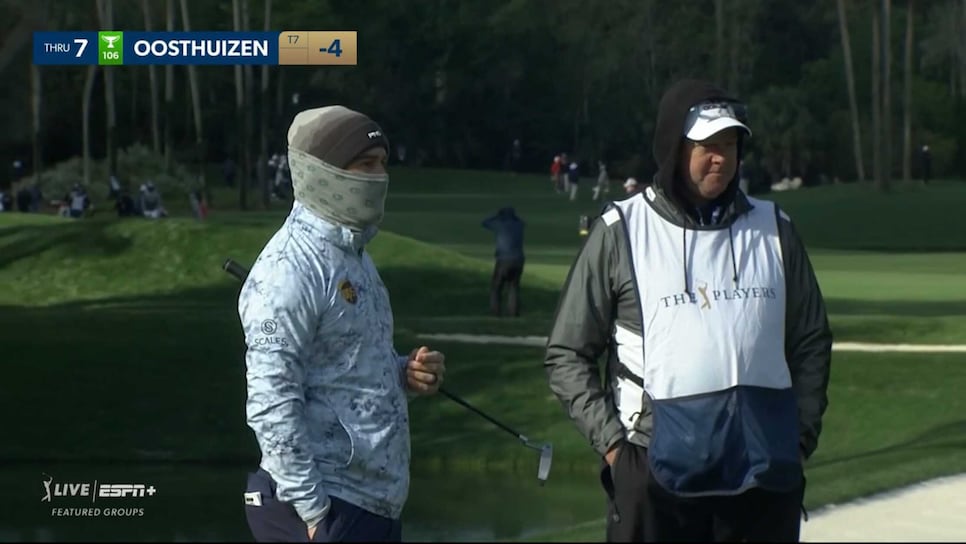 In the group behind, Joaquin Niemann waits on his playing partners to putt out on the second green, and he's double-fisting handwarmers like Casey and shaking them like a couple of shakeweights. Again, scam, but at least he's trying. Patrick Rodgers, also in this group, blows into his hands so loudly you could hear it from three holes over.
At the third tee, the third member of this trio, Cameron Smith, removes a contraption from his bag and wraps it around his back and velcros it around his stomach. It's an electronic back heater called "Venom," one that also has three levels of vibration and is completely legal. Aggressive or brilliant? Let's go with both. Niemann, whose handwarmers clearly aren't doing the trick (because they are a SCAM), tries to stick his hands inside his Presidents Cup teammate's Venom wrap. Just guys being dudes.
The supergroup of Patrick Cantlay, Jon Rahm and Viktor Hovland arrive at the third tee, Hovland rocking the gigantic oven mitts in between shots. Rahm, apparently built for this, is in just a sweater and pants, as if it were a balmy 50 degrees as opposed to the mid-30s it actually is. Cantlay, a California kid, doesn't seem to be having fun. Leaning all the way into that "pampered f---s" comment, he grabs his water bottle with a towel to keep his hand warm (to be fair, it's an aluminum water bottle), then has his caddie apply sunscreen to the back of his neck while his hands remain tucked away in his pants.
I've seen (and felt) enough to know that it's time to retreat to the warmth of the media center, which might be the first time that sentence has ever been typed in Players Championship history.