PONTE VEDRA BEACH — Friday brought the rain. Saturday brought the wind. Sunday brought the cold. This Players Championship has had a whole lot of everything. After seeing a "feels-like" forecast below 30 degrees—in Florida!—Joel Dahmen decided to add an extra layer underneath his golf pants. These weren't long johns or thermals. These were straight-up sweatpants.
"The coldest I've ever been on a golf course," says Dahmen, who grew up on the Washington/Idaho border. When he was a kid, if it was that cold, they wouldn't play. Four days earlier, during Wednesday's practice round, he wore a polo/shorts combo and enlisted a bucket hat and shades in a long-running crusade against the sun. The course was bouncy then; now it's pillow-soft. Sundown was 6:30 all week; all the sudden it's 7:30. Harold Varner III is one shot back in a tournament that pays $3.6 million for first place, and he's wearing a windshirt from the merch tent. In related news, down is now up.
"I had to ask Travis like what day it was today," says Sam Burns of a conversation he had with his caddie. "I really wasn't even sure."
The craziest part: Monday (yes we're back on Monday) promises to be the wackiest day of them all.
The final group of Burns (seven under, two back) Tom Hoge (eight under, one back) and Varner (eight under, one back) have nine holes of their third round still to complete Monday morning. For the second straight day they will arrive in the dark and leave in the dark. So will your leader, Anirban Lahiri (nine under). The 34-year-old from India's best finish on the wraparound season is a T-40 in a fall event, and he's got more Friday trunk-slams (seven) than checks cashed (five). He made the cut last week at the Arnold Palmer Invitational, which was positive, but he shot 76-82 on the weekend, which, yikes. He paces the strongest field in golf. Again, weird week.
"I think the nature of what we do, it could be … it's unpredictable," Lahiri says of why this seems to be his week (so far). "You just don't know. You grind away, you keep chipping away, you keep working on your game, and when it clicks, it clicks. It could be this week, it could be next week. As long as it happens, and that's the belief you've got to have, and that's the commitment you've got to have. I'm just happy that I'm playing well. I'm just happy that I'm hitting my irons well. I'm just happy."
The casual fan will tune in tomorrow, still reeling from Selection Sunday and Tom Brady's flip-flop, and wonder where the PIP-winning players are. Bad news—Collin Morikawa, Jordan Spieth, Brooks Koepka, Patrick Cantlay and Xander Schauffele all missed the cut. Golfers love a good excuse, but all except Cantlay actually have a point this time, for they played in the late-early wave that never really had a chance. While they tried to flight 6-irons into 17 on Saturday, often unsuccessfully, the luckier half binged "Two-and-a-half-men" re-runs. That's what Will Zalatoris did, at least.
"Super fortunate to be in the wave that I was in," he says. His fellow early-laters echoed that sentiment: gratitude with a pinch of guilt. "It's pretty crazy, some guys had two days off in the middle of the tournament—let alone a big event like this. Needless to say, the last two weeks have been weird."
Lahiri leads at nine under with nine players within three shots. Those nine combine for 18 PGA Tour wins and one major, roughly the same haul as Justin Thomas. The defending champ is five back, on the outskirts of contention. Above him lies a leader board thin on name recognition; a repeat of Craig Perks' out-of-nowhere win in 2002 is a distinct possibility.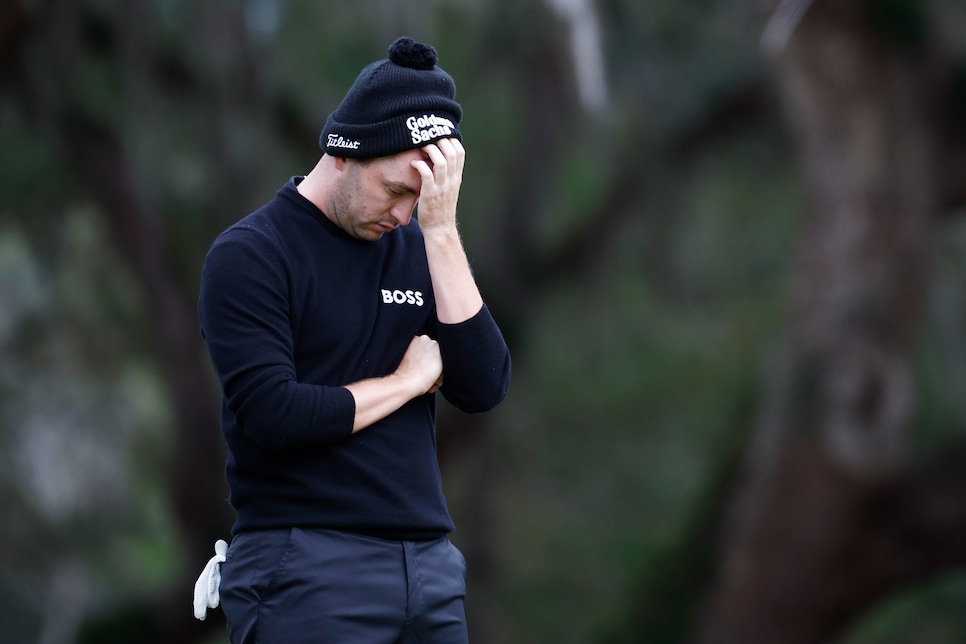 Patrick Cantlay's body language is the perfect caption to a crazy week at TPC Sawgrass.
Jared C. Tilton
Paul Casey, among the more accomplished of the largely unproven pack of chasers, was one of the guys who had a couple days off this week.
"I know I got the lucky side of the draw," says the 44-year-old Casey, who's played in quite a few tournaments. He's won a bunch, too, but none as big as this. He's two back. Loves his chances. "I'm very aware of that. And it's been interesting watching the guys battle on the other side. I mean, I believe in the golfing gods and karma, so I don't sit there gleefully watching it.
"The last three, four days—I don't know if I've ever had two full days off at a tournament. How would I characterize (the week)? It's been weird."