PONTE VEDRA BEACH — "The draw" is normally a term that doesn't get much run at tournaments not named the Open Championship. At regular PGA Tour events, including this week's big one at TPC Sawgrass, it rarely determines fates like it often seems to do across the pond.
At this week's Players Championship, however, "the draw" is essentially going to decide the tournament, something we can confidently and comfortably say despite the fact two full rounds have yet to be completed. If you where in the originally scheduled Thursday afternoon/Friday morning wave, which was absolutely mangled by weather in every way imaginable, you got hosed beyond belief. Hoodwinked. Bamboozled. Jobbed.
Of course, as most players will tell you, the draw is just part of the deal in professional golf; whining about it is like whining over a delayed flight. Nobody wants to hear it and there's nothing you can do about it.
Still, after seeing the carnage from Saturday, which featured 30-mph winds and a whole lotta water balls at the good-luck-picking-a-club 17th hole, one can't help but wonder what could have been for many of the top-ranked players who simply couldn't overcome the brutally blustery conditions and are now (likely) headed home early as a result. Here's seven guys who got the wrong end of "the draw" and played their way out of the tournament on Saturday.
Scottie Scheffler (70-76, T-84)
Scheffler, who has won twice in his last three PGA Tour starts, appeared on track to at least contend for three in four after in his opening round. The 25-year-old had reached four under in his first round, which was cut short at the 16th green due to the heavy Friday rain. Upon returning on Saturday, Scheffler made birdie, his second in a row (the first came at the 15th a full 24 hours earlier), to get to five under. Just like that, he was one back.
Unfortunately, Scheffler had to immediately return to the back nine for his second round, teeing off on No. 10, where he opened with a birdie. After four straight pars, he made double bogey on No. 15, bogey on the par-5 16th (after hitting his second shot in the water), double bogey on 17 (after hitting another tee shot in the water) and bogey at the 18th for a front-nine 41. Ballgame. Scheffler finished with a four-over 76, which has him at two over for the tournament. Technically, he's still alive to make the cut, though there is a scenario where he has to wait around until Sunday afternoon just to find out he didn't make it. Even if he does, it'll be an uphill battle to get into contention, though that seems to kind of be his thing of late.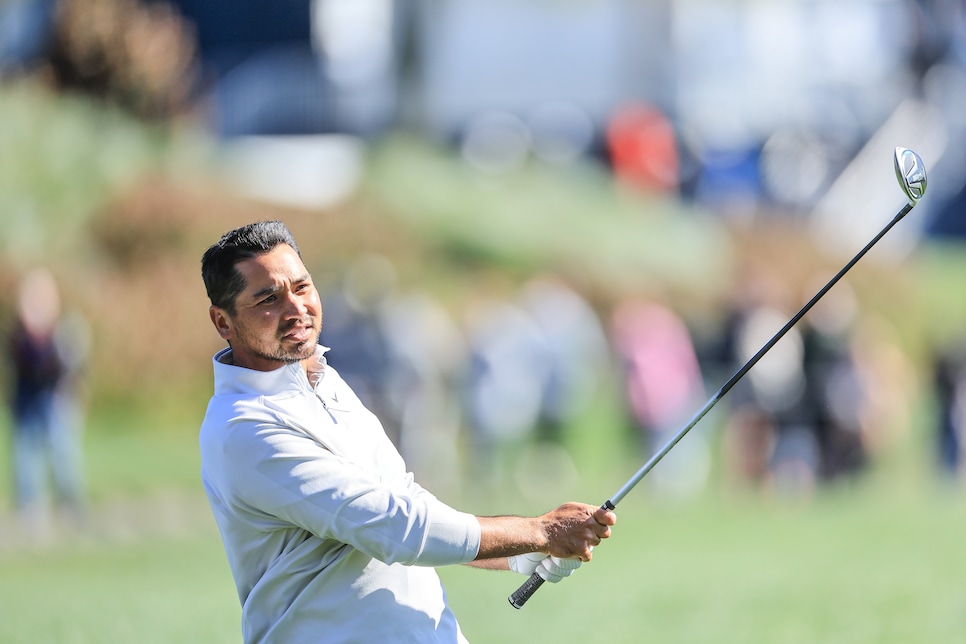 Day was one of the few that were able to complete their opening round on Friday, and his three-under 69 had him positioned nicely to make a run at a second Players title. Instead, Day might miss just his second cut of the season after shooting a second-round 78 that included a brutal back-nine 41, featuring double bogeys at Nos. 11, 15 and 18. There was one highlight for the Aussie, at least. An 82-footer for par at the 14th, which kept him at three under after back-to-back birdies at 12 and 13, which got him back to even for the round:
His back nine (Sawgrass' front) was decidedly less eventful, as you could imagine. At three over, he'll need a minor miracle to make the weekend, also known as Sunday and Monday this week.
Collin Morikawa (73-75, T-104)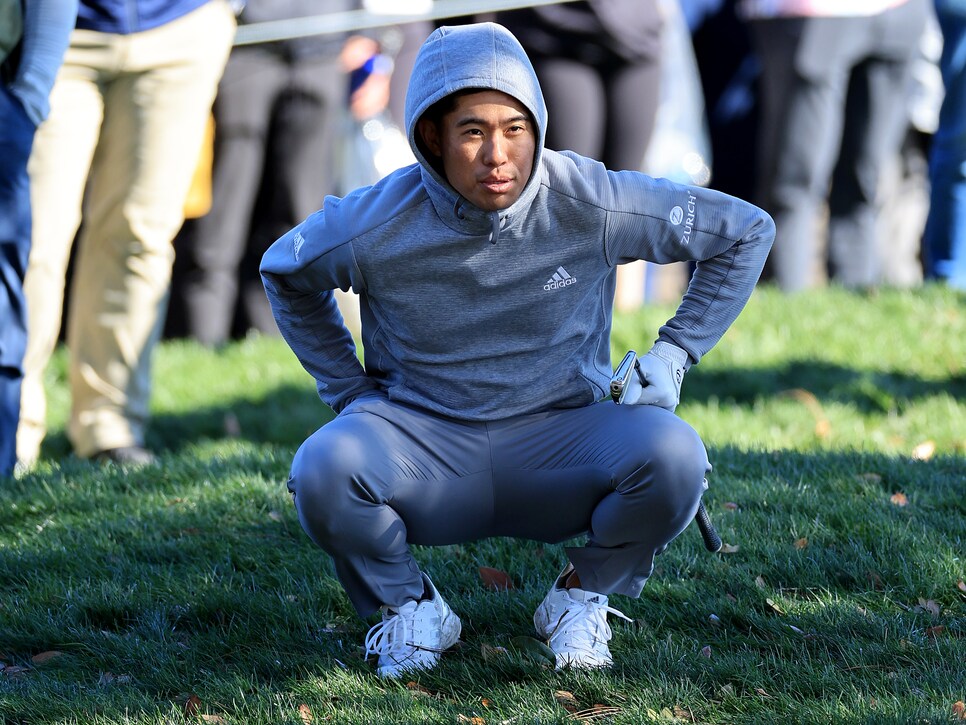 A popular pick in the betting world this week, Morikawa is likely already headed home, sitting at four over and well outside whatever the cut line ends up being. The two-time major champ was a double victim of the 17th on Saturday, both times rinsing his tee shot at the par 3, though he was able to escape with bogey on each occasion. He made just two birdies the entire day, both on the 16th, one just after resuming his first round and the other when his group returned to the par 5 for their second round front-nines. Other than that, a week to forget for the World No. 2.
Justin Rose (69-79, T-104)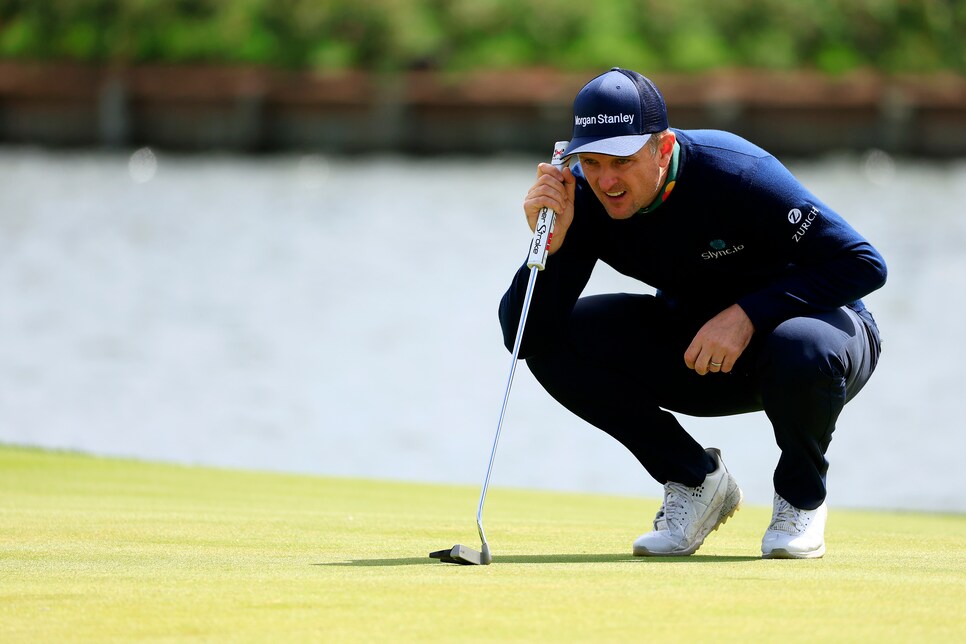 Rose conquered the almighty 17th his first time around on Saturday, making a par to remain at three under and then making another par at 18 to polish off a three-under 69. Back at the 17th a second time for his second round, the Englishman was actually still fighting to stay in red numbers, having just birdied the 16th to get back to one under. On the 17th tee, after a minute-plus conversation with caddie David Clark, Rose missed short right and it was off to the drop zone, where he subsequently hit another ball in the drink. A quadruple-bogey 7 all but ended the week, handing Rose what should be a second straight missed cut on the Florida swing.
Jordan Spieth (72-79, T-119)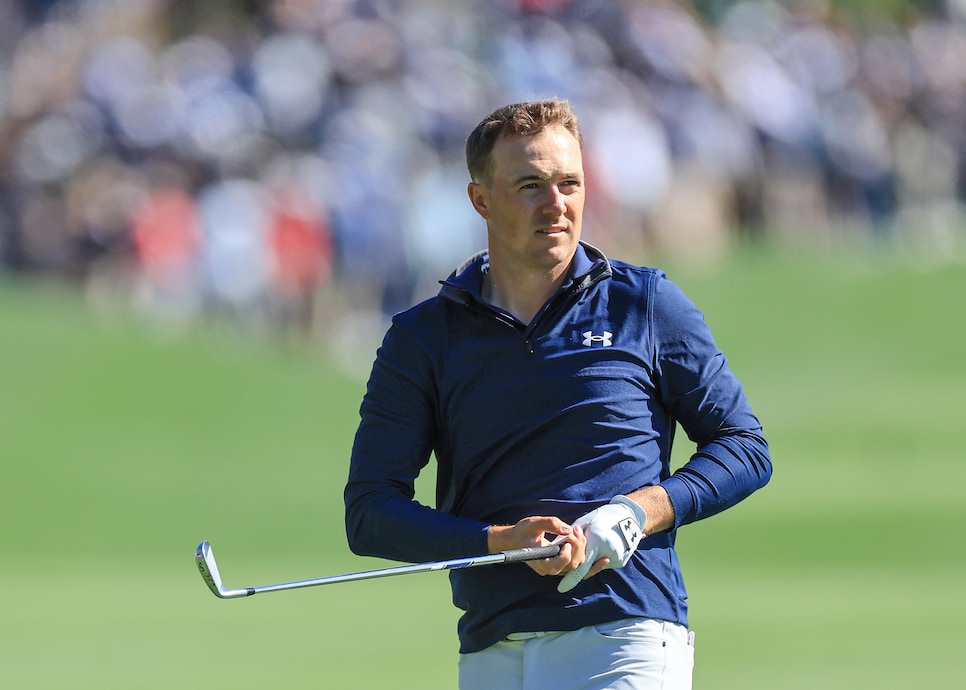 Spieth lucked out a bit on Saturday, his ball already having reached dry land a day earlier at the 17th, though it barely hung on. He still made bogey, but it could have been much worse, which is exactly what his second round ended up being. We don't want to play amateur swing coach, but Spieth's pre-shot routine these days clearly indicates he's working through something, and Saturday was not a day to be working through anything. Not surprisingly, he struggled, making four straight bogeys between the 12th and 15th holes, double-bogeying the 18th and then shooting a back-nine 37 to finish with a seven-over 79. Since his runner-up at Pebble Beach, Spieth has now gone T-60-T-26-MC.
Xander Schauffele (73-78, T-119)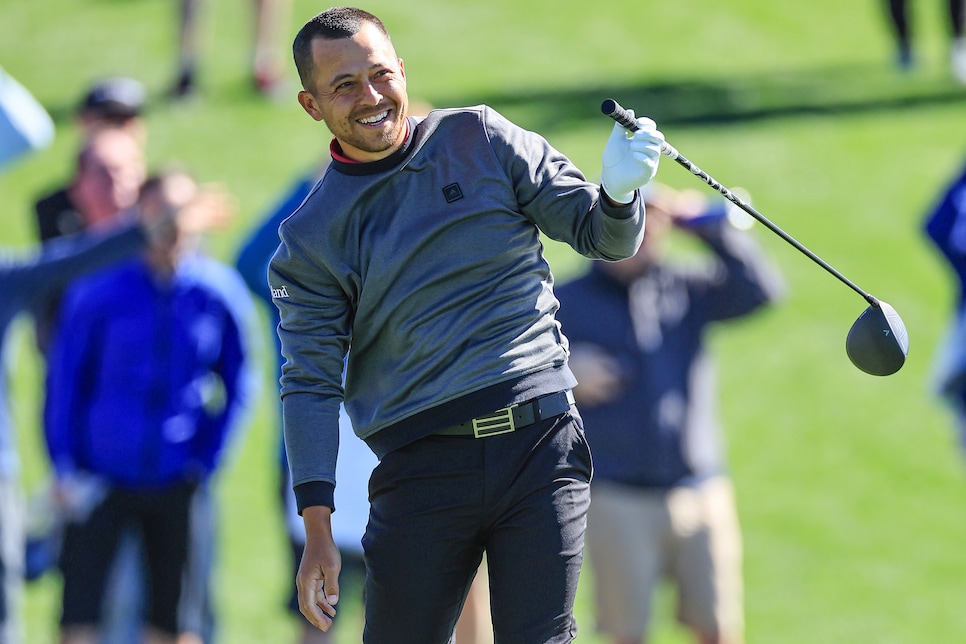 There's getting screwed, and then there's what happened to Schauffele on Saturday. After joining partners Koepka and Scheffler in the water off the tee at 17 early on Saturday (Schauffele managed to save bogey), he proceeded to make a snowman at the par-4 18th, which was the only hole that played harder than 17 on Saturday. First, he topped one from the thick rough:
From there, he hit his third in the water, dropped four and hit five on the green. Well, it was on the green, but the spin and the wind sent it flying backwards and it rolled off the front. It took him three shots after that to find the hole. Quad-bogey 8. Later in the day, he made seven at the same hole, giving him 15 total strokes at the 18th for the week. This after he arrived there at three under for the tournament on Saturday. Nightmare fuel.
Brooks Koepka (72-81, T-132)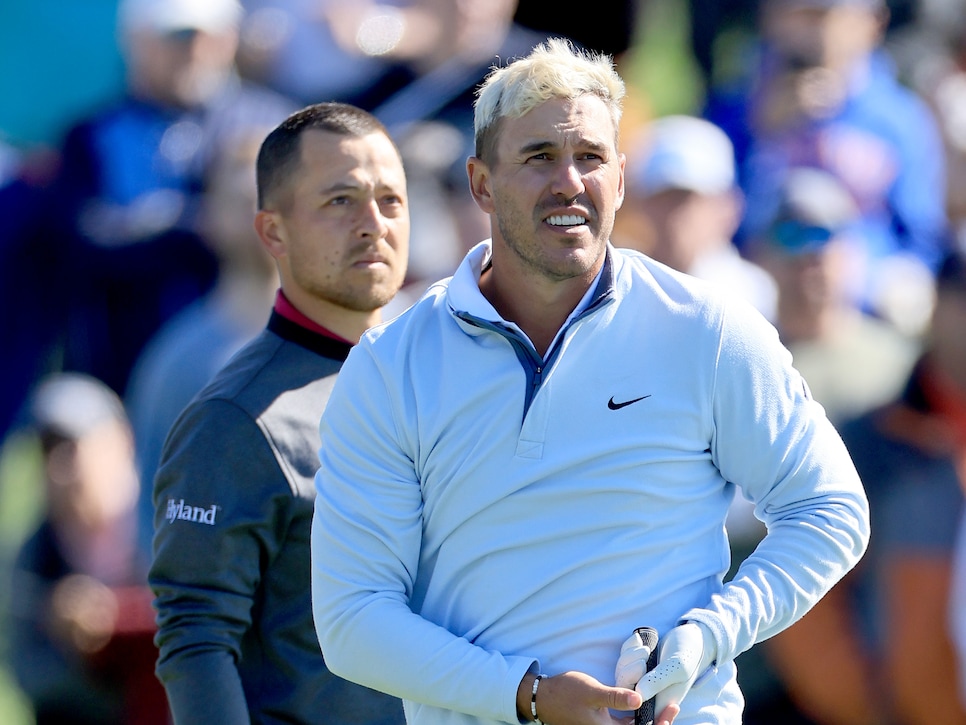 Despite almost reaching 16 green in two on Friday, Koepka returned and made a mess of the par 5 on Saturday, making a bogey 6. He followed by being one of the first in the water on 17, a hole that has quickly become his arch nemesis. He made double there, then triple when they came back around in the afternoon. That was one of three sixes on the scorecard in Round 2 for Koepka, who shot 72-81, really driving home the whole luck of "the draw" thing. Speaking of luck, Koepka may have used that word to describe how 17 played Saturday.
"It's luck. Was it a 6-iron? The problem is the grandstands in the back, and you flight it low enough like Scottie did whenever the horn went off in the first round, the grandstands, the screen, everything in the back, you almost flight it too low and the wind doesn't touch it. So it's kind of... it's a tough one."
After going full "Groundhog Day" and hitting it in the water at 17 a second time, all Koepka could do was laugh:
"There's nothing you can do. It's gust dependent, and it is what it is."
That just about sums up Saturday at the 2022 Players Championship.