Players Championship
Players 2022: This little-known Players rule looms large at rain-soaked TPC Sawgrass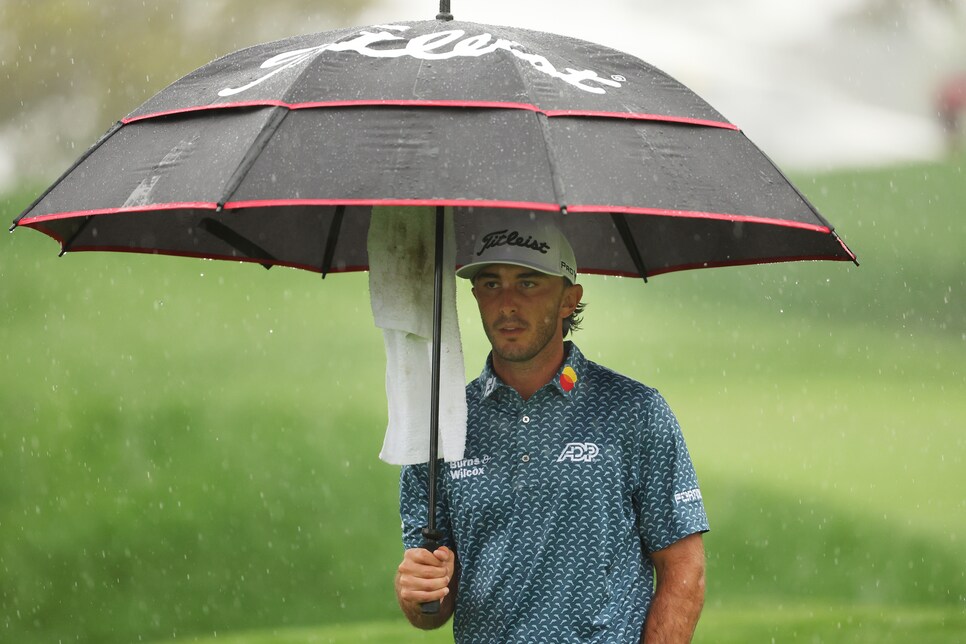 Max Homa stands under an umbrella on the ninth green during the continuation of the first round of the Players Championship on Friday.
Patrick Smith
PONTE VEDRA BEACH — Through two days at the 2022 Players Championship the leader by a wide margin is rain.
Storms delayed Thursday's play twice at TPC Sawgrass, with some of the scheduled morning wave unable to finish and most of the afternoon wave just getting their rounds started before play was called due to darkness. Friday started on time, albeit in a steady downpour, and then play was eventually suspended for the day at 11:15 a.m. ET with 47 players still needing to complete their first rounds.
With a massive cold front set to hit the area on Saturday morning—bringing winds of up to 60 miles per hour, rain and lightning—PGA Tour chief referee Gary Young said that the tournament will resume play no earlier than 11 a.m. and the competition will run into Monday for the eighth time in Players Championship history, with a hypothetical finish of around 6:30 p.m.
While not ideal, Monday finishes are not uncommon. However, if Saturday storms came later than predicted or required the grounds crew to put in more work to the course, the start on Saturday could get pushed back (the PGA Tour on Saturday morning already revised the earliest start until 12 noon) and, potentially, as unlikely as it may seem, this shindig could go past Monday. That could be problematic, because the current Tuesday forecast says … wait for it … more rain and thunderstorms.
Mind you, this is a very, very unlikely scenario, and Young didn't feel like venturing into hypotheticals when meeting with the media on Friday afternoon. "I just want to stick with we feel very confident that we're going to be able to accomplish the conclusion of this championship on Monday evening," Young said, "and at this point that's not really in our thought process."
Still, all this brings up an interesting "Did you know?" involving the Players Championship. Regarding "Extending Play Beyond Monday" the tour's rulebook states:
- Except for the Players Championship, In the event of a suspension during a final round being played on Monday when at least half of the field has completed play, the final round will be completed Tuesday, but not later. Further, if no situation would we resume play in order to have 50 percent or more of the field complete their round. If play cannot be completed on Tuesday, scores will revert back to the last completed round and the competition will be closed.
- Except for the Players Championship, play will not extend past Tuesday under any circumstances unless the event can be rescheduled and replayed in its entirety. The scenario would occur only if no more than 18 holes had been completed and an acceptable open date was available.
Or, in layman's terms … the tour will take as much time as needed to wrap this bad boy up.