News
Phil Mickelson and Michelle Wie return to winner's circle, Justin Thomas turns into human torch and a hole-in-one for the ages: What you missed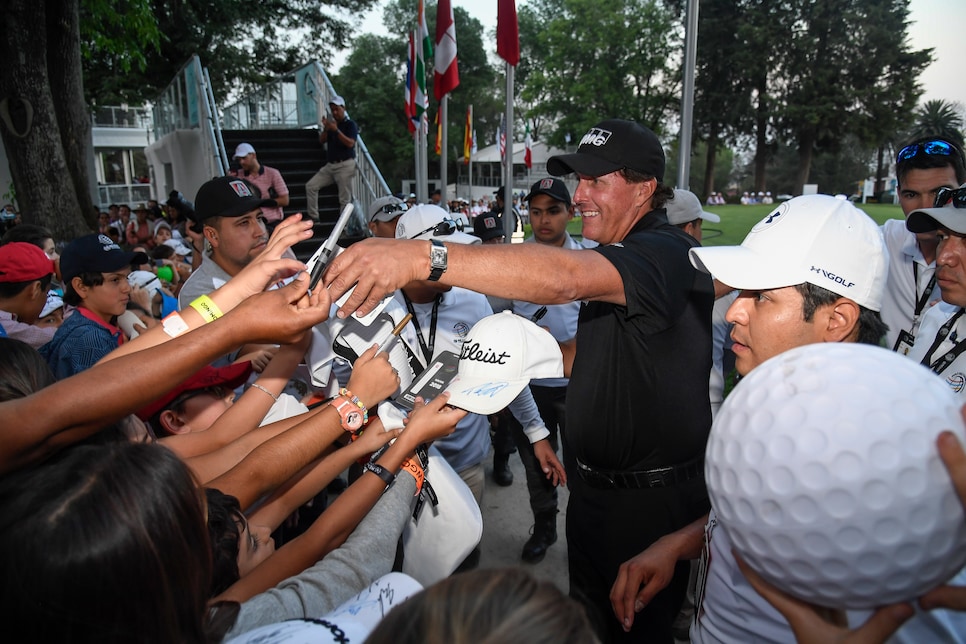 Welcome to the Dew Sweeper, your one-stop shop to catch up on the weekend action from the golf world. From the professional tours, trending news, social media headlines and upcoming events, here's every golf-related thing you need to know for the morning of March 5.
Mickelson returns to the winner's circle
Sorry Hollywood, but all your songs, dances and stars can't rival the showmanship of Phil Mickelson.
It wasn't just that Mickelson returned to the winner's circle with a playoff victory over Justin Thomas at the WGC-Mexico Championship, but how. He did his best Seve impression, overcoming wayward drives with efficient ball-striking, timely scrambling and a lights-out putter. Along with extracurriculars such as conversing with the crowd in Spanish, confusing his playing partner as a reporter and helping said partner out in a ruling involving a drop, it was the epitome of the Phil Mickelson Experience.
But at the heart of this spectacle is a player nearing 48, who beat a host of contenders half his age with creativity and resolve. A man that stubbornly refuses to lose his fight with Father Time, and enjoys being in the spotlight perhaps more than ever.
"It's been a tough go the past four years, not playing my best, but to have the belief that I was going to get there and do it and eventually breakthrough is incredible," Mickelson said. "I believe more is to come, and feel I'm starting to play my best golf."
He latter doubled down on this notion, claiming he'll get to 50 wins before his career is finished. That number seems absurd, given it was four and a half years between No. 42 and 43. But, as is often the case, the joy is not in reaching the finish line but of its pursuit. And we can safely say few bring as much excitement in their journey as Phil Mickelson.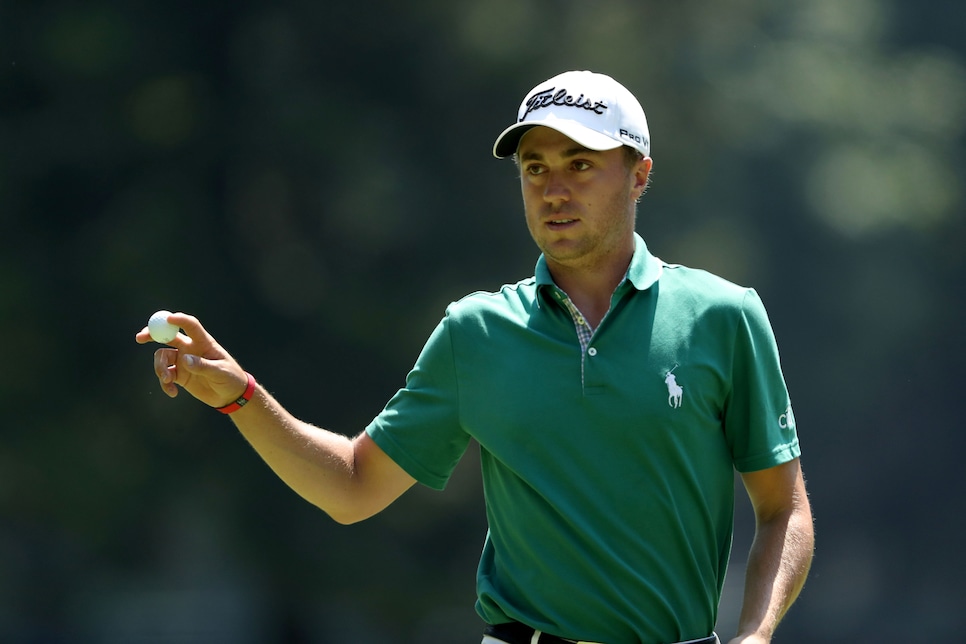 David Cannon/Getty Images
Thomas' miraculous hole-out
It's easy to think this loses a bit of luster since Thomas didn't win the event, but the reigning Player of the Year hit one of the most memorable, clutch shots in recent PGA Tour history.
Entering the weekend 11 shots back, Thomas painted Chapultepec red on Saturday and Sunday to grab a share of the lead entering his 72nd hole. However, with others like Mickelson and Tyrell Hatton barely into their back nines, the 24-year-old needed to do something special. That he did, dropping the hammer from 120 yards out on his second shot:
It was Mickelson's day, and the weekend served as a coming out party for Shubhankar Sharma. But Thomas is operating on a extraterrestrial plane at the moment, one of those rare stretches in golf where someone makes the impossible routine. As we've seen with Dustin Johnson, Jason Day and Jordan Spieth, it's hard to maintain these torrid runs. But given Thomas is a human torch, capable of lighting up a course in a blink, I don't think that fire is going to extinguish for quite some time.
A Hall-of-Fame hole-in-one call
Forget "It's better than most..." or "Maybe...yes sir!" The best call in golf belongs to this Spanish announcer for his riveting narration of Ross Fisher's ace on Saturday:
If this cat was on the mic every week, no one would dare claim golf's a boring sport.
Ball's in your court, Jim Nantz.
Wie wins with 35-foot bird
Since winning the 2014 U.S. Women's Open, Michelle Wie has been in the wilderness, making more headlines for her Instagram account than anything she's accomplished inside the ropes. Yet the 28-year-old reminded everyone she's still got plenty of game, grabbing her first tournament in almost four years at the HSBC Women's World Championship.
Beginning the day five back of the leaders, Wie erased that deficit with six birdies and zero bogeys through 17 holes. Facing a 35-footer on Sentosa Golf Club's 18th hole, Wie drained a 35-footer to take the clubhouse lead:
Playing in the group behind Wie, Jessica Korda and Danielle Kang missed their birdie attempts on the final hole, giving Wie her fifth career LPGA victory. And though it doesn't have the gravitas of her major at Pinehurst, given her trials since—injuries, a swing change, putting woes and the expectations inherent to her prodigy status—her HSBC win might be more rewarding.
"It's been a tough journey since 2014. I think it's been kind of well documented. … But I'm just really proud of myself for pulling myself out of it," Wie said. "I felt like I had a good year last year, a year where I built confidence, and I just want to keep building confidence from there. I just want to keep rising. I just want to keep playing the best I can, trying the hardest I can and trying to become the best player that I can be."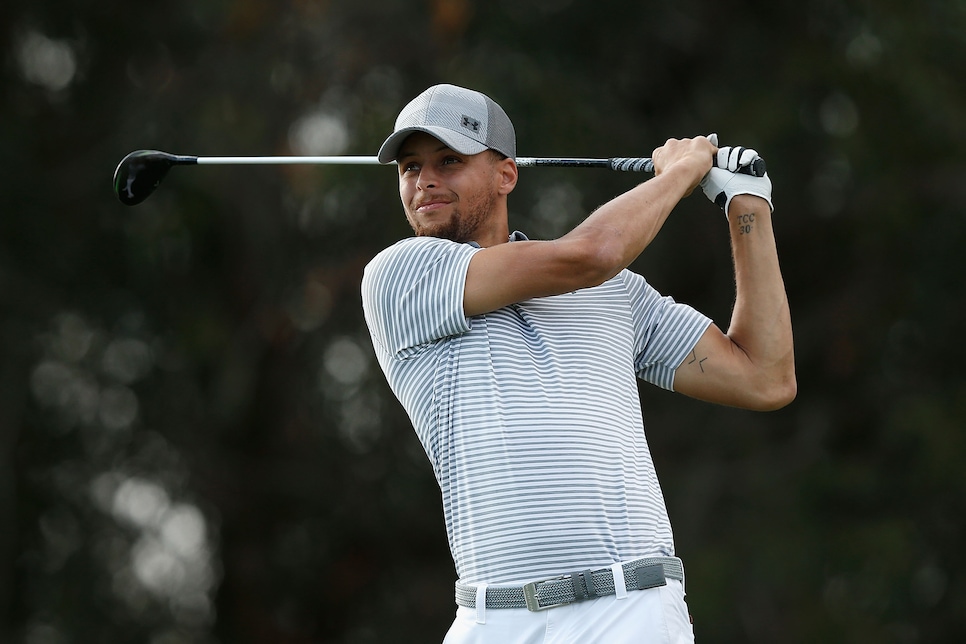 Steph shakes off ankle injury for Augusta National
NBA star and golf aficionado Steph Curry suffered an ankle injury on Friday night, coming down awkwardly on teammate Zaza Pachulia (whose ability to hurt others apparently doesn't discriminate) in the first quarter. Although Curry returned to drop 28 points on the Atlanta Hawks, he was eventually pulled in the third quarter and sent to the locker room for precautionary reasons.
Those precautionary reasons? A Saturday tee time at Augusta National with fellow Warrior Klay Thompson, according to NBA league sources.
Curry's played at ANGC before, most notably after the Warriors won the championship in 2015. But even if you're one of the chosen few to have teed it up on the hallowed grounds, you're not not going to let a swollen ankle keep you from driving down Magnolia Lane.
It helps that the Warriors had a three-day break between games. Still, that Curry has his priorities in line—a round at the Promised Land over regular-season tilts against the lowly Hawks and Brooklyn Nets—prove that he truly is a hacker at heart.