PGA Championship
PGA Championship 2022: Rory McIlroy forgets his first-round woes, shoots an impressive 65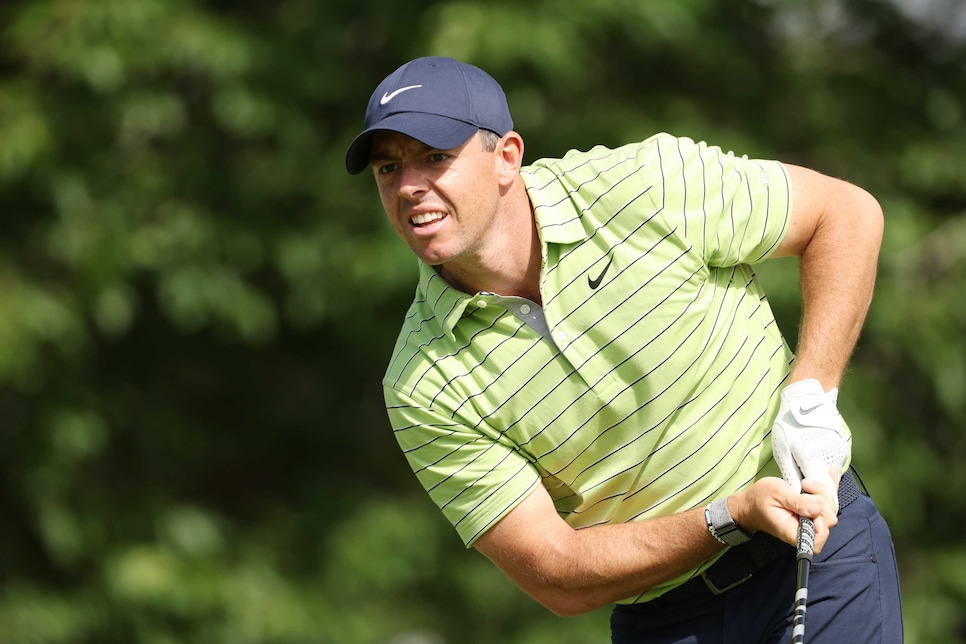 Rory McIlroy watches his shot to the 17th green in the first round of the PGA Championship.
Ezra Shaw
TULSA — It wasn't the score or his position on the leaderboard that meant the most to Rory McIlroy. Though both look quite handsome. What had him juiced on a sweltering day at Southern Hills Country Club was the quality of his play on Thursday in the opening round of the 104th PGA Championship. It was a long time coming.
Appearing equal parts satisfied and relieved, the 33-year-old from Northern Ireland capped an opening five-under 65 with a 19-foot birdie putt and claimed the early lead in the same championship he won for the last of his four major titles to date—way back in 2014. It's no secret that slow and sloppy starts have limited McIlroy's opportunities to add to his major collection since he won the Open Championship and PGA back-to-back in '14. But buoyed by four straight birdies early, he was able to post his best opening round in a major since he fired a 65 in the 2011 U.S. Open. Which was his first major victory. Which he won by eight.
"I could have easily shot 68 or 69 today and not led, but if I had played the same quality of golf, I would have been equally positive about it," said McIlroy, who not only seized a one-stroke lead over Will Zalatoris after the morning wave, but also showed up his popular playing partners Jordan Spieth and Tiger Woods, who struggled to 72 and 74, respectively. "I hit some good tee shots, some good iron shots and holed some putts. I did everything I needed to do.
"It's a great start, but I'm not going to get ahead of myself. But, yeah, it's nice to see a decent number up there."
For just the sixth time since opening with 66 in both the Open at Royal Liverpool and the PGA at Valhalla in 2014, McIlroy posted a round in the 60s in a major championship. In each of his four major wins he shot 67 or better to start. But starting in 2015 McIlroy hasn't been nearly as sharp, shooting a collective 35 over par in the first round, a 72.33 scoring average, while rallying nicely in the final three rounds, shooting 68 under to average 70.09.
McIlroy, one of 20 players who own multiple PGA Championship titles and a 20-time PGA Tour winner, was in familiar form at this year's Masters, starting with a pair of 73s before jetting home with an eight-under 64 on Sunday to match the lowest final-round score at Augusta National and sneak into second place behind Scottie Scheffler.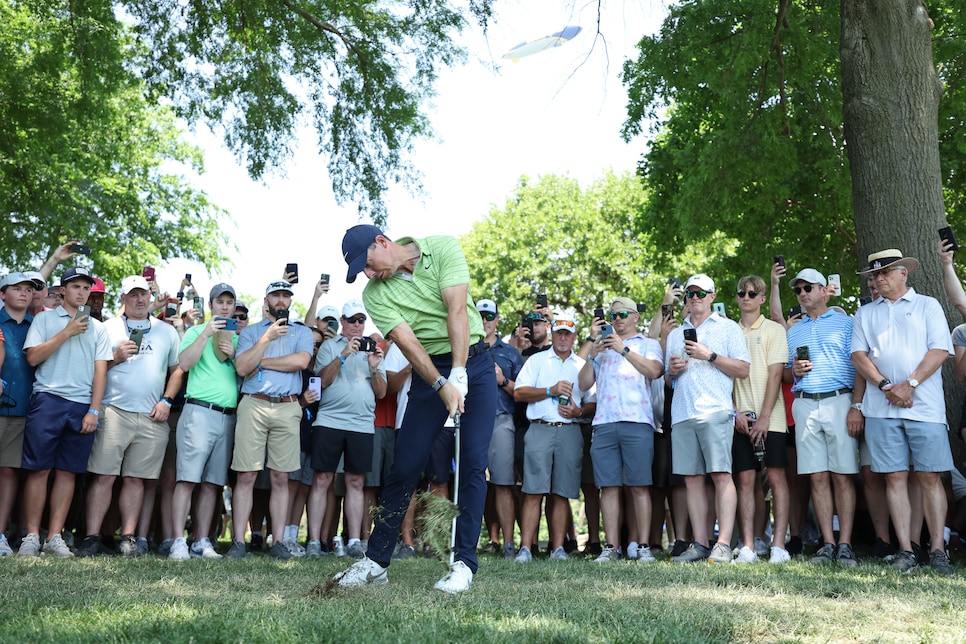 Rory McIlroy plays his second shot on the seventh hole during the first round.
Christian Petersen
Unknown at the time was if McIlroy took advantage of a pressure-free day or if he was signaling a resurgence. Obviously, it was the latter, since he finished T-5 two weeks ago at the Wells Fargo Championship. Asked if he enjoyed the fast start he'd been looking for, his eyes got wide. "No, no I'd much rather shoot 74 and try to make the cut tomorrow," he said, unable to forego a joke.
"Look, it was a great start to the tournament. I've been playing well coming in here. I've been carrying some good form," he quickly added, turning to a more sober analysis. "Obviously, that took a lot from that last round at Augusta, played well up in D.C. at the Wells Fargo there, and played good in the practice rounds earlier this week.
"I think when your game is feeling like that, it's just a matter of going out there and really sticking to your game plan, executing as well as you possibly can, and just sort of staying in your own little world. I did that really well today. It was nice to get off to that good start and sorta keep it going."
McIlroy got as low as six under par on his round before bogeys on the two par-3 holes on the front nine, which was his second nine of the day. The birdie at the ninth not only helped the scorecard, but also reaffirmed the process that throughout the day looked solid, controlled and comfortable. He was second in strokes gained off the tee, which is no surprise, and third in putting, which kind of is.
The round carried a bit of coincidence: He hadn't converted four birdies in a row in a major since he won that 2014 PGA, his second victory in three years in the championship. Another coincidence of note is that McIlroy is ranked No. 7 in the world, same as his record 16-under-par performance in the 2011 U.S. Open at Congressional.
He was good then. At least, that's what he recently had indicated.
On Wednesday, a couple of reporters spied McIlroy showing his daughter Poppy Kennedy a mural of his 2014 PGA victory. "Look, that's when daddy was good," he told her as he held her in his arms, a self-deprecating comment she is too young to understand.
Reminded that he was pretty good last month at Augusta with that final-round 64, he turned and smiled slightly. But then it disappeared as he said flatly, "Yeah. Didn't win."
Yeah, when you're good, you win. We're about to find out just how good Rory McIlroy still is.
MORE PGA CHAMPIONSHIP COVERAGE FROM GOLF DIGEST