TULSA — Taking the measure of Mito Pereira—and assessing his chances of winning the 104th PGA Championship—requires little more than an appraisal of his final six holes of Saturday's tempestuous third round at Southern Hills Country Club.
Following a stretch of four bogeys in five holes, Pereira, an outwardly dispassionate young man from Chile, saw a four-stroke lead dwindle to one, and he appeared on the verge of a full-scale retreat from the itinerate pressures of a major championship and the unforgiving nature of an inhospitable golf course.
But instead of crumbling, the 27-year-old rookie exhibited resolve and resourcefulness, converting three birdies, including a "bonus" at the last, and asserting control in his first appearance in the championship and in just his second major start.
"He showed a lot of guts," said Scott McGuiness, the caddie who carries Periera's bag. "He turned it around nicely, which says a lot."
Though not much is known about the player whose full name is Guillermo Pereira Hinke, it's obvious that "Mito," a nickname, is no wilting rose, or "rosa" as they prefer in Oklahoma, in reference to the state flower. He'll begin Sunday's final round with a three-stroke lead over Will Zalatoris, the second-round leader, and Matt Fitzpatrick after battling to a one-under 69. Only Pereira and Fitzpatrick, a seven-time winner on the DP World Tour, have broken par each round.
"Just happy to be in this position," Pereira said after posting nine-under 201 through 54 holes to become the first rookie since John Daly in 1991 to lead the PGA Championship after three rounds. "I was playing really good and, suddenly I made four bogeys in five holes. It was a tough place to be at that moment. But just found myself from 13 on."
Pereira came into the championship ranked 100th in the world. But he did have confidence in his ball-striking after a decent week at the AT&T Byron Nelson, where he tied for 17th. When he arrived at Southern Hills, which rewards tee-to-green execution, his comfort level soared, so he worked hard on his putting—an admitted weak spot—with coach Stephen Sweeney during the practice rounds.
He found a rhythm to his putting stroke he could trust. "Just sensations, basically," he said.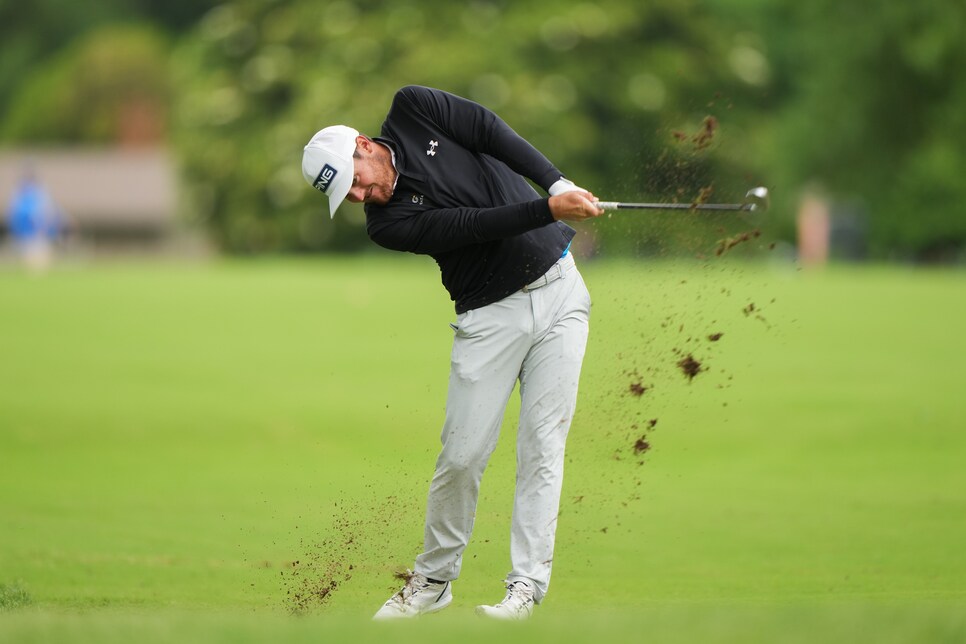 Mito Pereira \hits his shot on the 15th hole during the third round of the 2022 PGA.
Darren Carroll/PGA of America
It has paid off throughout the championship. He ranks first in strokes gained/putting at 7.033—after entering the week 116th in the stat on tour—and leads the field with 16 birdies, three more than anyone else. And it paid off in the biggest moment of the round on Saturday at No. 13 when he faced an 18-foot birdie putt just after watching Zalatoris snake home a 35-footer to seize a share of the lead.
Pereira responded by guiding home his birdie home to restore his lead.
"I think it's more just mental," he said of the turnaround. "Obviously, that birdie really helped on 13 to get things going. But I wasn't playing really bad in those bogeys. Just a couple, like one three-putt, one bad break. So, it wasn't like I was losing my confidence. I was still hitting the ball really well, so I just hold to that and like try to do my best."
"That was definitely a big moment," McGuiness said of the birdie at 13. "He showed you something there. And then he probably hit one of the best shots I've seen from him at 14. Just beautiful."
Back to the ball-striking clinic. Pereira, who led the field in greens in regulation through two rounds when he opened 68-64, drilled a 4-iron on the par-3 14th measuring 230 yards. The ball settled six feet from the cup and Pereira poured it in. Three pars and a 27-foot birdie at the last has set him up for his first 54-hole lead. He is vying to become the first tour rookie to win a major championship since Keegan Bradley at the 2011 PGA Championship and the sixth player in the stroke-play era that started in 1958 to win in his PGA debut. Collin Morikawa was the most recent in 2020.
Pereira's journey in golf has been a bit of a zigzag. He was a phenom in Chile at an early age and went on to attend the IMG Academy in Florida before abruptly quitting the game for two years. When he returned rejuvenated, he played one year at Texas Tech in 2014-15 before turning pro. A halting few years of progress, including two stints on the PGA Tour Latinoamerica, ensued before he won three Korn Ferry Tour events in the extended 2020-21 season that earned him immediate promotion to the PGA Tour in late June.
His only other major appearance came at the 2019 U.S. Open at Pebble Beach, where he missed the cut. That might seem like a thin resume, but Foster has seen enough, especially here at Southern Hills, to believe Pereira isn't about to fold. "He's been solid all week. He's ready for this. I think he'll play well," said McGuiness, who previously worked with Scottie Scheffler.
"If you play really good golf during the week, you're going to win," Pereira said. "Doesn't matter your first time or your 10th time, if you play really, really well, you're going to have chances."
This is a big chance. And Pereira is playing really, really well.
MORE PGA CHAMPIONSHIP COVERAGE FROM GOLF DIGEST