Take it to the bank
A record number of PGA Tour pros made $1 million last season and that number will only rise with big purse increases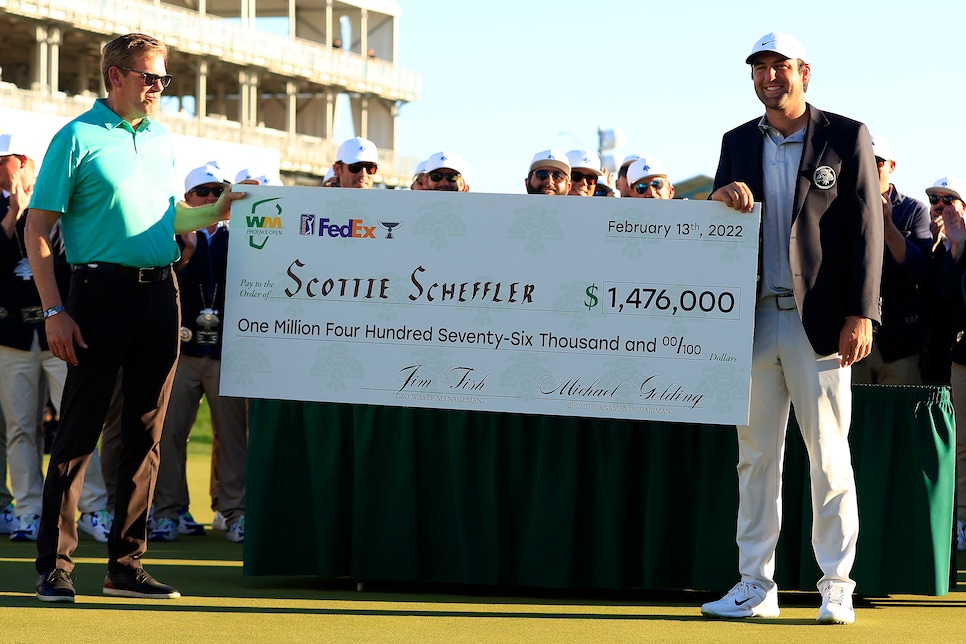 Scottie Scheffler poses with the check for his win in the WM Phoenix Open—the first of Scheffler's four wins on the season that drove him to earn more than $14 million in 2021-22.
Mike Mulholland
It's inarguable. This year, there was more talk about money in professional golf than at any time in the sport's history. It was a conversation thrust upon us by the arrival of Saudi Arabia-backed LIV Golf, whose investment of $750 million in its first year of existence changed the way that tours and fans viewed the value of the game's top players—as well as those who are closer to a cushy retirement than they are contending in major championships.
The dollar signs for LIV Golf were pretty staggering. Beyond the many millions numerous players are guaranteed simply to show up at events, those who performed the best earned incredible amounts. Dustin Johnson led all LIV check cashers with $35.6 million in eight starts, including an $18 million bonus for winning the season-long individual points title. Branden Grace was second by making a combined $16.6 million.
The lowest earner among those who played at least seven LIV events? South Africa's Shaun Norris, a 40-year-old one-time DP World Tour winner who made $1,006,000, good for 52nd place in the LIV money standings, in seven appearances.
That million-dollar plateau is meaningful when comparing it to what the players made in 2021-22 PGA Tour season. A record 126 golfers earned at least $1 million—the last of them being 41-year-old five-time PGA Tour winner Nick Watney, who made $1,012,572. The difference between Watney and Norris is that the American had to make 23(!) more starts to get to seven figures. Watney made it hard on himself to achieve his number by missing 20 cuts; he only got to $1 million because of his T-2 in the Sanderson Farms Championship. But that speaks to a bigger consequence on the PGA Tour: You only have to have one or two really strong finishes in a season to make $1 million.
The PGA Tour's leading money winner was Scottie Scheffler, whose four wins included the Masters en route to earning a record $14.04 million on the course in 25 starts and another $5.75 million in FedEx Cup Playoffs bonuses.
Rounding out the top five were eventual LIV Golf defector Cam Smith, who made $10.1 million on the PGA Tour and another $7.3 million in LIV, Will Zalatoris ($9.4 million), Patrick Cantlay ($9.3 million) and FedEx Cup Playoffs champion Rory McIlroy ($8.6 million, along with an $18 million bonus for winning the Tour Championship).
Interestingly, there were slightly fewer players who made at least $2 million this past season—64 compared to 68 in the previous year. Still, many PGA Tour players are doing well for themselves, with the average earnings being $1,621,221 for the 247 men listed in last season's money list.
Of course, the average is heavily influenced by the big numbers at the top, while it can still be pretty rough at the lower end. Among those who made at least 20 starts, Wyoming native Joshua Creel, 32, earned the least at $115,976. And if that seems like a good living, know that he had to play 22 weeks to get there—a gross of $5,271 each start before expenses.
The bank accounts for the top players only figure to grow. The tour has announced there will be a total of 12 "elevated" events in 2023 and each of those will have purses of $15 million to $20 million. Last season, the only non-major tour event with a purse of more than $15 million was the Players Championship. This year, the Players purse will be $25 million and 10 other events will rise to $20 million.