Perhaps you've seen the comparison: Tiger Woods has made roughly $121 million in on-course earnings on the PGA Tour, and LIV Golf reportedly offered him somewhere between $700 million and $800 million to join the Saudi-backed upstart league. It's not exactly apples-to-apples, for you wouldn't compare the $230 million deal Kyler Murray just signed with the Arizona Cardinals to the $20 million one John Elway signed with the Denver Broncos in 1997. As such, the PGA Tour is urging its players to think about the future when it comes to dollars and cents—to focus not on what they've accumulated in the past, but what they can earn moving forward on the PGA Tour.
Tour officials have begun circulating a document, which was obtained by Golf Digest, that outlines projected earnings for a sample of players if they started their career in the 2022-23 season. When asked about the document, a PGA Tour executive confirmed its legitimacy and explained that the calculations are based loosely on a 4 percent year-over-year growth in total comprehensive earnings, with continued added investment in its three bonus programs: the FedEx Cup, the Comcast Business Tour Top 10 and the Player Impact Program. The projection figures are staggering: the tour claims that if Jim Furyk was a rookie in 2022-23 and had the same 28-year career that he had, in which he made $71.5 million in on-course earnings, his total compensation from the tour would exceed $620 million. To sample a few others: Rory McIlroy would be at $373 million (from $65.7 million); Jordan Spieth at $240 million (from $52.5 million); Brandt Snedeker at $180 million; Ryan Palmer at $100 million; Keegan Bradley at $97 million; Jason Gore at $21 million. The tour projects McIlroy would earn $238 million over his first 10 years on tour had his career started today.
Each player's projected earnings are broken down by year and by seven categories: official prize money; unofficial prize money (for events like the PNC Challenge or the CVS Health Charity Challenge); the Comcast Business Tour Top 10, a bonus awarded to the top 10 finishers in the regular-season FedEx Cup standings; FedEx Cup bonus money, determined by the final FedEx Cup standings after the Tour Championship; the cuts plan, a pension players accumulate based on how many cuts they make in a particular season; the Player Impact Program, enacted in 2021 to reward players for the attention they bring to golf; and additional benefits, which include workplace benefits like child care, health care and disability.
Based on these projections, the Player Impact Program will increase from $50 million to $70 million in 2025, $80 million in 2030, $90 million in 2035 and $100 million in 2040. The Comcast Business Tour Top 10 payout is projected to increase by roughly 6.5 percent year-over-year, and official prize money is projected to increase annually by roughly 3.5 percent.
"We wanted to give our players, particularly our young players who are starting out, a better idea of how much money they will be able to earn by playing on the PGA Tour—which does not include the player's endorsements or other off-course earnings," the PGA Tour executive said. "Our bonus payments have outpaced our prize money in growth in the past few years, and we have focused our efforts on boosting those."
To calculate a specific player's projected future payouts, the PGA Tour applied modern payment structures to past earnings. For example: Had Jim Furyk's 17th season on the PGA Tour happened in 2039, rather than 2006, the PGA Tour projects he would have earned roughly $70 million between increased prize money and bonus payments that didn't exist during his prime. The breakdown of that $70 million includes $19 million from official prize money—a significant increase on the $7.2 million he earned on-course in 2006—$714,000 from unofficial money, $6 million from the Comcast Business Tour Top 10, $35 million in FedEx Cup bonus, $234,000 from the cuts plan, $9 million from the Player Impact Program and $75,000 in additional benefits. Rather than project where exactly Furyk might have finished in the not-yet-existing PIP in 2006 and convert that specific position to 2036 dollars, the $9 million represents the average share for the 10 PIP winners in 2036.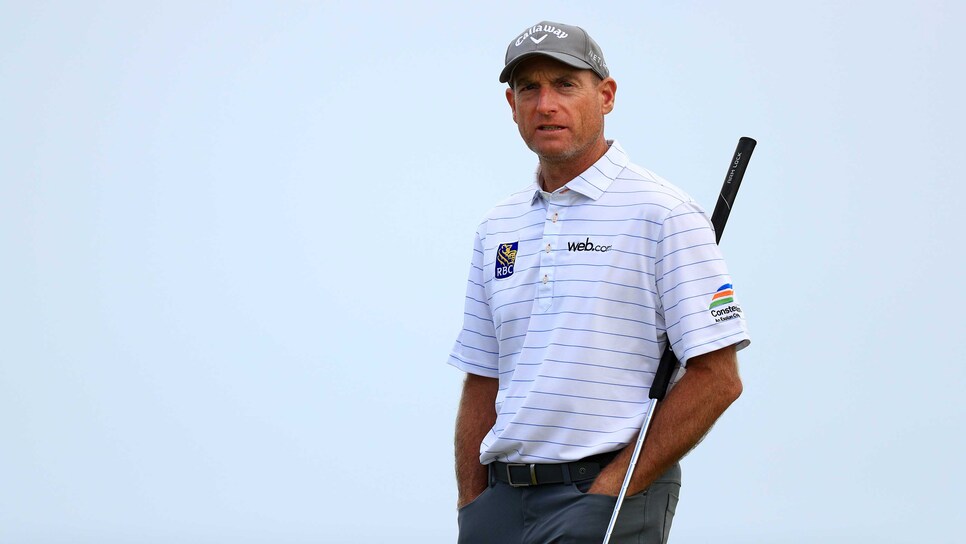 Jim Furyk made $71.5 million in career earnings on the PGA Tour. Had his career started in 2022-23 and lasted the same length, the projects say he would have earned $620 million.
Mike Ehrmann
"We started hearing about all these increases years ago," Furyk says. "A lot of people think this came out of nowhere given the recent happenings in golf, but we've known for a while that the money was going to go up considerably.
"Look, the last thing I want to sound like is bitter that I'm not 23 years old right now. The purses are going to continue to rise, the younger guys are going to continue to make more money and the FedEx Cup is going to continue to grow. I think that's wonderful."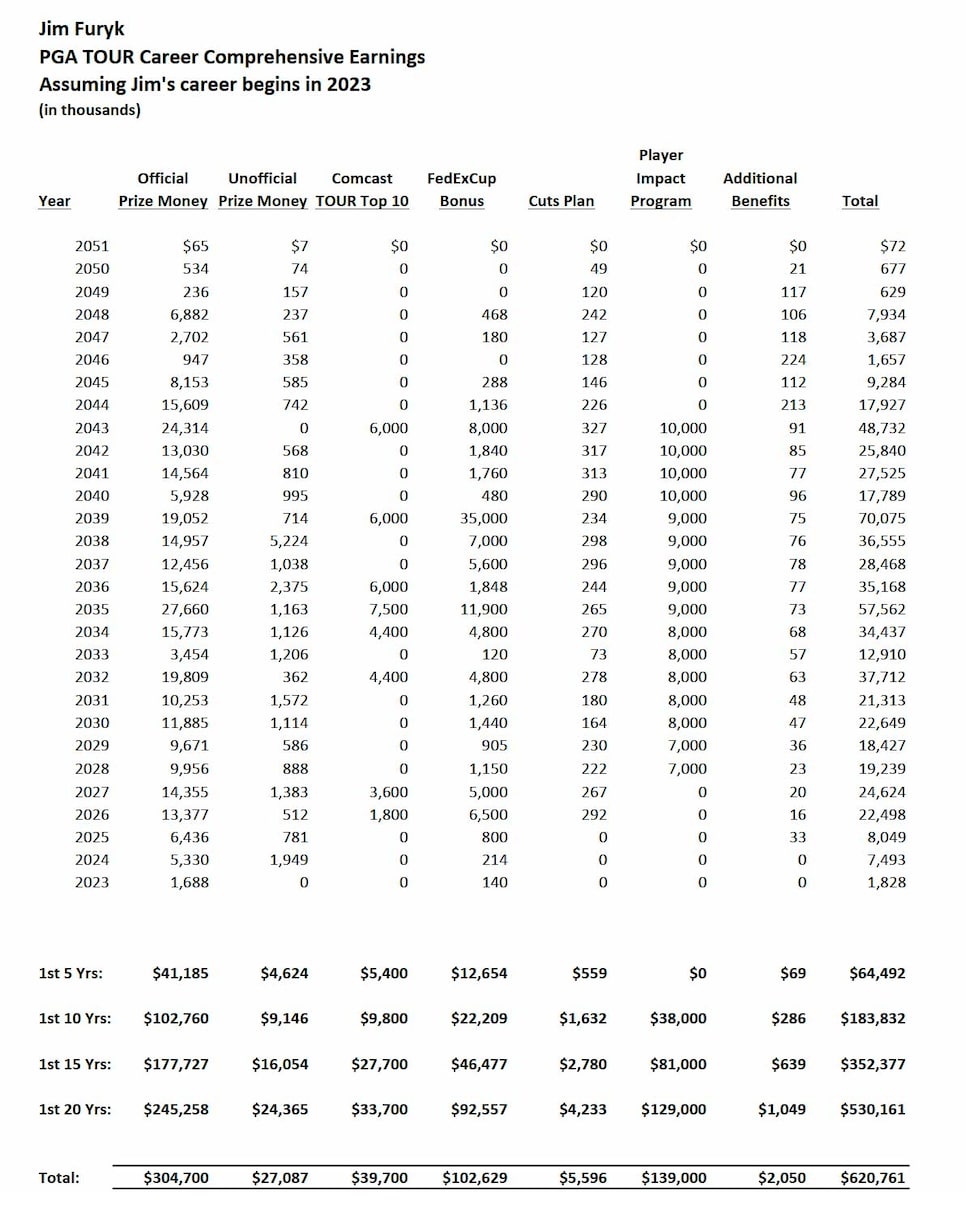 Here's how Jim Furyk's career earnings of $71.5 million get projected to $620 million with the PGA Tour's new purses and incentive plans.
With four wins and three seconds during the 2021-22 tour slate, Scottie Scheffler has already surpassed the record for on-course earnings in a single season with $13.176 million—which does not include the $4 million he earned for winning the Comcast Business Tour Top 10 or the FedEx Cup bonus he will receive after the Tour Championship.
The tour believes its projections are on the conservative side, particularly given recent increases in overall total comprehensive earnings—with the tour's new nine-year, $7 billion media-rights deal kicking in, the tour increased its overall total comprehensive earnings package by 19 percent from 2021 to 2022, with another 17 percent increase forecasted for 2023. The tour executive also expressed confidence in long-standing corporate partnerships going forward and did not agree that the emergence of LIV Golf would negatively impact the PGA Tour's bottom line.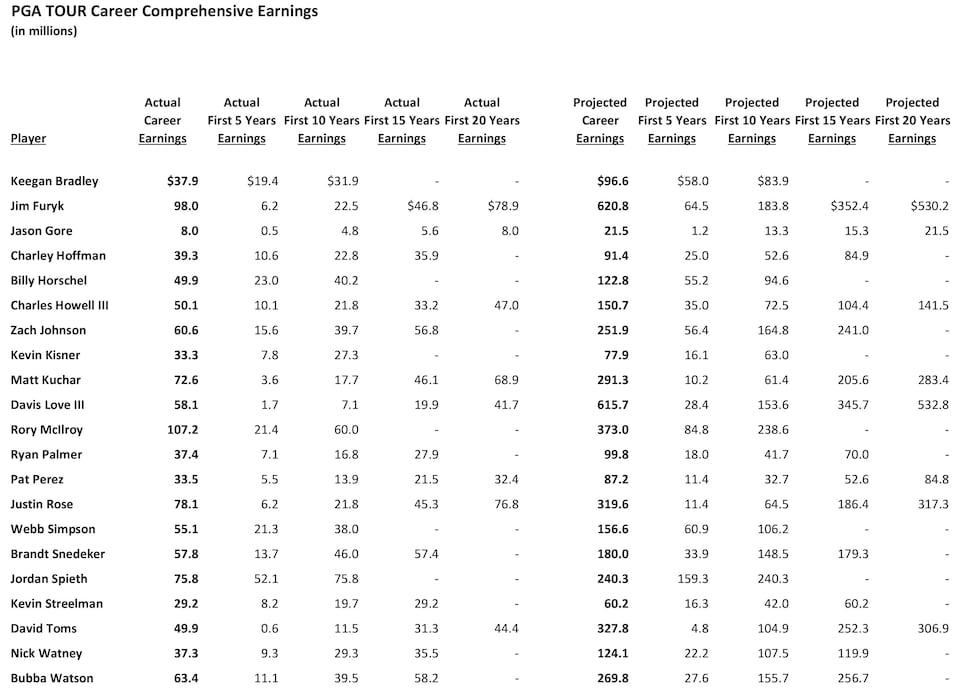 Here are the projected earnings for other PGA Tour pros.
It is, however, hard to view the document outside the context of LIV, which has reset the market for professional golfers with its offers of tens or hundreds of millions of dollars in guaranteed money to its players. The deal Phil Mickelson signed with LIV Golf is rumored to be worth $200 million over less than five years, with Dustin Johnson reportedly agreeing to $150 million and Bryson DeChambeau fetching north of $100 million—all in guarantees, not including additional prize money up for grabs in LIV's events.
The PGA Tour, however, does not include any guaranteed money in its projections. "All of this money we're projecting will be earned on a competitive basis," the PGA Tour executive said, "and that's a hallmark of the PGA Tour. Even the PIP program, there are different components, but you've earned those based on how you've competed."
As for Woods, the tour opted against using him as a data point because not many players can realistically hope to replicate his career. But it's entirely possible that Woods would've won the Player Impact Program every single year from 1997 through 2021, the year he won it despite not hitting a single shot in a PGA Tour event, and all those first-place prizes would've added up to hundreds of millions of dollars in bonus money—not including on-course earnings and Comcast Business Tour Top 10 earnings. All of a sudden, that $700 million figure thrown around by LIV Golf doesn't look so outrageous.