The Loop
PGA Tour panic in Hawaii, a WAG wins her caddying debut, and a Miss Universe contestant's stunning golf score
Welcome to another edition of The Grind, where we're not sure how we would have handled that false Hawaiian missile alert. I'd like to think I'd react like Justin Thomas, who turned on the tube, cranked some tunes and opened his hotel room's sliding door, crazily bravely accepting whatever fate was to come. But I'd probably be more like Magic Johnson, who cowered in a basement, bracing for the worst. On second thought, it would probably depend on what was on TV.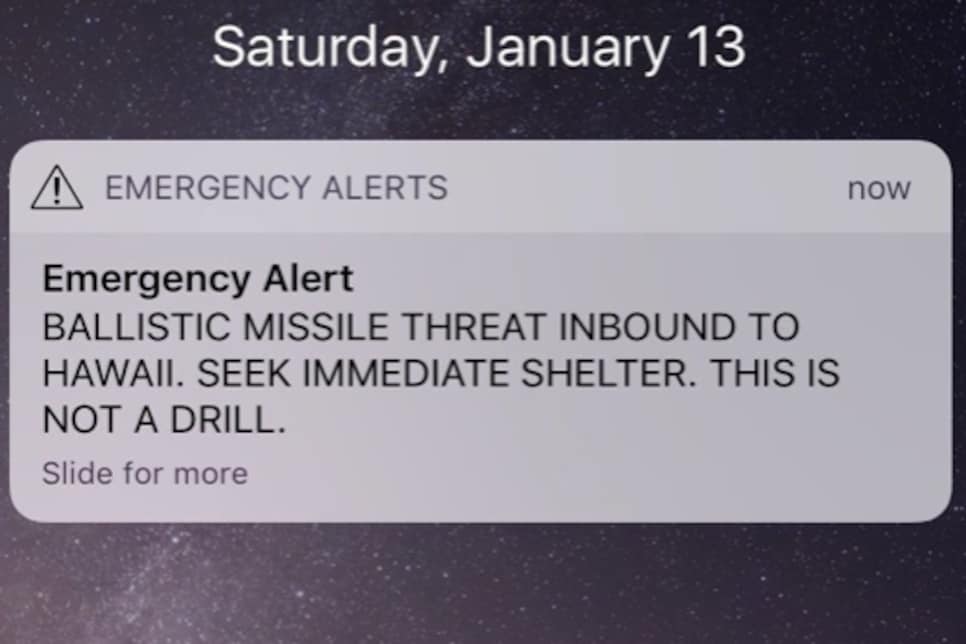 Fortunately, it doesn't matter now and it didn't even wind up being the biggest mistake of the weekend (Sorry, New Orleans Saints fans). The PGA Tour played on and we're all still here (for now) to talk about what's going on in the world of golf. Let's get to it.
Patton Kizzire: Don't sleep on guys who dominated the Web.com Tour. If you can consistently win there, you can win anywhere as Patton and Wesley Bryan have proved recently. With Kizzire's Sony Open playoff victory over James Hahn – already his second PGA Tour title of the season, he moved to No. 1 in the FedEx Cup standings.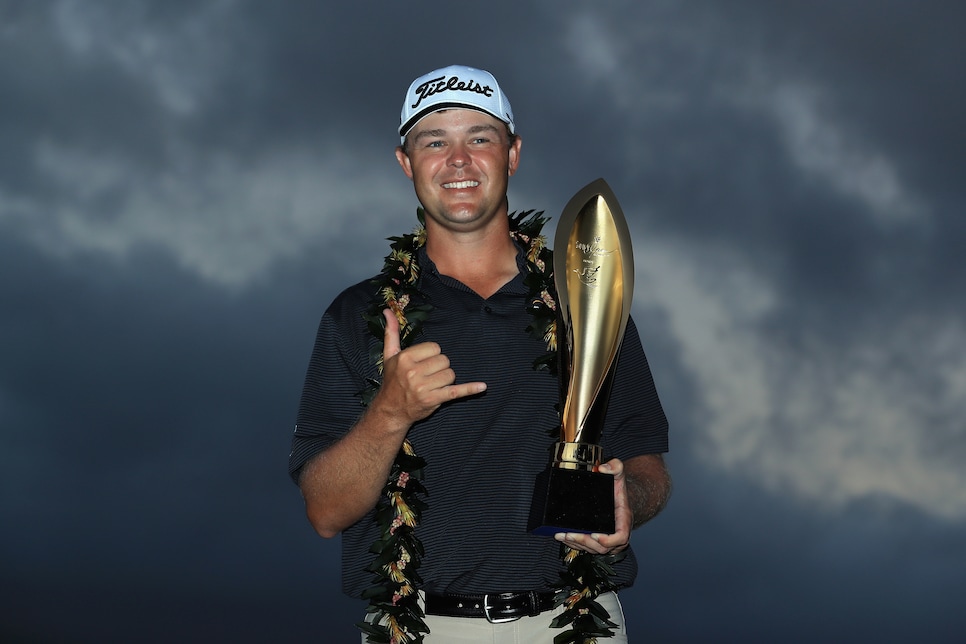 And he put himself in perfect position to follow the same script 2014 Sony Open champ Jimmy Walker used to earn a surprising Ryder Cup spot.
Miss Universe Japan: Momoko Abe was in the news for her meeting with Shinzo Abe (no relation) in which Japan's Prime Minister revealed that a 79 is his low career round. But during their talk, Momoko, who represented Japan at the 2017 Miss Universe contest, revealed she's shot a 68(!) before. And judging from her swing in this video, we believe her.
Talk about a national treasure.
Player-caddie room sharing: Webb Simpson, who made $3.2 million on the PGA Tour last season, and caddie Paul Tesori opted to share a hotel room in Hawaii last week.
It seemed crazy until I remembered my parents once complaining about how expensive hotels in Honolulu are on a family trip. If the four of us could manage it, these two should. And they did, with Webb finishing T-4 and taking home $250K. I applaud their frugality, but guys, maybe spring for separate rooms at the next tour stop. Live a little.
Husband-wife trophy sharing: We're assuming the player-caddie combo of Chris Paisley and Keri Paisley also shared a room last week at the South African Open. Chris captured his first European Tour title with his wife filling in for his vacationing caddie (whoops!). "She doesn't know that much about golf, but she knows me really well and she knows when I'm going a little quicker than I usually do or getting a bit tight," Chris said. "Coming up the last fairway with her next to me was just incredible."
Congrats to the couple, and it sounds like Keri will hang up her strap after this one and retire with a perfect record as a caddie. Smart.
Missile warnings: Someone pushed the wrong button? Really? That's all it takes to create such widespread panic? Sounds like a plot plucked from The Simpsons. Seriously, waking up to this message would NOT be fun.
And now I'm going to fear the worst every time my phone starts violently vibrating.
Technician strikes: We're not taking sides in the labor dispute between Golf Channel and union video and audio workers, but we hope it gets resolved quickly. As golf fans learned over the weekend, this army of behind-the-scenes people are pretty darn important when it comes to delivering a great broadcast. Although, kudos to the skeleton crew for a tremendous effort in Sunday's coverage, particularly Jerry Foltz, who pitched in by putting down his mic and grabbing a camera:
Rory McIlroy's house: As in, Rory's selling his slick waterfront pad in Palm Beach Gardens, and has reportedly moved into Ernie Els' nearby Jupiter house. Unfortunately, McIlroy's former place is juuuust a bit out of our price range at $12.9 million, but in case you're interested, check out the listing.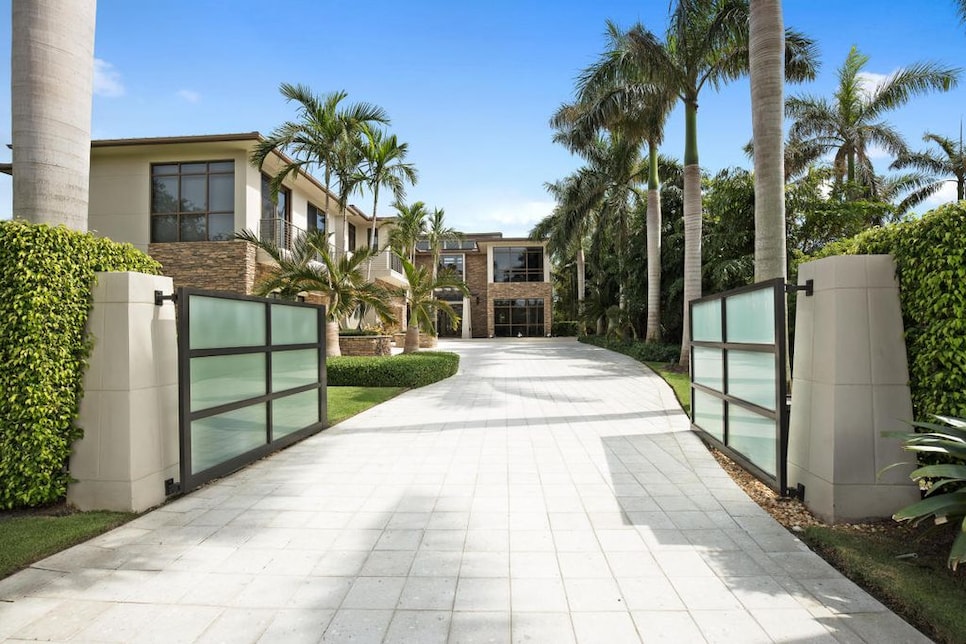 The PGA Tour heads back to the mainland for the CareerBuilder Challenge, AKA that event where Adam Hadwin shot 59 last year -- and didn't win.
RANDOM PROP BETS OF THE WEEK
-- I will buy Rory McIlroy's house: 12.9 MILLION-to-1 odds
-- Tom Whitney will win this week: 1,000-to-1 odds
-- Tom Whitney will be, um, bombarded by questions this week: LOCK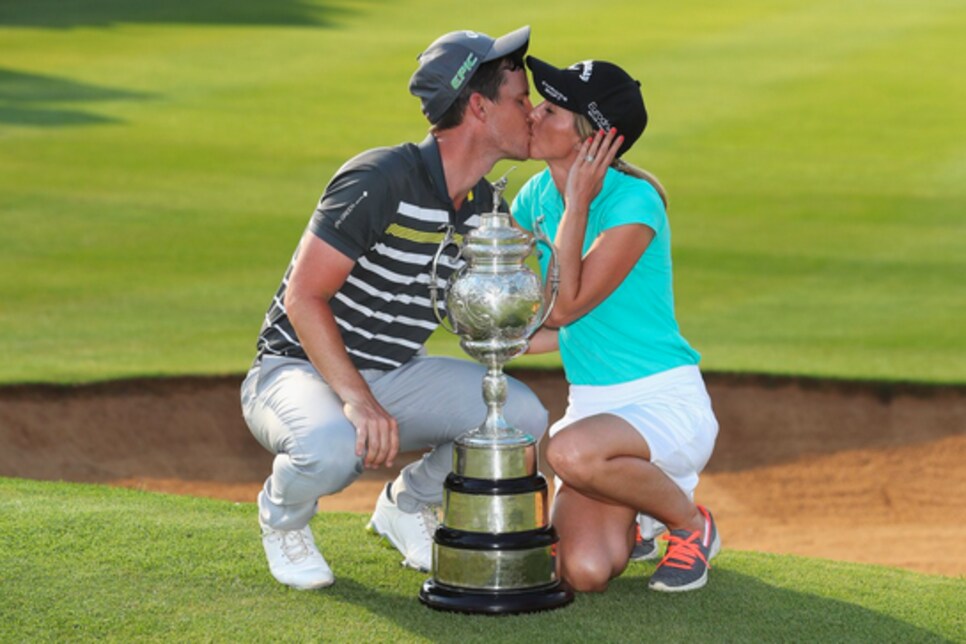 File this under acceptable PDA in the workplace.
This guy who kept playing golf during the threat of world annihilation wins the award for best reaction to the Hawaiian missile (alert) crisis:
Hey, he had it going after making a par. Nuclear threat or not, it's tough to walk away when you're playing well.
VIRAL VIDEO OF THE WEEK (TRICK SHOT DIVISION)
This guy puring a hybrid off the deck while going full-speed on a skateboard might be the world's best athlete:
VIRAL VIDEO OF THE WEEK (FAILED TRICK SHOT DIVISION)
Golfer/fitness model Karin Hart didn't quite pull this off, but yet she still got 50 times the views of the skateboarder:
"I sat on the couch and opened the sliding door and watched TV and listened to music. I was like, if it's my time, it's my time. There's really nothing I can do." -- Justin Thomas. Sounds like a guy who could literally die a happy man after watching Alabama win the national title.
THIS WEEK IN CELEBRITIES PLAYING GOLF
Check out Ray Allen draining a shot from way downtown (122 yards in fact) in front of John Daly:
And check out former NFL coach June Jones, who plays golf in bare feet and putts with a 5-iron:
THIS WEEK IN DUSTIN JOHNSON-PAULINA GRETZKY PAT PEREZ-ASHLEY PEREZ PUBLIC DISPLAYS OF AFFECTION
Ashley Perez found a creative way to reveal she's pregnant to her husband:
Well done, Ashley. And well done to Pat as well. That "Coffee is for closers" T-shirt is fantastic.
Golf Digest's new "Chasing Ty Tryon" podcast is awesome and well worth 45 minutes of your time. Kudos to Keely Levins, Brittany Romano, Mason Leverington and Sam Weinman for pulling this off. … Rory McIlroy revealed he has been diagnosed with an irregular heartbeat, but it's "nothing to worry about." Good. Because after four months off, Rory resumes play this week in Abu Dhabi and I've started to miss those "RORY COMIN'! tweets. … Europe beat Asia in the EurAsia Cup. Shocker. … And finally, I discovered that you can save a lot of money by seeing movies in the morning. Webb Simpson and Paul Tesori would be proud.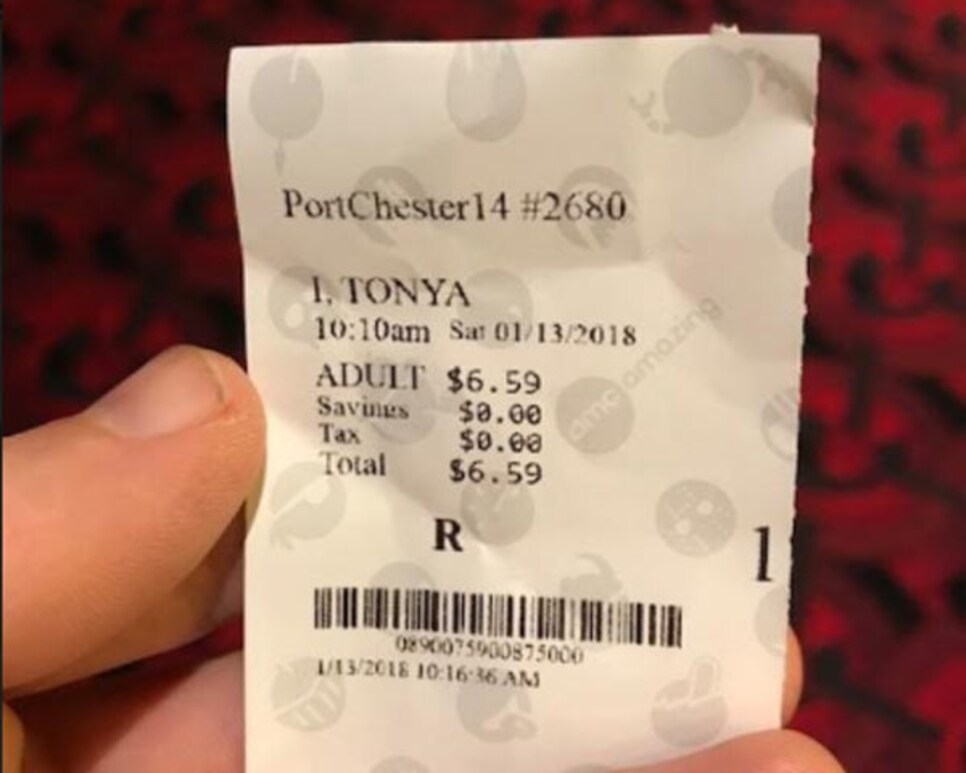 In related news, I, Tonya is a masterpiece and should win for best picture. And no, I haven't seen any other movies, but damn it, I'm right.
RANDOM QUESTIONS TO PONDER
Bigger lock: Allison Janney winning an Oscar or the Patriots winning the Super Bowl?
Who's the cheapest golfer on tour?
How sick is Rory McIlroy's new pad?