The Loop
Justin Thomas is the Baddest Man on the PGA Tour, and it has very little to do with golf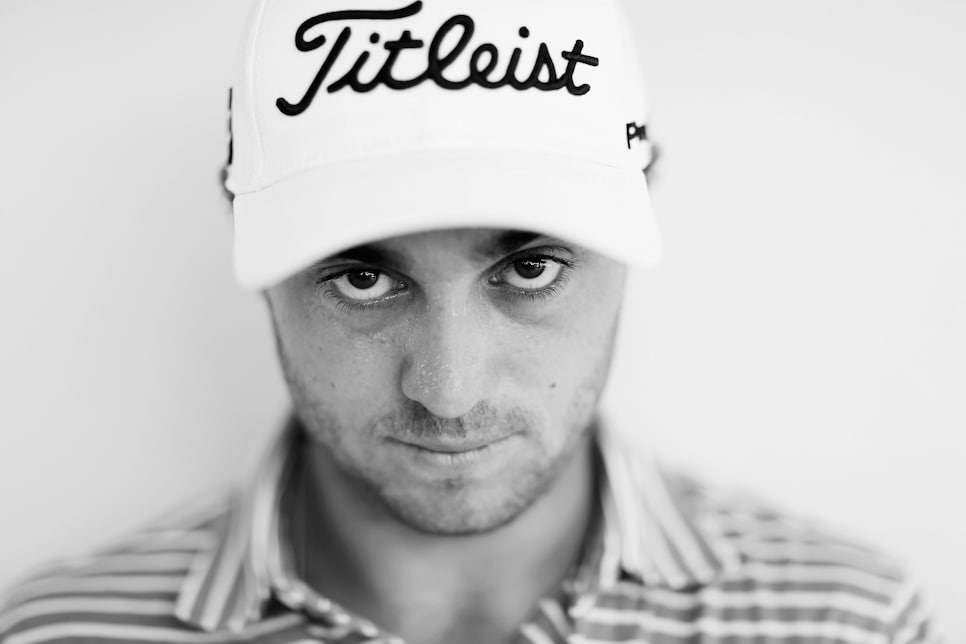 Imagine being a PGA Tour player hoping to make an impact early in the season at the Sony Open—you make the cut, you're gearing up for the weekend in one of the most beautiful places on Earth, and then, Saturday morning, you get this text alert: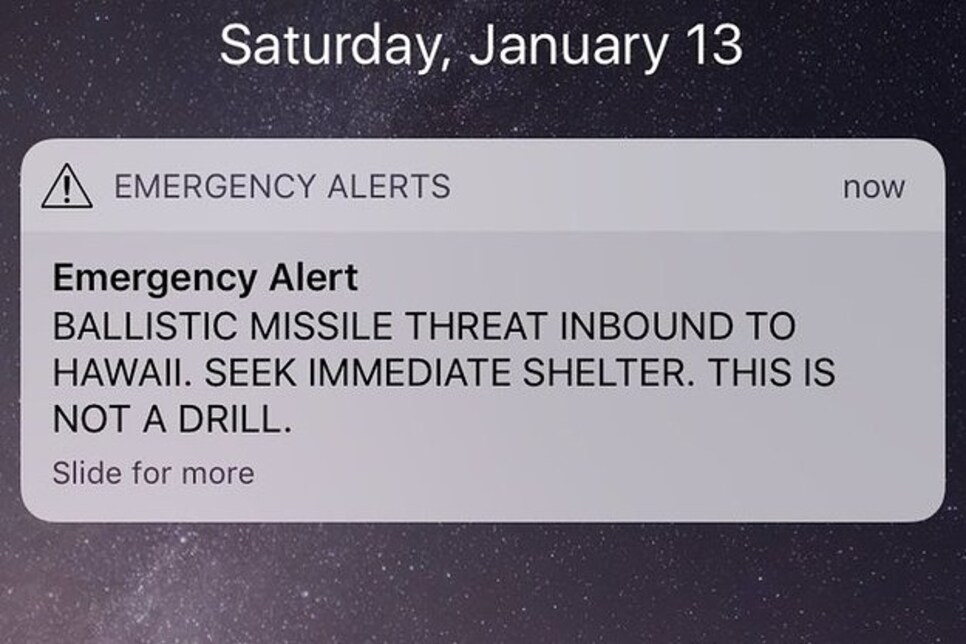 Boy, that's a real bummer! And sure, it was an "accident" triggered by some guy pushing the wrong button (by the way, I'm about 80 percent sure I believe that story, but am definitely ready to learn in 50 years when the CIA declassifies certain documents that there's an un-detonated North Korean nuke at the bottom of the ocean 12 miles off the cost of Honolulu), but there were 38 minutes between the initial warning and the "oops! our bad!" message. Can you imagine the panic? I mean, people were losing their minds on the mainland, and they weren't even in danger!
And this isn't meant to prioritize golfers over locals, or anything like that, but there would be a terrible irony in dying by rogue missile strike thousands of miles from home while playing in a golf tournament.
The Most Brazen Reaction to Imminent Death: Justin Thomas
Joel Beall, rounding up player reactions here at Golf Digest, highlighted this tweet from John Peterson in that uncertain 38-minute interval:
Now, to me, that's a sensible reaction to learning that you could be blown to smithereens at any minute. (Quick question, though: How big is that bathtub??) Peterson reacted how I would react—hiding, begging, etc. I imagine most of us are like this. And for the record, Peterson is a crazy tough Louisiana madman who kills snakes and handles alligators and probably hunts human beings with a crossbow in the bayou. He's no shrinking violet. But he did hide in a bathtub and pray for salvation when faced with disaster.
Then there's Justin Thomas. Here's how he dealt with the specter of annihilation, via Reuters:
Speaking after the third round, which started on time at Waialae Country Club, Thomas said he had not got the original warning and was only aware after he received a screen shot from fellow pro Tom Lovelady.
"I was like 'there's nothing I can do,'" Thomas said of his original equanimity.
"I sat on my couch and opened up the sliding door and watched TV and listened to music.
"I was like, if it's my time, it's my time."
Well then! Apparently Thomas, who prior to this incident seemed like a pretty straight-laced 24-year-old golf-playing human, is actually a badass death-defying fatalist who laughs in the face of existential terror. The detail that really kills me in that excerpt? He actually OPENED UP THE SLIDING DOOR when he heard there might be a missile. It's like he was inviting Kim Jong-Un to do his worst.
I guess winning a major really completed this guy's life, to the point that it's all gravy from here on out? North Korean missile gets me? Whatever, I won the PGA. I hope the next time he's in a final-round duel with his boy Jordan Spieth or anyone else, he leans over on a tee box somewhere on the back nine and whispers, "I stared down Kim Jong-Un...and won."
Best Reaction to Getting Schooled by a Cop: This Guy
I think this was staged, but it's hilarious anyway:
There are so many times in life when I want to run out of a metaphorical gymnasium just like this man did, and I think from now on I'm just going to do it—anything bad happens, anywhere, and I'm taking off.
Best Rapid-Fire Emotional Range by an NBA Coach: Steve Kerr
As the good people on Reddit pointed out, this seems to have taken all of six seconds:
With flexible, volatile emotions like these, Steve Kerr would be very good at living in Hawaii.
The What the Hell Was That...of the Week: Lance Stephenson, Pacers
Here's Lance, making a pass:
Uhhh...what the hell was that?
The Lonely Fan Experience of the Fortnight: Me, Watching Tennis
It's difficult for me to go through an entire Superlatives column without mentioning tennis, due to my unhealthy obsession and this week is no exception. But I have a gripe, and I will share it: The beauty of being a sports fan in the age of the Internet is that there is almost always someone, somewhere, who is watching the same game and feeling the same feelings. Even when I don't feel like interacting, I can read what other people are saying on Twitter and feel a small sense of something like community. Is it brief? Yes. Vague? Sure. A poor substitute for human interaction, and possibly sad and/or pathetic in the grand scheme? Absolutely. But it's a connection nonetheless, and it means that watching a game is never really a lonely experience.
But the closest I come to sports isolation happens during the Australian Open. Nobody I know loves the Aussie Open as much as me, because nobody I know is quite as tennis-crazed. For a lunatic like me, it represents the end of an intolerable offseason (all of like, six weeks) and a return to high-level, high-stakes matches featuring the world's best players. For everyone else—friends, acquaintances, Twitter follows—the Australian Open is:
1. Easily the least alluring grand slam event. It's not even close.
2. Held in Australia, which means most of the good matches start at 3 a.m.
3. Held in the dead of American winter, when nobody's minds are on tennis.
In other words, the hardcore fans are barely tuning in, particularly to the opening rounds, and the casual fans won't touch it with a 10-foot didgeridoo. (Not to mention the fact that tennis is not enjoying its most popular period in America, because somehow we can't seem to churn out a decent male player.) But me? I'm ready to fire off 500 tweets per hour about the INTRIGUING returns of Novak Djokovic and Stan Wawrinka, and the excellent first-round clash between next-genners Denis Shapovalov and Stefanos Tsitsipas, and the dubious post-U.S. Open record of Sloane Stephens, and the prospects of a rejuvenated Angelique Kerber. And you? You will be annoyed at me. You will unfollow me. You will shake your head. SCREW YOU.
I need help. I am so lonely. Please let it be summer.
The Correct Ranking of NFL Playoff Weekends
Let's conclude with a sport that people actually care about: FOOTBALL. This past weekend was the divisional round, when the four teams with first-round byes take on the survivors of Wild Card weekend, and to be honest, it's usually pretty lame. This weekend? It was insane, and ended with one of the most exciting playoff moments in NFL history. But just for laughs, I want to show you what I wrote on Sunday morning about the divisional round:
"The games in recent years have been mostly blowouts (the Falcons-Eagles slugfest Saturday was a rare exception), and with a week's rest and homefield advantage, the deck is stacked heavily in favor of the team that is already better. Which is how it should be, of course...but that doesn't make it any easier to watch. The whole weekend is highly skippable."
Great call, right?! That said, I stand by the rest of what I wrote, this crazy year notwithstanding. Here's my highly controversial ranking of NFL playoff weekend, from worst to best.
4. Divisional Round — typically blowout city, huge advantages to the home team, very little drama.
3. The Super Bowl — Yup, I said it. Dr. Controversy presiding over here. But there's so much build-up that even a very good game can't live up to the hype. And lately, the commercials have been terrible.
2. Wild Card Round — You have all the optimism and excitement of early playoff days, but none of the built-in advantages of the divisional round. It's wacky, it's wild, it's fun, and it seems like anything can happen.
1. Championship Sunday — For me, this is the best day of NFL football all season. It has everything—lots of action, smaller doses of intolerable hype, home crowds, freezing weather, and (usually) close games between extremely good teams. It almost redeems the shambling disaster the NFL has become.