PGA Championship
PGA Championship 2022: Rory McIlroy would very much like to stop talking about Saudi-backed LIV Golf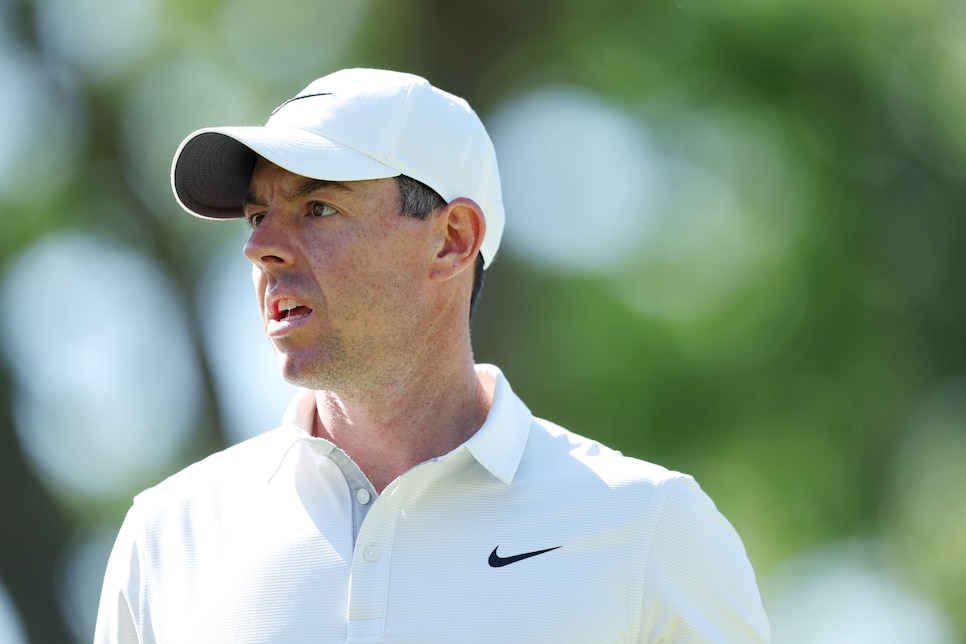 TULSA — Rory McIlroy has a stance toward the Saudi-backed LIV Golf effort that is shared by many. "Honestly I'm rooting for it all to be over," McIlroy said about the ongoing drama. "I'm just so sick of talking about it."
Unfortunately for McIlroy, this rodeo is far, far from over, with the LIV series launching in earnest in three weeks despite the PGA Tour denying conflicting-event releases to its members. And because McIlroy has been unequivocally LIV Golf's most outspoken critic—along with his role as chairman on the tour's Player Advisory Council—a sizable chunk of McIlroy's Tuesday press conference at the PGA Championship was dedicated to the looming storm in professional golf.
McIlroy reiterated where he sits on the matter, but made sure to clarify he wasn't stopping those who were interested in defecting.
"I've made my decision, and I know where I want to play, and I'm not standing in anyone's way, and I'm not saying that they shouldn't go over there and play if that's what they feel is right for them, then 100 percent they should go and do it," McIlroy said. "I'm certainly not wanting to stand in anyone's way. But I think the sooner it all happens and the sooner everything shakes out, I think we can all just go back to not talking about it and doing what we want to do."
Earlier this year McIlroy called the LIV Golf enterprise a failed endeavor. "Who's left? Who's left to go? I mean, there's no one. It's dead in the water in my opinion," McIlroy said at Riviera in February. "I just can't see any reason why anyone would go … I mean, Greg Norman [CEO of LIV Golf] would have to tee it up to fill the field. Like, I mean seriously? I mean, who else is going to do it? I don't think they could get 48 guys."
However, on Tuesday, McIlroy acknowledged, "I might have been a little presumptuous at that point."
"It seems like it's still going," McIlroy explained. "Greg and everyone behind it are very determined. I think we're just going to have to see how it plays out. Guys are going to make decisions. Honestly, it's going to shape the future of professional golf one way or another, so I think we're just going to have to see how it all shakes out."
As one of the more thoughtful and discerning interviews in the game, McIlroy is seen as the go-to authority on most subjects in the sport. In that same breath, mentioned above, his early-stated opinions on LIV—coupled with his station on the advisory board—have made the breakaway leagues a recurring discussion. It begged the question if McIlroy wished, in hindsight, he wasn't part of said board, thereby allowing more freedom with his own career.
"In fairness, the PAC is fine because it's a very high overview of what's going on and there's four or five meetings a year," McIlroy responded. "Being on the board is different, and there's maybe a few more calls that I've been on than I would have expected to be on whenever I took the role up.
"Yeah, again, that ignorance is bliss. It's nice to be in the know, but at the same time, it's nice not to know. … Look, I'm trying to do the right thing for the PGA Tour and the PGA Tour members because that's what I was elected to do, so I'm trying to do that to the best of my ability. But there's people on that board that are a lot smarter than I am that are going to make the ultimate decision."
While that decision is coming and coming soon, there's no doubting LIV Golf's presence is felt this week, specifically in the absence of Phil Mickelson. Though Mickelson is not at Southern Hills by his own violation, the 51-year-old's decision not to defend his title and continue his sabbatical from the sport is an upshot of his affiliation with the Saudi-backed group. Asked what he thought about Mickelson's decision, McIlroy was blunt.
"Unfortunate; sad," McIlroy said. "This should be a celebration, right? He won a major championship at 50 years old. It was possibly his last big, big moment in the game of golf. He should be—I think he should be here this week and celebrating what a monumental achievement he achieved last year.
"It's unfortunate. It's sad. Yeah, I don't know what else I can say."
MORE PGA CHAMPIONSHIP COVERAGE FROM GOLF DIGEST