The Grind
Patrick Reed's controversial win, Greg Norman's ridiculous resort, and golf's most obvious burner account gets exposed(?)
Welcome to another edition of The Grind where we found out this past week there are a LOT of gamblers out there. GameStop? AMC? Blackberry? BLOCKBUSTER?! I honestly didn't even know these companies were still around, and yet people were tossing around money every which way Wall Street Bets tells them. Just some absolutely wild scenes on THE STREET. (That's Wall Street, for those of you who don't know.) Just like "The Queen's Gambit" suddenly got everyone into chess, this recent Reddit movement has made everyone a stock-market expert. But we're here now to focus on golf, so let's get to it. Just hang on a second while I buy this dip …
Patrick Reed: There's a LOT to talk about with this guy, but let's start with the fact he won a big event by one of the biggest margins you'll see all year. In fact, Reed's five-shot victory at the Farmers Insurance Open was historic due to his not-so-historic ball-striking. According to 15th Club's Justin Ray, Reed became the first player since the PGA Tour started keeping official stats in 1983 to win by at least three shots while finishing outside the top 60 in greens in regulation. The guy is a magician around the greens—and I'm not just talking about some sleight of hand to conjure better lies in the rough (more on that later).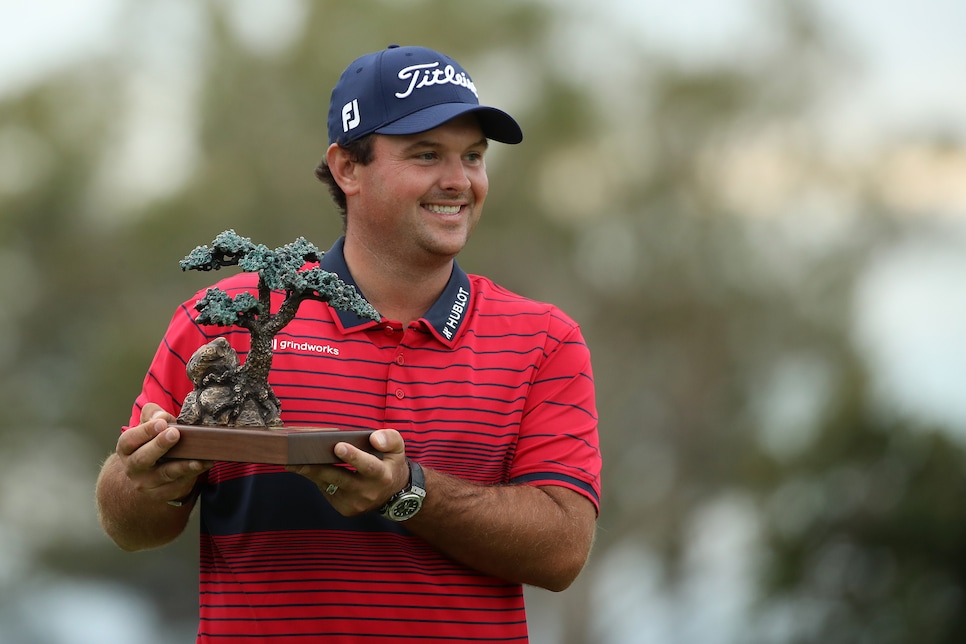 Of course, we shouldn't be surprised considering this is (now) a Ryder Cup year and Reed is Captain Controversy America.
Paul Casey: Throughout his career, many have focused on what Paul Casey hasn't done—namely, win a major—but let's appreciate what he has accomplished. With a win at the Omega Dubai Desert Classic, Casey now has 15 career European Tour titles, putting him in some elite company with the likes of Lee Westwood and Thomas Bjorn among others. Of course, neither of those guys have won a major, either, but we're here to focus on the positive! Fifteen wins! That's a lot! And at 43, Casey is coming off the best major finish of his career, a runner-up at last year's PGA Championship. And, if we're being honest, he looks great for a 43-year-old.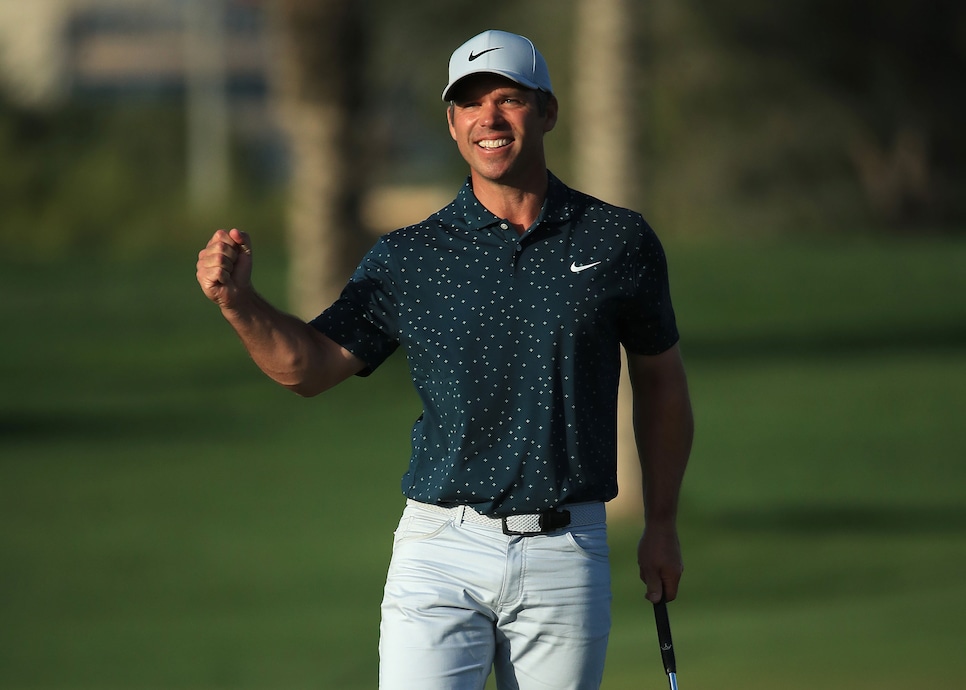 Not 43-year-old-Tom-Brady great (who does?), but still great. So maybe this will finally be his major year.
CBS: Perhaps Golf Twitter's biggest target—it's pretty close between the network and Patrick Reed!—drew mostly raves for its first broadcast of 2021. Under a new producer, there were cool new camera angles, better graphics that included a perpetual leader board (How did someone just think of that?!) and fewer interruptions in play, even if a lot of shots are shown side-by-side with commercials. And Jim Nantz, Nick Faldo and Co. were already in mid-season form, especially with the handling of the Reed situation.
Greg Norman's house: Calling this a house, mansion, compound or estate doesn't do it justice. It is a freaking beach resort: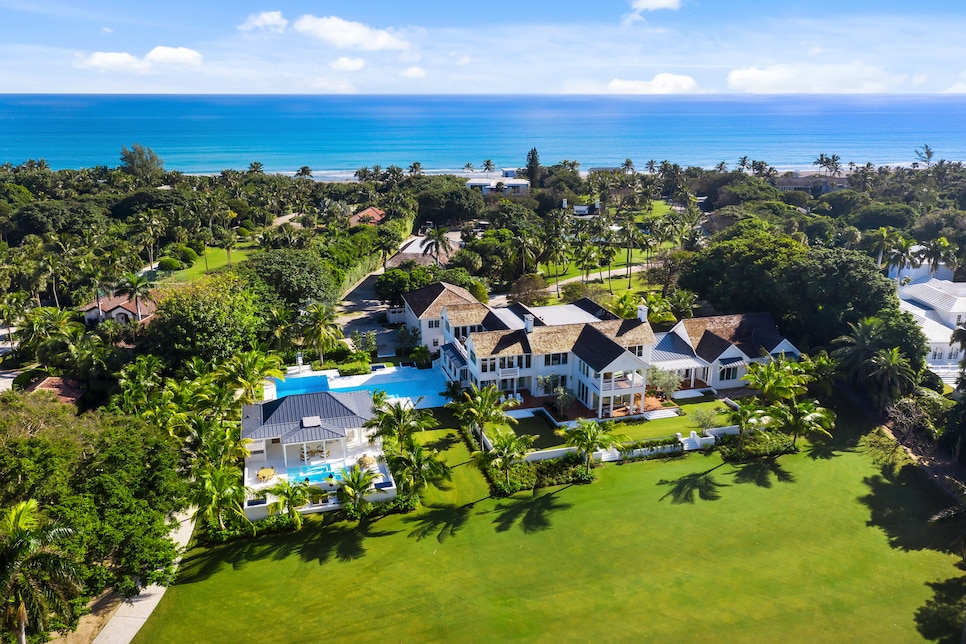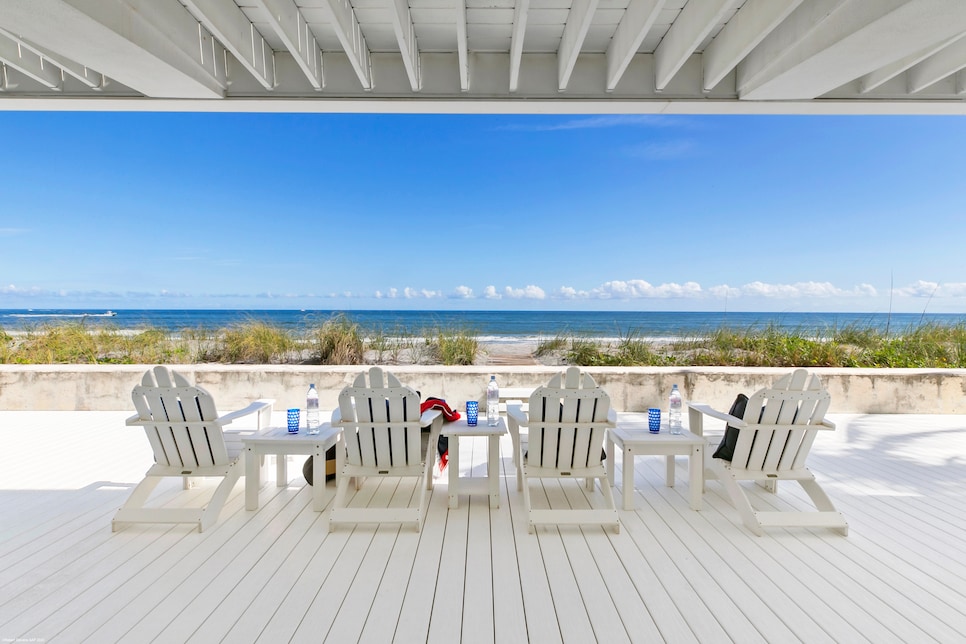 Robert Stevens owner of A.A.P.
And it can be yours! For $59.5 million. Too bad you didn't get into GME stock early, huh?
Patrick Reed's drop: You know the story by now, but in case you don't, here it is again. Yes, Reed did everything within the rules, and the PGA Tour backed him up, but neither could avoid criticism about how it all played out. In fact, the situation was so questionable that sportsbook PointsBet refunded all pre-tournament wagers! The timing of the incident is also interesting considering the changing of the guard involving those guarding the rules right now. This almost certainly didn't have any effect on what happened, but it's worth noting—especially since we just did a podcast on this very subject! Plug it!
Burner accounts: Look, these can be fun (What's up, Kevin Durant?), so we're actually more selling the fact that Team Reed denies having one when there's some smoke that suggests otherwise:
Our Joel Beall contacted Reed's lawyer, who says the person running Reed's account isn't affiliated with whomever runs useGolfFACTS (interesting capitalization there), which many have linked to Reed's wife, Justine. Mind you, this is a different lawyer than the one who crafted that letter threatening to sue Brandel Chamblee on Reed's behalf. So Reed just might lead the tour in legal representation in addition to being arguably the best scrambler out there.
Coverage gaps: Like we said, CBS was great—once it came on the air, that is. It may be a new year, but there was the same old gap in coverage when switching from Golf Channel to CBS. In fact, golf fans wound up missing what Reed called his most important shot of the day, a 3-wood on the par-5 sixth that set up an eagle to jumpstart his round. But there was a 15-minute gap while the networks made their switch. A 15-minute gap that felt like it lasted much longer than that—as always—while waiting for an Ohio State-Michigan State game to finish on CBS. All the great new ideas during the broadcast can't cover for this. Please figure it out.
Venmo requesting tour pros: I mean, I appreciate the creativity of this gambler. It's certainly the funniest reaction we've seen to someone losing a bet. But reaching out directly to the golfer involved in your bet? And on top of that, the golfer you didn't even bet on?!
C'mon, man. Maybe he should have tried Greg Norman instead. Dude is going to be FLUSH if he ever sells that house. Also, listen to the experts on our weekly gambling podcast, Be Right, and maybe you won't find yourself in such situations. Just saying.
The PGA Tour heads to TPC Scottsdale for the Waste Management Phoenix Open, AKA that one that always goes to a playoff that cuts into the beginning of the Super Bowl. It's also the one with the supersized crowds, but as you can imagine, that's going to be different this year with a limit of 5,000 fans per day. Those watching from home have a new second-screen gambling show to watch as well, courtesy of the PGA Tour and sportsbook PointsBet. America! What a country! Staying home sure sounds like the play to me.
Random tournament fact: Tony Finau seemingly had this tournament in the bag last year before the golf gods remembered he was Tony Finau. Webb Simpson birdied the final two holes of regulation to tie Finau then added another birdie on the first playoff hole to win. This year, Finau is playing in Saudi Arabia instead, where he'll be joined by Reed, Casey, Dustin Johnson, Bryson DeChambeau, Tyrrell Hatton, Viktor Hovland, Tommy Fleetwood and others. With coverage of that starting much earlier, Sunday could wind up being the biggest gambling day in history. Hey, you gotta do something when the market is closed, right?
RANDOM PROP BETS OF THE WEEK
—Tony Finau isn't being paid to play in Saudi Arabia: 1 MILLION($?)-to-1 odds
—Tony Finau will win in Saudi Arabia: 15-to-1 odds (Actual odds)
—There will be fewer drunken arrests made in the Phoenix/Scottsdale area this week: LOCK
Check out this Oregon man who made history by recording the first albatross at Bandon Dunes' newest course, Sheep Ranch. Or, rather, just check out his pants:
That is a bold look. But hey, if you're making albatrosses, you can wear whatever you darn well want. Also, I'm disappointed this dude didn't become a meme. I thought he had Bernie Sanders potential.
VIRAL VIDEO OF THE WEEK (EXEMPT-STATUS DIVISION)
Daniel Berger, without any comment, posted this music video of him cruising around on his boat:
It's not quite "Boats 'N Hoes," but you get the point. Being one of the best golfers in the world has its perks.
VIRAL VIDEO OF THE WEEK (NON-EXEMPT-STATUS DIVISION)
Here's JoohYung Kim protecting his golf ball on a bridge from a woman walking her dogs while he waits for a ruling during a Monday qualifier:
Juuust a tad less glamorous than Berger's video.
"Obviously, the talk amongst the boys isn't great." —Xander Schauffele
"It's tough to see. It's sad, kind of pisses us off, but that's the way it is." —Lanto Griffin
Yikes! Let's just say Reed's stock among his fellow tour pros isn't exactly soaring like GME.
THIS WEEK IN PUBLIC DISPLAYS OF AFFECTION
Patrick Reed's caddie and brother-in-law has a sweet message for all the haterz:
OK, and here's an actual sweet message from Paul Casey's wife, Pollyanna Woodward, who didn't even need to use a burner account!
Now that's more like what we're used to seeing.
The USGA and R&A finally released their distance report and it looks like moves will definitely be made to curb distance, at some point. When Bryson DeChambeau talked about changing the game, I don't think this was what he had in mind. … TaylorMade Golf is reportedly for sale by KPS Capital Partners with an asking price of around $2 billion. Adidas sold the company in 2017 for $425 million. Whoops. … Scholarship applications through Folds of Honor are open. For more information on that and the good work being done by Lt. Col. Dan Rooney, visit foldsofhonor.org. … And finally, kudos to me for making it through Dry January. Only in my case, the month-long abstention didn't involve booze, but cookies. Costco chocolate chip cookies, to be exact. But I was ready to go as soon as February came: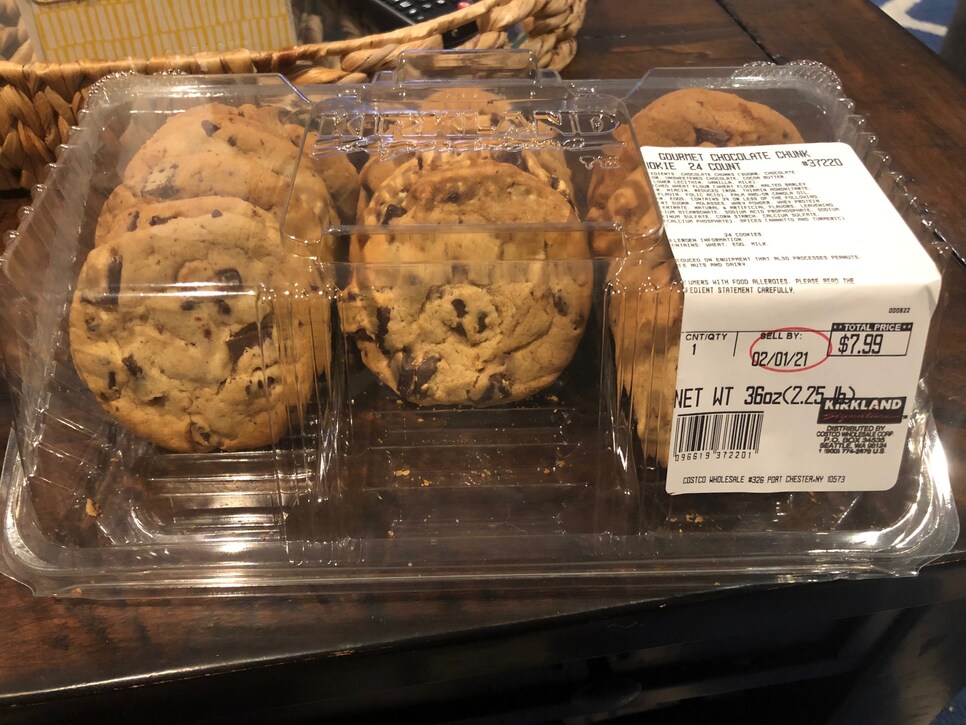 And as you can see, I've already made a nice dent. Glad that's over. What a brutal month.
RANDOM QUESTIONS TO PONDER
How do I not own any stock in Costco?
What does Greg Norman's portfolio look like?
What does Wall Street Bets think of a potential TaylorMade IPO?