PGA Tour
What the (partial) return of fans means at the Waste Management Phoenix Open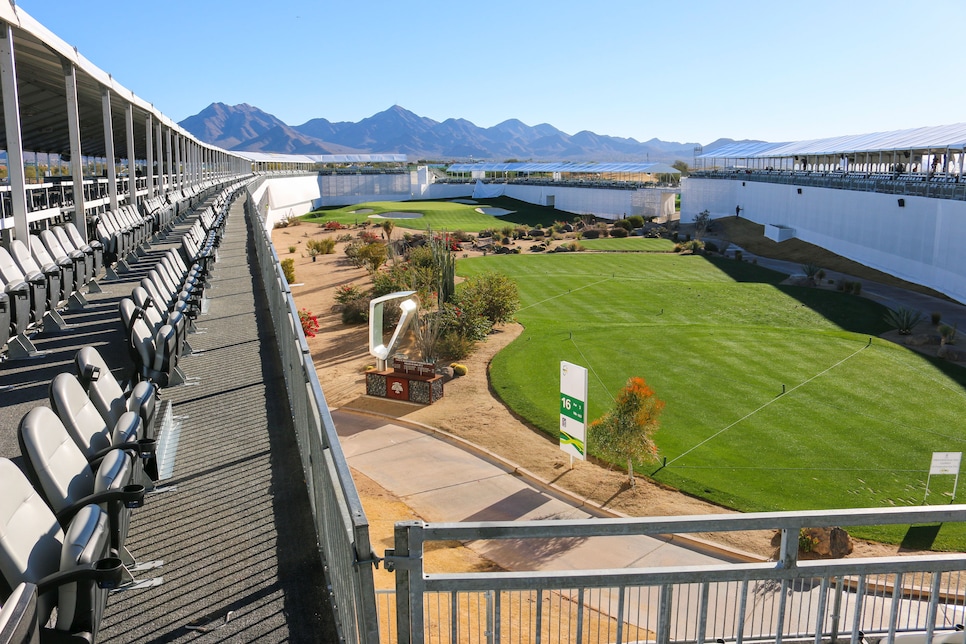 This week's Waste Managment Phoenix Open will use a scaled-down version of the "Stadium" surrounding the par-3 16th as the tournament hosts just 5,000 fans a day. (Photo courtesy of Waste Management Phoenix Open)
Rory McIlroy is playing the Waste Management Phoenix Open for the first time in his career this week. The tournament also marks the first time that the PGA Tour will welcome fans at an event in a sizable capacity since resuming play last June amid the COVID-19 pandemic. The prospect of performing in front of a small but actual crowd naturally excites the entertainer and competitor in McIlroy.
"I'm looking forward to when ... sometimes you have a pin that's tucked behind a bunker or something, you can't see the bottom of it and you think you've hit a good shot but you have no idea where the ball is," he said. "It will actually be nice to just have a reaction, to get a clap or not get a clap.
"I think sometimes the most difficult thing for me without having fans is just sometimes it felt so casual. You're just out there playing and it's like playing a practice round. That's been the thing that I've had to get used to, because I play way better on tour than I do at home because I have something to focus on. Yeah ... just having that ... getting more in a competitive mode is a good thing."
Having spectators at TPC Scottsdale—5,000 per day, or more than double the amount permitted at last November's Vinint Houston Open, previously the largest of any tour event since the June restart—comes at a time when the state of Arizona is grappling with a high number of coronavirus cases.
The state, with its 7.2 million population, currently has the worst per-capita coronavirus infection rate in the country, according to the Centers for Disease Control and Prevention. Hospitalization rates have started to decline slowly since mid-January, but the number of intensive- care-unit beds is still a long way from the "normal" levels the region experienced in September, according to Dr. Marjorie Bessel, Chief Clinical Officer for Banner Health. And the rate of coronavirus testing in Arizona ranks in the bottom 10 in the nation, according to Johns Hopkins University.
Now comes what is usually the biggest party in golf.
Easily the sport's highest-attended tournament in normal times, there were more than 700,000 fans on hand for the week in 2018. Of that, upwards of 16,000 per day packed into the stadium surrounding the famed 16th hole.
Those numbers will, of course, be way down this year—and lower than even the original plan that allowed for 8,000 fans daily. The three-tiered colosseum engulfing the par-3 16th hole will be reduced to a single deck of about 2,000 socially distanced seats ringing the hole. And anyone in attendance for the tournament will be required to wear a mask, while sponsors such as Waste Management and JaniKing will provide enhanced sanitation measures.
"Our plan from the get-go was to try to find a way to have fans," said tournament director Scott Jenkins, who added that the number of gathering venues for fans is down from its usual 28 to just two—the clubhouse and the 16th. "At no point were we ever told that we weren't able to have fans. We arrived at the total of 8,000 in late December and then decided to reduce it further. It was the smart thing to do in talking with local and state health officials and looking at the data. It was no secret that Arizona was spiking."
In turn, the tournament has been working in conjunction with the tour coordinating the attendance policy and receiving approval from local and state authorities to be sure that precautions in place address safety concerns. "We remain committed to health and safety as the No. 1 priority," Tyler Dennis, PGA Tour chief of operations, said in a release about the WMPO's plans in December.
With cases rising, and the tour having successfully navigated its way through the last eight months, why have any fans at all?
Money, for one, both in terms of revenue and, in turn, charitable dollars, which are significant at not just every tour event, but specifically the WMPO. Last year, with the tournament taking place before the pandemic swept the globe, the event generated more than $14 million for various charities. Over the years, that number is more than $160 million.
"We're a charity organization and feel that working with the tour and the city we have a good plan in place," Jenkins said. "Every weekend there are [limited fans at sporting events]. It's not like everybody is going to be on the 16th hole. With the way things are set up, it's not any different than outdoor dining in Phoenix, which people are doing."
Earlier this month, the NHL's Arizona Coyotes started welcoming a limited number of fans back to its games— roughly 3,400 in its 17,125-seat Gila River Arena. The NBA's Phoenix Suns have yet to open their games to fans but that could change at some point during the season.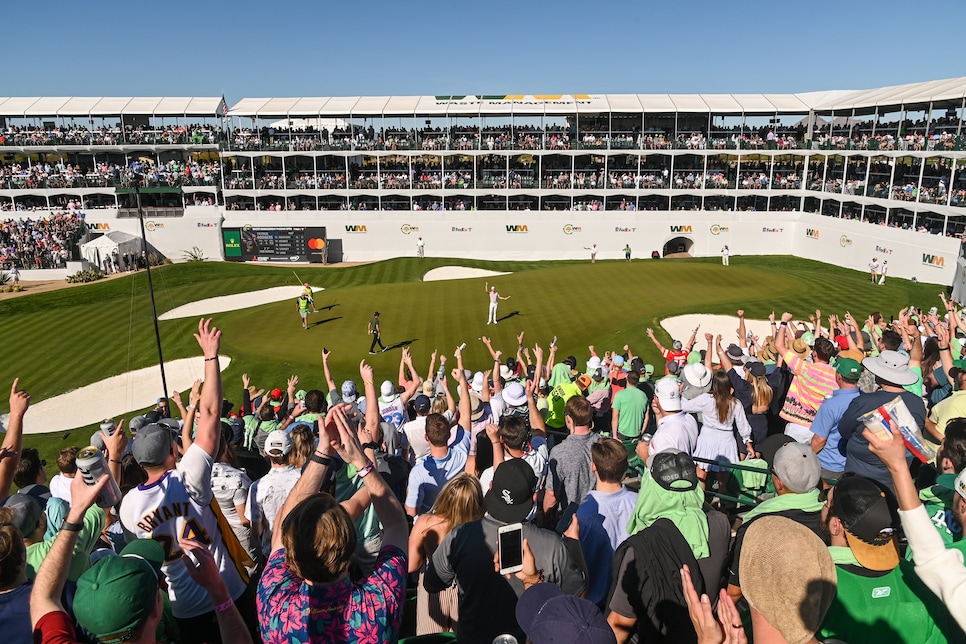 The atmosphere will definitely be different on the 16th at TPC Scottsdale compared to 2020.
Ben Jared
Golf, of course, has the advantage of being played outdoors and in this case spread out across nearly 200 acres. Still, that's unlikely to stop fans from gathering in clusters as they follow stars like McIlroy, Jon Rahm and Xander Schauffele around the course.
Players, for their part, aren't expressing concern.
"I feel like the tour does a really good job," said Schauffele, who contracted COVID-19 in December and has recovered. "I haven't seen the structures put up or sort of where people are allowed to walk or how close they're allowed to get to us, but I'm sure, normally, a Saturday's 250,000 to 275,000 fans out there, and cutting that down to 5,000 fans blocked off in certain areas—I'm pretty sure most of the players are going to feel safe."
With most tournaments on the upcoming Florida swing allowing spectators in limited numbers, the WMPO serves as part test case and part step forward. At least that's the hope.
"We're all looking forward to having somebody out there," Rahm said. "It's not an odd feeling, something I've gotten used to, to not having spectators, but it's just fun even when you have some events where there's some people surrounding the last few holes and you hear some noise, it's fun.
"We play for the fans as well as for us and we're entertainers, so when you have the feedback from the crowd, it's a lot more enjoyable. But all in good time, right?"
For once in golf, the slower, the better.