The Loop
Our 10 favorite teams for the Zurich Classic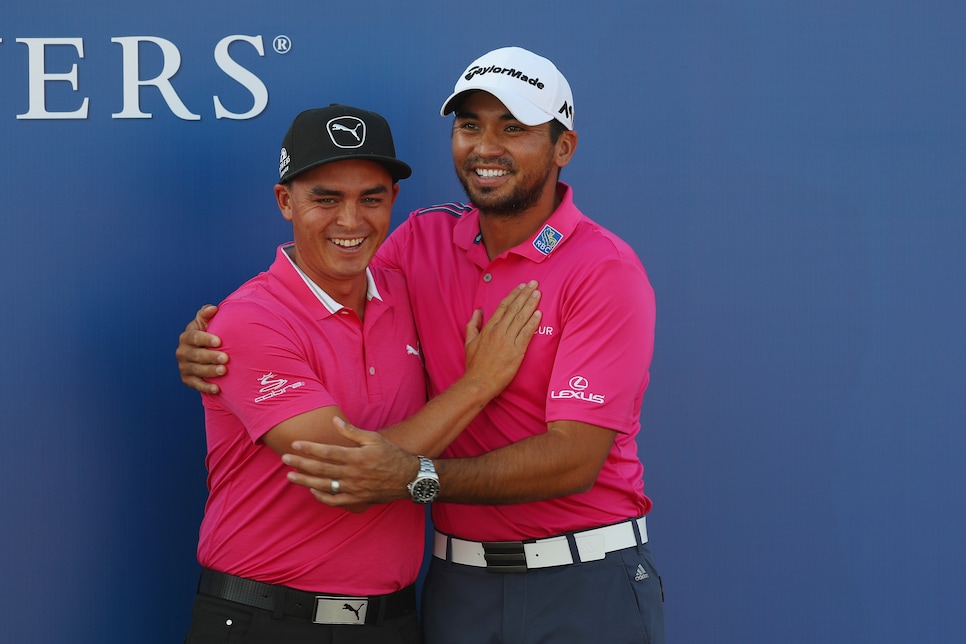 Historically a ho-hum event, the Zurich Classic of New Orleans has transformed into one of the more intriguing affairs of the spring thanks to a revamped team configuration. It's the first time since 1981 the PGA Tour is hosting an official team tournament, and clearly the fans aren't the only ones excited, with stars like Jason Day, Jordan Spieth, Rickie Fowler, Hideki Matsuyama, and Henrik Stenson competing in Louisiana.
In honor of the tournament's rechristening, we compiled our favorite 10 teams for this week's event.
Day's logged just one top 10 since August, and while Fowler has been superb this season (his worst finish in the last six events is a T-16), he's had a mixed record at TPC Louisiana, missing the cut in two of his last three appearances. That said...it's Jason Day and Rickie Fowler, two of golf's top-10 players in the world.
While the pair should make their move during the best-ball format, don't sleep on them during alternate shot. One of Day's few weak spots in his approach game, owning the third-worst proximity to the hole average out of 205 qualifying players. Luckily for the Aussie, Fowler is one of the better iron players on tour. If these two can control their occasional accuracy issues off the tee, the rest of the field is in for a hurtin'. -- JB
Justin Rose/Henrik Stenson
Two major winners comprise the tournament's second super team. Unlike that first pair, these two have experience playing together -- and playing well -- in the past two Ryder Cups. At Gleneagles in 2014, the duo established a Ryder Cup record with 12 birdies (in just 16 holes) in a best-ball match against Bubba Watson and Matt Kuchar.
Stenson has missed four of his past five cuts, but Rose arrives off his close call at the Masters. The reigning Open and Olympic champs are not to be trifled with. -- AM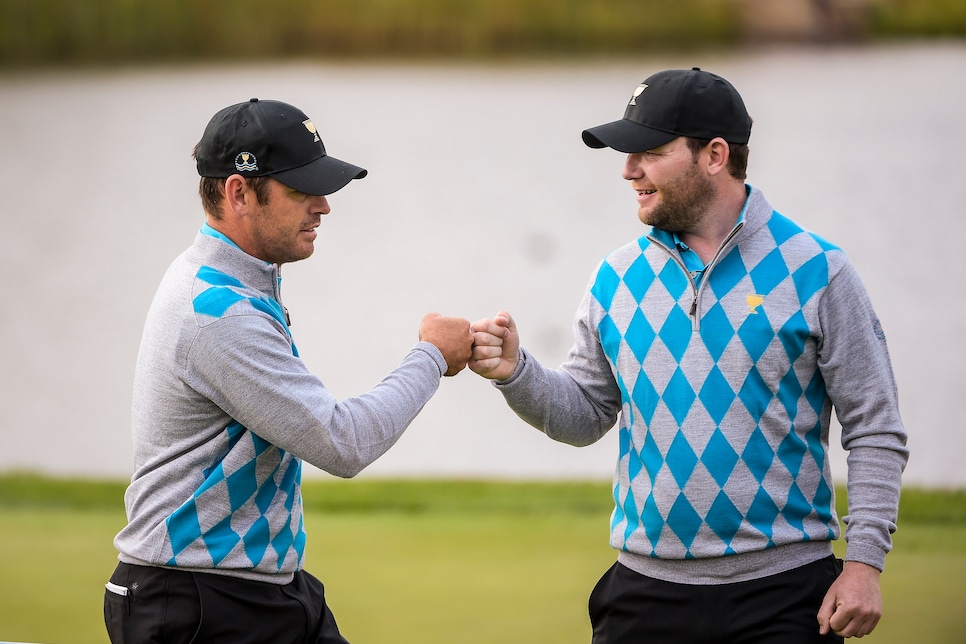 Branden Grace/Louis Oosthuizen
The South Africans became the first International pairing in Presidents Cup history to win all four of their matches together in 2015, with Grace defeating Matt Kuchar on Sunday to achieve a perfect 5-0 record. If you want to know why many believe the Internationals could best the Americans at Liberty National this fall, look no further.
Grace and Oosthuizen are two of the best ball-strikers in the sport, an imperative asset at a Pete Dye layout. The two have also enjoyed strong starts to the season, with Grace coming in especially hot with a T-11 at Hilton Head and a T-10 in Texas. Neither has been particularly good with the putter this season; in that same breath, TPC Louisiana is not known for its tenacious greens. Though there are flashier groups, Grace and Oosthuizen are my picks to win this week. -- JB
Steve Stricker/Jerry Kelly
John Peterson posed the following question on Twitter the other night:
We probably wouldn't go with the oldest team in the field, but this duo might be the best darkhorse bet of the week. Wait, can you even gamble on this event? (Checks Google. Yes, you can. And they're only 60/1? Value!) Unlike most of these teams, the pair of 50-year-olds have actually teamed up a bunch. In December, they shot an opening 56 at the Franklin Templeton Shootout and finished runner-up in the event they also won in 2009. And just last week, they finished T-8 together at the Bass Pro Shops Legends of Golf on the senior circuit. "We're going to try to pull off the trifecta," Stricker said in December of those two events and the Zurich Classic. Classic Strick Show cockiness. Of course, we kid, but these grizzled vets should be taken seriously this week. -- AM
Bryson DeChambeau/Rory Sabbatini
Every sport needs a villain; if you had to pick a pair to wear the proverbial black hat in New Orleans, this would be the duo. A former top-10 player in the world, it's been six years since Sabbatini has found the winner's circle, but that hasn't stopped his name from appearing on tour surveys in unfavorable light. For his part, DeChambeau's ruffled a fair amount of feathers for a first-year player. Hell, given their contrasting styles of play -- Sabbatini is one of the fastest workers in the game, while Bryson's methodical approach makes Jason Day look fast -- there's a chance these two might draw, ahem, "friendly" fire.
In that same vein, their games complement each other well. To recap, this couple could frustrate the field, self-combust or compete for the title. Maybe all the above. We can't wait. (Bonus points if Bryson and Rory embrace this role and walk to the first tee to the nWo entrance song.) -- JB
Billy Horschel/Matt Every
OK, so this one isn't so much about what they'll do on the course, but what they'll say after. In the unofficial ranking of most candid tour pros, these two guys are near the top of the list. Horschel is never afraid to speak his mind (remember him ripping the greens at Chambers Bay?) and Every first gained notoriety for an awkward interview with Golf Channel in 2012. He's also been open about his recent struggles with the driver yips. Let's hope these former Florida Gators play well so they'll be brought to the interview room together. Wait, this will be like the NBA Playoffs with multiple players at the same press conferences allowing for teammates to stick up for each other. . . right?
"So, Matt, why did you guys do worse in alternate shot on the holes where Billy didn't tee off?"
Horschel: "Next question." -- AM
Brooks is coming off an impressive Sunday round at the Valero Texas Open, but I'm interested in only one aspect from this pairing: anarchy. Putting two competitive brothers in a high-stakes environment will lead to fireworks of some kind; where they're aimed at is anyone's guess. If you've ever wondered, "What would golf be like if the Riggins' boys from Friday Night Lights invaded the tour?" you're about to get an answer.
Perhaps Brooks summed it up best: "It will be fun but it could be interesting, we could kill each other on the second hole or it could be awesome." Please PGA Tour LIVE, make this a featured group -- JB
Thomas Pieters/Daniel Berger
The breakout star at last year's Ryder Cup is paired with a potential future Ryder Cupper. Both guys can crush it off the tee and they play the same golf ball, which is not to be overlooked on the alternate-shot days (First and third rounds). Berger is coming off a solo fifth in Houston and a T-27 at the Masters where he rallied back from an opening 77. Pieters looked even sharper at Augusta National, finishing T-4 in his Masters debut. I'm picking this tandem (12/1 odds) to take the title. -- AM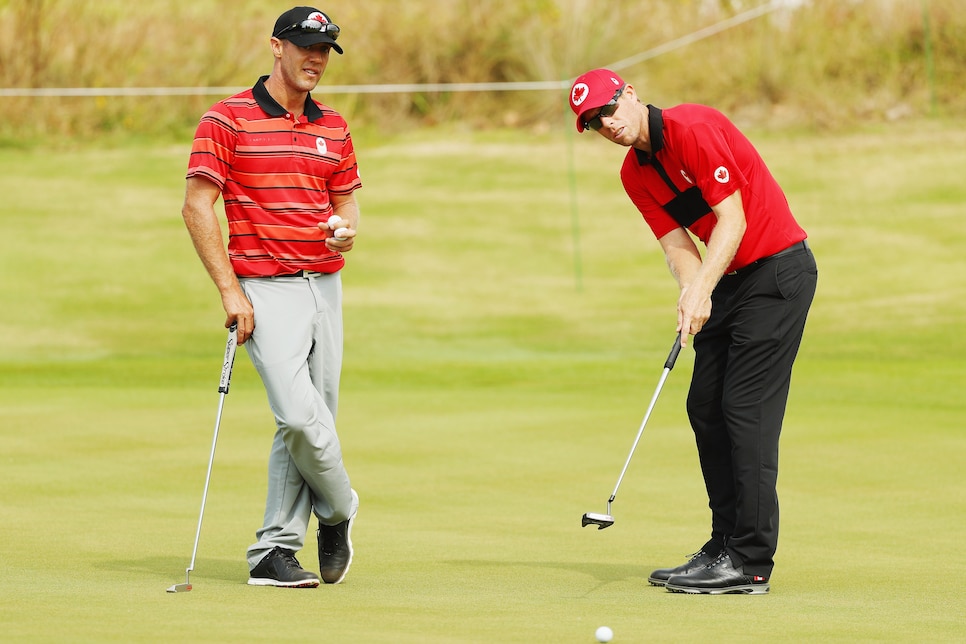 David Hearn/Graham DeLaet
Is it possible to be patriotic for a country other than your own? Because -- from the Toronto Raptors to Driftwood Brewery to Justin Trudeau -- I'm all about the maple leaf. That includes my support for Hearn and DeLaet, who both competed at the Olympics for Team Canada. Though DeLaet has bounced back from the chipping yips, Hearn has struggled mightily in 2017, missing the cut in eight of 15 events with just two top-25 finishes. But, as seen at the 1972 Summit Series or in Ryan Reynolds' movie carer, when the going gets tough, Canadians get going. Look for these two to ham-n-egg it into Sunday competition. -- JB
Steven Bowditch/Boo Weekley
We're probably going to avoid putting any money on this pair of struggling tour pros, but that doesn't mean they won't put on an entertaining show. Just look at this pre-tournament tweet from Bowditch directed at Rickie Fowler and Jason Day.
"The real heavyweights." That's good. -- AM