Open Championship
British Open 2022: Our 9 favorite pairings outside of the marquee groups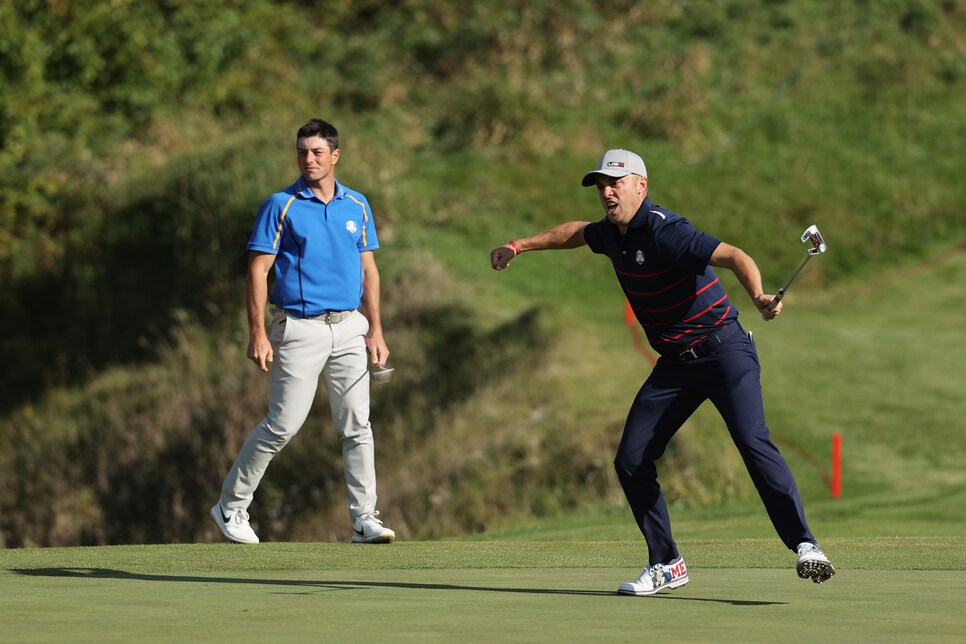 ST. ANDREWS, Scotland — The R&A announced tee times for the 150th Open Championship on Tuesday, and like its major brethren the governing body delivered a number of marquee pairings. Defending champ Collin Morikawa goes off with 2014 champ Rory McIlroy and the red-hot Xander Schauffele. Justin Thomas, Viktor Hovland and Shane Lowry were grouped together, as were Scottie Scheffler, Joaquin Niemann and Tyrrell Hatton. Three-time Open champ Tiger Woods will be play Thursday and Friday with reigning U.S. Open champ Matt Fitzpatrick and the people's champ, Max Homa.
But there are 156 players in St. Andrews this week, and as good as the super-pairings are a few others have caught our attention. Here are our nine favorite tee times on Thursday and Friday at the Old Course.
Bryson DeChambeau, John Daly, Cameron Tringale
There are three and only three outcomes for this pairing: 1) DeChambeau becomes infatuated with a player in his mid-50s who hits the ball so far with no regard to diet or lifestyle and proceeds to start ripping heaters and eating at McDonald's six times a day in order to send his pursuit of distance to the next level. 2) Daly walks into the North Sea when Bryson begins to explain how Scotland's proximity to the North Pole adds an extra three revolutions on left-to-right putts. 3) Tringale needs a blanket, hot chocolate and therapy after playing 36 holes with DeChambeau and Daly.
Phil Mickelson, Lucas Herbert, Kurt Kitayama
The R&A disinvited LIV Golf CEO Greg Norman from the celebration this week, although LIV players are in the field. Still, that Mickelson—one of the more popular golfers in the game despite his transgressions—was put with two rank-and-file players is a slap, intentional or not, to the face for a former Open winner. We look forward to Mickelson response, which we hope involves firing a t-shirt cannon of LIV apparel from the Swilcan Bridge.
Shane Lowry, Justin Thomas, Viktor Hovland
Yes, they were listed above. But they deserve a call-out here because of all the pairings in the field this is the group we would love to walk off the course and right into the Jigger Inn with. Lot of laughs, good stories, 20-percent chance it leads a bar fight. Just keep Hovland off the music controls.
Cameron Young, K.H. Lee, Robert MacIntyre
For years we've discussed the collateral damage that comes with playing with Tiger Woods. While fans are jostling for position to catch a glimpse of Tiger, they don't much care for what else is happening inside the ropes. For players, that usually means dealing with noise and moving scenery and just a general indifference to what you're trying to do. Not the easiest of conditions. Now times that by 10 and that's what Young and Lee will deal with when playing in front of an entire country, which will try to push MacIntyre to become the first Scotsman to win the Open this century. Should that happen, forget the crowd carrying Young Bob through the streets like Rudy Ruettiger; they might erect a statue next to Martyrs' Monument for him.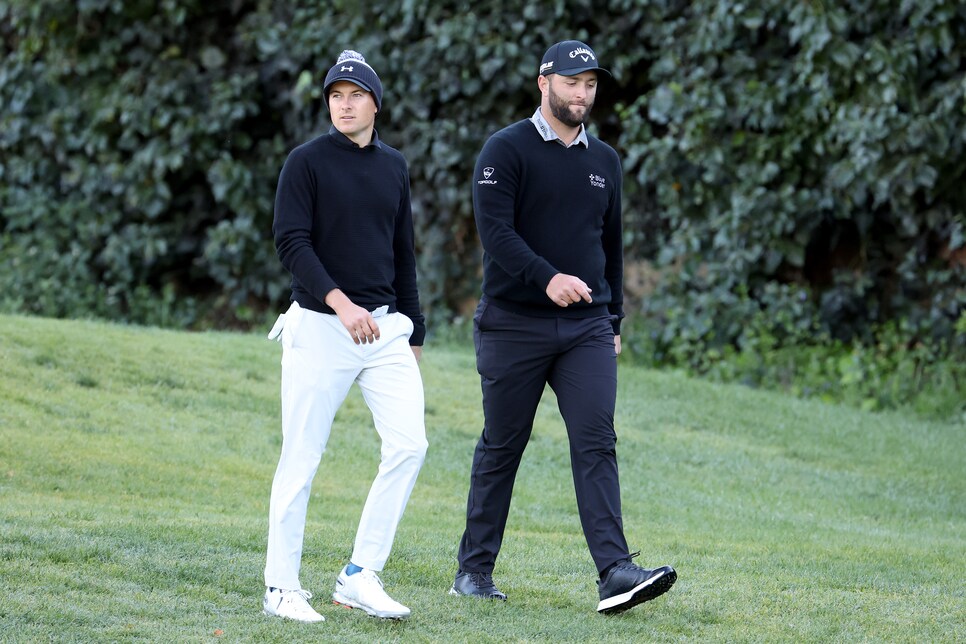 Dustin Johnson, Adam Scott, Marc Leishman
We like to think this wasn't in the same vein of the USGA's former theme pairings for the U.S. Open. But to put three guys who have kicked away various Opens together seems like a heck of a coincidence.
Jordan Spieth, Jon Rahm, Harold Varner III
We have stared at this tee time long and hard. Asked other voices of authority to get their opinions. Ran the numbers and did our best to gaze into the crystal ball … and the only rational explanation for Varner getting grouped with Spieth and Rahm is that the latter two bring so much excitement and anxiety and drama and passion to a round the R&A needed a third who plays things cool and close to the vest in order to prevent this pairing from self-implosion.
Patrick Cantlay, Sam Burns, Mito Pereira
We promise we aren't trying to be too critical. But sometimes criticism is warranted and the harsh truth is Cantlay's major record is woefully short of the profile we think Cantlay holds and what that major record could be. If he can't contend out of this grouping with two of the nicest cats in golf, you have to wonder if he's ever going to do it.
Patrick Reed, Tom Hoge, JooHyung Kim
The group has a 7:41 a.m. local starting time on Thursday, a 12:42 p.m. time Friday. Apparently the R&A follows a certain Twitter burner account and a certain player's late/early tee-time grievances.
Cameron Smith, Brooks Koepka, Seamus Power
Remember how Koepka single-handedly brought the 2015 Open Championship to a halt when refusing to play through conditions he deemed unfair? (And he was right, by the way.) Well, that was when Koepka had just one tour win and zero major titles. If he had the type of hubris then, we can't imagine what he might pull this week. Could totally see Brooks stepping to the first tee, pointing out the fairways are yellow and refusing to hit in protest. "Let us know when they're green, bro."
MORE OPEN CHAMPIONSHIP 2022 STORIES FROM GOLF DIGEST