The Joker
Is Novak Djokovic the least loved (potential) GOAT in sports history?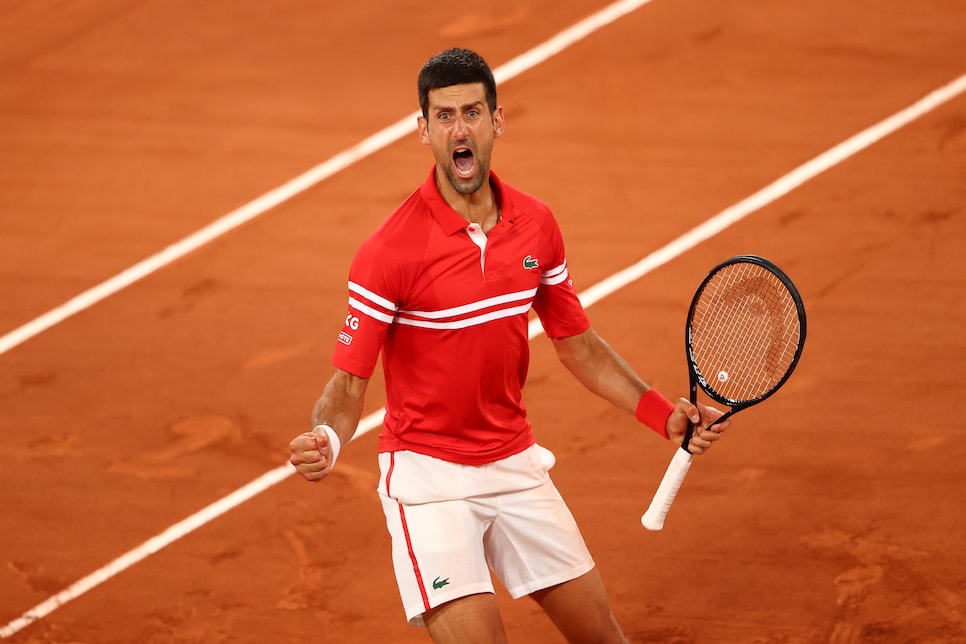 Yesterday afternoon, I was watching Novak Djokovic put the finishing touches on a quarterfinal victory over Matteo Berrettini, and like everyone else watching, I had to deal with his reaction after match point:
That video actually doesn't do it justice, because the screaming went on for another ten seconds or so, somehow becoming even more annoying.
He advances to the semifinals against Rafa Nadal, and the stakes are incredibly high. If you believe like I do that either Sascha Zverev or Stefanos Tsitsipas will fold like cheap suits against Rafa or Djoker in the final, and that this semi is therefore the de-facto championship, so much hangs in the balance: Rafa wins, and he's got 21 slam titles, officially passing Federer. Djoker wins, and he's the only one of the big three to win the double career slam, and moves within one of Rafa and Roger on the all-time slams list...soon, no doubt, to pass them. It's going to be a blast.
But I'm here to talk about Djokovic the man, Djokovic the image, Djokovic the sporting product. Playing-wise, I'm already on the record thinking he's the greatest ever, and even if Rafa beats him Friday in Paris, I'm one of those who believes it's only a matter of time until he amasses the career stats to put it beyond doubt. I could be wrong—career-ending injuries are always a possibility—but let's pretend for a moment I'm right, and that in five years nobody will be able to make a real argument against him. In that future, is Djokovic the least loved G.O.A.T. in sports history?
Before we compare, you might need a refresher on Djokovic. The scream you see above is deeply unlikeable, but it's only the tip of the iceberg. In February, I asked if it was possible for a normal person to still like Novak Djokovic, in that post ran down the litany of his blunders in the past year, including but not limited to:
— Being a borderline anti-vaxxer
— Promoting weird pseudoscience
— Holding an exhibition tournament where everyone got COVID
— Getting COVID himself and leaving said tournament without a test
— Hitting a line judge in the throat and getting tossed from the U.S. Open
— Getting owned on Twitter repeatedly by Nick Kyrgios
Now, as I learned last time I wrote about Djokovic, he has his fans, and they are legion. (They are also very angry on Twitter; trust me.) But in general, despite the fact that he's sometimes funny and sometimes thoughtful, this guy tends to rub people the wrong way, and he does it often...even before COVID.
Which got me thinking about history, and whether any other infamous G.O.A.T. comes anywhere near the levels of...well, at best, ambivalence...with which most of us greet the Djoker. Let's run down the list.
Soccer: Pele, Maradona, Messi...all pretty much beloved.
Baseball: Babe Ruth, Willie Mays, Hank Aaron...all pretty much beloved.
Hockey: Wayne Gretzky, Gordie Howe, Bobby Orr...all pretty much beloved.
Basketball: Michael Jordan, LeBron James...all pretty much beloved.
Football: Tom Brady, Jerry Rice, Jim Brown, Walter Payton...well, Brady is not beloved, but people mostly hate his team rather than the man himself. The rest? Beloved.
Golf: Tiger Woods, Jack Nicklaus...all pretty much beloved, and that's really saying something for Tiger.
Tennis, before Djoker: Federer, Nadal, Agassi, Sampras...all pretty much beloved.
Now, there's one big caveat here, which is that in baseball, Barry Bonds and Ty Cobb are awfully close to the G.O.A.T. discussion, if not in the thick of it, and both of them were widely reviled human beings (and for good reason). In hockey, Maurice Richard was a complicated figure who is at least adjacent to the best-ever rankings, and you could maybe make an argument that Cristiano Ronald in soccer rubs people the wrong way and is at least top 15 in the sport's history. So even though I believe humans have a bias toward appreciating greatness and forgiving minor or even major flaws in great athletes (see: Tiger), it's not like there are zero despised athletes among the upper-upper echelons.
Still, for those few who are legitimately in the GOAT ranks, I'm not seeing any who inspire quite the level of general antipathy Djokovic does. If you're not one of his hardcore fans, your general stance on him is likely at least mildly negative, and potentially worse. In that, he stands alone, because the hatred directed at the others is primarily based on hating a team, and that hatred tends to fade away with time. With Djokovic, you can't really tell his story—his full story—without acknowledging that for the average fan, the guy never inspired the kind of love that most people in his position would have earned a long time ago.