Monday rewind
For designated PGA Tour events to thrive, they need to lean into personalities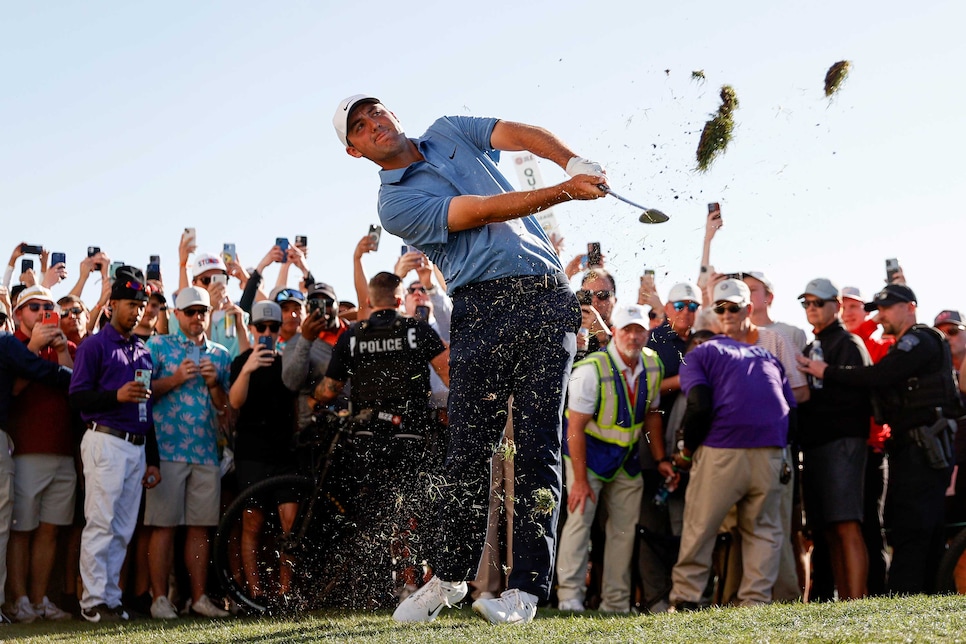 SCOTTSDALE — There's more going in the sports world than ever, but sports fans—people in general—have a limited capacity to care. Never was this truth more apparent than during Super Bowl Sunday on the grounds at the WM Phoenix Open.
The crowd was pumping early at TPC Scottsdale, but as kickoff for the big game going on just 30 miles west at State Farm Stadium drew nearer, the energy slowly waned. In a world of infinite content, sports fans can only care about so much at any given time.
That the WM Phoenix Open could hold its own for as long as it did with the biggest sporting spectacle in the world being played on the other side of town is a testament to the years of hard work and good management that makes this tournament a one-of-a-kind contest. And it also underlined an important lesson.
Not every event can, or should, be like the WM Phoenix Open—"it's over!" Rory McIlroy gestured in sarcastic relief while exiting the 16th hole for the final time on Sunday. But the tournament—and its hundreds of thousands of fans—can serve as a model. The fun-loving Phoenix Open leans into a clear identity and, perhaps not so coincidentally, the best players in the field traditionally show up on the top of the leaderboard. Last year it was Scottie Scheffler beating Xander Schauffele and Patrick Cantley. This year, it was Scheffler besting Rahm and Justin Thomas, with Jordan Spieth and Jason Day in the mix.
This year's event had the added distinction of being one of the PGA Tour's new "designated-status" tournaments, with a $20 million prize money payout. For the other designated events on the PGA Tour schedule—the next one comes in four days at the Genesis Invitational—to resonate in the way the brass in Ponte Vedra Beach wants them to, these events need to check two boxes. They need to forge a specific identity for each event, and they need to make sure most of its best players are perpetually in contention.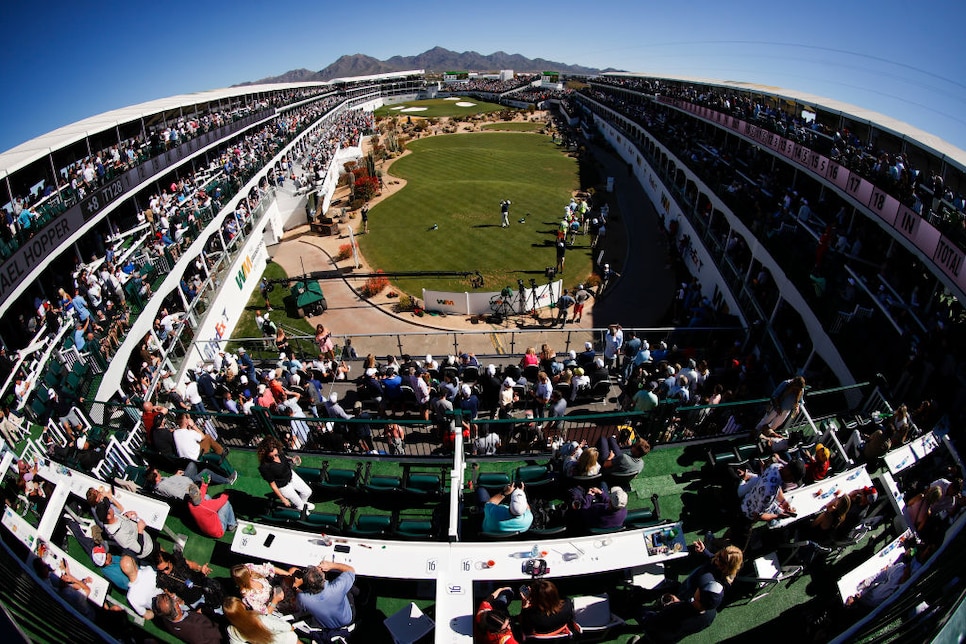 Officially labeling them "designated" only goes so far. Why should sports fans be expected to care about an event if they can't understand inherently what's cool and interesting and different about it? They can with the WM Phoenix Open, so they do.
Interestingly, the second box may be the harder of the two to accomplish on a consistent basis. It was nice that Nick Taylor, No. 223 in the world and all-around good guy, got the biggest payday of his career last week, some $2 million for his solo second finish as he proved to be Scheffler's biggest threat on Sunday. But the success of the tour's new initiative depends on its biggest and most marketable stars going head-to-head down the stretch.
Netflix's approach to golf can be quite informative in this regard. Seeking to introduce a niche sport to the masses via its upcoming docuseries "Full Swing," which debuts this Wednesday, the team behind the production didn't seek to tell the story of every pro hoping to compete on the PGA Tour one day. They picked a handful of them and told their stories. Those are the guys we should care about, because they know we can only care about so much.
Whether the extra money up for grabs in designated events will motivate the very best to separate themselves from the rest, or whether tweaking their format by limiting field sizes (as is being discussed for 2024) is the best method to ensure top players are in the mix on Sundays, remains to be seen. But in order for these designated events to thrive, that's the outcome it needs. For fans to care about every designated event like they do the WM Phoenix Open, they need to know they're about to watch the best players duking it out at one-of-a-kind tournaments.
There are some comebacks brewing
Call us sentimentalists, but it was nice to see Jason Day and Rickie Fowler, who finished fifth and T-10, respectively at TPC Scottsdale, recapture some of the old form that made them not just popular players but among the game's most talented. Fowler made an ace on Sunday while playing with Day, and the fan reaction was predictably bonkers.
"I've been good mates with Rickie for a long time. We came out pretty much the same year. I understand what he's going through. I think he understands what I'm going through as well," Day said. "It's nice to see him playing some really good golf because for a moment both of us weren't playing great. Sometimes you don't believe in yourself and lose trust in your ability."
Both players have been overhauling their swings in hopes of reversing their slide in the OWGR, and here's hoping both are coming out the other side the better for it.
Max Homa spoke earlier in the week about the importance of players needing to step up and give a little more to fans and the media if they're serious about helping the PGA Tour win golf's civil war.
"The concept of us giving and entertaining is important," Homa said. "Our average age demographic on tour is I think the highest of all major sports. We need to let people in a little bit if we want to grow. The idea of us as players giving a little to entertain goes a long way."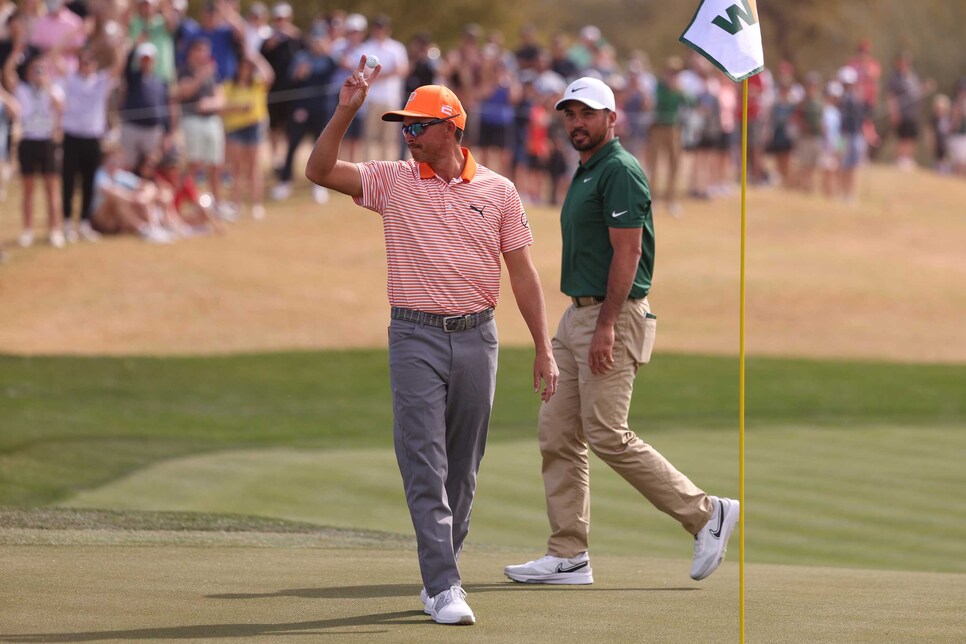 Rickie Fowler celebrates a hole-in-one on the seventh hole as Jason Day looks on during the final round of the WM Phoenix Open.
Maddie Meyer
Tom Kim perhaps typifies this better than any other player outside of Homa himself. The 20-year-old walked onto the 16th hole Sunday at TPC Scottsdale sporting a Phoenix Suns jersey. He proceeded to pump up the crowd, just as he did last September at the Presidents Cup, as he was hitting his shot. The stadium hole was pumping and roared when he hit the green at the end of it. After his round, he gave his Nike shoes to a young fan.
"Alright," he asked while looking around, deciding which lucky fan would receive them. "Who's wearing Nike?"
The broadcast keeps getting better
Finally, a shoutout to CBS for rolling out a series of interesting new features the past few weeks. From its 'predicta-ball' technology to overlaying SG by location, they're going a long way in making the broadcast more interesting and golf fans smarter. Long may it continue.