PGA Tour
Watch Rickie Fowler make a Sunday hole-in-one that sent TPC Scottsdale into a frenzy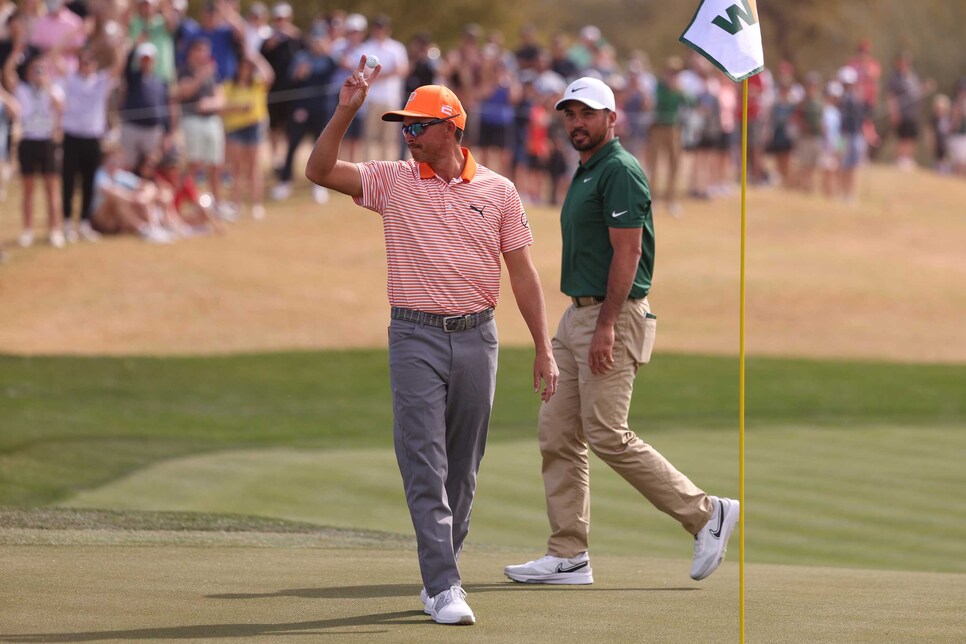 Rickie Fowler celebrates a hole-in-one on the seventh hole during the final round of the WM Phoenix Open.
Maddie Meyer
Rickie Fowler gets applause from the crowds at the WM Phoenix Open simple by throwing a few blades of grass in the air, he's that much a fan favorite in the Arizona desert. So imagine what the reaction would be if he were to make a hole in one on one of the par 3s at TPC Scottsdale?
Well you don't have to imagine, because the 2019 WM Phoenix Open winner pulled off the feat during Sunday's final round on the seventh hole. And the reaction was pretty much what you'd expect.
OK, so the celebration wasn't as monumental as it would have been if he pulled this off on the 16th hole—where the restrictions in place this week to avoid the chaos of year's past would have been put to the ultimate stress test. (We really can't imagine the madness that would have ensued.)
And yet, Fowler's accomplishment here is far more impressive. The shot was from 216 yards and Fowler needed just a 6-iron.
Meanwhile, the 1 on his scorecard moves Fowler to two under on the day and 11 under for the tournament, moving him to with three shots of the lead.
This is Fowler's third ace in a PGA Tour event but his first since the 2015 Quicken Loans National.