Money Matters
Jon Rahm didn't win the WM Phoenix Open but he did achieve this impressive PGA Tour money milestone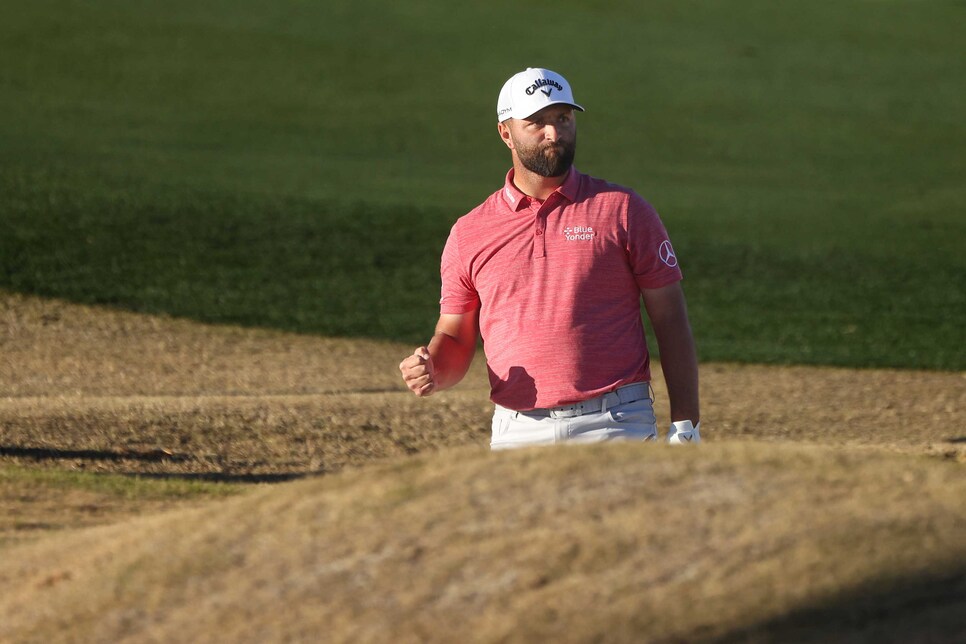 Jon Rahm started the final round of the WM Phoenix Open two shots behind Scottie Scheffler. If he pulled out the victory, it would have been his third tour win in six weeks and would have lifted the 28-year-old Spaniard to No. 1 in the Official World Golf Ranking. And yet, it wasn't meant to be, a closing three-under 68 at TPC Scottsdale leaving him in solo third, five shots back of Scheffler, the eventual winner.
Despite some disappointment in his finish, however, Rahm still left the Arizona desert having accomplished something just 25 others in PGA Tour history have ever done: topping $40 million in career earnings on the PGA Tour.
Rahm began the tournament having made $39,908,792 during his young career on tour. All he needed then was a 38th-place finish (worth $95,000 at this week's "designated" event) to push him past the $40M mark. His solo third banked him $1,380,000 to move to $41,288,792 in career earnings.
A nine-time tour winner, Rahm hit the $40 million mark in just 136 career starts. By comparison, Tiger Woods needed 146 starts to do it, also at age 28, at the 2004 Mercedes Championship (granted prize money payouts were a lot smaller nearly 20 years ago). And Rory McIlroy needed 144 starts to hit $40M at the 2018 WGC-Bridgestone Invitational at age 29.
With the prize money payouts exploding on the PGA Tour in 2023 thanks to purses being increased in 13 "elevated" events, there will be plenty of others hitting career money milestones in the coming years. But who are the players next closest to hitting $40 million? Here's everybody within $5 million of the milestone.
Brooks Koepka, $37,987,257
Patrick Reed, $37,065,581
Rory Sabbatini, $35,987,416
Marc Leishman, $35,216,825
Keegan Bradley, $35,310,731
Of course, given five of the eight players listed have jumped to LIV Golf (Koepka, Na, Reed, Casey and Leishman), well, the number of players on the brink of hitting the $40 million mark is a lot smaller than technically it appears.
Here's the list of all those in the $40 million club:
Tiger Woods, $120,895,206
Phil Mickelson, $94,955,060
Dustin Johnson, $74,897,059
Rory McIlroy, $68,173,835
Jordan Spieth, $53,728,295
Sergio Garcia, $54,433,395
Justin Thomas, $52,254,009
Bubba Watson, $48,049,778
Zach Johnson, $47,919,845
Davis Love III, $44,959,243
Steve Stricker, $44,936,354
Webb Simpson, $44,260,188
Rickie Fowler, $43,069,966
Stewart Cink, $42,994,598
Charles Howell III, $42,025,458
Hideki Matsuyama, $41,062,162
Brandt Snedeker, $40,539,179