"Full Swing"
'Wow, I swear a lot': Joel Dahmen's caddie, Geno Bonnalie, has a hilarious reaction to Netflix episode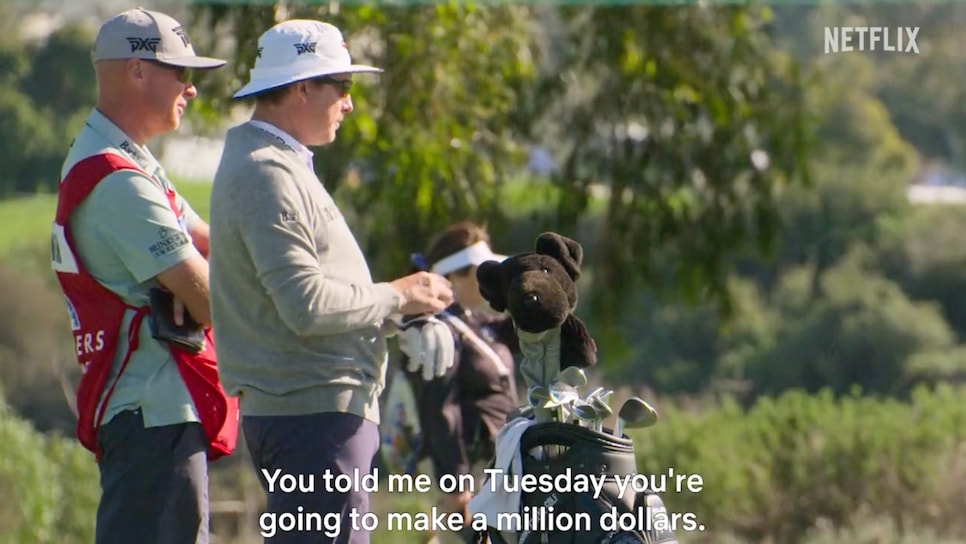 As part of its Super Bowl ad collaboration with Michelob Ultra, both brands hosted a joint "Full Swing" premiere and Super Bowl party at the Scottsdale-area Top Golf on Saturday night. Serena Williams, Brian Cox, Shaquille O'Neal and DJ Khalid were in attendance at various points.
The event began with a screening of the first of eight 45-minute episodes charting Justin Thomas' win at the 2022 PGA Championship, which featured some heartfelt moments with JT's father and coach, Mike Thomas. That was followed by a Q&A hosted by Amanda Renner with Matt Fitzpatrick, Joel Dahmen and Dahmen's caddie, Geno Bonnalie.
All play prominent roles in the show, and the players involved granted the Netflix crew a wide range of access to their personal lives. Not every player involved in the series swung the door open for Netflix, but for Fitzpatrick, it was an easy decision.
"I watched 'Drive to Survive,' and I went from knowing nothing about Formula 1 to following it every week," he said during the exchange. "When I heard they wanted to do the same thing for golf, I was completely sold. I thought this was a big opportunity to introduce golf to a larger audience."
Dahmen and Bonnalie, too, have their own episode during the first season. But whereas Fitzpatrick's episode, which follows his relentless behind-the-scenes work culminating in victory at last year's U.S. Open, theirs takes a different tack. It's a heartfelt look at their pair's close friendship throughout the ups-and-downs of Dahmen's career further down the ranks of professional golf.
"Geno's my best friend, he's been there for me, he's rocked my baby child to sleep multiple times," Dahmen said during the Q and A. "We're very happy together, I know I'm talking like we're a couple, but we kind of are."
Dahmen said that granting wider access was simple: He wanted to give people an honest look at him and Geno's life, and the show's insiders suspect the two will be the show's breakout stars because of it. Along the way we're giving a front row to the two's hilarious banter, which was on full display during the Q and A, too.
"You know, Matt, I saw your analytics episode," Dahmen said at one point, before sarcastically turning to his caddie. "Geno, you do anything like that for me?"
Bonnalie loved their episode, too. But his initial reaction was slightly different.
"My first thought was 'Wow, I swear a lot,'" he says. "My mother-in-law is going to be so mad at me."
Geno may get an earful for it, but if nothing else, it'll provide some entertaining viewing for the rest of us.