Fantasy Advice
Memorial Tournament DFS picks 2022: Jon Rahm's revenge spot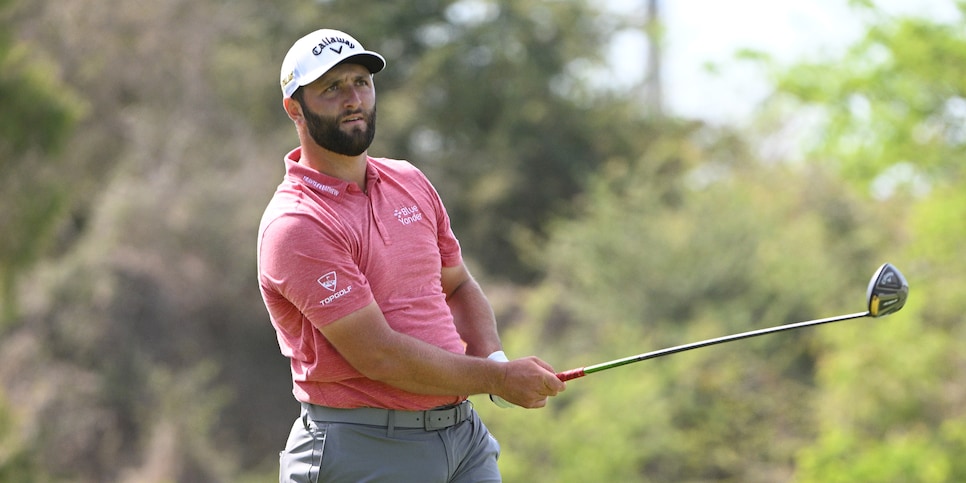 Photo By: Orlando Ramirez
It's one of the biggest weeks on the PGA Tour calendar as we head to Jack's place for the Memorial Tournament. One-hundred twenty players will compete for a $12-million purse, the largest non-major purse left of the regular season.
Muirfield Village went through full-scale renovations before last year's event and was stretched by 153 yards to over 7,500 yards. Plus nearly every green was replaced or re-contoured. With rough starting the week at 4 inches in length, playing out of the fairway will be a sizable advantage.
Here are my favorite plays and fades this week at the Memorial Tournament:
Price range: $9,000 and above
High Upside: Hideki Matsuyama ($9,200 DraftKings | $10,800 FanDuel)
Matsuyama's 60th-place finish at the PGA Championship was his worst non-WD finish of 2022. Just to be clear, his worst finish is 60th in the deepest field on tour, where guys like Scottie Scheffler, Dustin Johnson and Patrick Cantlay all missed the cut. He's been stellar this year and now returns to Muirfield Village, where he notched a win in 2014 and has earned three more top-15 finishes.
Safest Option: Xander Schauffele ($10,200 DraftKings | $11,000 FanDuel)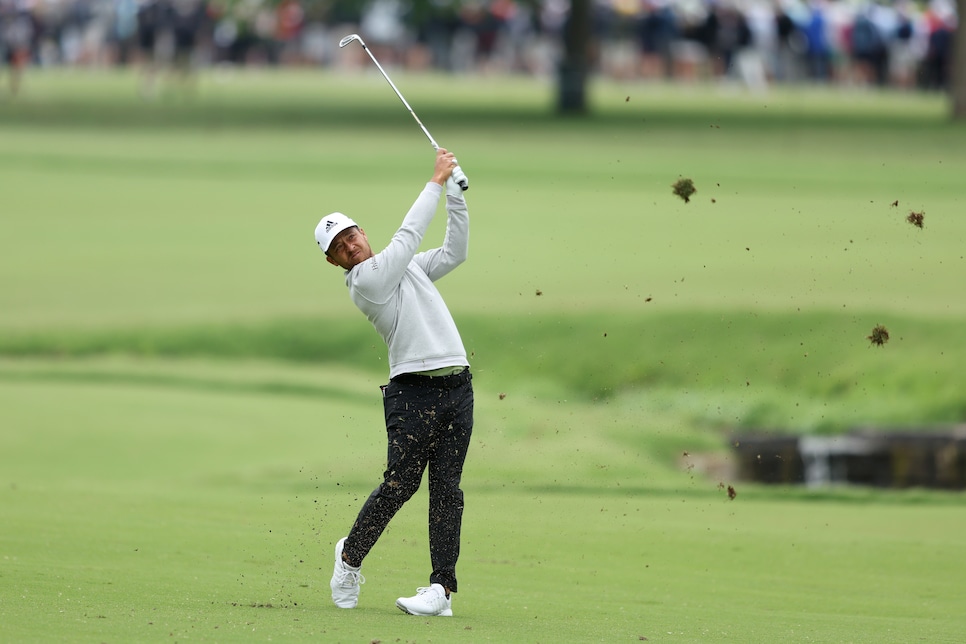 Schauffele has been steady, earning a top-15 finish in eight of his 15 starts this season—including three straight. That top-15 trend has been relevant at Muirfield Village as well. Schauffele has finished T-14, T-13 and T-11 in his past three trips. There's no reason to think those results will stop anytime soon.
Most Likely To Disappoint: Cameron Smith ($9,900 DraftKings | $11,300 FanDuel)
This is a terrifying fade of Smith, but he simply hasn't been able to solve Muirfield Village. He's played this event six times, resulting in four MCs and two finishes in the 60s. He has lost a total of 26.56 strokes to the field at Muirfield Village, his worst course on the tour schedule, per the RickRunGood.com golf database.
Pick To Win: Jon Rahm ($11,100 DraftKings | $11,900 FanDuel)
Everyone remembers that Rahm was forced to WD from this event with a six-shot lead on Saturday evening last year, but many forget that Rahm was actually on the verge of defending his 2020 title. Rahm has gained a staggering 38.71 strokes to the field over his past seven rounds at this event. That's 16.87 strokes more than the next best golfer, Patrick Cantlay, per the RickRunGood.com golf database.
High Upside: Seamus Power ($8,000 DraftKings | $9,900 FanDuel)
The last time we saw Power, he finished ninth at the PGA Championship. The week prior, he finished T-17 at the AT&T Byron Nelson. His game is clearly sharp, and his ability to play out of the fairway will be critical at Muirfield Village.
Safest Option: Cameron Young ($8,800 DraftKings | $10,200 FanDuel)
Young is incredibly long off the tee, ranking eighth in driving distance this season. However, he's much more than a one-trick pony. He's gaining strokes in all four major categories, which is turning into impressive results. His past three starts have been a T-3 at the PGA Championship, a T-2 at the Wells Fargo Championship and a T-3 at the RBC Heritage. His game travels and should translate to Muirfield Village.
Most Likely To Disappoint: Max Homa ($8,700 DraftKings | $10,600 FanDuel)
If I could buy stock in Homa over the next year, I would. But this week has me concerned. Over his past 50 rounds, Homa has continued to struggle around the greens, losing 0.30 strokes per round. He lost over three strokes around the green in three of his past five starts. The greenside areas at Muirfield Village are notoriously difficult, which could spell trouble for Homa this week.
Pick To Win: Sungjae Im ($8,900 DraftKings | $10,400 FanDuel)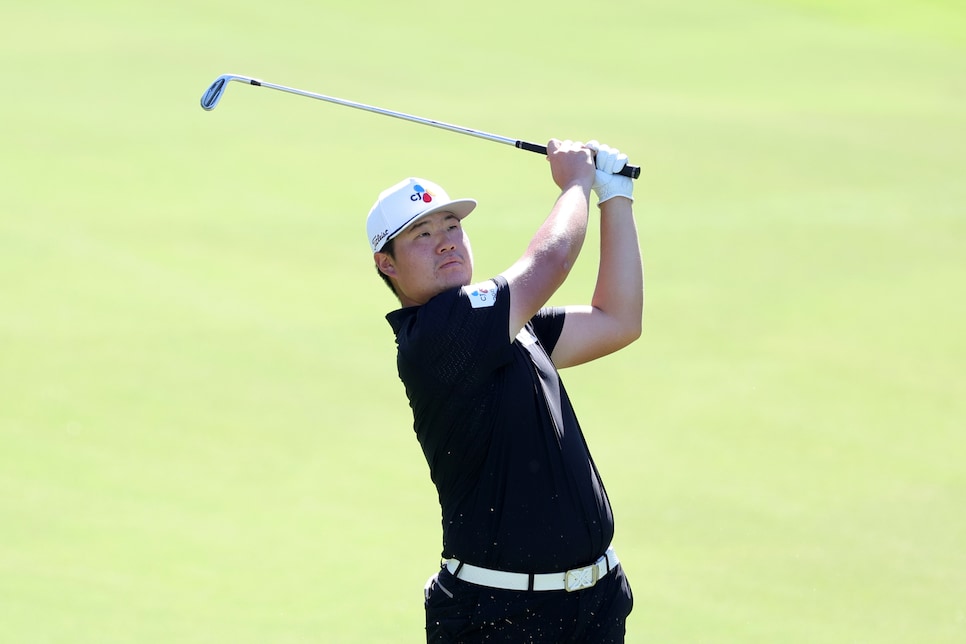 Over missing a few weeks of action, Im picked up right where he left off with a T-15 at the Charles Schwab Challenge. That's four straight top-25 finishes for Im who will need to find a hot putting week at Muirfield Village. Luckily, he's much improved on bentgrass. He's gained 15.12 strokes putting over his past 36 rounds on the surface, per the RickRunGood.com golf database.
High Upside: Bryson DeChambeau ($7,800 DraftKings | $9,500 FanDuel)
I have no idea what to expect from DeChambeau this week, but from a strategic standpoint, there will be a week when he's finally healthy and severely underpriced. Is it this week? Well, he's been splendid at Muirfield Village with a win and two more top 25s in the past four years. This is also the lowest price on DeChambeau in a regular PGA Tour event since the 2018 Northern Trust, an event he won. He's someone to keep a close eye on, and lean toward being early rather than late.
Safest Option: Matt Kuchar ($7,800 DraftKings | $9,100 FanDuel)
Since 2008, Kuchar has gained 2.28 strokes per round at Muirfield Village in 46 rounds, per the RickRunGood.com golf database. That's the best mark of any golfer with at least 21 rounds during that time period. This event couldn't come at a better time for Kuchar, who has made six straight cuts, including four top-16 finishes.
Most Likely To Disappoint: Stewart Cink ($7,000 DraftKings | $8,100 FanDuel)
There are 29 golfers in the $7,000 range and over the last 48 rounds, there is only one who has lost strokes to the field. His name is Stewart Cink. Despite a few decent finishes recently, Cink has missed the cut in five of his past 10 and has been horrible around-the-greens. It would be tough to stomach spending the money on him this week.
Pick To Win: Chris Kirk ($7,700 DraftKings | $9,200 FanDuel)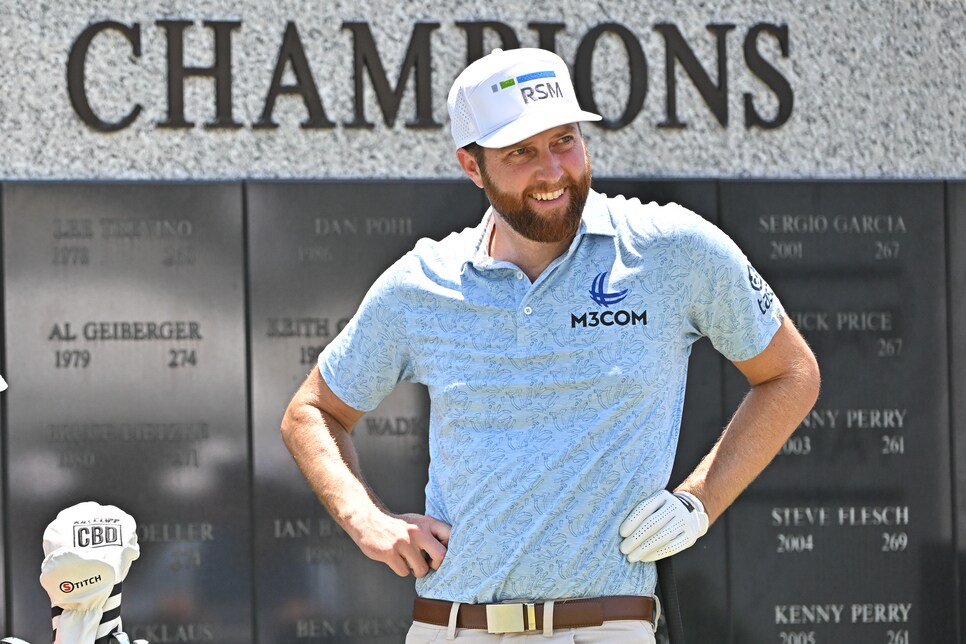 Kirk has been splendid recently, notching five top-15 finishes in his past 10 starts. There's certainly been correlation between great around-the-green players and success at Muirfield Village, which should be great news for Kirk. He ranks inside the top 15 on tour this season around-the-green, and he has gained multiple strokes in the category five times in his past eight starts.
High Upside: Alex Smalley ($6,900 DraftKings | $8,700 FanDuel)
Smalley is one of only three golfers in this $6,000 range who is gaining distance and fairways off-the-tee over the last 48 rounds. That skill-set will be critical at Muirfield Village. He played well in Mexico, earning a T-6 and notched a T-27 last week in Fort Worth.
Safest Option: Adam Long ($6,800 DraftKings | $8,600 FanDuel)
Despite his surname, Long is actually quite short off-the-tee, ranking 162nd in distance this season. He makes up for that by hitting over 63 percent of his fairways. That style has led him to the weekend in four of his past six while earning two top 15s during that stretch. As long as he finds the fairway this week, he should be able to make the weekend.
Most Likely To Disappoint: Mackenzie Hughes ($6,700 DraftKings | $7,400 FanDuel)
Hughes will step on every tee box this week with a significant disadvantage. He's not only losing distance to the field but losing in fairways as well, a horrible combination for Muirfield Village. He has a narrow path to success, which will require him to be magnificent on and around-the-greens … which might be a tough ask for a golfer who has missed three of his last four cuts.
Pick To Win: Brendan Steele ($6,600 DraftKings | $9,400 FanDuel)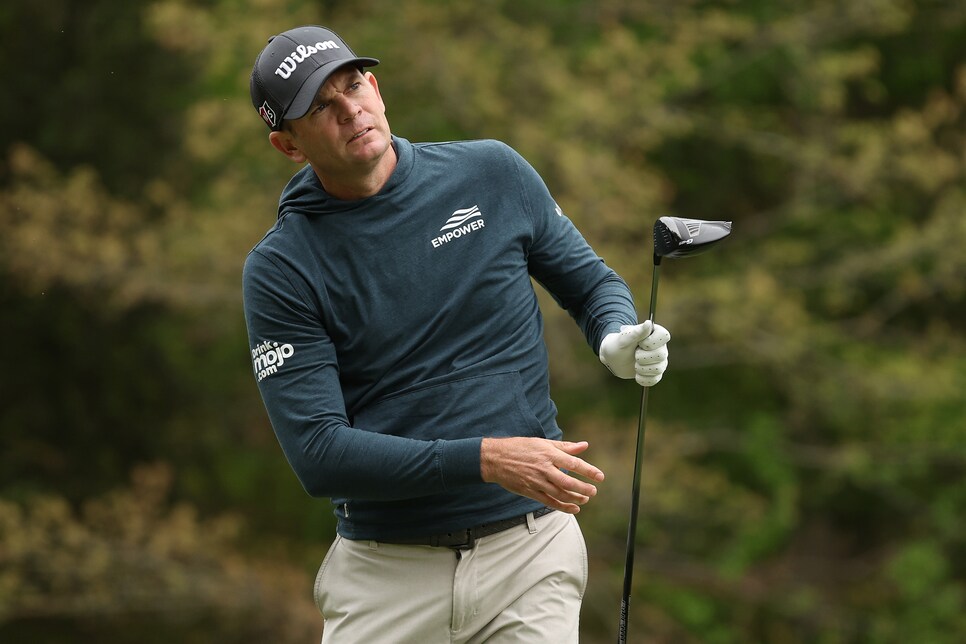 Steele has broken out of a ball-striking slump and has now gained strokes off-the-tee in nine straight measured events. He's gained at least 2.5 strokes on approach in four of his last five. He'll need a miracle with his putter to actually win, but the same could be said for many in this price range. His path to the top of the leaderboard is much wider.