Betting Advice
The Match VI 2022 picks: Our 7 best bets to make on Tom Brady, Aaron Rodgers, Patrick Mahomes and Josh Allen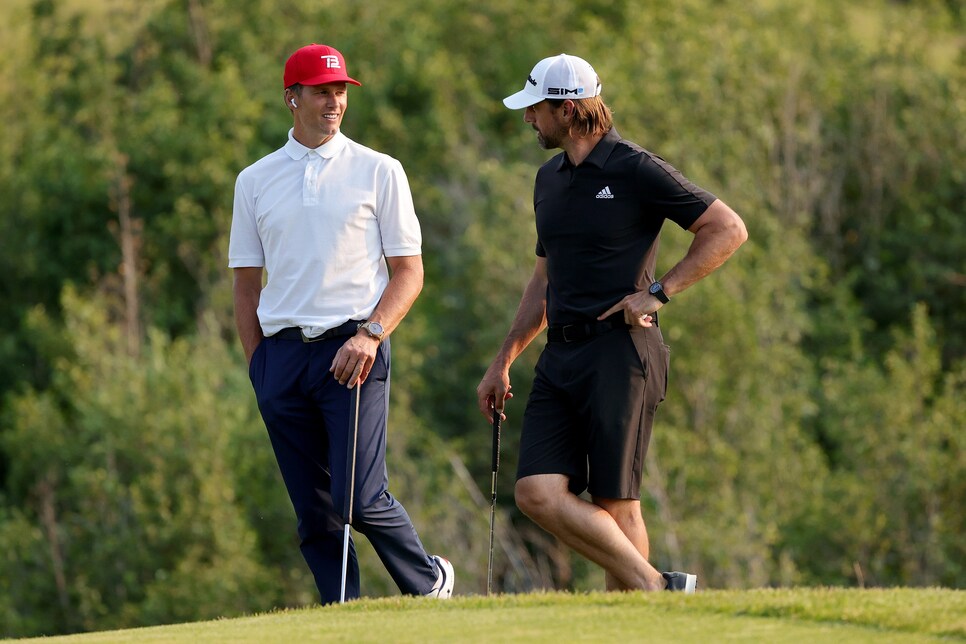 On Wednesday, the sixth edition of Capital One's The Match will take place at Wynn Golf Club in Las Vegas, which recently hosted a 1-on-1 match between Brooks Koepka and Bryson DeChambeau. The latest iteration will not feature Brooks nor Bryson, or any pros for that matter.
No, this match will feature NFL QBs only, with Tom Brady and Aaron Rodgers, who squared off against one another in the fourth edition of The Match last year in Montana, teaming up to take on Patrick Mahomes and Josh Allen. It's the old GOATs vs. the baby GOATs.
The format, like the Koepka-DeChambeau event, will be a 12-hole match, though the team aspect will feature a shamble-style best ball. This means both players will hit tee shots, then select the better drive of the two, and then play their own ball in. The low score of each duo will be used on each hole. There is no handicap.
That could make the event quite difficult to predict, as anything is possible with four amateur golfers who play a different sport professionally. That said, Brady and Rodgers are sizable favorites (-175 at Bet365).
Should you back the two grizzled veterans who have experience in a made-for-TV golf event, or should you roll the dice on the two young guns who will be gripping and ripping it? Our two gambling "experts" give out their best bets for this Sin City showdown below.
Tom Brady and Aaron Rodgers to win (-175, Bet365) — I know it's not sexy, but I don't see any scenario in which Brady and Rodgers, clearly the two better golfers, lose in a straight up match. Allen is rumored to be in the single digits handicap-wise, but Mahomes is nowhere near that good (yet), and neither of them have been on this type of stage with a golf club in their hands before. Brady and Rodgers are both low single digits and have experience in this made-for-TV setting. TB12 will get his first win in one of these on Wednesday, book it. -- CP
Tom Brady and Aaron Rodgers to win (-175, Bet365) — I'm with CP here ... Rodgers proved a lot to me in the match with Bryson. He can be stone cold in this format, and now he should enter with even more confidence having participated in the format already. -- SH
Tom Brady and Aaron Rodgers to win the first hole (+200, DraftKings) — Even if Mahomes and Allen do keep this thing close, it likely won't be because of a fast start. Nobody can overcome the first-tee jitters, and the hole being used as the first on Wednesday (normally the par-4 16th) appears to be a beast for these amateurs. The fairway is quite wide, but if these guys are going driver off the tee (they most likely will have to) there's certainly a chance for a foul ball and there are plenty of trees left and right of the fairway. Even in the shamble format, it doesn't seem crazy to think a bogey could win this hole, in which case I'll absolutely back the two better golfers to get out of there with a five and a 1 up lead (a tie is a loss in this bet). -- CP
Hole No. 1 to tie (+110, FanDuel) — I'll counter CP's point above ... I don't see a birdie being made on the first hole, but I also don't see Allen/Mahomes making bogey with a wide fairway. The most likely scenario is two pars to start, and we're getting it at plus-money. -- SH
Hole No. 2 Longest Tee Shot, Patrick Mahomes and Josh Allen (+105, DraftKings) — The second hole they'll play Wednesday is a tee-it-high and let-it-fly par 5. Have to lean with the young bucks on that one. -- CP
Hole No. 4: Player to hit inside 10 feet (+250, DraftKings) — All the par 3s on the front nine play less than 200 yards from the back tees, and so in all likelihood, this will play shorter than that ... plus we're at altitude. With an 8- or 9-iron in their hands, you get four shots at one of the guys putting it close. I seem to remember Brady being a par-3 killer in The Match at Medalist, and Rodgers was lethal on his approaches in Montana, so I could see taking that team to hit it to inside 10 feet at +450. -- SH
Players to miss the first fairway — We haven't seen these odds yet, but it's likely some book will post them tomorrow. With the nerves ramped up on the first tee, if you can bet each of the rookies to miss the fairway at close to -120 ... we'd say that's a safe bet.