And So it Begins
Josh Allen has no idea how good this dig was at Tom Brady and Aaron Rodgers ahead of The Match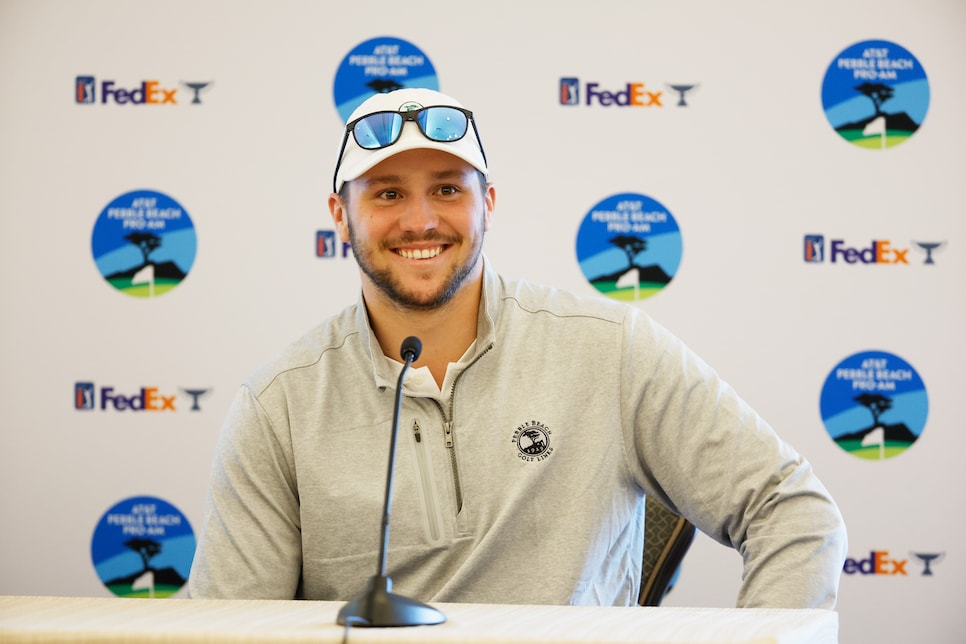 Josh Allen meant it innocently enough, sort of like a checkdown to his running back underneath that he's just looking to complete for a few yards. But his subtle dig at both Tom Brady and Aaron Rodgers ahead of The Match in Las Vegas next week ended up turning into an 80-yard touchdown.
Speaking with a pool of reporters on a Zoom call Tuesday evening, along with his teammate Patrick Mahomes, Allen offered up a few theories as to why he believes he and his AFC counterpart will defeat the former and current NFL MVPs next Wednesday at the Wynn Golf Club. Among those theories were that "Father time is undefeated," though both Brady and Rodgers have proven that not to be the case on the football field.
Perhaps that will change on the golf course, where Brady has yet to win one of these made-for-TV events, making it the only area in life TB12 has yet to conquer. But Allen has another theory, too, that might give he and his homie Patrick Mahomies an edge against the two old GOATs.
"I think it's a situation where, me and Pat don't care who makes the putt, who hits the drive," Allen said. "We want the ball to go in before theirs does. Where I think, respectively, they want their own selves to make the putt, and hit the drive, and I don't think they are going to be playing off each other real well."
Mahomes agreed, adding "They for sure have a little competition going on in between each other at the same time they'll be playing us, and I feel like that'll end up getting them in the end."
Allen and Mahomes probably didn't even realize it, but that one cut deep. One could surmise that Allen was basing that theory off how Brady and Rodgers have operated in their NFL careers, at least over the last few years. Brady broke away from New England Patriots head coach Bill Belichick to do it on his own in Tampa Bay (successfully, mind you), while Rodgers has seemingly been attempting to do it on his own in Green Bay since his first snap. No, we're not suggesting that's what Allen meant by it (or are we?).
As for the on-course trash talk next week, Allen says we should expect he and Mahomes will win in that area, too. The good news is that, much like their quarterback play, it will be unscripted.
"Once Tom's script from his team runs out of jokes, I don't think he's going to be able to think on his feet," Allen said. "I feel like i've got a lot of practice in just kind of wit and off-the-cuff stuff. I think Aaron is a little better in that aspect, but Tom's going to have his little note card out and it'll run out eventually and I dont think he's gong to know what to do."
Yet again, Allen doesn't even realize how true that is. He, Mahomes and Rodgers, too, are the best in the world at going off script. Brady, both on and off the field, has a script and he sticks to it. We swear, we're not actually suggesting that's what Allen means ... or are we?