The Grind
Justin Thomas' inspiring message to weekend hackers, Mito Pereira's remarkable reaction to devastation and the dumbest penalty ever
Welcome to another edition of The Grind, where we're pretty sure a record for most armchair caddies was set on Sunday. Sadly, Twitter wasn't around for Jean Van de Velde at the 1999 Open Championship or Phil Mickelson at the 2006 U.S. Open, but it sure was for Mito Pereira at the 2022 PGA Championship. And the overwhelming consensus was that he shouldn't have let the big dog eat on the 18th hole at Southern Hills—or drink, as it turned out when his golf ball found that creek.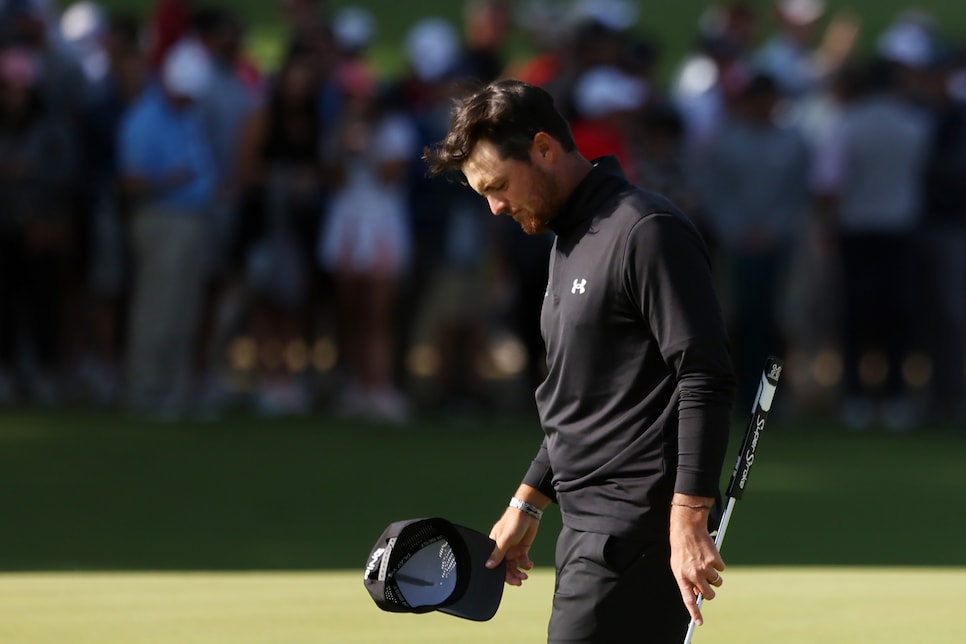 Maddie Meyer/PGA of America
Poor guy. As if he doesn't have enough to deal with after making one of the costliest double bogeys in golf history, now he has to hear it from every single person in the peanut gallery? And who are any of us to question his decision there? Mito obviously had his reasons. They were just, well, bad reasons. OK, sorry to pile on here, Mito, but seriously, what the heck were you thinking?! In any event, Mito certainly gave us plenty to discuss. Here's what else has us talking after a (particularly) crazy PGA.
Justin Thomas: According to the website DataGolf.com, Justin Thomas had a 1.2 percent chance of winning heading into Sunday trailing by seven. He was down by eight with 10 holes left, and by the time he made the turn, that paltry percentage had dwindled to 0.4. But you know what, folks? That's why they play the game! Thomas rallied while Pereira faltered—and just about everyone else struggled to find some momentum—and then he played an absolutely brilliant playoff against Will Zalatoris to capture his second major title.
If you play long enough—and you're good enough—you're going to lose some majors you should have won and win some you probably should have lost. That's golf. So while this probably wasn't the way anyone envisioned Thomas (finally) winning a second major, it just makes sense that he's not stuck on one anymore. With two Wanamakers to go along with a Players Championship and 15 PGA Tour titles, Thomas has put together a hall-of-fame career. And he won't turn 30 until after next year's Masters. In other words, we can expect more congratulatory tweets from his friend/mentor Tiger Woods in the future:
Jim "Bones" Mackay: Admittedly, I'm someone who usually downplays a caddie's performance—particularly one who works for an all-time great in the making—but I've got to give Bones credit, because JT gave him so much credit for a pre-round pep talk. He also kept him settled even after an early shank on Sunday. Yes, a SHANK.
Crazy. So the next time you hit a hosel rocket, just think "What would JT do?" Well, and pretend you have the calming words of Bones speaking to you. It was also pretty amazing to see the guy grab this prized possession during a week in which it came out that his former boss, Phil Mickelson, wasn't the most generous in that regard.
Good for you, Bones. And what a brilliant move to leave NBC for JT. This gig certainly pays (a lot) better.
Will Zalatoris/Cameron Young: Another admission, I was rooting hard for this penultimate pair of fellow Wake Forest (Go Deacs!) alums on Sunday. Just maybe a little harder for Cam because of an 80-to-1 ticket. Despite each sharing the lead at one point (By the way, Thomas never had a share of the lead until 30 minutes after he signed his card. Crazy.) both came up short of that elusive first PGA Tour title again.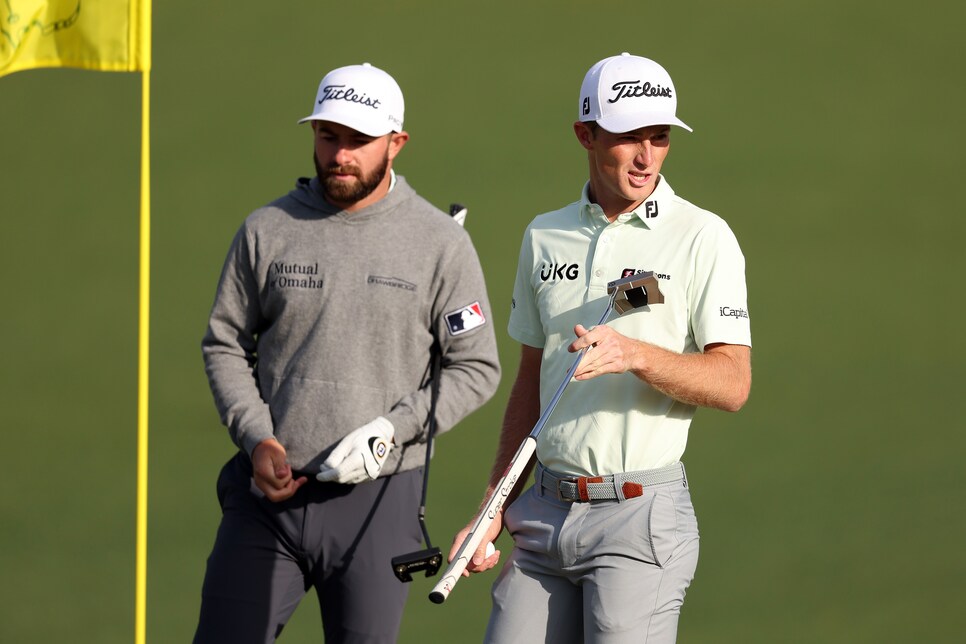 Still, there's obviously a lot to be optimistic about for the future—even if Zalatoris does a bit of a stutter step with that putting stroke. He became the first player since Ernie Els to have five top-10 finishes in his first eight major starts. The Big Easy is a bit shaky with the putter as well, but it didn't stop him from winning four majors.
Mito Pereira's post-round interview: First of all, the 27-year-old Chilean simply doing post-round interviews was impressive. Media darling Rory McIlroy booked it without talking after his latest disappointment. But to see this guy actually laugh while talking with CBS' Amanda Renner was nothing short of remarkable. I'd probably still be out on the 18th hole at Southern Hills crying like a baby.
Pulling for you, Mito. Hopefully your career turns out more like Mickelson's than Van de Velde's.
Mito Pereira's 72nd hole: But … we still have to talk about this some more. Are we sure Phil wasn't at Southern Hills in this guy's body? That was tough to watch. And I had money on Thomas and Zalatoris! Speaking of having money on the PGA, the only person who probably felt worse than Mito was this guy:
Tiger Woods' weekend: After teaching the youngsters a lesson in grit on Friday to make the cut in a second consecutive weekend (amazing), Tiger looked terrible on Saturday (not so amazing) limping around Southern HILLS. And it wasn't just when he hit bad shots, as many dopes on Twitter like to contend. Just look at this video from before his third round:
Yikes. It's fun watching this guy battle—and we should appreciate every time we get to see him tee it up—but not when it looks that painful, so it was a relief to find out he withdrew before the final round. With a quicker turnaround before the next major, the U.S. Open at Brookline in four weeks, Tiger is in a tricky spot—especially since he doesn't want to do anything to jeopardize playing at the Open Championship at St. Andrews in July. Sorry, looks like we've moved on from armchair caddies to armchair doctors.
This dumb grip rule: Good lord, the Rules of Golf make me so angry sometimes. The team of Ty Gingerich and Cole Harris was disqualified in the quarterfinals of the U.S. Amateur Four-Ball after it was discovered that Gingerich's two grips on his putter (he uses a long putter) were too close together. By half-a-freaking inch.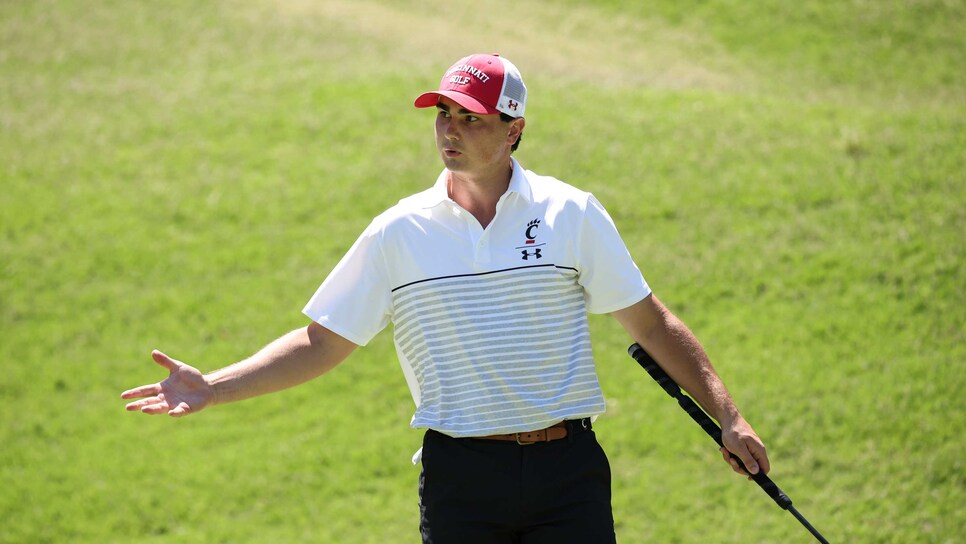 Are you kidding me?! What an absolute joke. At least the University of Cincinnati teammates were 1 down with two holes to play when they were told of the DQ. But still, that's awful. Why is that even a rule? Who would notice that? And who would notice that and actually point it out to a rules official?! Sounds like a fun person at parties.
The PGA Tour heads back to Texas for the Charles Schwab Challenge, AKA Colonial. And, kind of incredibly, Justin Thomas is still in the field! As if he didn't teach us enough about grit and never giving up last week, he's now providing another lesson to the kids this week: Honor your commitments. Well done, JT. Well done.
Random tournament fact: Two years ago (in July) this was the first event of golf's—and, really all of sports'—restart amid the COVID pandemic. Daniel Berger won that week. And this week, Berger has been messaging JT on Instagram with his money shooting gun. Different times.
RANDOM PROP BETS OF THE WEEK
—Justin Thomas will win this week: 8-to-1 odds (Actual odds)
—Justin Thomas will win this week after hitting another shank on Sunday: 8,000-to-1 odds
—Justin Thomas and Daniel Berger are going to have a few drinks out of the Wanamaker: LOCK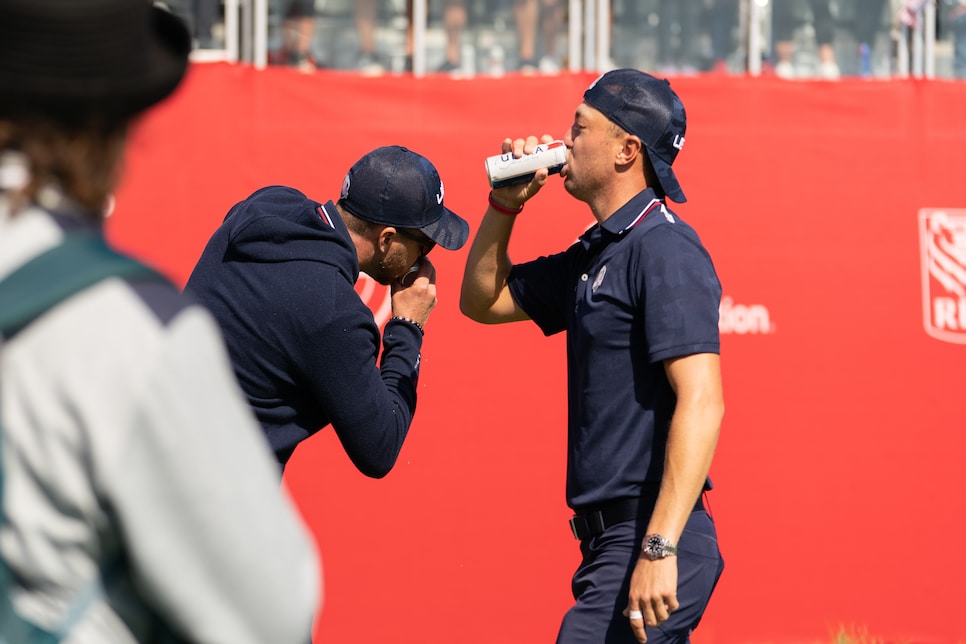 Montana Pritchard/PGA of America
This fan simply holding a Michelob Ultra watching Tiger Woods—while everyone around him watched Woods through their phone—went viral:
Good for him that he was able to really stay present in that moment to enjoy it to the fullest. And good for him that he can afford beer at those prices. Anyway, the photo drew so much attention that it even inspired an artistic rendering:
Beautiful work. As they say, Hang it in the Louvre.
Smylie Kaufman, who did nice work as part of ESPN+'s coverage, running back to Southern Hills to watch/report on his good friend JT trying to win the PGA was hilarious:
Sadly, the days of #SB2K gatherings may be over, but those are bonds that will never be broken.
Dustin Johnson and Paulina Gretzky's wedding looked really, really swanky:
And how about DJ breaking down while doing the vows? Totes adorbs.
THIS WEEK IN (MORE) PUBLIC DISPLAYS OF AFFECTION
It can't be overstated enough how cool it is that the son of a longtime PGA of America pro has now won two PGA Championships. So you better believe that Mike Thomas got the first hug with JT before he embraced his mom and fiancee.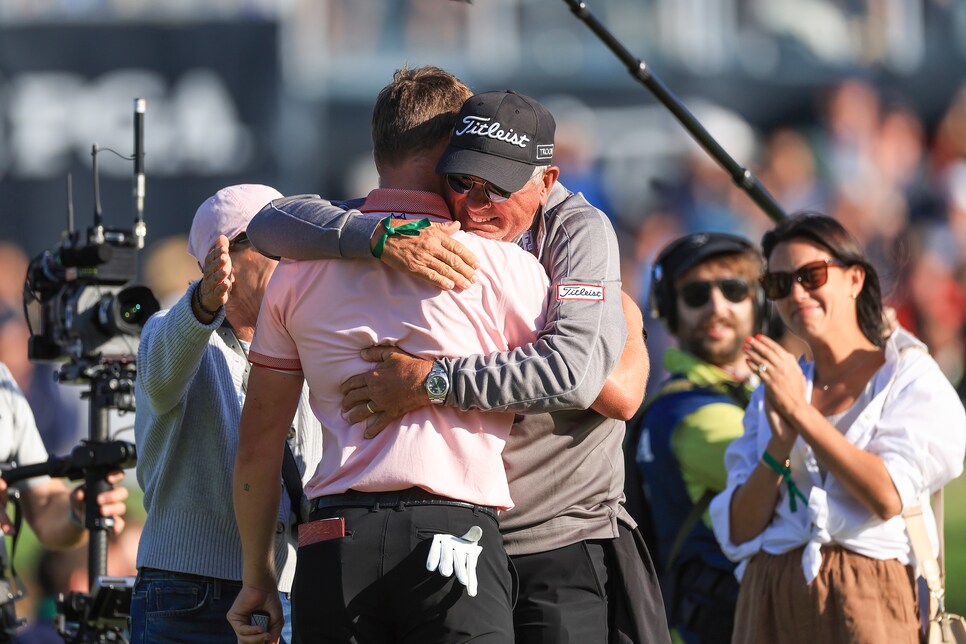 THIS WEEK IN JOHN DALY BEING JOHN DALY
After a solid opening round, Daly hit up a Tulsa Hooters:
Never change, JD. Never change.
"I wish I could do it again." —Mito Pereira of his tee shot on the 72nd hole. Again, poor guy.
Congrats to Mito for moving up from No. 100 in the World Ranking to No. 49 thanks to that T-3, which earns him a spot in next month's U.S. Open! We're guessing if he has a one-shot lead on the 18th hole at Brookline, he'll play a bit more conservatively. … Congrats to Rose Zhang, the Stanford freshman and the world's No. 1 ranked women's amateur, for cruising to a win at the NCAA Championship. Hmm, a Stanford golf phenom. Where have we heard that before? … A reminder to get out and play this Memorial Day weekend to support Patriot Golf Days, because it's a great cause. Not that you needed another excuse to play golf this weekend. Check out the website for more details on what Major Dan Rooney and Folds of Honor do. … And, finally, it's my annual "OMG MY AZALEAS ARE BLOOMING!" pic, this time with another special flower: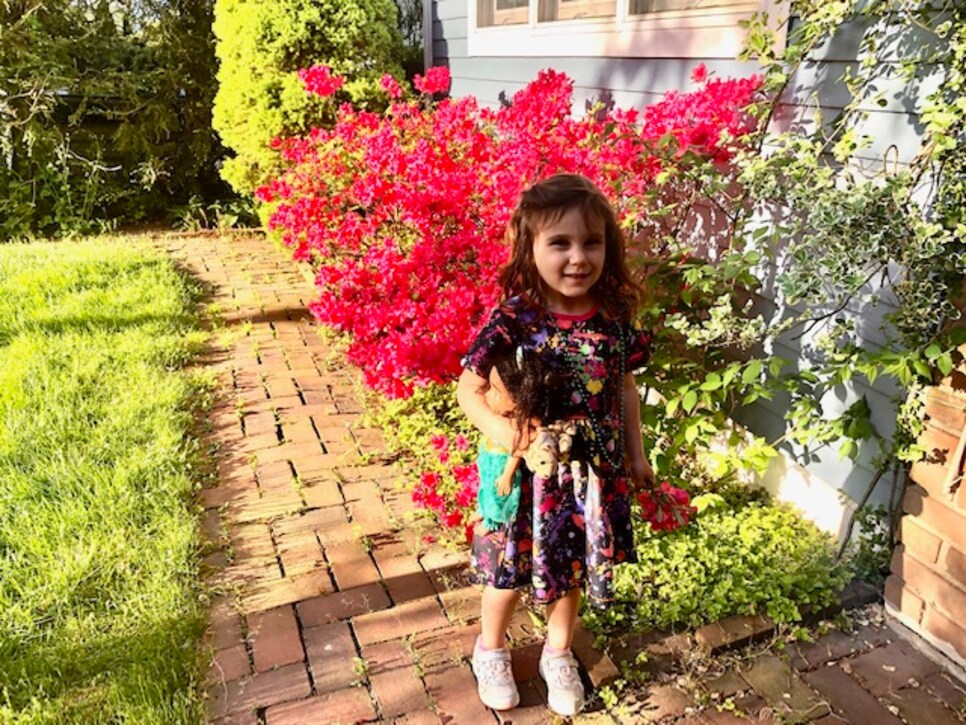 Considering I do nothing but mow the grass (sometimes), it's amazing these things keep coming back year after year.
RANDOM QUESTIONS TO PONDER
How many more majors will Justin Thomas win?
How many more majors will Tiger Woods play in?
Was Phil Mickelson watching any of it?