FIRE PIT COLLECTIVE
PGA Championship 2022: Rory McIlroy and the PGA Tour have a major problem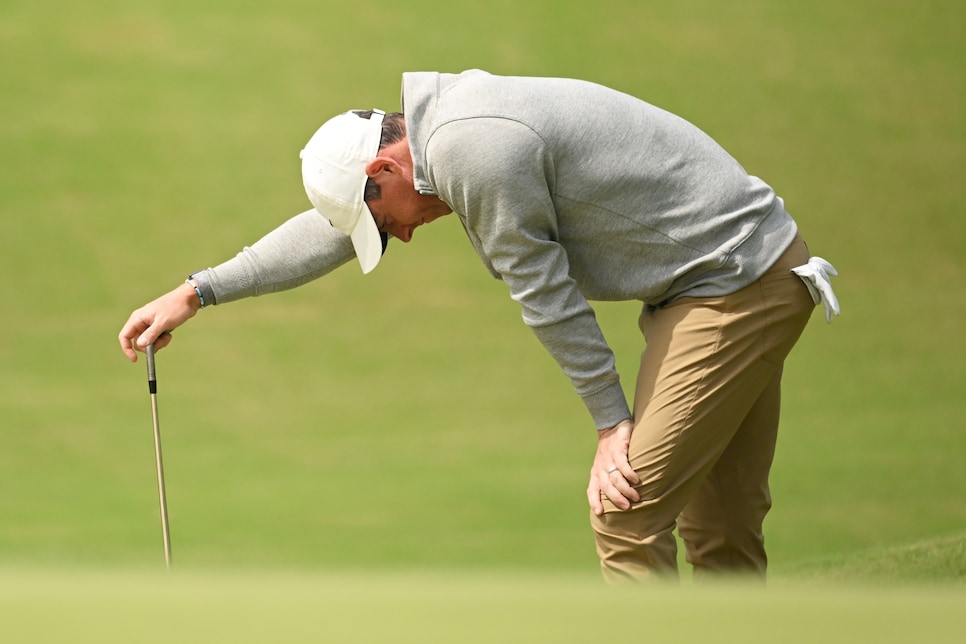 TULSA — Rory McIlroy is a two-time winner of the tournament that wrapped up here on Sunday night. You know, the PGA Championship. One of the four Grand Slam events. He's one of the most beloved players in the game and maybe its most insightful talker. He played one of the best rounds of the day on Sunday at Southern Hills. He made four straight birdies on the front nine and shot 68, 2 under.
That's understandable. If he had played the back like he played the front (a huge if), he would have won the tournament. After running off those four straight birdies, he didn't have another over the last 13 holes. You'd be shocked if he wasn't pissed.
It's what he did after signing his card that gives you some pause: He blew off all requests for interviews, TV and otherwise.
For starters, it's immature for a player of his stature. He can do as he pleases, of course, and McIlroy almost always does talk, certainly in good times but very often in bad too. But on Sunday, at a major that you've won twice, where you can give insight into where you are with your game and what the players still playing will face? As the Nike marketing department has been saying for years, Just do it.
You can say that Nike made McIlroy rich, but really you made him rich. He has the talent, but you provide the purses and the endorsement deals and all the rest. The money spigot begins with your credit card.
But there's something else that gives you much more pause, and this is it: When did not winning a major become such a big deal, and is it healthy?
Things are out of whack in professional men's golf, and they have been for a while. Ever since Tiger Woods came on the scene a quarter-century ago, the elite player's mindset can be captured in two mantras:
Majors, the majors, the majors;
Gotta win 'em, gotta win 'em, gotta win 'em.
Golf Channel and USA Today and Sports Illustrated (when it was a weekly bible) were co-conspirators in promoting this attitude, to say nothing of the many golf websites that have taken root this century. But Woods created the template.
We all know the names of the various prodigies who came up in Tiger's wake, McIlroy (33, four majors) and Jon Rahm (27, one major) and Will Zalatoris (25, no majors) among them. By all available evidence, their notion of what constitutes a rich and full golfing life seems to come right out of the Tiger playbook. Woods would tell you he took a page from Jack Nicklaus. Tiger caught the tail end of Big Jack. The first tournament he watched on TV was Nicklaus winning the last of his 18 majors, the 1986 Masters. Rory was born three years later. So Jack didn't beget Rory and Co. Tiger did.
Rory, engagingly, talks about his reading life now and again. For all we know, he's reading the Indian philosopher Jiddu Krishnamurti, who teaches that happiness does not come when you are seeking it. Maybe you have found this in your own life: It sneaks up on you when you least expect it.
All this emphasis on the majors—and I am as guilty as anyone who watches from the wrong side of the rope line—has created a lot of emotional upheaval.
This is easy for me to say, but by putting so much emphasis on four weeks a year, the golfer's life, at least his professional life, is out of balance. How much would any of us like to play 25 times a year, cash checks anytime we play half decently, contend now and again and win on some of those occasions?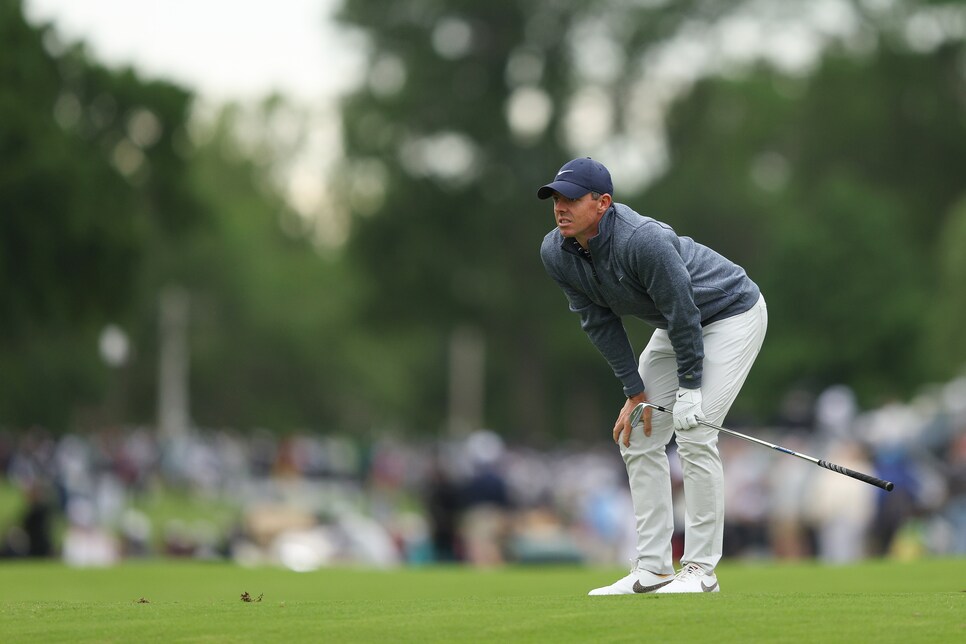 We're all a product of the worlds in which we are raised. For Arnold Palmer, there was one major, the U.S. Open. All the other tournaments, and he played in hundreds of them, were just that. A chance to do the thing he loved to do.
Part of the problem, of course, is Rory knows the drill: Since winning his fourth major at the 2014 PGA Championship, McIlroy has played 28 majors without getting his fifth. He has had top-10 finishes in 15 of those events. That's a nice problem to have, right? But the Sunday night questions, some of them, would have been some form of what's wrong. And Rory doesn't want to talk about what's wrong. And he doesn't know the answer anyhow. So off he goes.
This is a vicious cycle. I certainly don't have the answer. Jiddu Krishnamurti might have the answer. McIlroy is most likely searching for the answer.
One thing we can all see is this: As he has become stronger and stronger through the years, he has started swinging harder and harder. His shots are more erratic. His scores are more erratic. Still, he has won 11 times since that PGA victory eight years ago. Guys win majors at almost the exact same ratio they win non-majors. It's all golf. Rory plays golf for a living. It's all good. He knows it. Like any of us, he must just need a reminder, now and again.
By the way, his eighth-place finish here paid $436,000. A nice life, if you can get it.