Rules
Bizarre equipment rules issue leaves college teammates DQ'd in U.S. Amateur Four-Ball quarterfinals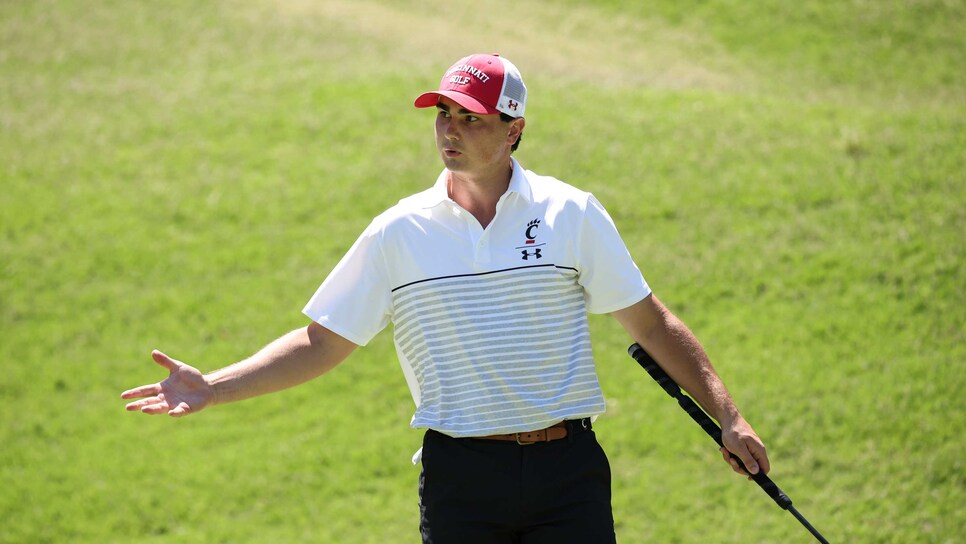 The split grips on Ty Gingerich's putter were deemed to be non-conforming because they were too close to each other under the Rules of Golf.
James Gilbert
Winning their quarterfinal match at the U.S. Amateur Four-Ball Championship was going to be a challenge for the team of Ty Gingerich and Cole Harris, teammates on the University of Cincinnati men's golf team. When darkness fell Tuesday at the Country Club of Birmingham, Gingerich and Harris were 1 down with two holes to play against Evan Beck and Dan Walters. Still, having played 40 holes on the day to get that far, a little rest didn't sound like a bad thing.
But Gingerich and Harris never got the chance to finish the match come Wednesday after the USGA informed them they had been disqualified due to an equipment issue.
Gingerich, 21, uses a 39.5-inch TaylorMade Spider putter with two split grips. On Wednesday morning, USGA officials approached Gingerich as he was getting ready to warm-up on the range and told him that there was a concern the grips might not conform to the Rules of Golf. The Rules allow for split grips, but they must be at least 1½ inches apart. Gingerich's grips, however, were less than an inch apart, according to the USGA.
The players were then informed that the penalty, unfortunately, for the violation was a DQ.
"I was just shocked," Gingerich said when reached by Golf Digest driving back to his home in Carmel, Ind. "I didn't even know it was a rule. I had never heard of it before. No one has ever told me about that. But you know I guess it's my fault. I should have looked deeper into that. I made a mistake."
On Wednesday morning, the USGA issued this statement:
"Prior to this morning's resumption of the quarterfinal match between Evan Beck/Dan Walters and Ty Gingerich/Cole Harris, it was brought to our attention that Gingerich had used a non-conforming putter grip in violation of Part 2, 3c of the Equipment Rules. The violation resulted in a disqualification."
Gingerich said that the club had been cut down in January to 39.5 inches in order for him to switch to an armlock grip and have the grip fit under his elbow. In having the old grip put back on the club, Gingerich believes that's when it became non-conforming.
"I was disappointed just for myself and my partner," said Gingerich, the pair playing for the first time in the event after qualifying for the 2020 championship that was cancelled due to COVID. "We had a great week and we were playing some really good golf. The USGA ran a great event and so did the folks at [CC of] Birmingham."
Because Gingerich did not know his club didn't conform, he and Harris get to keep their quarterfinal results and the medals earned for advancing that far.
Beck and Walters moved on to play their semifinal match against Drew Kittleson and Drew Stoltz. Chad Wilfong and Davis Wombie, former teammates at Wake Forest, eventually won the title on Wednesday evening.
Gingerich, meanwhile, said he will have the putter re-gripped when he gets home since he is signed up to play in the Monday Qualifier for the Korn Ferry Tour event in Chicago next week.