U.S. Amateur Four-Ball
Late rally by Chad Wilfong and Davis Womble defeats Drew Stoltz (aka the Sleaze) and Drew Kittleson in the final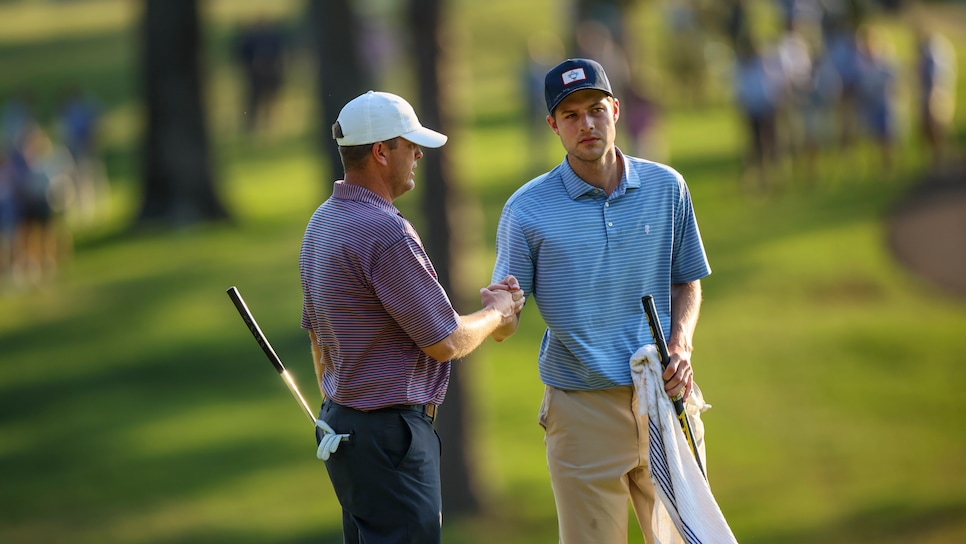 Sports are unscripted for a reason, one best articulated by the erudite Yogi Berra (edited here to account for the sport), who said, "There's one word that describes golf—you never know." The U.S. Amateur Four-Ball final on Wednesday emphatically proved his point.
The team of former Wake Forest players Chad Wilfong and Davis Womble seemed destined to lose, but won on the 19th hole, beating the team of Drew Stoltz and Drew Kittleson, who eight days earlier never expected to be playing in the championship at all.
Stoltz and Kittleson took a 1-up lead to the 10th hole at the Country Club of Birmingham (Ala.) and held it until the 18th when Wilfong holed a 10-foot birdie putt to tie the match. Wilfong and Womble won on the 19th hole when their opponents made bogey.
"There are no words," Wilfong said. "You know, that's kind of the pinnacle of what you strive to achieve in this game. I tried my hand at the professional level, so had other kind of goals and objectives, but there's nothing bigger than a USGA championship.
"I think we always believed that we could do it. You just have to go get it done, and it's hard to get it done."
"I think I'll echo Chad's sentiment," Womble said. "You wouldn't be here if you didn't think you couldn't win. At least that's my intention. This event is special because it's frankly more fun than the other ones just because you get to lean on a partner and if you have a hole he'll bail you out."
Late last summer, Stoltz and Kittleson failed to qualify for the Four-Ball and were second alternates. Eight days earlier, they had other plans. Then the call came. They scrambled to get to Birmingham, then rode their good fortune all the way to the final.
Each is a reformed professional golfer, having given up the quest and having had their amateur status reinstated. Stoltz, 37, the more prominent of the pair, is the Sleaze in the popular podcast "Gravy and the Sleaze," opposite Colt Knost, aka Big Gravy. Kittleson, 33, a former All-American at Florida State who once reached a U.S. Amateur final, is a businessman from Scottsdale, Ariz.
"We qualified in Arizona, and it was like in September," Stoltz said. "It was so far before, that oh, we're an alternate. You just forget. You don't put it on your calendar because you're an alternate, and then Tuesday [May 10] I was like 'oh my God, that's this week. Here we go."
Said Kittleson, "it was never even on our radar."
Yet they strapped in for the wild ride ahead, gamely hanging on by winning two of their matches, 1 up, another 2 and 1, the latter in their semifinal match Wednesday morning with Evan Beck and Dan Walters.
Wilfong, 41, a financial planner from Charlotte, N.C., and a reinstated amateur, and Womble, 28, a salesman from Winston-Salem, N.C., reached the final by routing Carter Loflin and Wells Williams, 7 and 5.
In the final, Stoltz and Kittleson jumped to a 2-up lead on the first two holes, then lost consecutive holes at four and five, tying the match. They regained a 2-up lead through eight, lost the ninth hole, then were unable to put the match away.
"It's just golf," Kittleson said. "It's a hell of a game."