NCAA Women's Championship
Stanford's Rose Zhang punctuates remarkable freshman season with a national championship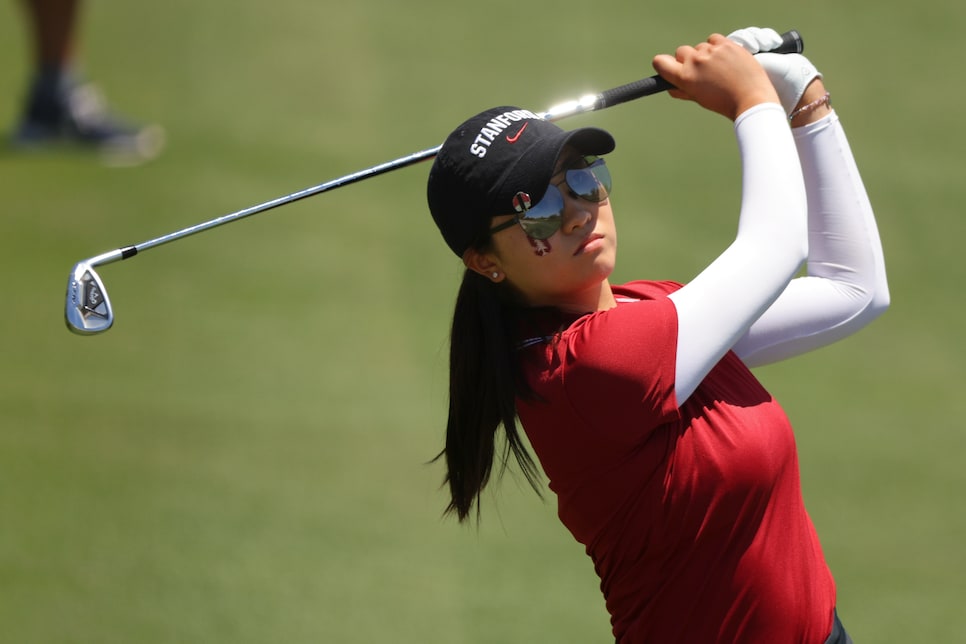 Victory laps typically occur only in motorsports, but how else to describe heralded Stanford freshman Rose Zhang's final round in the NCAA Division I Women's Individual Championship on Monday at Grayhawk Golf Course in Scottsdale, Ariz.?
If ever a victory entered the realm of foregone conclusion it was Zhang's, when she carried a seven-stroke lead into the final round, birdied the second hole to increase her lead to nine. Though she did not play her finest golf the rest of the way, shooting a three-over 75 in the final round, she still won by three over runner-up Natasha Andrea Oon of San Jose State.
"It was definitely very difficult," Zhang said. "I saw every inch of the golf course that I didn't see the first three days. But just being here now, knowing that I grinded through with my C game, I'm just thankful to be here."
Zhang became the second consecutive Stanford freshman to win the national championship, following teammate Rachel Heck's victory a year ago. Heck tied for 31st.
It was more than the lead Zhang took into the fourth round that made victory inevitable. It was that combined with an impressive amateur record that predated the NCAA Championship. This victory was the capstone of a dominant freshman season for Zhang, who now will lead her Stanford teammates into the NCAA Team Championship that begins on Tuesday at Grayhawk. Stanford, the top seed, will be joined in the match play competition by Oregon, Texas A&M, UCLA, Auburn, San Jose State, Georgia and Florida State-
Already No. 1 in the World Amateur Golf Ranking, Zhang added an NCAA championship to a résumé that also includes victories in the U.S. Women's Amateur in 2020, a U.S. Girls' Junior title in 2021, three previous wins at Stanford (in her first three college starts) followed by a victory in the Sprint International Amateur. She has finished in the top 10 in all 10 of her college starts.
She finished second in both the Pacific 12 Championship and the Stanford Regional, has played in the last two Augusta National Women's Amateur, and will be a member of the U.S. Curtis Cup team next month in its matches with Great Britain-Ireland at Merion Golf Club.
Add it all up and she was an overwhelming favorite to win the NCAA individual title, which she did with rounds of 68, 70, 69 and 75 a 72-hole total of six-under-par 282.
"It was definitely a little frustrating that I didn't hit where I wanted to on a couple areas on the golf course," she said, this a day before her 19th birthday. "But I was just being able to keep myself cool, calm and collected and able to carry through the round and trying to make every putt I could. It was just a brutal grind, but I'm here now."