The Grind
Max Homa's perfect golf quote, Rory McIlroy's cold response to Patrick Reed and the cutest video of the year
Welcome to another edition of the Grind, where we think Patrick Reed may have stumbled onto something with his driving-range flick. Tossing a tee at someone seems a bit lame, but when it's a personalized one conveying a message? That's a pretty sneaky/savvy way to get someone's attention. Maybe instead of business cards, I should have personalized tees made that I can toss all around PGA Tour ranges to get the attention of players (or their agents) for potential interviews or collaborations. Then again, there's not much space to put a message on a tee. OK, never mind, it's probably not worth the effort. I'll just continue to be ignored. In the meantime, please pay attention to me as we run through a wild week in golf.
Max Homa: Is it possible this guy is actually better at golf than he is at Twitter? Homa now has as many PGA Tour wins (five) as anyone since the beginning of 2021. That's right. Anyone. It's quite a rise for someone who only made $18,000 his rookie year and was much more famous for getting a rise out of people on social media by roasting their swings.
But there's certainly nothing to roast about Max's move following career win No. 6 at the Farmers Insurance Open when he proved once again that he's one of the best chasers—and closers—in the game. Homa wound up winning by two, and you can look no farther than the two birdies he made on Torrey Pines' two beastly back-nine par 3s on Saturday.
By the way, shout-out to Max (and CBS) for doing that live interview while in contention during the Friday's third round. He deserved to win after that so maybe the golf gods really do exist? Oh, and a couple days later he was out at a local muny playing—and winning—a skins game:
Max Homa is a real one. And a real threat to win a major this year.
Rory McIlroy: You think McIlroy was motivated by all this "Jon Rahm is the REAL World No. 1 talk"? I'm guessing he was. Add in the fact that he really, REALLY wanted to beat Patrick Reed and you get Rory hoisting his biggest trophy in years. Well, literally the biggest, that is.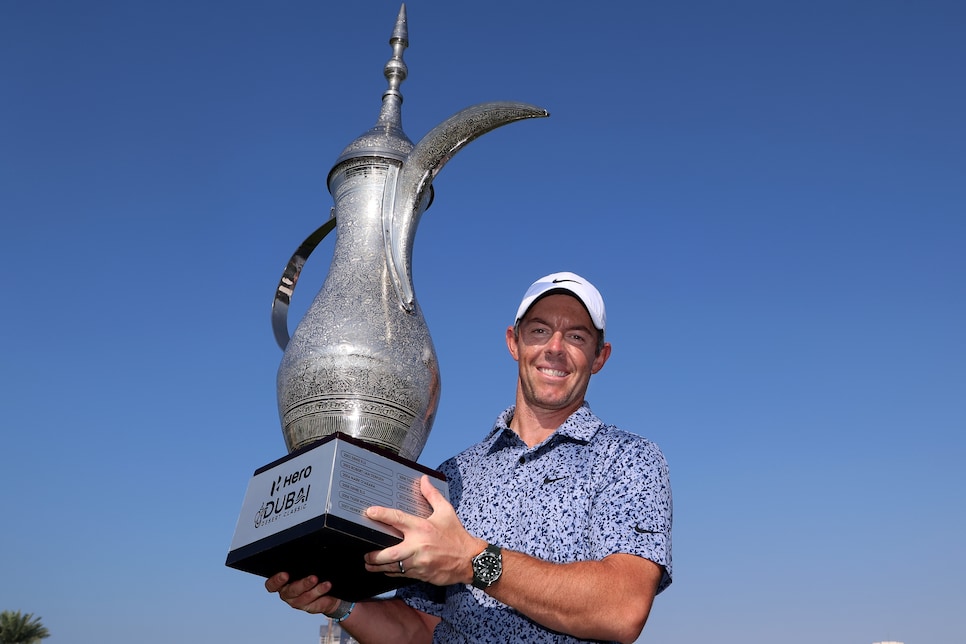 Good thing he works out a lot, because that thing is huge. Also, talk about the ultimate slap in the face. It doesn't get colder than burying a birdie putt on the final hole to beat someone:
As our friend Andy Lack pointed out, McIlroy joined an impressive list of golfers with a combined 30 career wins on the PGA and DP World Tours, including at least four majors:
The battle for world supremacy: At least, in golf. Rory McIlroy and Jon Rahm have both been on incredible heaters. Incredibly similar heaters as well as pointed out by Twenty First Group's Justin Ray:
What a battle! We can only hope these two Ryder Cup teammates will battle down the stretch at a major (or two) in 2023.
TEEgate: Was it overblown? Of course it was. But these are golfers, not fighters, so just let us golf fans enjoy it.
The on-course (or driving-range) animosity and pettiness that could potentially bubble up when PGA Tour and LIV golfers mix? Bring it on! What we don't like to hear about, however, is golfers like Rory McIlroy being subpoenaed on Christmas Eve. By other golfers' lawyers. Heck, golfers these days are being served subpoenas like they're pigs in a blanket at a Dustin Johnson cocktail party. And suddenly I'm hungry. Is it lunchtime yet?
TREEgate: Look, it stinks when a golfer hits a shot that gets stuck up in a tree. And if you know the ball is stuck up in a tree because there are witnesses and video evidence, I think you should get the benefit of the doubt. Besides, it's not like Reed got a free drop when he took his unplayable. That being said, there are certainly questions after he claimed to be 100 percent certain he saw his ball lodged in a tree—when video (courtesy of Golf Channel and Brandel Chamblee) suggests that might not have been the right tree he was looking at.
OK, we've already said too much and don't want to be sued. Moving on …
Sam Ryder's mom being interviewed: This might have been the worst announcer jinx of all time. (Although mom helped by saying she was there "to see him win" before catching herself!) Amanda Brenner did a Q&A with Ryder's mom before he promptly made that double bogey on No. 15 during the final round at the Farmers to drop out of the lead. For good.
If I were Sam, I wouldn't necessarily blame her for the tough finish. But I might. And I might also blame CBS! To review, mid-round interviews with players in contention? Good. Mid-round interviews with parents of players in contention? Bad. Then again, maybe that finish had something to do with the fashion gods weighing in …
Sam Ryder's joggers: I've never been a fan of these short pants, particularly on the golf course, but these were particularly offensive:
Yeah, yeah, I sound like an old man, but do you want to know why I sound like an old man? Because I am an old man! Kinda like this old man:
Thanks, Phil. To be clear, I'm not calling for any sort of ban. And if this look is really going to drive kids to golf, I'm all for it. And I'd be all for pros wearing shorts. I just don't like the joggers look. End of old-man-barking-at-a-cloud rant.
The PGA Tour heads to the Monterey Peninsula for the AT&T Pebble Beach Pro-Am, AKA that one they play in Jim Nantz's backyard. We're glad our Golf Digest colleague gets a bit of a travel break after making three trips to Buffalo in the past month before that journey to Kansas City over the weekend. Of course, this also allows me to remind everyone that I was fortunate enough to get a crack at Jim Nantz's backyard replica of Pebble Beach's iconic seventh hole—with Jim providing play-by-play:
No big deal. Just kidding, it was a big deal. Maybe the biggest of my life.
Random tournament fact: Tom Hoge won his first PGA Tour title here last year and we learned that 12 months later, he still flies coach. Love me some Tom Hoge.
RANDOM PROP BETS OF THE WEEK
—Augusta National will pair Patrick Reed and Rory McIlroy: 1 MILLION-to-1 odds
—Someone will make a hole-in-one on No. 7 this week: 10-to-1 odds
—Someone will make a hole-in-one in Jim Nantz's backyard this week: LOCK
Max from the top rope! OK, I think he's still better at Twitter than golf.
CLUB PRO GUY TWEET OF THE WEEK
Similarly, CPG spot on as usual in the midst of all these pro golf legal battles.
VIRAL VIDEO OF THE WEEK (PRO ATHLETES DIVISION)
Mike Trout is a freak of nature:
VIRAL VIDEO OF THE WEEK (KIDS DIVISION)
Shout-out to fellow Golf Digest writer Luke Kerr-Dineen, his wife, Elizabeth, and their baby daughter, Charlotte, for combining to create the cutest video of the year:
Great stuff. And Charlotte, consider yourself lucky because Luke, who also doubles as my swing coach, knows his stuff. Speaking of cute kids . . .
THIS WEEK IN PUBLIC DISPLAYS OF AFFECTION
First, Max Homa with his son, who he calls "Chunky" was so good:
And these might be the best back-to-back text messages we've ever seen from Jessica Hadwin to husband Adam:
Amazing. That could be in Apple's next commercial for being able to unsend a text.
"It's a beautiful game. Sometimes you're just one swing thought away from being good again." —Max Homa summing up golf about as perfectly as possible. I will try to keep that thought in mind out on the course this year. If winter ever ends, that is.
Scott Brown made the cut twice in a four-day span, doing it at a Bahamas Korn Ferry Tour event and then WDing and doing it at the Farmers Insurance Open. Well done, Scott, although we're not sure the $17,487 for 72nd place even covered all the travel expenses. … Josh Allen is blowing off the Pro Bowl to play in the AT&T Pebble Beach Pro-Am. In related news, Josh Allen is now my favorite NFL quarterback. … Nate Bargatze's upcoming Prime Video comedy special is called "Hello, World" in honor of Tiger Woods. In related news, Nate is now my favorite comedian. … It took nearly a decade, but we finally got J.R. Smith on the podcast—and he did NOT disappoint!
And, lastly, I rediscovered Ritz crackers thanks to the kids. And they are still amazing: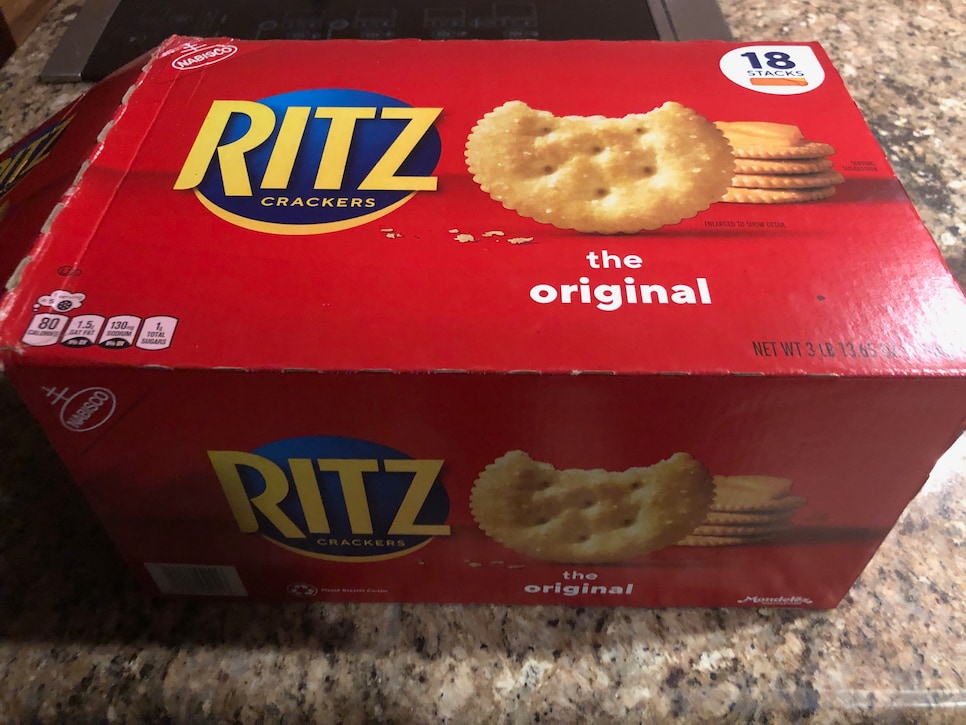 That Costco-sized box is dangerous, though.
RANDOM QUESTIONS TO PONDER
How much butter is in Ritz?
How many lawsuits are swirling around pro golf?
Can't we all just get along?