Rory-Reed
23 questions about the Rory McIlroy-Patrick Reed feud, with 23 one-sentence answers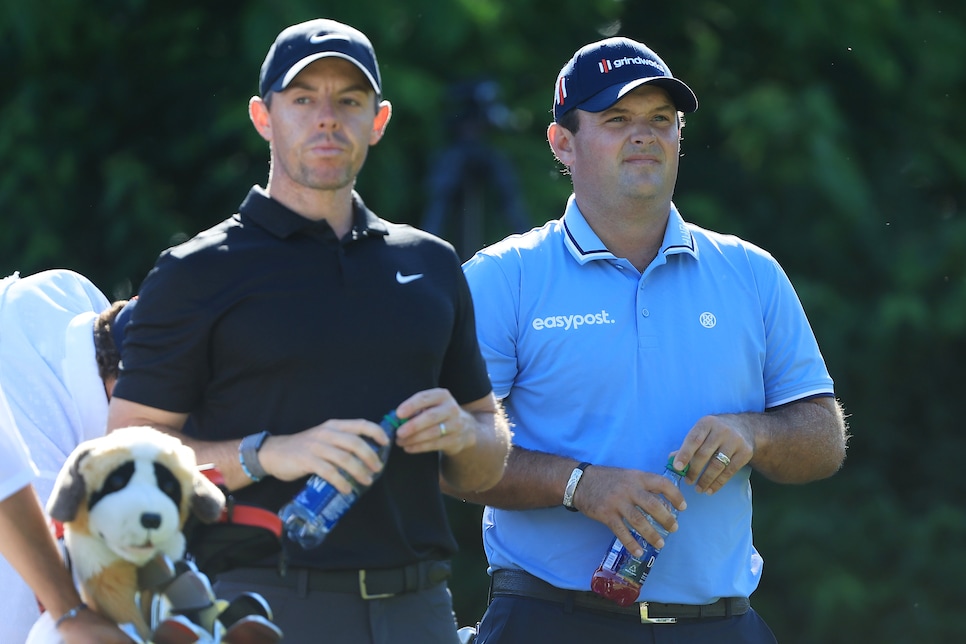 TeeGate. Don't want to talk about it, but have to talk about it, because what went down between Rory McIlroy and Patrick Reed in Dubai this week has burned social media to the ground. We did our best to sort this mess out, and what better way to do so than to answer whatever questions you may have about golf's newest feud. All answers will be confined to one sentence, even if, grammatically, those sentences are a disaster.
Reed attempted to say hello to McIlroy earlier this week at the Hero Dubai Desert Classic, a DP World Tour event, only for McIlroy to ignore Reed, leading to Reed tossing a LIV Golf tee in McIlroy's direction while walking away, hence, "TeeGate."
What do you mean Rory "ignored" him?
Look, there's video evidence and everything:
What was Rory's reaction to getting a tee thrown at him?
Apparently Rory didn't see it as he told the media on Wednesday: "Patrick came up to say hello and I didn't really want him to. That was it. I didn't see a tee. I didn't feel a tee. Obviously someone else saw that. I can't believe it's actually turned into a story. It's nothing."
Why did Rory blow off Reed?
Because Reed's lawyer, Larry Klayman, subpoenaed Rory McIlroy on Christmas Eve.
No; though Reed has multiple lawsuits against multiple media entities, this is a different matter, as Klayman is personally suing the PGA Tour, and McIlroy, along with a host of others, have been pulled into it as "co-conspirators" in an antitrust scheme to destroy LIV, according to the lawsuit.
I'm sorry, did you say Rory got a subpoena on Christmas Eve?
That's what McIlroy said, and a quick check of law documents says the subpoena was delivered to his residence, explaining then Rory's response: "I was trying to have a nice time with my family. If someone shows up on your doorstep and delivers that, you're not going to take that well. I'm living in reality. I don't know where he [Reed] is living. If I were in his shoes, I wouldn't expect a hello or a handshake. I don't see how you can pretend like nothing's happening."
Please tell me that's all there is to the subpoena story?
Of course not; the name of the process server was "Shark Process," which really is just the chef's kiss on this mess.
Good gravy. What does Reed have to say for himself?
Reed confirmed the interaction with McIlroy went down to the Daily Mail: "He saw me and he decided not to not to react. It's unfortunate because we've always had a good relationship … But it is one of those things—if you're going to act like an immature little child then you might as well be treated like one."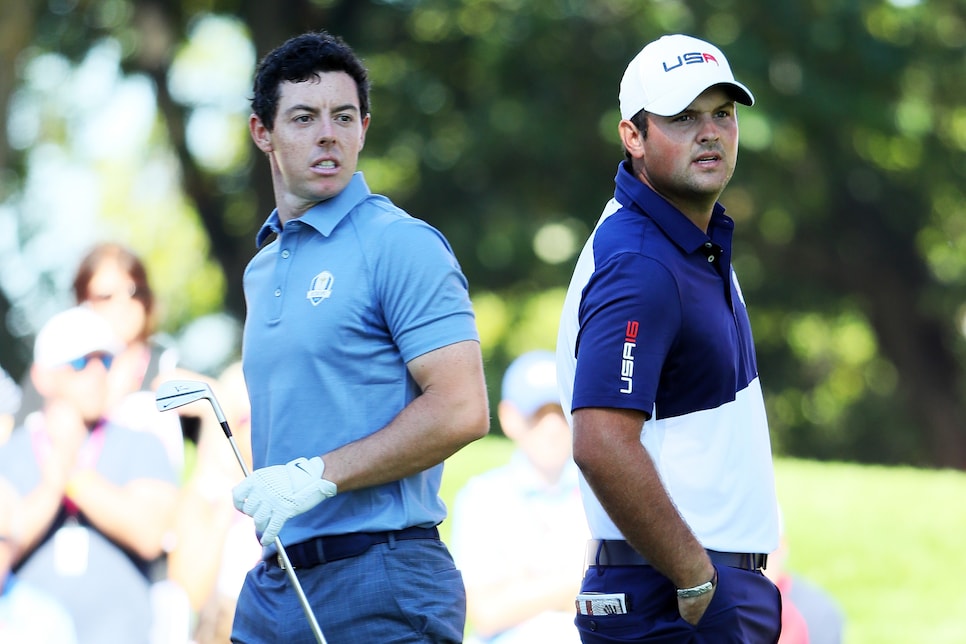 Why did Reed throw a tee?
It appears Reed was trying to send a subliminal message, according to Reed: "We all know where it came from—being part of LIV. Since my tees are [LIV Golf franchise] Team Aces LIV tees I flicked him one. It was kind of a funny shot back. Funny how a small little flick has turned into basically me stabbing him and throwing a tee at him."
Can you buy LIV Golf 4 Aces tees?
We just made a cursory glance at the LIV merch website and, sadly, the answer appears to be no.
Rats. Do these two have a history?
They had an epic match at the 2016 Ryder Cup, and they also played together in the final pairing at the 2018 Masters—and it should be noted that McIlroy has often come to the defense of Reed in the past.
Yes, after Reed's bunker controversy at the 2019 Hero World Challenge, McIlroy went on Golf Channel and tried to downplay what happened: "I don't think it would be a big deal if it wasn't Patrick Reed. It's almost like, a lot of people within the game, it's almost like a hobby to sort of kick him when he's down. I think the live shot isn't as incriminating as the slow-mo. It's hard, because you try to give the player the benefit of the doubt, right? He's in there, he's trying to figure out what way to play the shot. It's almost like it's obliviousness to it rather than anything intentful, in terms of trying to get away with anything."
Hold on, didn't Reed throw McIlroy under the bus at Torrey Pines a few years back?
Well, Reed's Twitter account did, but that's another story.
I see. Did McIlroy get any sort of shot in?
Yep, Rory said this on Wednesday: "I didn't feel the need to acknowledge him. And if roles were reversed and I'd thrown that tee at him, I'd be expecting a lawsuit."
Interesting. Related note: Why do we continue to use "gate" as a suffix for every scandal and controversy?
Because most people under 50 don't realize Watergate was the name of the hotel where the Nixon scandal happened … or society continues to get lazier and less creative by the day.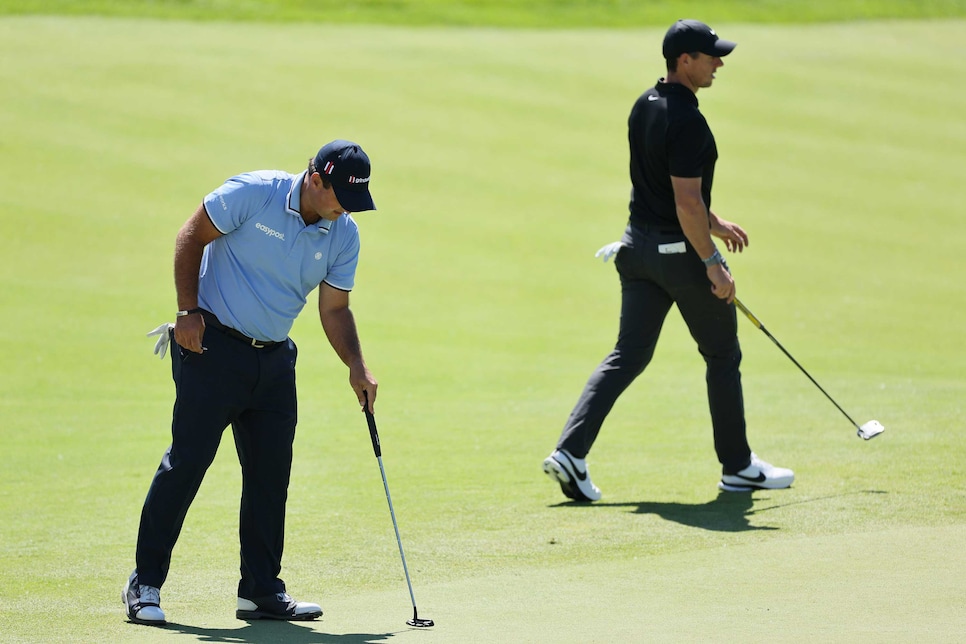 What would you use instead?
Maybe make it specific to the controversy in question, so here maybe "Sandskirt" or "P's Tee" or "Teed Off" or … listen, I'm an ideas man, not a solutions guy.
OK. Where do we go from here?
Well, Reed is not only suspended from PGA Tour events but he also resigned, so we're not going to see any showdowns on that circuit, and the Ryder Cup seems unlikely to allow LIV members in, either, but LIV members are currently allowed to play the majors along with DP World Tour events, so we could see some battles, nevertheless I doubt we're going to see anything along the lines of the Brooks-Bryson feud, yet given the genuine animosity between the two and that each elicits strong fan reaction and that they are avatars for each side of a schism that's battling for the existential soul of the game … it would be pretty cool if this thing became a thing.
Oh yeah, I forgot about Brooks-Bryson; what happened with that?
They parlayed their feud into a TV exhibition that doused those flames completely … at least we think, but to know for sure you'll have to tune into the CW this year to find out.
Got ya. Is there an early winner in the Rory-Reed feud?
Definitely, and that winner is whoever typed "Incredulous facial expression" on the interview transcript when McIlroy looked like someone just put tomato sauce in his ice cream when asked if he could see mending bridges with Reed.
I just remembered, isn't Netflix doing a show on all this, so were cameras there?
Apparently they were not, but they will at least be at the major championships.
Spectacularly dumb, yes, but considering the USGA growing the rough too high at a U.S. Open constitutes "controversy" in this sport, you have to start somewhere.
We covered the Shark Process server, right?
You did. Are you sure that's not fake?
OK, thanks. This was a colossal waste of time.
You say that now, but wait until they're paired together at Augusta.
(Do you have a good golf-course fight/argument story? Let us know at editors@golfdigest.com and put "fight" in the subject line.)