LIV Golf hails it as a victory. LIV detractors view it as defeat. Those polar responses should not surprise; the past year of civil war in professional golf has proven reality varies depending on the beholder. To an extent that sentiment applies to LIV's recent announcement of a multiyear media agreement with The CW network, a deal that finally brings the Saudi-backed circuit to a traditional television platform in the United States.

Yet the true consequence of this LIV development doesn't hinge on one's opinion, but more on the question it is trying to answer.
"There's a lot of different ways to look at it," says Patrick Rishe, the founding director of the sports business program at Washington University, "and I guess it depends on one's perspective as it relates to anything that has to do with LIV versus the PGA Tour. The broader issue is, 'What is the ultimate goal here?'"
During its inaugural season, LIV Golf was available on broadcast and cable television in more than 150 territories across the world, a nod to the fledgling league's ambition to be an international entity. However, in the U.S.—where the majority of its tournaments were held and which boasts the largest golf consumer audience—LIV could only be seen on YouTube, Facebook or LIV Golf's website. Though media consumption is dramatically evolving with more platforms and choices than ever before, a streaming-only deal hampered LIV Golf's reach. Most sports, and especially golf, are still watched in traditional, linear fashion. It's one of the reasons sports rights are so expensive: They are one of the few programs watched as scheduled.
Nearly all of the major television subsidiaries in the U.S. showed little to no interest in LIV Golf in its first few months of launch, sources told Golf Digest. The one wildcard was the Fox Corporation due to its ties with the LIV operation. Fox founder and media tycoon Rubert Murdoch has a personal relationship with LIV Golf CEO Greg Norman; the two attempted to create a "World Golf Tour'' in the mid-1990s, with Murdoch's Fox Sports securing the TV rights.
In January 2022, LIV Golf hired former Fox Sports President David Hill to help with production, and the right-leaning Fox News had a heavy presence at LIV Golf's third event in July, held at former President Trump's Bedminster property. In the fall, reports emerged that Fox Sports was in discussions with LIV Golf. However, multiple sources told Golf Digest talks broke down over rights fees, as LIV Golf viewed a media deal as a revenue generator while Fox Sports insisted on being paid for showing the product similar to an ad-buy.
Into the void, CW emerged. Acquired by the Nexstar Media Group in 2022, CW touts more than 200 affiliates in the United States with a reach of 120 million viewers. The network is primarily known for airing syndicated programming; however, sources told Golf Digest, CW is aiming to break into the sports media space. Terms of the deal were not announced, but sources confirmed to Golf Digest that there is little direct financial cost associated with CW's venture. LIV Golf will not be receiving media rights fees from CW, sources confirmed to Golf Digest. Instead, the agreement will be an advertisement share between the network and league. If that arrangement sounds unique, it is; for context, the PGA Tour reportedly receives in the neighborhood of $700 million per year from its media rights partners NBC, CBS and ESPN.
Will Staeger, chief media officer for LIV Golf, asserted to Golf Digest the importance of CW's availability as to what drew the league to the network.
"It's important for LIV to bring its product and innovative coverage to as many viewers as we can," Staeger said. "As a start-up league, broad viewership is a linchpin. With the CW, we will have a committed partner that will help us reach that goal."
Staeger said there were multiple bidders for LIV's rights, and that CW's pitch best aligned with LIV's goals. "We believed in our vision, it was about getting that product in front of fans, to engage with more traditional media platforms as well as streamers. We solicited offers, we had multiple networks submit offers and CW emerged victorious." When asked who those other bidders were, Staeger politely declined comment.
The deal is not without its drawbacks for LIV. The league will no longer be streamed for free on Facebook or YouTube, and its Friday rounds will only be shown on CW's app, which has limited use. Staeger does say that, over the long term, LIV is looking to find a live linear window during its first rounds. "Whether that comes later this year or in other seasons, we'll develop more unique ways in how it's presented," he says.
LIV also will be handling the production coverage, which, while adding to the associated cost of the operation, gives the league control over its presentation. Unlike last year, when the golf was aired without commercial interruption, there will be ads in 2023. Staeger says they will mostly come before and after rounds, with a few mixed in around LIV's "halftime" of its shotgun start format.
LIV's on-air announcing team will carry over from the end of 2022 with Arlo White doing play-by-play alongside analysts David Feherty and Jerry Foltz. Dom Boulet, Su-Ann Heng and Troy Mullins will provide on-course coverage. Staeger said the team's chemistry is "palpable," and points to TNT's popular NBA crew as a barometer for LIV's ambitions.
"We love our announce team. It's the most diverse team in golf," Staeger said. "We're trying to foster something special with our team. We have a jump start because we handle our own production. We have the opportunity, we have a chance to reinvent how the sport is watched."
According to Nielsen's metrics, The CW was the 25th most-watched network in the United States in 2022. That is a far cry from the PGA Tour's broadcast partners, NBC and CBS, which rank first and second, respectively. Because it's not a network with sports-centric shoulder programming like ESPN or Fox Sports, it's unlikely LIV Golf will receive audience bumps from CW's lineup of shows. For the PGA Tour, the outcome, sources say, is considered a sigh of relief.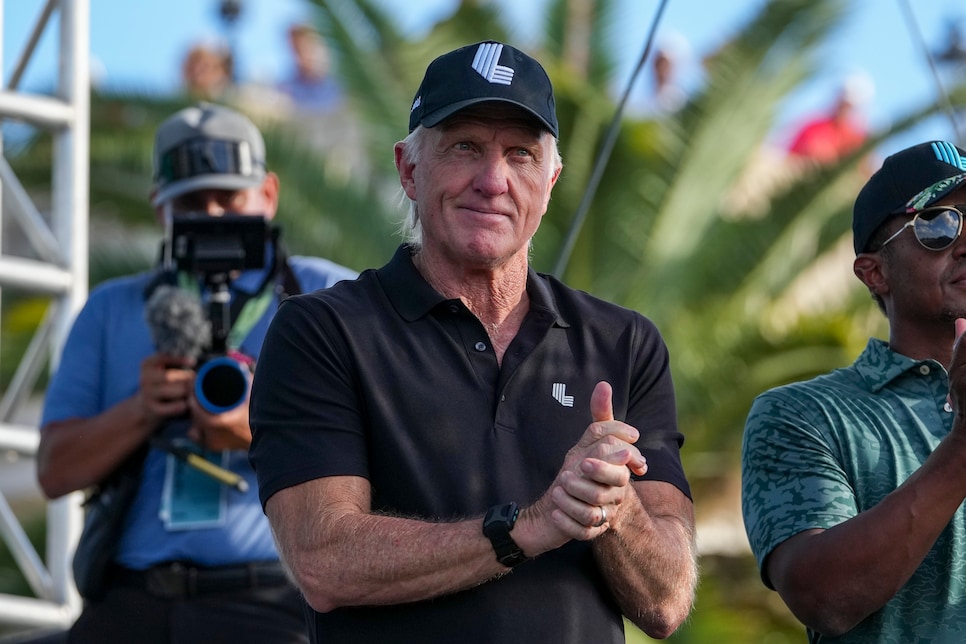 Greg Norman, CEO and commissioner of LIV Golf, being introduced to the crowd during the team championship stroke-play round of the LIV Golf Invitational - Miami.
Eric Espada
In that same breath, the deal should not be discounted. Ranking 25th seems low, but not against the fact there are hundreds of channels available to the American consumer. CW's rank also far outweighs the Golf Channel, which came in 94th.
"It may not be splashy, but that's something," Rishe says. "From where they were at, something is better than nothing and it creates an opportunity for other networks to kind of see how this all plays out."
Despite the constraints of streaming, taking LIV rounds off of YouTube does not appear to be in line with LIV's stated intention of drawing in a younger audience. Conversely, given LIV Golf's YouTube numbers last summer—averaging a little under 80,000 views for most of its three-day events—the move to CW, while theoretically limiting who can see it, now gives LIV a guaranteed audience, Rishe says.
"If this were something that younger people were eating up, then you would want to keep it on a place where people are likely to watch like YouTube, where younger people are going, right?" Rishe notes. "But that's not necessarily the case. We know that golf does trend with an older demographic and therefore I'm sure they were looking for a different dance partner."
Since its inception, LIV has stated its focus is on a younger crowd. The problem is the type of companies that are involved in the golf business tend to target the older, affluent audience. Even with bringing in new sponsors that haven't been in the space before, LIV Golf will need to tap into those existing advertisers. CW gives LIV that chance; though its programming is filled with teen dramas, its average viewer age is still 58 years old, according to Nexstar. Additionally, Rishe said one of the biggest wins for LIV in the deal is the opportunity to prove itself to other potential networks for future deals.
"For LIV, they can see if they can grow this relationship over the next two or three years, or they're going to use that two- or three-year window to hopefully prove to another network, 'Hey, look at this. We've gained traction, we've gained support,'" Rishe said.
Support and traction are imperative for LIV's ultimate goal. Officials have touted the franchise component of the endeavor as a primary facilitator for future sponsorships and revenue. Twelve teams are expected to compete in a 14-event schedule beginning in late February. The 12 captains—who figure to be high-profile players such as Phil Mickelson, Bryson DeChambeau, Dustin Johnson, Sergio Garcia and Cam Smith—would have as much as a 25-percent equity stake in their teams. Each team would cover their own operating costs, using sponsorships, team prize money and merchandise to do so. To players and potential sponsors and owners, the number LIV Golf has forecasted has stayed consistent, sources tell Golf Digest: a $1 billion potential valuation for a four-man club.
However, LIV Golf lacked any formal sponsorship during its inaugural season, while spending $784 million to launch the circuit. A month out from its sophomore campaign, it is unclear what, if any, financial backers are lined up for 2023. The lack of sponsorship thus far can be correlated to the controversy surrounding the league and its backers, yet it can also be attributed to the elementary fact that those valuations were based on a media model that to that point had not existed.
"Sponsor value for any team or league is driven by eyeballs, because one main purpose of any sponsor deal is generating awareness and exposure for your product. If you can't see it, you can't sell it," Rishe said. "[It's] incredibly hard to achieve awareness and exposure without a solid TV or streaming deal."

With CW, those franchises, those sponsorships can now be seen. The revenue streams can be opened. Still, hurdles remain.
As it nears Year 2, LIV Golf and its backers remain a contentious topic. Any belief that the product would be normalized was disputed this week, as the National Press Club issued a statement condemning Nexstar for the deal.
"We are deeply disappointed that a company that makes money from news like Nexstar would agree to participate in such a shameful PR stunt as LIV Golf, which is fundamentally designed to rehabilitate the Saudi reputation, tarnished irreparably by the state-ordered gruesome murder of journalist Jamal Khashoggi in October 2018. We are left to wonder what if anything Nexstar stands for. You cannot have a brand in news and act this way. Saudi Arabia murdered a Washington Post journalist and cut him up with a bone saw," read the statement. "Riyadh wants to use golf to get Americans to forget about murder. We must not let them get away with it. We call on Nexstar employees — many of whom are journalists — to demand management explain why they have partnered with the murderers of a journalist. We urge Nexstar to do the right thing and cancel their bloody golf show. And if they don't drop the program here is what we can do: don't watch it; and write each sponsor asking them not to sponsor."
It should be noted that affiliates are not required to air CW's programming, giving local stations the option of not airing LIV Golf programming should they face similar pressure. "They are still going to have a hard time wanting to align with anything that has to do with LIV Golf for reasons associated with any ties to sports washing and human rights abuses," Rishe said. "And it doesn't make it right or wrong, but whenever an organization, special interest group, or company comes out and makes these kinds of statements, it does make one reflect and you start to juxtapose, well, can we do business with them?"
Ethics aside, if LIV's YouTube numbers are any indication, affiliates could decide their audience numbers would benefit from airings of "World's Funniest Animals" or "Riverdale," a circumstance that would be humiliation in itself for LIV. After drawing considerable attention last year, the league has been quiet since the fall. There's nowhere near the hype for its new season compared to its launch and, to this point, it's failed to subtract any more stars from the PGA and DP World Tours. Perhaps CW deal gets them closer to that goal, but there's also the chance the partnership conveys the air of a minor-league operation.
And yet, after being spurned by almost every major media entity in the U.S., LIV now has a partner. The symmetry can be drawn to LIV Golf's launch, when players were initially hesitant to jump, only to follow the lead of Johnson, Mickelson and others. Defectors aren't normalized for joining LIV, but the outcry has lessened with each player's switch.
It may not be the media deal hyped or promised. Its details are ripe for schadenfreude. Nevertheless, it happened when its critics said it wouldn't. In golf's civil war, that alone counts as victory.