LIV Golf
LIV Golf secures U.S. TV deal with The CW Network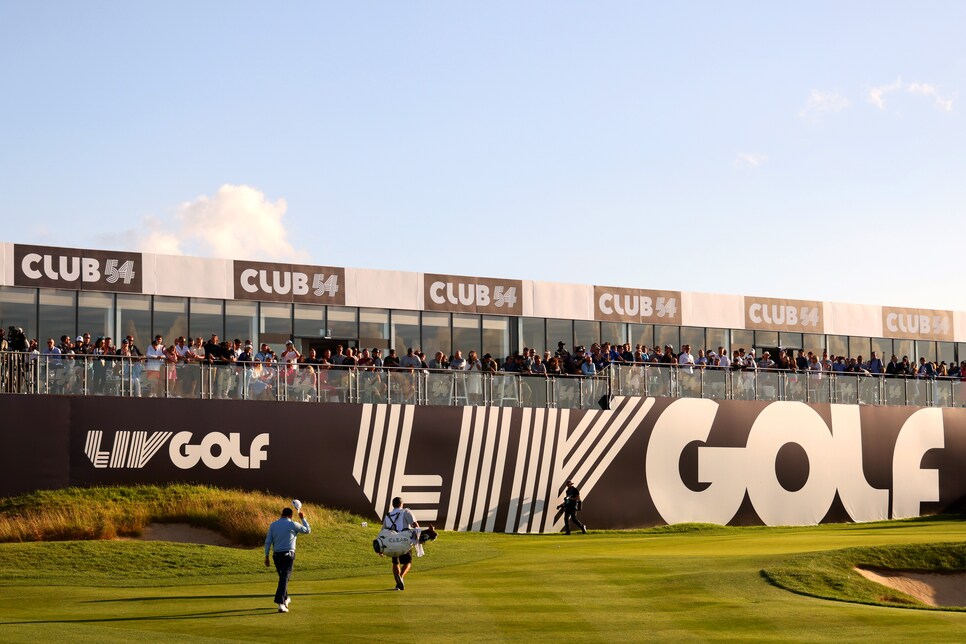 Six months after holding its inaugural event and four weeks until kicking off its second season of competition, LIV Golf is set to air its tournaments for the first time on U.S. broadcast television.
LIV Golf officials announced on Thursday that they have secured a multiyear TV and streaming deal with The CW Network. Under the arrangement, the network will air live coverage of LIV tournaments on Saturdays and Sundays, with Friday action shown on The CW app.
The CW has more than 200 affiliates in the U.S. and is mostly known for airing syndicated programming.
"This is a momentous day for LIV Golf as this partnership is about more than just media rights. The CW will provide accessibility for our fans and maximum exposure for our athletes and partners as their reach includes more than 120 million households across the United States," said Greg Norman, CEO and commissioner of LIV Golf, in a press release. "We're very proud to note how consequential it is that a league that has only existed for one year has secured a full broadcast deal in its debut full league season."
No terms of the deal were released. Multiple published reports state that rather than The CW paying a rights fee to LIV, they will share ad revenue generated from the broadcasts. LIV Golf is also believed to be paying for productions fees, according to ESPN and SI.
Word that LIV and The CW were close to a deal surfaced in recent days. The Palm Beach Post noted that LIV Golf commentator David Feherty told an audience at a stand-up special last week that the Saudi-backed circuit would be broadcast on the channel. "Have you heard of CW?" Feherty said after his show last Thursday, according to the Post. "I might get fired for this, but … " hinting a deal could be announced this week. Sports Business Journal had also reported that the arrangement looked to be close to official.
During its inaugural season in 2022, LIV Golf could only be viewed in the U.S. on YouTube or LIV Golf's website. Golf Digest reported last year that the valuations of LIV Golf franchises, and the long-term viability of the league, hinged on securing a broadcast deal. But nearly all of the major television subsidiaries in the U.S. showed little to no interest in LIV Golf in its first few months, sources told Golf Digest.
The one wildcard was the FOX Corporation due to its ties with the fledgling league. FOX founder and media tycoon Rubert Murdoch has a personal relationship with LIV Golf CEO Greg Norman; the two attempted to create a "World Golf Tour'' in the mid-1990s, with Murdoch's FOX Sports securing the TV rights. In January 2022, LIV Golf hired former FOX Sports President David Hill to help with production, and the right-leaning FOX News had a heavy presence at LIV Golf's third event held at former President Trump's Bedminster property. In the fall, reports emerged FOX Sports was in discussions with LIV Golf.
However, multiple sources told Golf Digest talks broke down over rights fees, as LIV Golf viewed a media deal as a revenue generator while FOX Sports insisted on being paid for showing the product similar to an ad-buy.
"Our new multi-year partnership with The CW will unlock our ability to serve both core golf fans and to reach the casual sports and entertainment viewer as part of our mission to grow the sport," said Will Staeger, chief media officer of LIV Golf. "Our innovative product attracts a younger viewership demographic to the table than the traditional golf fan, and we're thrilled to be part of The CW's growth into its new era of sports programming featuring the biggest stars in golf and our industry-leading storytelling and format."
LIV's on-air announcing team will carry over from the end of 2022 with Arlo White doing play-by-play alongside analysts David Feherty and Jerry Foltz. Dom Boulet, Su-Ann Heng and Troy Mullins will providing on-course coverage.
LIV Golf's second season will begin Feb. 24 at Mayakoba, with both individual and team competitions similar to the inaugural season returning. The entire schedule and rosters have yet to be released, but announcements on both could be coming this week.