The Grind
Max Homa's perfect PIP response, Collin Morikawa's hush-hush wedding and the golf fight viral video of the year
Welcome to another edition of The Grind, where we have an admission to make. I'm not a turkey guy. And I'm even less of a Thanksgiving leftover guy. There, I said it. Man, that feels good to get off my chest, even if I risk backlash from Big Turkey and its powerful supporters. Not that it will change anything. I'm sure I'll be force-feeding myself the other (other) white meat next year yet again, but I'll be dreaming of eating something else. Almost anything else. Anyway, I won't have to worry about that for a while, and in the meantime, there was still a bit of golf stuff(ing) going on. Let's dig in.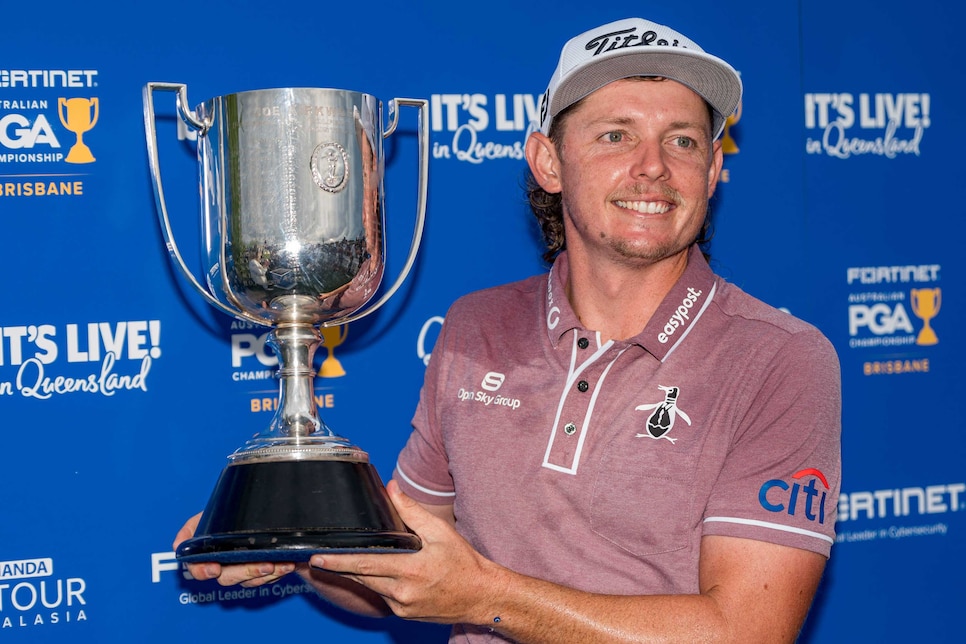 That gives him a major championship, a major championship scoring record, a PGA Tour scoring record and five total wins on four tours and three continents in 2022. Not too shabby for the third-ranked(?) golfer in the world (more on that later).
Dan Bradbury: In just his sixth start as a pro—and just his third on the DP World Tour—this Brit shocked the world by winning the Joburg Open. And he did it in wire-to-wire fashion to boot.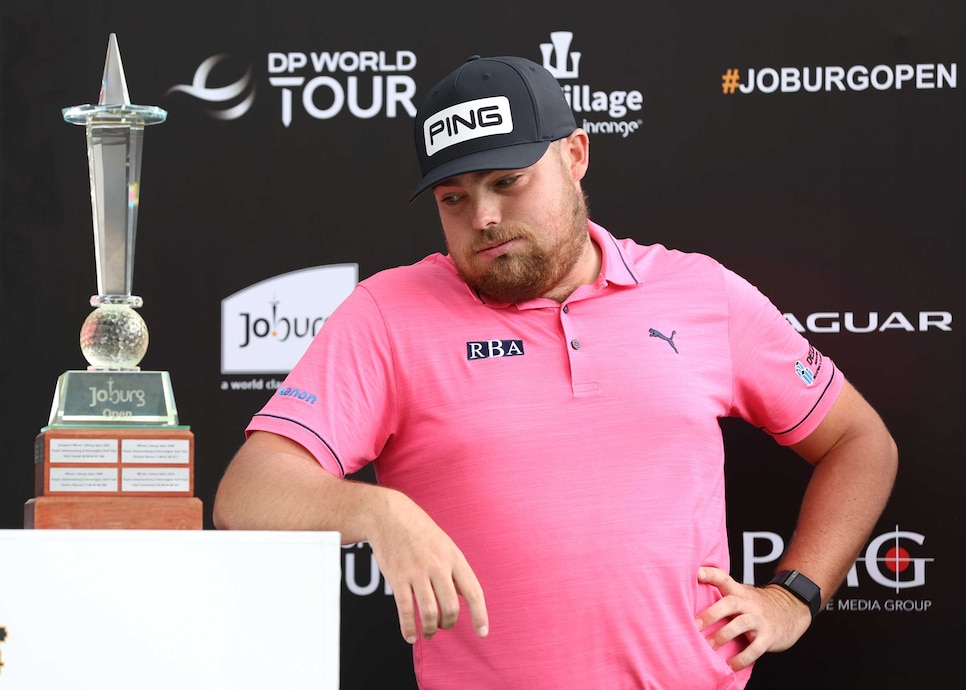 Great photo of a man who seems as stunned as anyone by what happened. Bradbury entered the week with no status on the DP World Tour, but after becoming a rare sponsor's invite to win a tournament, he's got his tour card for the next two seasons. "I can't tell you how it feels because it hasn't sunk in yet," the recent Florida State grad said. And the Noles actually beat the Gators in football! What a weekend for this guy!
This buddies trip: Great job by Golf Digest's Drew Powell telling the story of this group from Pennsylvania that has been doing the same golf trip to Pine Needles/Mid Pines for 50(!) years. Although none of the original dozen Keystone State boys still go because, well, they're not boys anymore.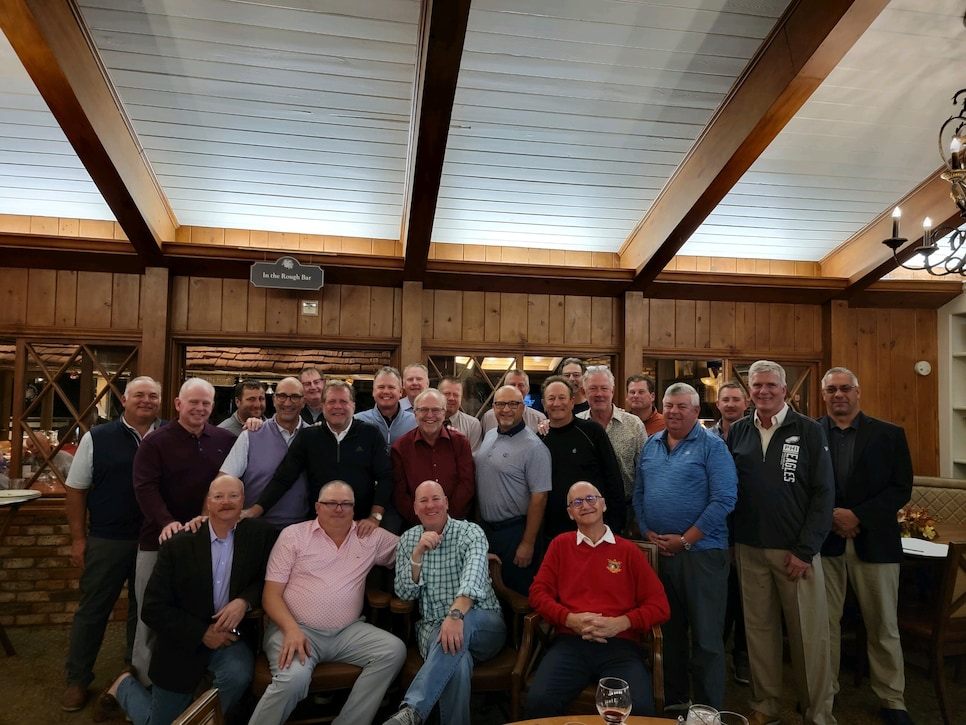 I couldn't help but think of my own annual buddies trip, the HGGA Championship because of the meticulous bookkeeping done by our commissioner, Mark Finegan, for the past 30 years—especially because (BREAKING NEWS) we are going back to Pine Needles/Mid Pines this year! Can't wait! And don't worry, Keystone State boys. Our major championship takes place in the summer so the courses and lodging will still be available for you that first week in November.
Tiger's WD: What an absolute dagger. The sports world was so ready for Big Cat's (latest) big return at this week's Hero World Challenge before he bowed out with plantar fasciitis.
Fortunately, Tiger doesn't think it will keep him out of next week's "The Match," when he and BFF Rory McIlroy will take on buddies Justin Thomas and Jordan Spieth, and, more importantly, the following week's PNC Father-Son Championship, when he teams up with young Charlie. Still, it was the latest sad reminder that Woods is an old 46 (47 in a month) and for the most part has been relegated to being a ceremonial golfer.
Sergio Garcia's streak: And the latest sad reminder of how pro golf has been fractured by LIV comes in the form of the Spaniard falling out of the top 100 in the Official World Golf Ranking for the first time since … 1999.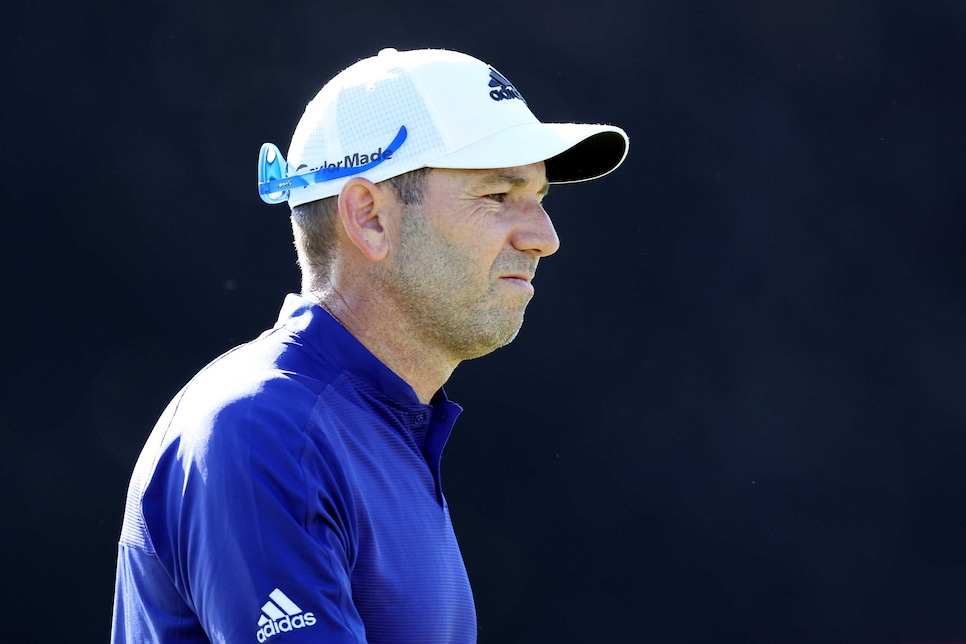 That ends an incredible streak of 1,221 weeks, although not quite as incredible as Phil Mickelson's 1,439 weeks, 1,353 of which were him in the top 50. Garcia can still claim to be just the third golfer (along with Mickelson and Vijay Singh) to be ranked in the top 100 in four different decades. Speaking of questionable rankings …
The PIP formula: I have no problem with PGA Tour players getting these Player Impact Program payouts, especially guys like Tiger Woods who put fans in the seats. (Although, yes, it's funny he got $15 million for not hitting a single shot in a regular PGA Tour event last season.) But I still think the system needs to be juked a bit if a guy like Max Homa only finishes 14th and a guy like Scottie Scheffler, who I'm not even sure is on Twitter, finishes sixth. It seems like Scheffler just got yet another bonus for winning the Masters. Anyway, congrats to the 23 guys on their Christmas bonuses. In the words of Cousin Eddie, "Make sure to get yourself something (wink) real nice."
A select group of PGA Tour pros heads to the Bahamas for the Hero World Challenge, AKA that event where Tiger Woods will once again be a non-playing host due to yet another injury. Of course, the 15-time major champ could probably play if he took a cart, but Tiger doesn't roll like that. Unless it's an exhibition. Officially.
Random tournament fact: Woods won his last of five Hero titles way back in 2011, when Charlie was only 2. There have been nine different winners in the nine times the event has been contested since. This despite the limited field of 20. And the NFL thinks it has parity.
RANDOM PROP BETS OF THE WEEK
—Tiger Woods would ever play a major using a cart: 1 MILLION-to-1 odds
—Jon Rahm will win this week: 5-to-1 odds (Actual odds, favorite)
—A LOT fewer people will be watching no matter who wins: LOCK
After finding out his PIP fate (not that he could have been too upset earning an extra $3 million for essentially tweeting), Max Homa showed once again why he's still the King of Golf Twitter. First, by waving the white flag for Tiger Woods:
Then by introducing the only possible way to topple Tiger:
And by informing a loyal fan in a funny way that he would not be sharing any of his PIP funds with him:
Well played, Max. As always.
VIRAL VIDEO(S) OF THE WEEK
Move over Bryson DeChambeau, because we have a new top candidate for viral video of the year. It comes from Melbourne's Cranbourne Golf Club, where apparently, they take their club championships really seriously. Really, REALLY seriously. Check out the following two videos that involve a heated altercation and an all-time on-course tantrum (just put your ear-muffs on because of the very strong language):
We'd point to the highlights, but there are just too many to highlight. For our money, though, it's the end that really makes it when the self-proclaimed 61-year-old loses it again after hitting a terrible shot. What an amazing scene. We just hope Cranbourne provides a live stream of this event next year.
THIS WEEK IN PUBLIC DISPLAYS OF AFFECTION
One of the top-10 players in the world, the rising star who has drawn the most statistical comparisons to Tiger Woods, got married over the weekend. And no one seemed to know until after the fact. Heck, I can't even figure out where it took place. Good for Collin Morikawa and Katherine Zsu for being able to keep that type of privacy (although that may have cost Collin a PIP top 10!), and congrats to the happy couple!
Oh, and congrats to their dog, Koa. Kat looking gorgeous, Collin looking like a total stud as usual. No offense to anyone else, but this might be the best-looking couple in golf history? Certainly when you factor in golf swings:
Good call, Luke. Their kids are going to be tough to beat. And now that wedding planning is over, hopefully Collin gets back to winning as well.
THIS WEEK IN PEOPLE OTHER THAN ME MAKING HOLES-IN-ONE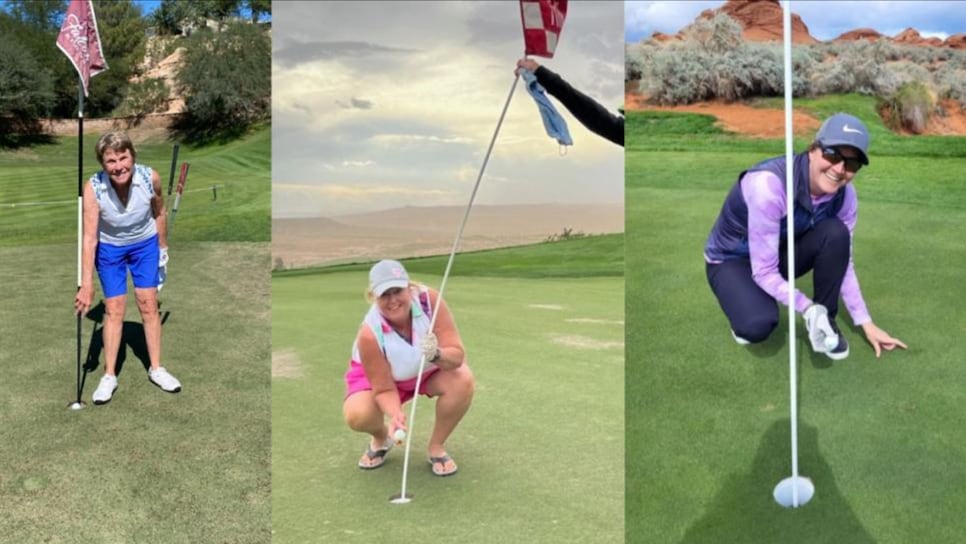 What are the odds?! That's even more unlikely than actually winning money at a Vegas blackjack table over three days. What happens in Vegas, stays in Vegas. Unless you make a hole-in-one, of course.
"Yeah … it is a bit of a pain in the bum." —Cameron Smith on not being able to earn Official World Golf Ranking points through LIV Golf events, something that will probably keep him from reaching World No. 1. I'm sure it is, Cam, but sleeping on your pile of cash must help soften the blow some.
Congrats(?) to all the people who made Golf Digest's latest Turkeys of the Year list. Better luck (not making it) next year. … Despite the LPGA not being in action, Lydia Ko returned to No. 1 in the Rolex Women's Ranking for the first time since 2017. It's well deserved after the season she just had, but cue the ranking police again. … Justin Thomas and Jon Rahm have officially joined Tiger/Rory's TGL venture. Smart move by Rahm because he might finally receive some of that Tiger advice he's jealous JT gets. … And, finally, colleague Chris Powers' gambling picks aren't always spot on, but his TV/movie recommendations usually are. At his urging, after he was randomly paired with actor Billy Crudup on a golf course recently, I watched "Big Fish" for the first time: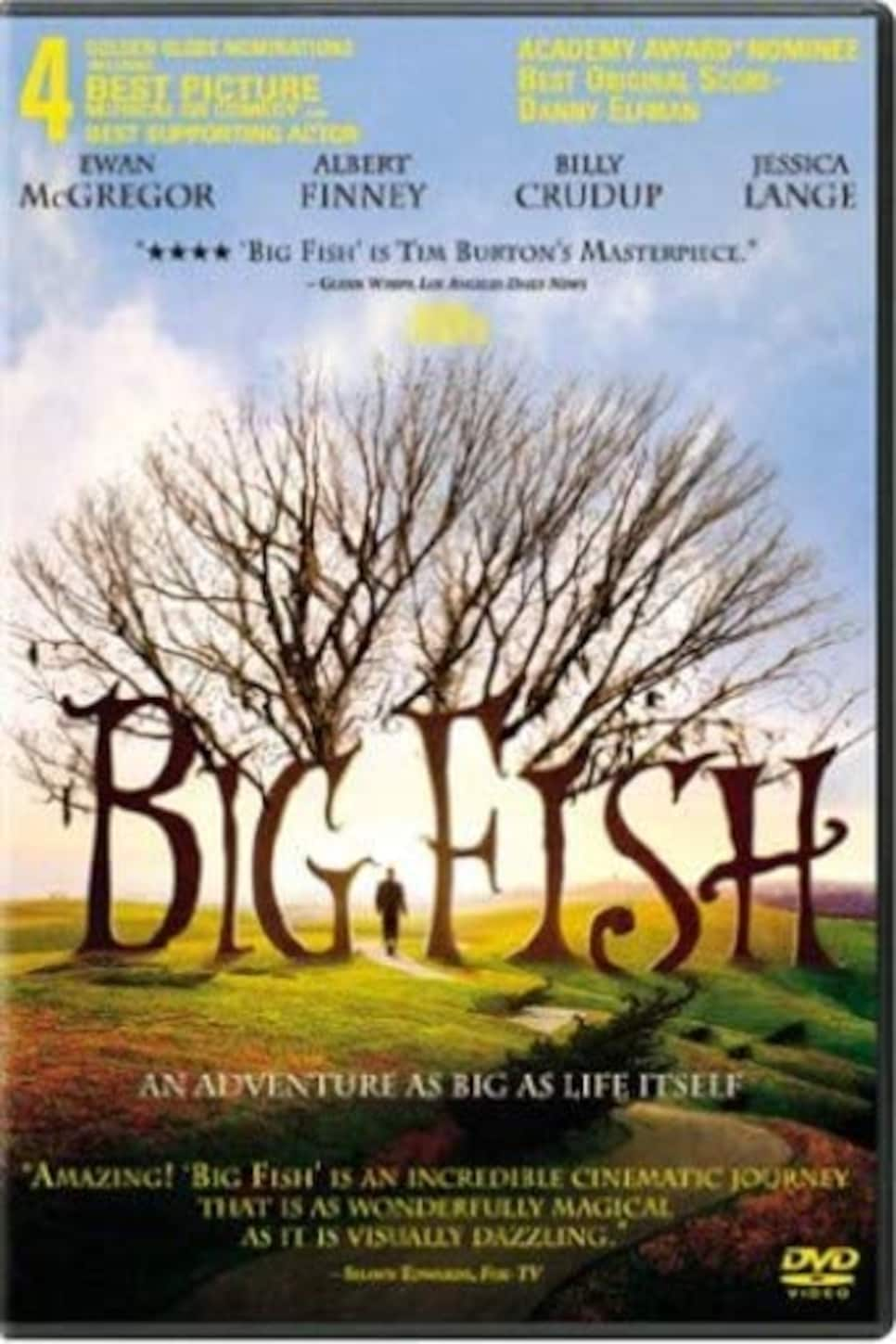 And it was fantastic. Can't believe I never saw that.
RANDOM QUESTIONS TO PONDER
What other great movies have I missed from the past two decades?
How many more years will our annual buddies trip go for?
Why are there so many "i"s in "fasciitis"?