The Grind
Matt Fitzpatrick's unique U.S. Open win, Paige Spiranac's world domination, and Brooks Koepka's bad acting
Welcome to another edition of The Grind, where we are feeling inspired by Matt Fitzpatrick. As a fellow 5-foot-10, 155-pound golfer (OK, so I've put on a few pounds since my "peak"), watching him become a bomber has been amazing. And if he can do it, maybe, just maybe I can do it. To be clear, "do it" in my case doesn't mean becoming one of the longest hitters on tour and winning a U.S. Open, but simply just hitting a golf ball distances I don't have to be embarrassed about. Anyway, there's obviously a lot to talk about, so let's get to it.
Matt Fitzpatrick: The guy is more like FITZMAGIC around The Country Club, where he joined Jack Nicklaus (NBD) as the only other male to win both the U.S. Amateur and U.S. Open at the same course. (We're also buying that course, by the way. Please don't wait another 34 years to go back there, USGA!) The dude even stayed with the same family that hosted him during that Amateur nine years ago. And he couldn't have looked more comfortable during a final round in which he hit an amazing 17 greens in regulation, which included driving a par 4 and reaching one of the par 5s in two. Again, this guy has turned into an absolute beast: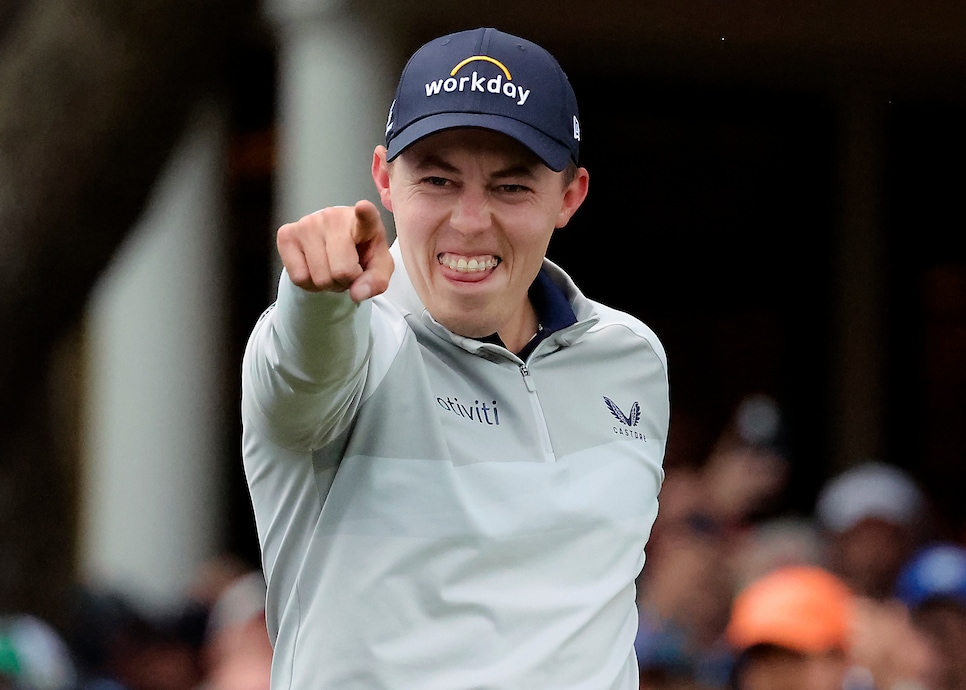 It was a big week for advanced stats as well as the guy who has been leading the PGA Tour in strokes gained total all season, not only won his first tour title, but made it a major. And nothing was more impressive than that last green that he hit from a fairway bunker on 18. With everything on the line, Fitz stepped in there quickly and pulled off the shot of his life. No offense to Jordan Spieth (and others), but he would have taken about 10 minutes to hit that.
Fitz, however, does things his own way. Has a U.S. Open champ ever chipped cross-handed? Or putted with the flagstick in? Or worn braces on his teeth? Or . . . SKECHERS? We kid, we kid, because they're mad comfortable. But seriously, this guy will do anything to win, including keep a detailed record of all his golf shots (even in rounds with his buddies) and working with a biomechanist's The Stack System to pick up swing speed. "All that hard work paid off," Rory McIlroy said to him as he came off the 18th green. Damn straight it did. Go ahead and flex, Matt!
Will Zalatoris: Another major, another close call for my fellow Wake Forest Demon Deacon. It's amazing that this guy plays—and putts—his best when the most is on the line. I'm still not sure how that birdie didn't drop on 18, but what another great performance from this 24-year-old.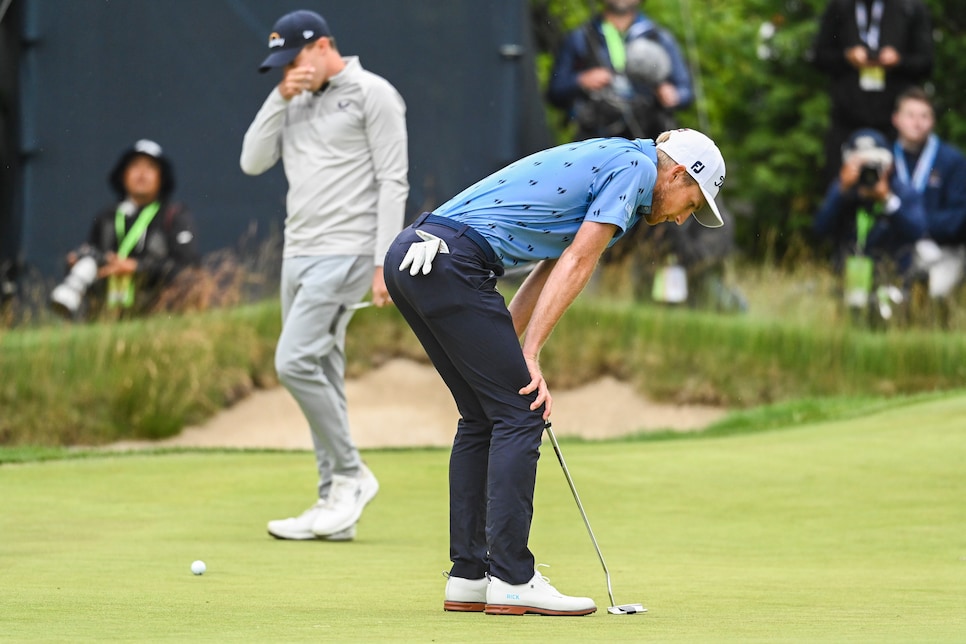 And what class in defeat, even congratulating Fitzpatrick's parents.
His time has to be coming. Then again, we said the same thing for Rickie Fowler. Either way, Wake Nation should be proud of this young man. And if I ever raised a son to become a perennial major championship bridesmaid, I'd want him to be just like Will.
Billy Foster: The coolest moment of Fitzpatrick's win was watching this longtime caddie finally capture his first major. Look, I often say these loopers are overrated, but I still respect the hard work they put in, and Billy was long overdue to win one of these:
It's funny because it was Billy who tried to play it cool when Fitzpatrick holed a chip shot late at the PGA Championship last month. But he couldn't hide how much this moment meant to him. And the hug from his younger boss, well, that's the good stuff.
Rory McIlroy's drought: "Another top five at a major. Guess that doesn't really mean anything." Poor guy, because, unfortunately, it kind of doesn't. Not when you win four majors as quickly as McIlroy did, including two by a ridiculous eight shots. But now the eight he's better associated with is the eight-year major drought he's mired in. This despite the fact that he's played great in all three majors this year and won everything else you can win since his last major triumph at the 2014 PGA Championship. Like our Shane Ryan, I love Rory, but it might be time to break up with him . . .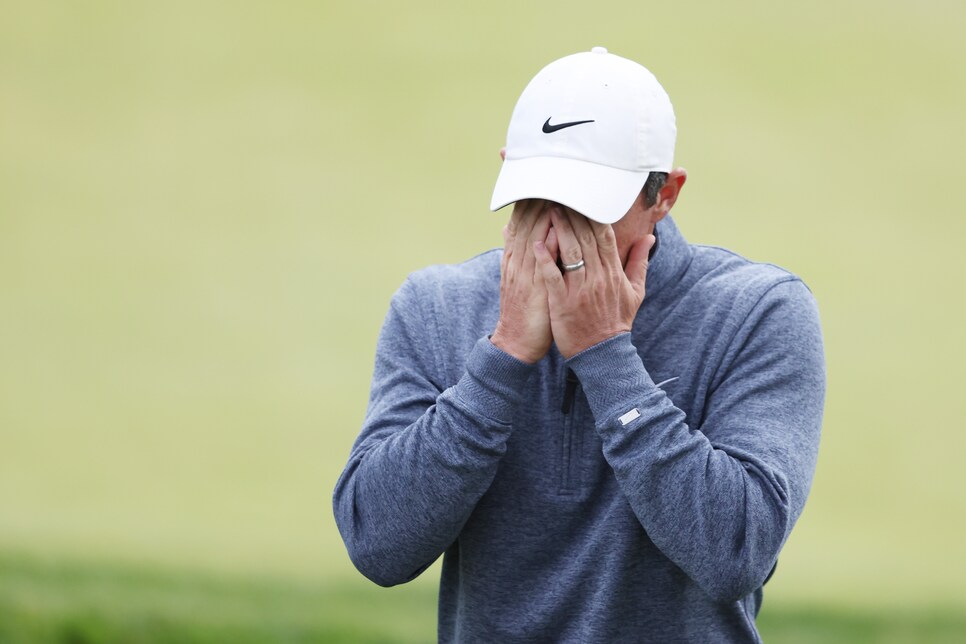 LIV golfers: This rebel crew shot a fitting LIV over par on Thursday and it didn't get much better from there. Only four PGA Tour defectors made the cut with Dustin Johnson leading the way at T-24. The same Dustin Johnson who was being routinely outdriven by Matt Fitzpatrick the first two rounds. Tough scene. But the LIV gang will (probably) have a better chance next year thanks to their latest signee . . .
Brooks Koepka: This might be the least-surprising LIV signing yet when you think about it. Koepka's younger brother, Chase, was already a part of the 48-man field in London a couple weeks back. And no one has ever been more blatant about not giving a crap about regular PGA Tour events than Koepka. What rubs me the wrong way most was his antagonistic press conference last week.
When all the while he knew this was happening!
If you're such a tough guy, just come out and say you're going! Also, he mocked Phil Mickelson earlier this year for being greedy. Talk about the pot calling the kettle black. Anyway, he always too cool for the PGA Tour. Let's see how that (tired) act plays out with LIV.
The PGA Tour stays in the Northeast for the Travelers Championship, AKA that one where Chris Berman plays in the pro-am. And if you follow his group, you better get back, back, back, because that guy can really spray it around a golf course. As for the actual golfers, it's one heckuva field, not that we're too surprised. Last year I did a podcast on how the Travelers does a great job of recruiting top talent. It's just going to get tougher to do that going forward thanks to Greg Norman and Co.
Random tournament fact: Harris English defeated Kramer Hickok in an epic eight-hole, sudden-death playoff last year. But it wasn't the first time players have gone deep into the night at this event. Seven extra holes were needed in both 1961 and 1962!
RANDOM PROP BETS OF THE WEEK
—There will be another eight-hole playoff this week: 100-to-1 odds
—Rory McIlroy will win this week: 9-to-1 odds (Actual odds)
—That stack system swing speed thing is going to sell out: LOCK
So good. This space is basically "The Max Homa Tweet of the Week."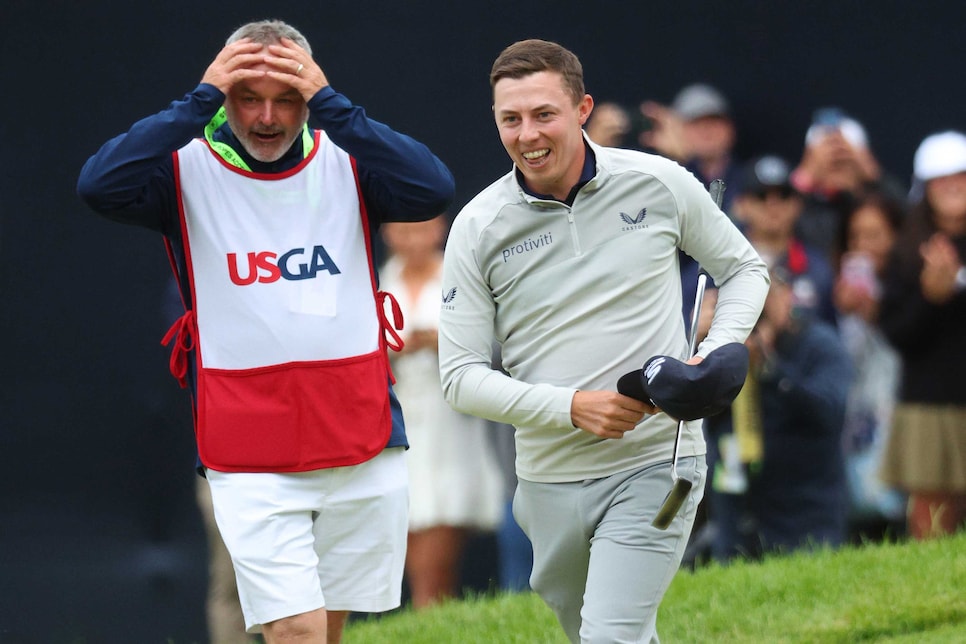 What a display of emotions. Golf! Sports!
Speaking of emotions, Grayson Murray put on a tantrum for the ages at The Country Club:
Poor Francis Ouimet must have been rolling over in his grave.
THIS WEEK IN PUBLIC DISPLAYS OF AFFECTION
Our own Dan Rapaport, Fitz's buddy going back to Northwestern and someone who has written about their unusual player-writer dynamic, was caught on camera going a bit crazy after Matt won. That's him in the pink hoodie shoving and hugging Alex Fitzpatrick:
Normally, we'd say there's no cheering from the press box, but we'll let this one slide—especially if Dan (who got some great stuff from the pretty tame celebration Sunday night) invites me out the next time they tee it up. Sure, it would be fun to play with a U.S. Open champ, but I'm more interested in asking Matt for some swing speed tips.
THIS WEEK IN PUBLIC DISPLAYS
Congrats to Paige Spiranac for being named Maxim's "World's Sexiest Woman:"
Long before that, it was The Grind that helped put her on the map. Proud of you, Paige! Don't forget about us little people!
"The feeling's out of this world. It is so cliche, but it's stuff you dream of as a kid. Yeah, to achieve it, I can retire a happy man tomorrow." —Matt Fitzpatrick, who at 27 won't be retiring anytime soon. Dude was probably working on with The Stack System Monday morning. What an animal.
Nick Faldo announced he's retiring from "full-time broadcasting" for CBS and Golf Channel at the end of his contract in August. Trevor Immelman has been elevated to lead golf analyst, AKA Jim Nantz's booth buddy. Lucky bastard. . . . Congrats to Jennifer Kupcho for picking up her second tour title at the Meijer LPGA Classic. At least one Demon Deacon was able to win over the weekend. . . . Congrats to former college phenom Norman Xiong for Monday qualifying at the Korn Ferry Tour's Wichita Open—and then winning by five shots! Still only 23, watch out for this guy who Oregon coach Casey Martin called the best college player since Tiger Woods. . . . And finally, special shout-out to my daughter, Julia, for playing a pretty convincing Moana in her latest play:
Oh, and thanks to her (and mom) for making me this incredible Father's Day cake: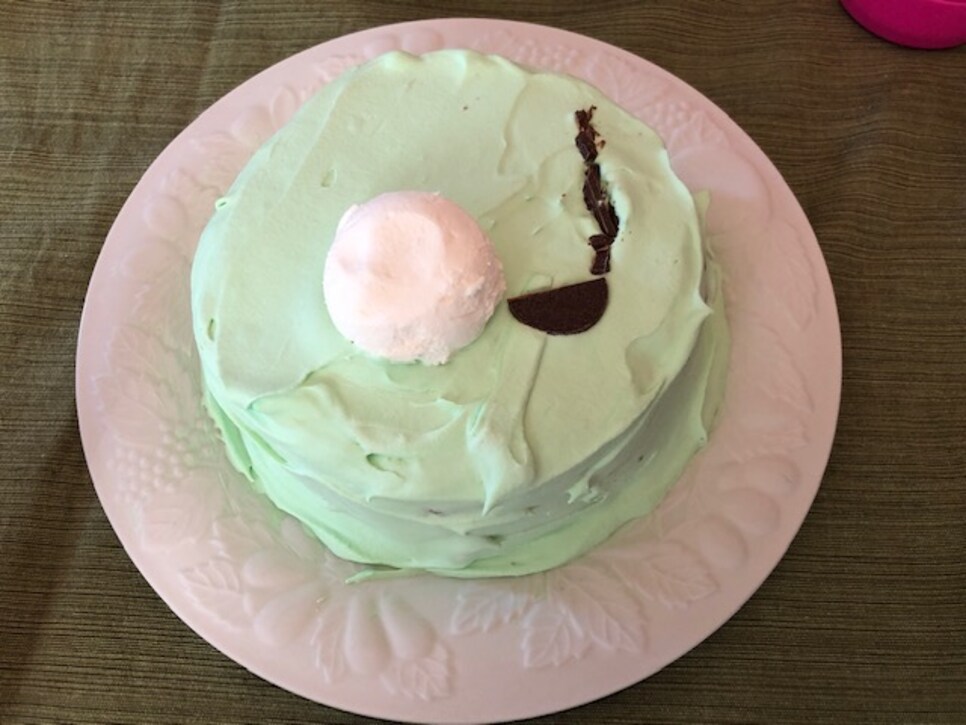 I think I actually had a better weekend than Matt Fitzpatrick.
RANDOM QUESTIONS TO PONDER
How many majors will Fitzpatrick/Zalatoris win?
Can you pick up swing speed by just watching golf?
Did Jim Nantz even put in a good word for me?