Equipment
How the U.S. Open champ got faster with this training aid that requires patience
Matt Fitzpatrick's speed transformation keyed by The Stack System developed by Canadian biomechanist
The numbers clearly show that U.S. Open champion Matt Fitzpatrick changed his swing speed in the last few years. In 2019, his measured speed on the PGA Tour was 112.78 miles per hour, ranking him 117th on tour. His 287.9-yard driving average didn't put him within the top 150. Less than three years later, his average swing speed is up almost 4 miles per hour, ranking him 71st, and his percentage of 320-yard drives has tripled to 15.22.
During his post-U.S. Open winner's press conference, Fitzpatrick attributed that increase with his commitment to a training program involving The Stack System, a weighted club that uses a collection of weights developed by a human kinetics professor and former Canadian championship volleyball player and triple jumper.
Sasho Mackenzie, a Ph.D in kinesiology at St. Francis Xavier University in Nova Scotia, has come to be known in golf circles as one of the game's foremost biomechanists and even "the savant of speed." Mackenzie has spent the last two decades trying to understand speed and motion efficiency in numerous sports, but his work in golf has started to shape thinking in everything from practice to the way shafts are designed. Despite the mountains of academic research in his résumé, however, it's his Stack System that easily is his most noteworthy contribution to the current golf diegesis.
The $350 training aid also happens to be, thanks to Fitzpatrick's triumph, sold out until August and is seemingly being ordered as rapidly as the Boston Cream at Tim Horton's.
The Stack, as Mackenzie explains in an introductory video, is "a variable inertia speed training system." Don't let those words scare you. Basically, it's a golf club shaft the length of a typical hybrid and grip with a series of weights that are attached on the "clubhead" end. These weights are alternated through a training session. A typical session is 24 swings with the weight alternating every eight swings by perhaps 30 grams or more. The idea is what's known as "overload" or "overspeed" training, where you combine swinging something slightly heavier or slightly lighter and continually moving it slightly faster to stimulate improvement.
A training regimen might last 18 sessions with each session coming every day or two. The system's app pairs with a separate radar device used to read swing speed (without hitting a ball). Examples are made by Garmin, PRGR, Voice Caddie and others.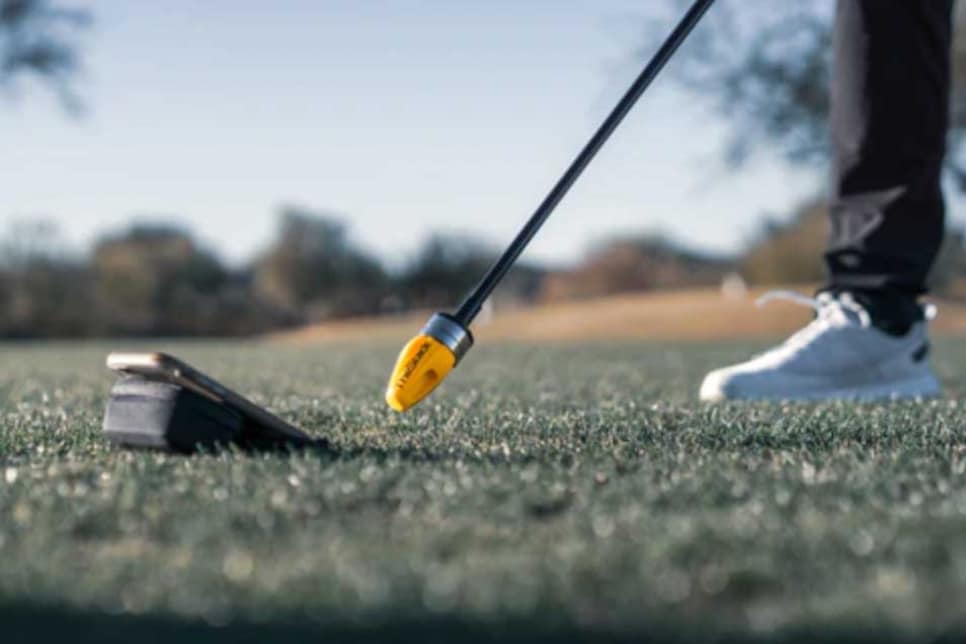 The weights manipulate the Stack System's "club" to change its total mass, center of gravity and moment of inertia by putting heavier or lighter weight toward the tip or "clubhead" end of the shaft.
Catching up with a proud Mackenzie on Monday, he said Fitzpatrick, who's tracked every shot he has hit for much of his golf career, might have been the ideal test subject for the Stack's benefits. "He loved the app because every swing he's ever taken with the Stack System he can go and look at because it's in there," Mackenzie said. "It totally appealed to his personality."
But the U.S. Open champion also was ideal because the Stack System doesn't necessitate massive swing or body changes. For the large part, Fitzpatrick's swing doesn't look drastically different than the one that won him the U.S. Amateur nine years ago as an 18-year-old.
"I was confident that he had the swing that could swing it at 120 if we just could slightly change his body's ability to move it faster," Mackenzie said. "He's got some really unique biomechanics. One really strong hand and one really weak hand on the grip, some nuances that I didn't think were worth touching."
The fun part of the Stack System is that it uses artificial intelligence to develop a program for your specific abilities and swing. In other words, a 65-year-old man might need a different series of weights to activate and improve his biomechanics compared to a 27-year-old tour pro. A foundation test with various weight setups determines what your potential is and how to get there. Plus, the app is learning about your ability to execute the training sets and recover, and also predicts your distance potential and adjusts as you progress. The weight system accounts for 30 different weight combinations.
"It covers a much broader range of loading abilities," Mackenzie said. "Because you have to be able to adapt to the individual and within that individual you have be able to have them apply the appropriate force and torque stimulus that's slightly greater than the driver but also at the next session have them be able to swing a certain percentage faster."
Over the last two years, Fitzpatrick was intensely rigorous about his training, taking a few breaks because of injury.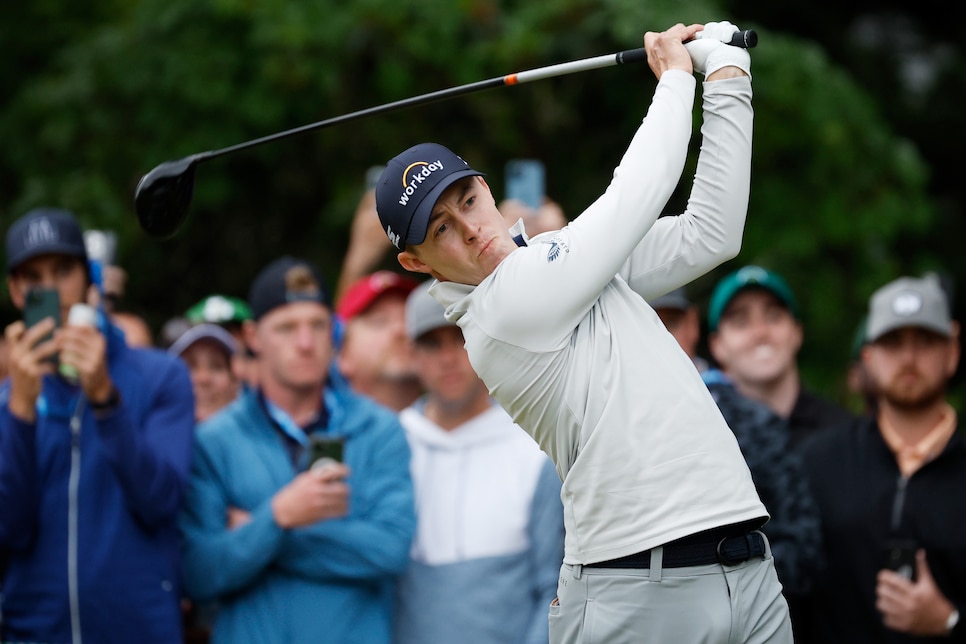 "It's improved my driving, not only length, but just overall, everything," Fitzpatrick said Sunday evening as the only player to drive the green on the 305-yard par-4 fifth hole during the final round. "Since I've been hard on it from the start this year, I've noticed an even bigger jump without really feeling like I'm going after it."
That's the telling thing about The Stack, at least as it relates to Fitzpatrick. Unlike previous speed-training adherents like Bryson DeChambeau, Fitzpatrick's improvement didn't involve a massive body transformation or complete swing change. In fact, if you look at Fitzpatrick's swing from the 2013 U.S. Amateur and compare it to the swing that just won the U.S. Open, the overall feel and signature of the move seems similar. It's just faster and the ball, of course, goes farther.
The key with the system is patience, said Mackenzie, who learned from his track-and-field training for the Olympics that work lays the foundation for improvement at some future date, but not necessarily in a linear route. Increases may come early, but they may not come at the same rate every month.
"You're adding an underlying improvement in fitness, but it might not show itself," he said. "But the work has been done. You do some good swinging and maybe take a few days off and then boom, there's 2 miles per hour and then maybe a month later you see another 2 miles per hour. And then another couple months go by and you might wonder if it's even working, but you've got to stick with it. You put in the work early and the result slowly shows itself."
Just like its most famous user saw Sunday afternoon at the U.S. Open.