RIO GRANDE, Puerto Rico — The best way to think about the Latin America Amateur Championship is that it carries the most lucrative top prize of any amateur event in the world. No, that's not a reference to money, but to the extra-financial abundance: the winner gets a berth in the Masters, the U.S. Open (as of this year), the Open Championship and both the U.S. and British Amateurs. At this weekend's Sony Open on the PGA Tour, the second-place finisher will earn $861,000, a pretty great consolation for not capturing the $1.4 million top prize. Finish second at the LAAC? You may get to skip a qualifying round here or there, but there's an ocean of difference between that and the life-changing exemptions that go to the champion.
In other words, the stakes for actually winning this thing are enormous, and those are the stakes that Argentina's Mateo Fernandez de Oliveira conquered on Sunday at the Grand Reserve Golf Club, clad in his national colors of light blue and white, a day before celebrating his 23rd birthday. A final-round 67 for a record-setting 23-under 265 total (the best in seven previous LAACs was 273 from Joaquin Niemann in 2018), gave him for a four-stroke victory and tee times at Augusta National, Los Angeles Country Club and Royal Liverpool, among other destinations.
Fernandez de Oliveira knew all too well the dearth of finishing second; he was runner-up at this event a year ago, failing to birdie the relatively easy final hole at Casa de Campo to miss out on a playoff with Aaron Jarvis. His preparation and focus on the mental side of the game are already famous among his supporters—one of his coaches, Hernan Rey, had caddied for a student at the Puerto Rico Open at Grand Reserve, and three months ago Fernandez de Oliveira called him to get the yardage book to start preparing—but that didn't mean Sunday would be any kind of coronation. The 34th ranked amateur in the world knew when he woke up at 4:40 a.m., unable to fall back asleep, and later when cameras filmed him eating breakfast, that this would not be an ordinary round.
The good news for him is that he held a four-shot overnight lead this time around, a far cry from 2022 when he had to charge from far behind. The bad news was that his nearest competition, Mexico's Luis Carrera, came out looking like Tiger Woods.
Grand Reserve sits on a small peninsula on Puerto Rico's northern coast, overlooking Comezon Cove and the Atlantic beyond. It's a flat stretch of tropical paradise, covered in palm trees and connected to the Hyatt resort. The course sits in the coastal valley between the dueling juggernauts of mountain and sea—both visible on each hole—fully exposed to the elements. Fernandez de Oliveira might even have welcomed a bit of challenging weather on Sunday, but instead he got placid, windless conditions, which opened the door for a charge from below. Carrera led that charge, making six birdies in his first 11 holes, and as they stood on the 12th tee, Fernandez de Olivera's lead had been cut to two.
It's a situation that inevitably invoked some old ghosts. Close calls had become a bit of an accidental habit for the Argentine, and not just at the LAAC. Last spring, at the NCAA Championship, the Arkansas Razorback bogeyed his last two holes to finish two shots out of a playoff. Last summer at the prestigious Western Amateur, he lost in the final to Austin Greaser after finishing tied for fifth a month earlier at the European Amateur. He had his successes too, including a 4-0-0 record at the Arnold Palmer Cup, but had yet to capture one of the truly "major" amateur events. As his college coach Brad McMakin said on Friday, the LAAC was something he lived and breathed, and his near-miss last year was a kind of devastation. A motivational devastation, but a devastation nonetheless.
Despite Carrera's charge, though, Fernandez de Oliveira held strong. He didn't quite reach the blistering pace of Saturday's 63, but he too was pouring in the birdies and doing enough to stay just ahead. A change he made in this game for this week was to "verbalize his intentions to his caddie," according to Rey, which meant that before every shot, he would discuss exactly what he meant to do, why he was doing it and where he was aiming. And if the momentum seemed to be going against him, he changed it forcibly back on the 12th tee, a 312-yard par 4. With a single swing, he seized the initiative and perhaps the tournament, pasting a drive to 12 feet. He missed the eagle putt, but when he made birdie and Carrera missed his own short birdie putt, the lead was back to three with six holes to play.
"He played amazing," Fernandez de Oliveira said of Carrera. "He made it hard on me, that's for sure. But that driver was a great swing at the right time, I knew I had the perfect number and I liked the wind to be aggressive there, from right to left, and it was a great time of the round."
The pressure was squarely back on Carrera, and on 13, perhaps with the memory of the missed putt fresh on his mind, he had his first crucial hiccup, making bogey and resetting things to where they had been: a four-shot lead, except now that finishing line was in sight.
As it turned out, Fernandez de Oliveira was done making birdies. But he was also done making mistakes. Steady play, solid lag putts and drives punctuated by the single word "bueno" defined the rest of his round. Just like last year, he finished with six straight pars, but unlike that finish, this one was just what he needed.
"I'm still in shock," he said afterward. "I think I played really good all four days, and yesterday's round gave me comfort. There were a lot of things going through my head today, it was a real long round of golf, but I'm so thankful for everything that I got through this week, and calling myself the champion, I feel very proud."
The only drama at the end, in fact, came when Fernandez de Oliveira routinely shot ahead of turn, and even left the group on the green on two holes to walk to the next tee before his playing partners had finished. On the 17th hole, he had teed up his ball while Carrera and third-place finisher Vicente Marzilio were still putting on the 16th green. He didn't hit and was forced to pocket the ball when Carrera came to the tee and had honors. Afterward, he confirmed that it was an intentional act to try to force the pace of play.
"I was just doing that to speed up a little bit our threesome," he explained. "I knew that they were a little slower than me, Vicente and Luis, so we were behind all day long, so we needed to speed up. I just tried not to rush myself when I was doing that, so that's why when I was getting to the ball, I tried to get a sip of water or just to stay within my rhythm, while going faster."
Carrera needed to birdie 17, but left himself more than 30 feet, and if that didn't clinch the title, his tee shot into the water on 18 finally sealed it. Fernandez de Oliveira hit yet another drive into the fairway, the tension left his shoulders and his eventual birdie putt came an inch from dropping. When he tapped in, he could at last enjoy the spoils of victory.
"I think after the driver on 18, my mind was all over the place," he said. "I was playing some holes at the Masters already. I just tried to breathe and stay calm. I still had three shots to go, so I finally got it done. I'm really happy for that."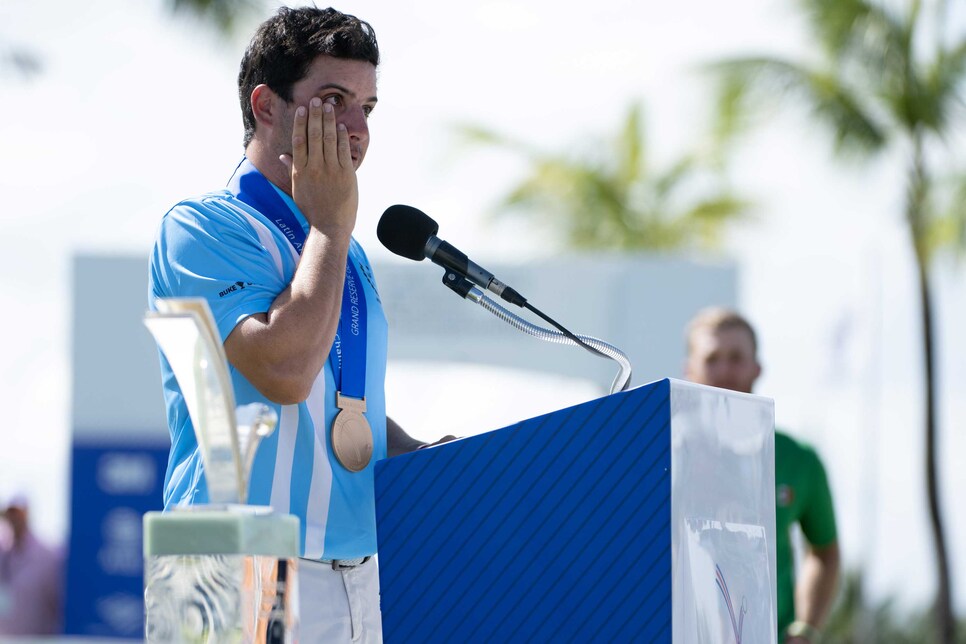 Mateo Fernandez de Oliveira shattered the old LAAC 72-hole scoring record (273) by eight shots with his 23-under 265 performance in Puerto Rico.
Charles Laberge
After his fellow Argentine players doused him with water on the 18th green, the fifth-year Arkansas senior signed his scorecard and emerged from the building to be mobbed again, all of them singing "Muchachos," the anthem that became widespread last month when Argentina won the World Cup. It includes these apt lyrics:
"I can't explain it to you, because you wouldn't understand
how many years I cried for the finals that we lost
but that's all over"
And while Fernandez de Oliveira's victory may not resonate quite as much as La Albiceleste, it's another top honor for one of the great golf powers of the southern hemisphere, and a deserved triumph for a player whose resilience was on full display in Puerto Rico, and who, for his efforts, has earned a summer bounty that is the dream of young golfers in any country.