Latin America Amateur Championship
Teen golfer from tiny Saint Lucia is an unlikely gem at Latin America Amateur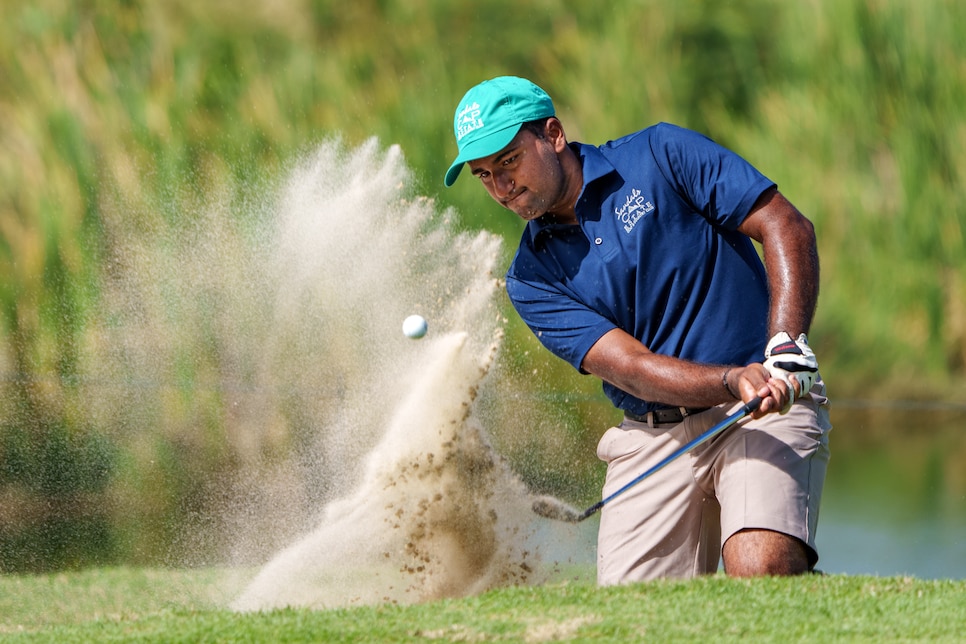 Yadhu Urs of Saint Lucia hits a bunker shot during a practice round ahead of the 2023 Latin America Amateur Championship.
Thomas Lovelock
RIO GRANDE, Puerto Rico — With the black grackles screeching and the sun shining over the small cove where the water changes suddenly from a deep brown to a light teal, 19-year-old Yadhu Urs, of Saint Lucia, exited the scoring hut and said, "I'm so mad!"
He had just made bogey on two of his last three holes at Grand Reserve Golf Club in the third round of the Latin America Amateur Championship, turning what could have been a score in the 60s into a still-respectable two-under 70. That left him at two under through 54 holes of the tournament and in a tie for 20th place with a round to go.
A look at his face, though, revealed something paradoxical: He was smiling.
You get the sense quickly with Urs that it's hard for him not to smile. He's got the unmistakable inner joy that transcends moments of small frustration like these, and anyway, T-20 was nothing to discount, particularly when you understand where he came from.
In 2020, making his first appearance at the LAAC, Urs shot 93-95 and missed the cut by a mile. That, in itself, is not surprising; although Aaron Jarvis shocked the Latin American world when he captured the first title for the Caribbean last year, it's often true that Caribbean golfers hail from islands with very few golf courses and fewer resources, relegating them to be among the weaker players in the field compared their peers from regional powerhouses like Argentina and Mexico. (Saint Lucia, for instance, with a population under 200,000, has one 18-hole course.)
What was surprising is what happened two years later, when Urs came back to not only make the cut in the Dominican Republic at the 2022 LAAC but finished T-34.
Now, through three rounds in Puerto Rico, he's taken it a step further, shooting his first two under-par rounds in the event and placing himself among the elite amateurs in all of Latin America. The fact that he's now good enough to be mad at shooting 70 is astounding.
How does it happen? Work, of course, and lots of it. You might miss it through the laughs, but Urs is a workaholic who is harder on himself than anyone else could be.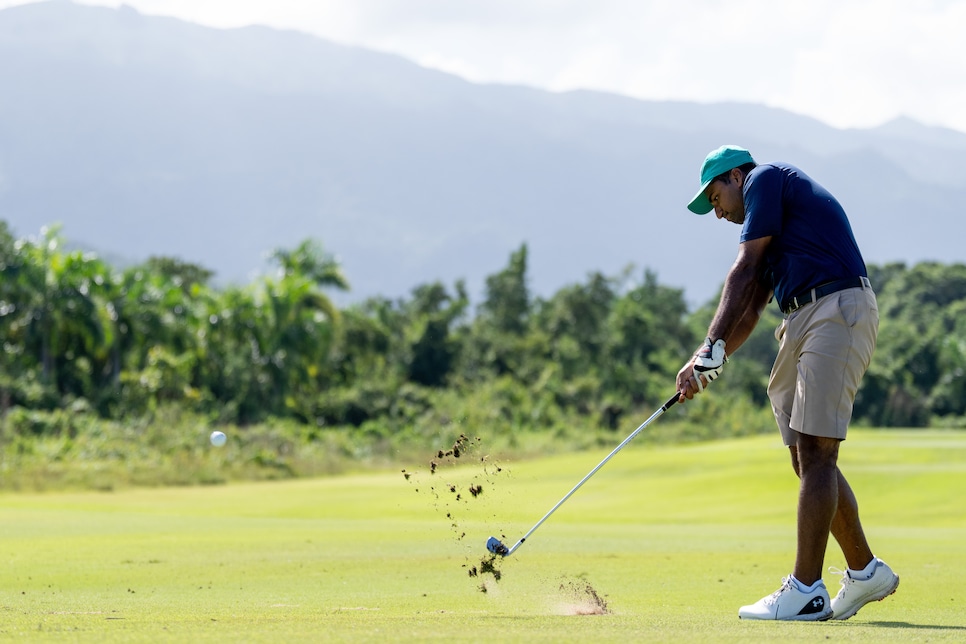 Yadhu Urs of Saint Lucia plays a shot from the fairway during a practice round ahead of the 2023 Latin America Amateur Championship.
Thomas Lovelock
"Until the age of 14, he was an ardent tennis player," said Naveen, his father who is serving as his caddie this weekend. "He won all the tournaments in the island and in the region for the under-14s. Then one fine day he comes and tells me on a Sunday morning—I was about to go to the golf—and he came and said 'I want to join you.' And in two years, he was a scratch player."
Naveen, a radiologist, is a remarkable story all on his own. He brought the family to Saint Lucia from Bangalore, India, when Yadhu was 3 years old, took classes to be a golf instructor, and eventually became the president of the Saint Lucia Golf Association. He also shares his son's sense of humor—"as is the father, so is the son," he said—before providing a helpful mnemonic on how to spell his last name: "U-R-S, you are smart." When I asked him if he ever had to push Yadhu, he shook his head.
In fact, Yadhu chimed in, one of his dad's main roles is to tell him to relax. Even on Saturday, with blisters on his right foot, Yadhu refused to take a pain pill.
"It's just mind over matter at that point," he joked.
There are only 11 school grades in many regions of the Caribbean, and rather than take a gap year after he concluded high school, Yadhu went straight to college in the U.S., landing first at D-II Wheeling College in West Virginia for two years before transferring to Ohio Dominican University. His coach at ODU, Chris Deibel, has been at the school for 20 years, and though he's only known Yadhu for a semester, he has already made an impression.
"He's probably the most outgoing, genuinely nice person I've met," Deibel said when reached by phone in Ohio, where he was following this weekend's scores on his computer. "Always in a good mood, always uplifting to the people he's around, always has a smile on his face."
The first tournament Urs played for ODU, he failed to qualify for the team's starting lineup. They played a tournament in Charleston, S.C., and competing as an individual, Urs tied for third.
"Needless to say, he was in our lineup for the next tournament," Deibel said.
It was at that tournament that Deibel noticed something else—over and over, players came over to greet Urs, happy to see him in the field. They knew him from Wheeling, and it was immediately clear that he was a popular figure among his friends and opponents.
One of Urs' goals was to earn World Amateur Golf Ranking points—he's currently No. 4,523—and he had a big chance at the National Day Invitational in Saint Lucia in December, where only the winner would earn WAGR credit. When Deibel spoke to him after the event, not yet aware of the result, he asked what he shot.
"What did the winner shoot?"
"So did you tie him? Did you have a playoff?"
"Coach," Urs said, "I won."
He has a friendly competition with his ODU teammate Mack Cushman about who can accumulate the most WAGR points, and now Urs has a chance to earn more with a top-20 finish in the LAAC, and his big goal for Sunday is to shoot his first LAAC round in the 60s. When we spoke this afternoon, I wondered how he felt about representing Saint Lucia, considering his unique circumstances—born in India, raised for almost all his life on the Caribbean island, and now playing golf in the United States.
"If anybody asks me where I'm from, I'll say I'm from Saint Lucia," he said. "I'm a national now. I've been there the majority of my life."
And though this is the kind of story that wouldn't have been a blip on the radar in the larger golf world, his achievement in simply making the cut at last year's LAAC had a massive impact on his home country; it was, as many media outlets on the island noted, the greatest golfing achievement in national history.
Today, more juniors are signing up to play, golf has been added to the curriculum in school athletics programs, and even sports academies have begun emphasizing golf, all thanks in large part to Urs' achievement. With another great round on Sunday, he has a chance to one-up himself, and to prove again that diamonds in the rough are a particular specialty of the LAAC.