Latin America Amateur Championship
For Argentina's rising star, the Latin America Amateur provokes a year-long pursuit of glory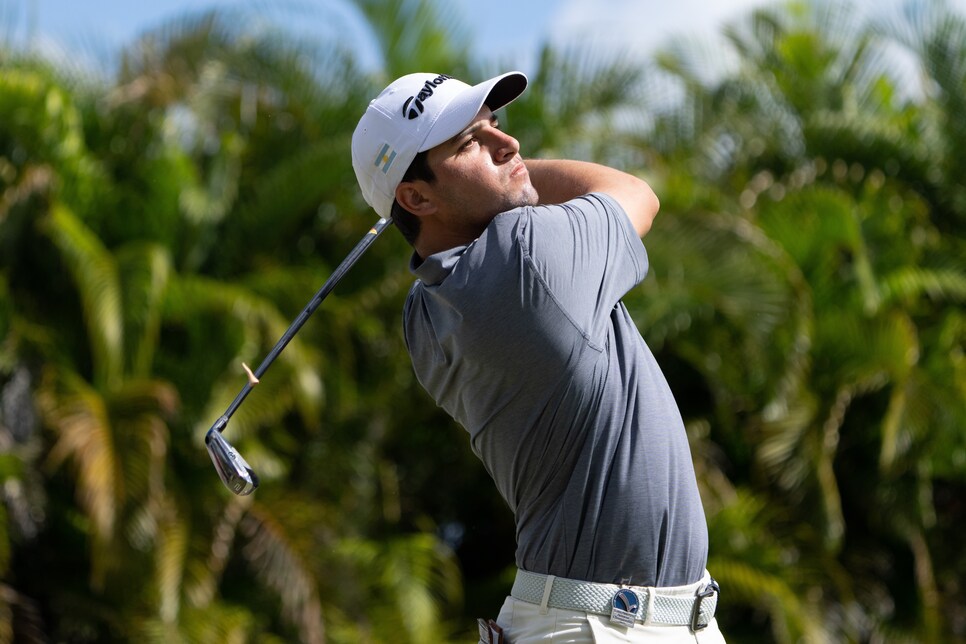 Mateo Fernandez de Oliveira missed a playoff in the LAAC by one shot last year.
Thomas Lovelock
RIO GRANDE, Puerto Rico — Brad McMakin, the head golf coach at the University of Arkansas, cuts a strong and stoic figure, his answers as matter-of-fact as the muscles rising from his crossed arms. There are only a few things that send his voice into a different emotional register, and one of them is talking about the impact that the Latin America Amateur Championship has on his players. McMakin's Razorbacks are unusually loaded with talented Latin American golfers, and one of his former players, Mexico's Alvaro Ortiz, won the LAAC in 2014.
"They talk about this all year long," he said on Friday afternoon on the driving range at Grand Reserve Golf Club in Puerto Rico, host of this year's LAAC. "This is their world championship. Obviously, college golf is very important to them, but this is their major, and they prepare for it."
He credited Augusta National and the other organizers for providing the stage, but even the folks in Georgia, he said, can't understand the full extent of what they've created.
"They don't know," he said. "These kids live it, they breathe it. This is everything to them."
And even by this high standard, it's likely that nobody wants the 2023 title more than Mateo Fernandez de Oliveira, the Razorback senior from Buenos Aires, Argentina. De Oliveira was achingly close to capturing the title last year, finishing a shot off the lead when he failed to birdie the par-5 18th hole. He's got one of the best pedigrees in the entire field—at 34th in the World Amateur Golf Rankings, he's the second-highest rated player this weekend. And at age 22, his resume is already beyond impressive. He won the South American amateur, finished runner-up at both the Western Amateur and last year's NCAA Championships and made the shortlist for the NCAA player of the year award.
But most important for this week is that he's nine under after two rounds, just a shot off the lead of Mexico Luis Carrera. After posting an impressive 67 Friday, de Oliveria spoke frankly about the big question of what it all means.
"Growing up in Latin America is different from other places in the world where they get more opportunities," he said. "We play national events, but they're not even close to what it's like to play an amateur event either in the U.S. or Europe. So having opportunities like this that we can get exposed to, at this stage in golf, it's very important. We are very, very lucky."
This sense of opportunity contributes to his pride in playing for what he calls the "light blue and white"—Argentina's national sporting colors. He's short in stature and sincere in conversation, but not so serious that he lacks humor. Still, aside from his obvious talent—each person interviewed described him as a short-game genius, in particular—the quality that distinguishes him from his peers is discipline.
Hernan Rey, a fellow Argentine who runs the Hernan Rey Golf Academy in Orlando that is incredibly popular among emerging Latin American golfers, told a story about how de Oliveira once opted not to join his friends for a New Year's Eve party a week before the LAAC because he didn't want to take the risk of getting COVID and not being able to play. Rey has been working with him for two years, and when asked for a comparison to other golfers, he veered in an unexpected direction: Jim Furyk.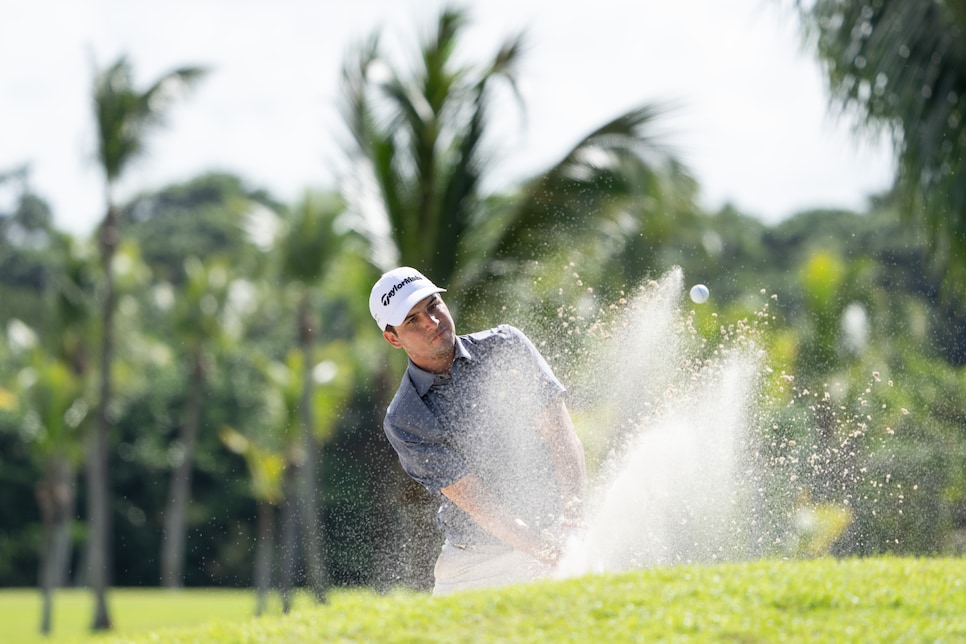 Mateo Fernandez de Oliveira hits a bunker shot during the second round of the 2023 Latin America Amateur Championship.
Thomas Lovelock
"He's a professional, even though he's not a professional," Rey said. "What's most special about him is between his ears. He prepares very well, and for many years, he's known what he wants. Everybody who tries to go pro has talent, but how much you believe in your skill and how much you prepare is what makes for a long career. And the main thing that I see is that he truly loves golf."
Regarding his discipline, de Oliveira says it isn't so rigorous that he'll never have fun with his friends. "It doesn't mean no partying," he said. "It means I don't party when I don't have to party."
This studious organization, which extends to his studies at Arkansas, means that his confidence in his game comes with a natural modesty. Lucky for him, one thing you notice immediately is that the people around him are very ready to sing his praises.
"He's probably one of the greatest kids I've ever coached," McMakin said. "He's a dream and never has a bad day. He's mentally very tough, and that's what makes or breaks kids."
McMakin joked that he's fortunate that de Oliveira's girlfriend went to Arkansas—a joke that's not really a joke, since it was apparently a very real motivation for his transfer to the school from TCU. There was also the presence of his childhood friend, Tomas Mariscotti, who played golf at nearby Lyon College in Batesville, Ark., and was still in the area after graduating. He's caddying for de Oliveria this week, and their relationship goes back to when they were kids in Argentina playing on the junior circuit.
"From the very beginning, at a young age, you knew that if he worked at it, he was better than the rest," Mariscotti said. "He's a wizard around the green, he's right back into it after a bad hole, he's unbelievable."
Mariscotti possesses a bounding kind of energy, has caddied for de Oliveira at multiple U.S. Amateurs, and described himself as "always good to go"—a description that may continue when de Oliveira turns professional in the near future.
Despite all this positivity, there is also the reality that de Oliveira has suffered some close calls in his career. One of McMakin's most plangent memories of their time together was walking the last few holes together at the NCAA Championship, when he made bogey on the last two holes to finish two shots out of a playoff. And though he wasn't in the Dominican Republic last year when de Oliveira made par on the last six holes and finished in a tie for second, he saw the impact it had.
"He was one shot away from the Masters and British Open," he said. "It really bothered him, and we played in a tournament right away in Arizona, and you could tell that that one shot was very meaningful to him ... it has been eating at him all year."
Still, if golfers are defined by how they respond to setbacks, especially early in their careers, de Oliveira has responded in the best way, with more hard work, more preparation, and the willingness to put himself back in a position to win ... or not. This is a massive weekend for him, but even if he doesn't win, there is a very strong sense among his supporters that his story is not over.
That's putting it mildly. I asked each of them, McMakin, Rey, and Mariscotti, if they thought we'd see de Oliveira playing one day on the PGA Tour. It was an emphatic yes from McMakin, who sees de Oliveira's fortitude and discipline on a level equal to or exceeding tour players he's coached in the past.
"Hell yes," said Rey, who then repeated himself for good measure: "Hell yes.
Mariscotti, unsurprisingly, managed to take it even further, supplying the last bit of unreserved optimism you'd be hard-pressed to catch de Oliveira expressing himself.